08.25.10
home | the papers | metro santa cruz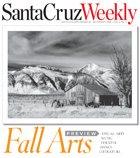 Santa Cruz Fall Arts Preview
Visual arts | Jazz | Theater | Everything else

Santa Cruz Attorney Gone Native
Defense attorney Ed Frey doesn't just represent the homeless. He organizes them and tries to get arrested with them.

Afghan Dogs
Unvarnished 'Restrepo' is almost a new kind of war film.

MORE MOVIE REVIEWS

SANTA CRUZ COUNTY MOVIE TIMES

Music Calendar
The Blasters, Jackie Greene, Jenny and Johnny and Hieroglyphics come to Santa Cruz stages this week.
At The Crossroads
He's a rockabilly legend by night, but by day Phil Alvin is a higher math-loving egghead.

MORE MUSIC AND NIGHTLIFE

MUSIC AND CLUBS LISTINGS


BOOK A RESTAURANT RESERVATION

FIND A RESTAURANT REVIEW


Letters to the Editor
August 25 - September 1, 2010