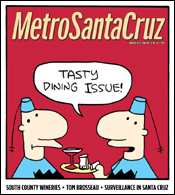 For the Week of
January 18-25, 2006
Cover Story: Fermenting Change:
Can a new generation of growers and wineries put southern Santa Cruz County on the map?
Winter Vegetables Are Your Friends: The Brassicaceae family wants to keep your family happy and healthy this season.
Nüz: Credible Threats; Incredulous Requests; About Last Night 3.
Iraq Is Not a Small Central American Country: At UCSC talk, Juan Cole will offer informed comment on our Middle Eastern adventures.



Rev: Door, Meet Bicycle.



Prince Violent: Kevin Reynolds obscures the brains and the brawn in adaptation of 'Tristan & Isolde.'
Cat Power: The superbly made animal adventure film 'Duma' beguiles adults and children.



Straight Outta Grand Forks: Championed by Bonnie Raitt, Tom Brosseau may well be the most intriguing new artist you've never heard.



Speaking Cash to Power: Author John Harrington offers tips for taking on the leviathan.



Dessert for Dinner: Kelly's French Bakery makes evening dining a treat.
Copyright © Metro Publishing Inc. Maintained by Boulevards New Media.