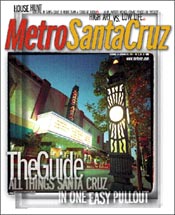 For the Week of
September 24-30, 1998
Cover: The Guide
All things Santa Cruz.
Ex Libris: A shelf full of bookstores.
Java Joints: Places for good coffee and people-watching.
Hand to Mouth: Eating your way through Santa Cruz.
Activated: Getting involved in politics and social issues.
Talking Points: The top ten hot-button issues.
CyberSense: Getting online and around the Web, plus where to buy a computer and get technical help.
Airwaves: Radio and TV stations.
Cheap Skate: Second-hand shopping.
Wheel Life: Bikes, public transit, skates, boards and motorcycles.
Sweatin' It: Recommended places to work out.
Live Sounds: The Santa Cruz music scene.
The Arty Life: Supplies, frames, museums and galleries.
All Night Long: Late-night food and services.
House of the Spirits: Religious retreats tucked into the mountains.
All Washed Up: Local laundromats.
That's Entertainment: The premier cheapo excursions.
Help Thyself: Support groups for various problems.
Soundings: Stereo, CDs and instruments and more.
Sweet Tooth: Where to find all things creamy and sugary.
Copy That: Copy shops.
The House Hunt: Tips to make the search a little easier

News: Good Home Hunting
Are the university, the county and developers doing enough to ease the Santa Cruz housing crunch?



Hiatt and Mighty: Singer/songwriter John Hiatt proves that he's still going forward, even while looking back.
Queen of the Hill: Lauryn Hill educates the mainstream about hip-hop and rap.
Notes From The Underground: Subtle Oak Complexity's Biograph Girl even pleases Mikey.



Family Values: John Waters leaves the wretchedness of his excesses behind in affectionate Pecker.



Viaggio Vivace: A.J. Szenda's menu charms diners with a Mediterranean accent and miles of style.



Please don't forget to write! Metro Santa Cruz welcomes letters. Like any great work of art, they should be originals -- not copies of letters sent elsewhere. Include address and daytime phone (for verification purposes only). Letters may be edited for length and clarity or to correct factual inaccuracies known to us. Postal: Metro Santa Cruz Letters, 111 Union St., Santa Cruz, CA 95060. Fax: 831/457-5828. Email: . Emailers, please include name, city of residence and phone number. Letters printed will list email address unless otherwise specified. Letters to the editor are not currently published in the online version of this paper.