Places, Everyone
After 33 years as Artistic Director of The Monterey Jazz Festival, Santa Cruz's Timothy Jackson is stepping back, but not before one more world class explosion of sounds on September 22-24.
The Monterey Jazz Festival is known as one of the finest of all the jazz festivals, and it has been Jackson's vision and perseverance that raised its quality to the top tier. What's the origin story of a man that legendary guitarist, John Scofield calls, an "expert at creating interesting programming?" Let's dive in.
Growing up in San Jose, Jackson was an early aficionado of music.
"I came into jazz in my very early high school years, but got there from the blues genre," Jackson says from his cubicle at The Kuumbwa Jazz Center (a beloved music venue that Jackson co-founded).

"When I was in middle school in 1967 there was a big Chicago Blues scene revival brought forth by people like Paul Butterfield, Michael Bloomfield and Charlie Musslewhite. Ya know. The white blues guys," Jackson says with a laugh. "Being a white kid from the suburbs myself, I heard those guys and groups first. But they always talked about the people that inspired them like BB King, Muddy Waters, and Howling Wolf, so I sought those artists out."
Inspired by the music he was hearing, the young Jackson started listening to funkier jazz like Jack McDuff, Fathead Newman, Les McCann and Eddie Harris. But it was finally stumbling across John Coltrane that Jackson was set upon his career path.
"By high school I was pretty deep into Les Sneed and Herbie Hancock. I was also listening to the Mahavishnu Orchestra. In the 1970s, the music was all over the map," says Jackson. And, it was listening to a steady diet of eclectic music that sparked him to want to try to learn an instrument.
Jackson started playing guitar in grade school, bass in middle school and in high school learned the flute and saxophone. He was not only picking up some early insight into the life of a musician, but it gave him a passion to perform live, that continues to this day.
But back then, it was surfing, flute playing and seeking life's mysteries that found Jackson ending up in the front yard of Pete Douglas' home in Half Moon Bay, 50 years ago. "Tim showed up at my father's house, which is also a music venue called The Bach Dancing & Dynamite Society," says Pete's daughter, Barbara Riching, who took over running the venue when Pete passed in 2014.
"Tim was a surfer who also played the flute and my dad, as he did with so many people that ended up in our front yard, welcomed Tim in," says Riching from her home in Santa Cruz.
"Dad put a boat in the backyard where people could stay and Tim lived there for a while. My dad had no problem sharing information and I'm pretty sure, Tim got the idea of starting a non-profit to run the business from dad."
Pete Douglas was a bona fide man ahead-of-his-time, as nobody even considered running music clubs as non-profits at that time. Douglas was also very generous with his knowledge and gave freely to Jackson.
"Tim learned how a jazz venue worked and then he went to Santa Cruz and co-founded The Kuumbwa Jazz Center. My dad was very well known in the jazz world, and as a result when my dad died, everyone claimed to be his friend. But truly, there were only a handful of people that were my dad's friends and my dad really loved Tim and his wife.
"My dad was Tim's mentor but then when my dad died, Tim became my mentor. Without Tim I would have been dead in the water. I called him or emailed him once a week to ask him a question. He's such a great even-keeled person. He reminds me of a CEO of a company. I love Tim, he's my very good friend," says Riching.
Let's Get On With The Show
When you see an amazing performance at a venue or a festival, you rarely think about all the mechanics and million details that had to come together to make it seem so seamless and smooth. It's like magic. And, when it comes to The Kuumbwa Jazz Center and The Monterey Jazz Festival, the magician, behind the scenes, curating life-changing experiences for tens of thousands of people, has been Tim Jackson.
Is stepping back from The Monterey Jazz Festival a bittersweet experience?
"Bittersweet is a good way to put it," says Jackson. "I certainly feel ready and it was my choice to want to do it at this time. But you don't do something for 33 years and not look back on it with a lot of great memories. I also look ahead and think, 'Wow this has been such a big part of my life, what's going to happen when it's not there anymore?' It's an interesting feeling that I feel like I'm ready to embrace. I feel really good about it. I haven't really had second thoughts or cold feet or anything like that. It continues to feel, even right up to now, where I'm ticking down the clock, it continues to feel like the right move," says Jackson.
Before he began working at the Monterey Jazz Festival, in 1991, a few years earlier, in 1988, Jackson performed there as a musician with a Latin group. He witnessed first hand what the festival was like from a musician's point of view. He soaked it all up, and was not impressed.
When Jackson stepped in as General Manager in 1991 at the Monterey Jazz Festival, it was far past its creative peak as a festival.
"I thought the production values were really low, the staging was unimaginative. I had already been at the Kuumbwa for 15 years and thought the production values at the Monterey Jazz Festival didn't even compare to what we were doing at the Kuumbwa. So when I ended up going there in a professional capacity, I made changes. We had good people working there; they just weren't being paid attention to on the production side. We gave them the tools and the budget to do the good work that we knew they could do and it paid off over the years,"he says.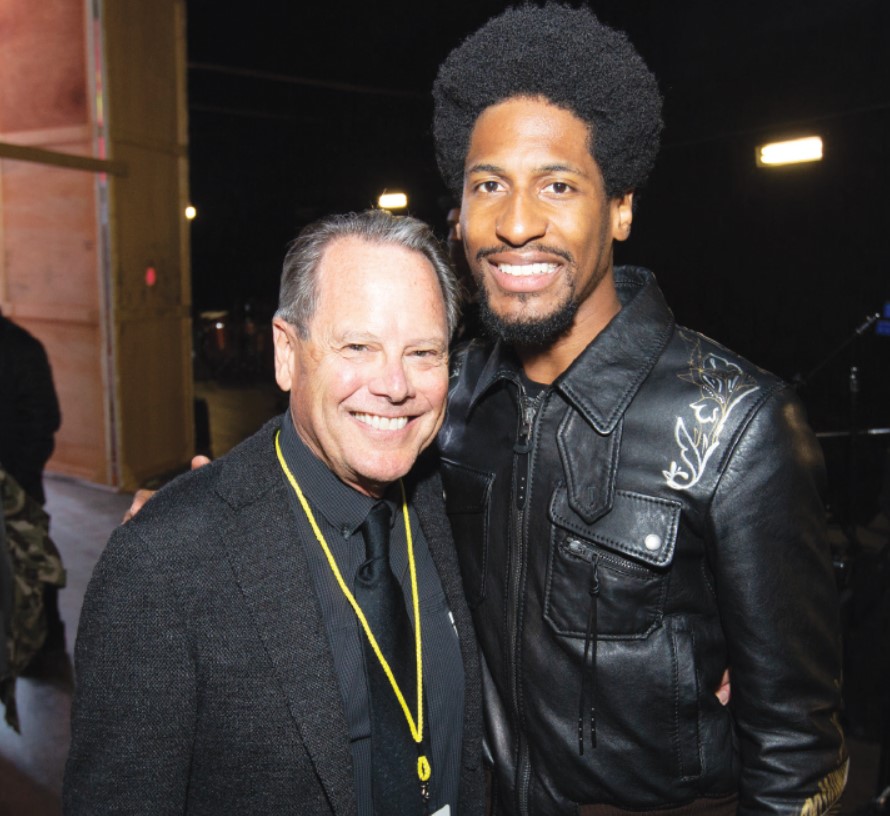 And Now, The 66th Annual Monterey Jazz Festival 2023
This year's Monterey Jazz Festival features some of the legends that Jackson has worked with over the decades.
"This year was completely my creation and vision for the line-up," says Jackson. Influencers like Herbie Hancock, Terence Blanchard and Dianne Reeves. Even artists like Christian McBride, who is still mid-career, have been working with Jackson for 30 years. But one name that stands out this year's festival, and is a lifelong friend and admirer of Jackson, is John Scofield. From playing with Miles Davis to Phil Lesh, Scofield knows what he's talking about.
"First and foremost, Tim is a real jazz person," says Scofield. "He plays and understands the music and is a huge fan of jazz. It's a jazz family all over the world and Tim is a big part of that family and a friend to the musicians.
"It's also one of the most beautiful sites for a fest. I'll be playing solo for one concert, which is something I've been doing lately. I'll also be playing with a group I put together called Yankee Go Home, with Jon Cowherd on keyboards, Josh Dion on drums and Vicente Archer on bass.
"We've rearranged some old rock and roll hits and turned them into jazz, with some original songs as well. The most rocking show I'm doing at the festival this year is called Scary Goldings which is my friend Larry Goldings who hooked up with a group called Scary Pockets (with Ryan Lerman on guitar and Jack Conte on keyboards). This is a rare Monterey Jazz Festival only performance," says Scofield.
Besides the legends, Jackson always has an eye on the next big thing. This year's performances of Samara Joy, Thundercat, Snarky Puppy, Lakecia Benjamin, The Connie Han Trio, to name a few, will certainly turn heads and enlist lifelong fans. But, there have been times when Jackson booked acts that caused long-time attendees to wonder what the heck was going on.
"The one thing about the Monterey Jazz Festival, and sometimes it does bite me in the butt, is that the audience is a very passionate group of people," says Jackson.
"And they feel ownership of that festival. So if there is something they don't like, they let me know about it. Sometimes they felt the music we presented was too avant-garde. I presented Ornette Coleman several times or Charlie Haden's Liberation Orchestra and I'd hear from a few folks, 'Hey, that music, I didn't understand it and I didn't like it.'
"My response is always, 'The beauty of a festival is we have seven different stages going at all times, so if there's something you don't like, move to another stage and maybe you'll find something you do like.' But there is always a larger percentage of people that love it.'"
Prepare The Third Act
"Basically, I'm just winding down. I'm not retiring at this point. Kuumbwa is going to keep me busy. We're leading into our 50th Anniversary in 2025. So we'll be doing a lot of planning and lead up activities in 2024 that I'll want to be a part of.
"It's an exciting time. Both Monterey Jazz Festival and Kuumbwa Jazz are non-profit organizations, so it's not like I own the company, or anything like that. We're governed by a board of trustees just like any non-profit.
"I feel like when you're working for an organization and doing activities for the public good, I think at a certain point, you have a responsibility, as an artistic person involved, to take a look at the surroundings and say, 'I think it's time for somebody else to sing a new song and try their hand at it,'"he says.
Time hasn't slowed down Jackson's keen eye on producing an internationally recognized festival. "I still feel like I'm at the top of my game. That being said, I also feel like it's been a really good run. I don't want to continue to hang around until people start whispering behind my back, 'Maybe this guy oughta take a hike.'
"So, I chose to pass the baton while I still feel like I'm creating vital line-ups for the festival and this year is no exception," says Jackson.
The 66th MJF runs September 22-24th and tickets and line-ups can be found here. https://montereyjazzfestival.org/tickets/