Lonnie Bedwell was 31 the last time he looked in a mirror.
"When I look in the mirror now, I haven't changed a bit," the 57-year-old veteran says. In 1997, Bedwell took an accidental shotgun blast to the face while turkey hunting. It blinded him in both eyes instantly.
"Lights out. I tell people all the time to call me 'LOL Cubed,'" Bedwell laughs. "Lights out Lonnie who likes to Laugh out Loud with Lots of Love."
Like many facing similar trauma involving sudden blindness, Bedwell made significant changes. Unlike many, those changes involved becoming an extreme adventure athlete. He's climbed Mount Kilimanjaro, Aconcagua and Denali and is the first blind person to climb Devil's Tower in eastern Wyoming. Once, he was clocked at 60 mph on skis. But Bedwell's favorite athletic activity is kayaking. He kayaked the Batako Gorge below Victoria Falls and was the first blind person to run the 226-mile stretch of the Colorado River that flows through the Grand Canyon; he chronicles the feat in his 2015 book, 226: How I Became the First Blind Person to Kayak the Grand Canyon. The same year, National Geographic named Bedwell "Adventurer of the Year."
The former Navy Petty Officer will discuss his past adventures and personal journey at Pacific Edge Climbing Gym in Santa Cruz on Feb. 18. He will also discuss his plans to climb Mount Everest and Lhotse (the fourth-highest mountain in the world) back to back. If he succeeds, he'll be the fourth blind man to climb the tallest mountain in the world and the first blind man to summit the twin peaks in a single push.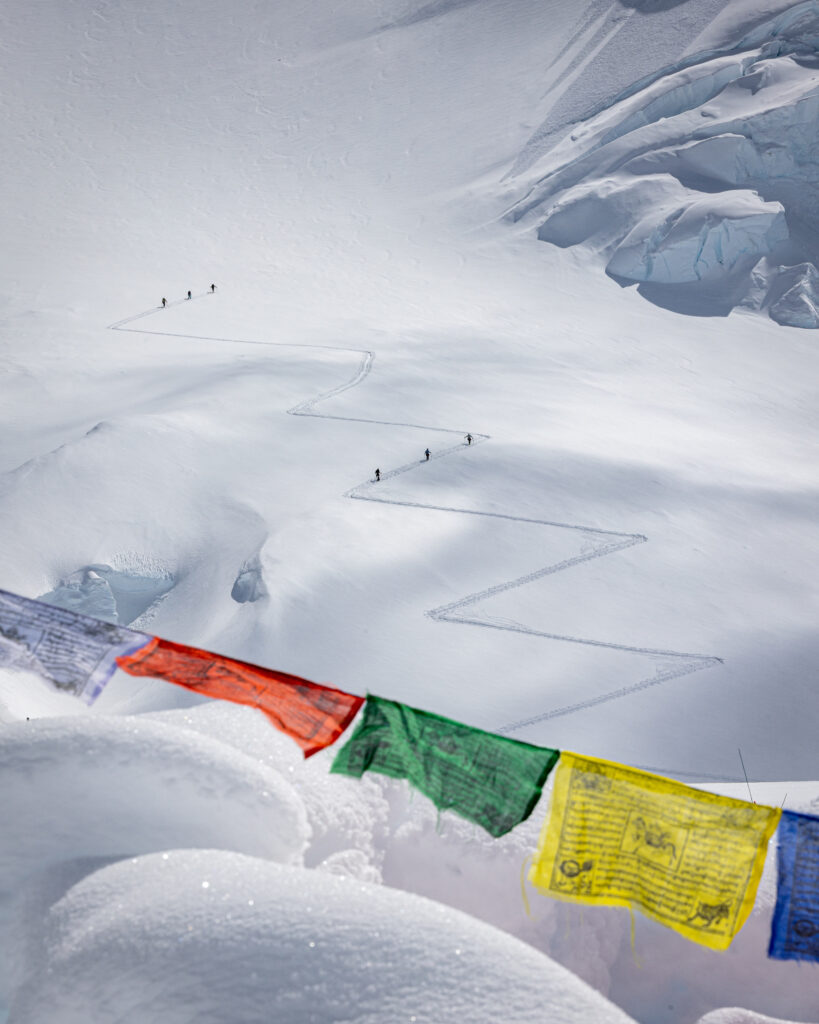 FATHER FIRST
But Bedwell's most significant achievement has nothing to do with athletic prowess.
"The pinnacle of anything I've ever achieved in my lifetime is that I was able to finish raising my three daughters by myself," Bedwell explains. "An accident like that truly happens to everyone around you. It was too difficult for my wife. She ended up leaving, and I ended up with the three girls."
Courtney, Ashley and Taylor were 4, 8 and 11 when the accident happened.
"My daughters saved my life in major ways," Bedwell says. "They got me re-engaged so quickly. Once they started, then my dad and mom started getting involved. The quicker you can get folks re-engaged, the better. The longer you wait, the deeper in that darkness you are going to fall."
Two months after his accident, Bedwell worked up the strength—and courage—to get off his couch in the tiny town of Duggar, Indiana. When he went outside, he stepped into chest-high weeds, ran into a small barn and turned to go back inside to the safety of that couch.
"My little girl asked me what was wrong, and I told her I was frustrated," Bedwell recalls. "She said, 'I'll help you,' and took my hand and guided me to the [lawn]mower. I mowed a lap, and then another and then another."
"My daughter jumped up and down and said, 'You did it, you did it!' Now instead of fighting back the tears, I had tears of hope," Bedwell recalls. "While all the adults were saying no, no, no, my girls were saying go, go, go."
Bedwell's youngest, Taylor Rutledge, doesn't remember the lawnmower event, but she remembers that her dad always wanted to help anyone in need, even before he lost sight.
"Helping others is something both my parents, but especially my dad, instilled in me early on," Rutledge says. "My dad is always helping others, his friends, his dad, his neighbors, whoever he can. That urge to help people is something I picked up from growing up with him. He would always help us, so I wanted to help him in any way I could."
Taylor and Bedwell's two other girls helped him find his inner light amid the sudden darkness that had plagued his life.
"They were telling me to get up off your knees," Bedwell says. "They taught me that blindness was a part of me, but it doesn't define me. They taught me to swallow my foolish pride, face the fear and quit feeling sorry for myself."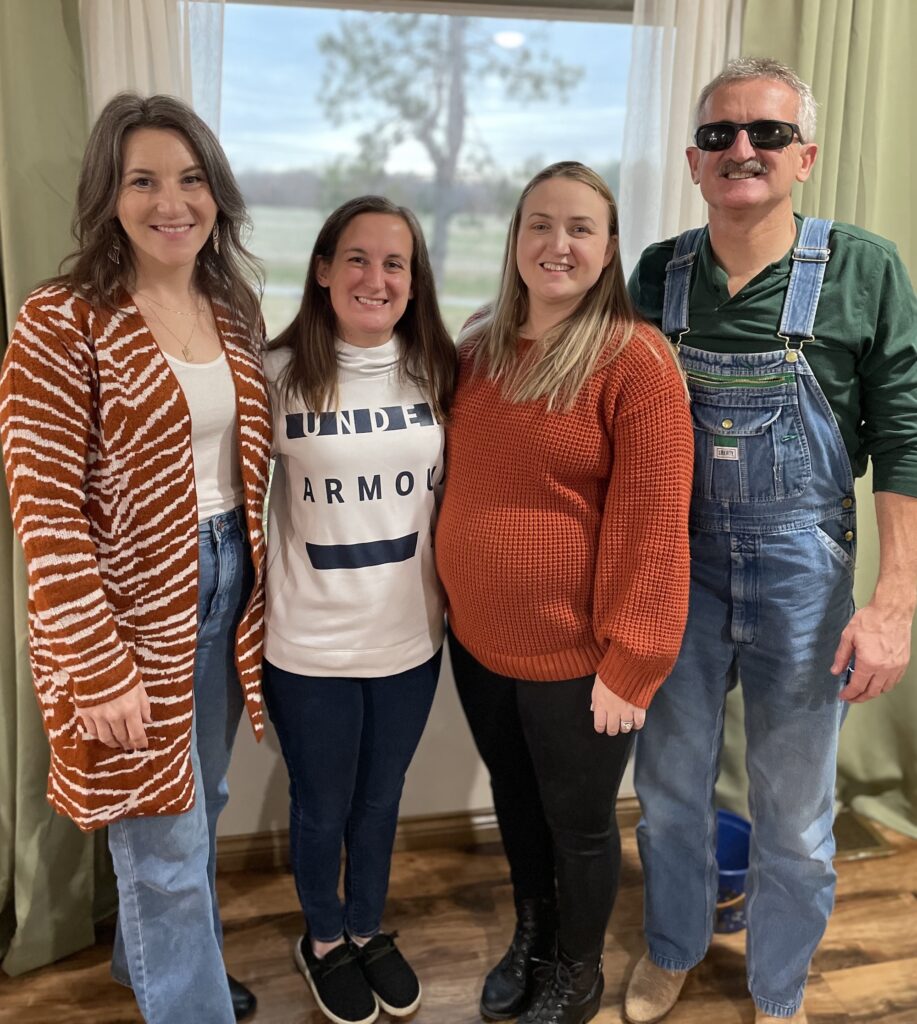 FORWARD MOTION
Bedwell did much more than "get up." He learned to use a chainsaw, returned to work at the power plant, where they adapted computers to talk to him, and started roofing. He also taught his daughters how to drive.
"We started behind my house in an old pickup," he chuckles. "I would put it in 4-wheel [drive], roll the window down, put one of them in my lap and let them steer while I operated the brakes and clutch."
"People ask if they took advantage of me being blind. Of course, they did!" Bedwell laughs.
He recalls one time when he had made them mad, and they put an end table in the hallway between the kitchen and living room. Of course, Bedwell flipped over it.
"I could have gotten hurt, so I had to discipline them," he says. "But now I have five grandchildren and one on the way. And my daughters will walk up to me no matter who is around, throw their arms around me and tell me they love me."
Bedwell waited until his youngest was a senior in high school before he went to a blind rehabilitation center in Chicago, where he was introduced to adaptive sports. First, he tried skiing, where he followed a person wearing a cowbell down the mountain. Two years later, he tried kayaking, where a lead guide yells instructions, and another guide sweeps behind him.
"I had 14 days of white water experience under my belt when I ran the Grand Canyon for the first time," Bedwell says. "I flip over a lot more than a sighted person; I'm a reactive paddler in a proactive sport."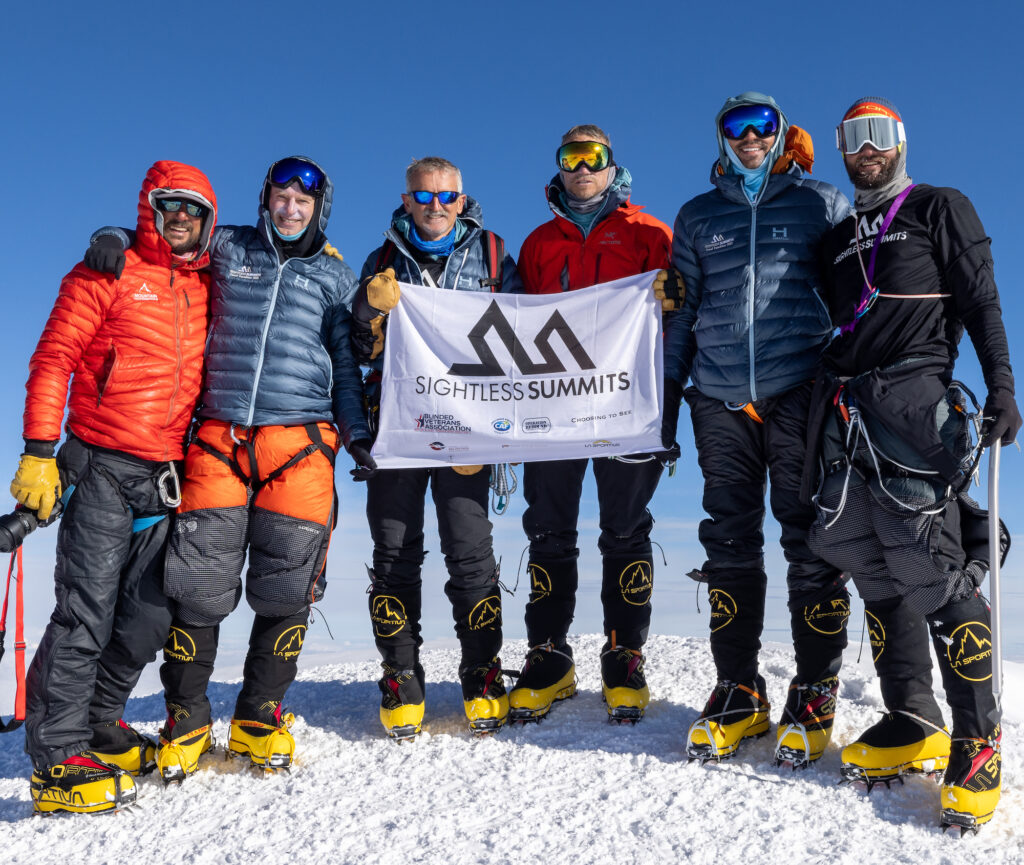 MOUNTAIN MAN
Next up was mountaineering. Bedwell made plans to climb Mount Kilimanjaro with a veteran friend who'd lost his sight in Afghanistan. Bedwell wanted to bail when his friend wasn't up for the climb.
"I communicated to his caretaker and said, 'can you tell him I'm not going to climb without him.' Once my friend understood, he screamed out, 'No, No, No, No! You climb it for me. Climb it for all of us.'"
So, Bedwell summited the highest peak in Africa and brought back two stones from the top for blind veteran friends. A few years later, he accepted an invitation from a fellow blind veteran to climb Aconcagua, the highest peak in South America, and brought back two stones for his friends from the top. On Aconcagua, he met mountaineer and adventurer Michael Neal, who invited him to climb Denali, the highest peak in North America.
Neal assembled a strong support team for Denali, including Santa Cruz-based physical therapist Bryan Hill. They called their group Sightless Summits and accepted donations through the nonprofit Blind Veterans Association. When Neal climbed Everest last year, Hill accompanied him to base camp, and they realized they wanted to bring Bedwell to the top of the world. They sent an email from base camp, and Bedwell accepted the invitation almost immediately.
Bedwell's ability to thrive through challenge has evolved into a commitment to helping others do the same. After a blind friend told him he'd like to go hunting again, he organized a turkey hunt for five other blind friends with support from the local community.
"When these guys realized I'd lost my eyesight in a turkey hunting accident, they just cracked up!" Bedwell recalls.
GIVING BACK
The event was so successful Bedwell started the nonprofit Heroes New Hope. The organization works with young people with MS or other physical challenges. The nonprofit hosts about three annual hunting and fishing events and recently added skiing to their activity list.
"I've skied with well over 100 blind veterans," Bedwell says. "The best part is that 100% of our foundation's money goes to programming. None of us get paid; it is a 100% volunteer organization."
Starting a nonprofit for others in need while living on a fixed income is challenging—Bedwell's military pension doesn't allow for much outside of the necessities, especially climbing expeditions or any other adventure activity or extreme sport. He's had to rely on financial assistance for many of his adventures. And the current journey Bedwell hopes to achieve might be the most expensive yet. A standard supported climb of Mount Everest can cost up to $100,000, and the various needs of a blind climber raise the price tag exponentially.
Thankfully, one of Sightless Summits' missions is to help Bedwell raise funds for his expeditions. They hope to expand to support other athletes.
"Lonnie has been helping others for years, so the outpouring of folks who want to help him is tremendous," Neal says. "He has made enough of an impact on a lot of people that they want to support him back."
It all began with a tragic accident that left Bedwell unable to see himself in the mirror. Bedwell says before the accident, he never dreamed of kayaking extreme whitewater or climbing mountains, let alone the world's highest. But that accident helped him find new ways to see the world.
"Blindness has allowed me to experience the best part of humanity," Bedwell says. "So many lovely kinds of people give of themselves to make it possible for us to live extraordinary lives. I have more vision now than when I had eyesight. If I could see tomorrow, I would want to, but if I could go back 25 years, I wouldn't change a thing."
Lonnie Bedwell speaks at Pacific Edge Climbing Gym in Santa Cruz on Saturday, Feb. 18., at 7pm. Tickets at eventbrite.com. Santa Cruz Sightless Summits' team member Bryan Hill's photography will be on sale at the event.