Best Medi-Spa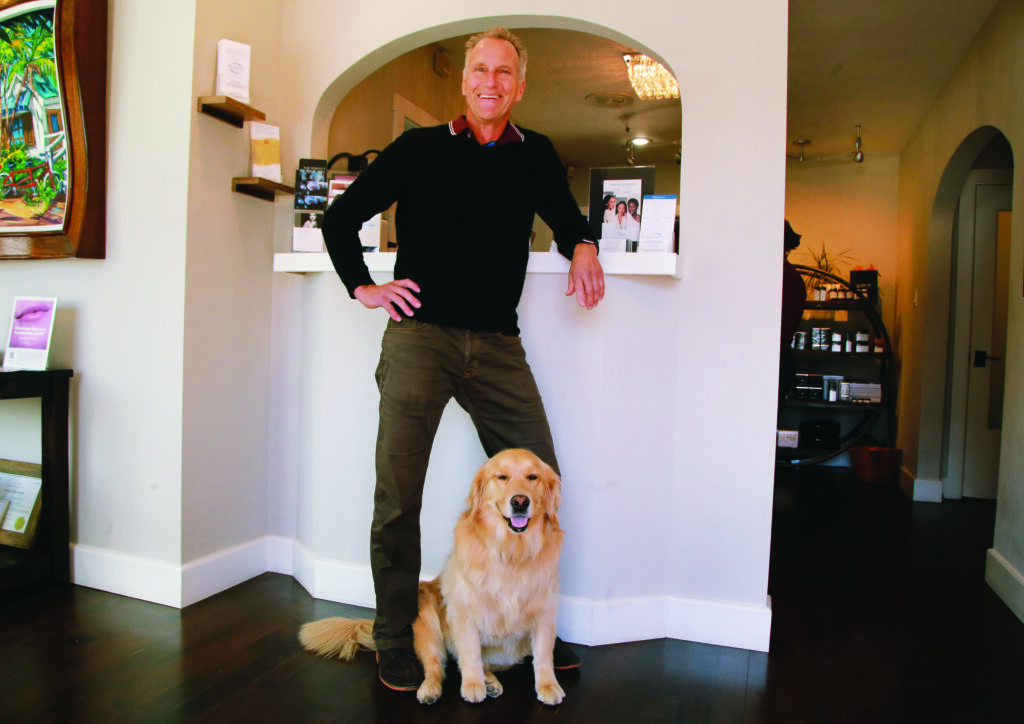 1. Dr. Jay Pennock opened Rejuvenate Medi-Spa in 2017. His work attracted loyal customers who have helped his business thrive.
2. "Dr. Jay," as he's known, founded his practice to help clients look as good on the outside as they feel on the inside.
3. With a team of experienced practitioners, Dr. Jay's model emphasizes risk assessment, disease process reversal and healing of the whole being.
4. He and his staff believe that many of the degenerative diseases of aging (diabetes, strokes and cancer) can and should be prevented. By assessing the current state of a patient's health and determining potential dangers, Dr. Jay believes he and his clients can chart a clear course to a long and fulfilling life.
5. "Your body is your vessel, and you are its captain," Dr. Jay says.
Best Skate Shop
1. Before becoming a king of the Santa Cruz County skating scene, Bill Ackerman wanted to follow in his father's footsteps and become a police officer. Landing a job at a local sports shop—and running the skate department—inspired Ackerman to change his mind.
2. Ackerman started Bill's Wheels in 1977. His first location was in Watsonville, where he rented a tiny building for $125 a month, with around $500 in inventory.
3. Business started to take off, and Bill needed to find a larger space. So, he moved to Crestview Shopping Center on Freedom Boulevard in Watsonville.
4. "Skate Jams" and demos held in his parking lot grew exponentially, and eventually, around 400-500 kids were shredding on ramps, rails and pipes as live bands jammed.
5. Bill's Wheels's now-iconic Soquel Avenue location opened in November 1995. Rows and rows of priceless old-school rigs and skate history cover the large interior. Outside, there's an ever-rotating wall of amazing art and graffiti. Bill's is a skating mecca.
_________________________________
Acupuncturist/Acupuncture Clinic
Five Branches University
200 7th Ave., Santa Cruz, 476-9424, fivebranches.edu
RUNNER-UP Spring Smith, Maria Mitchell, LAc
Bike Shop
Bicycle Trip
1001 Soquel Ave., Santa Cruz, 427-2580, bicycletrip.com
RUNNERS-UP Family Cycling Center, Another Bike Shop
Cannabis Delivery
Santa Cruz Naturals (tie)
9077 Soquel Drive, Aptos, 688-7266; 19 San Juan Road, Royal Oaks, 722-2018, santacruzcannabis.com
Curbstone Exchange (tie)
RUNNERS-UP CHAI Cannabis Co.
Cannabis Dispensary
KindPeoples
533 Ocean St., Santa Cruz, 515-4114; 3600 Soquel Ave., Santa Cruz, 471-8562, kindpeoples.org
RUNNERS-UP Treehouse, The Hook Outlet Dispensary
Cannabis Edibles
Lemon Tree
1961 Main St. Unit 313, Watsonville, 291-1631, lemontreenaturals.com
RUNNERS-UP Treehouse, Big Pete's
CBD Product (Local)
Lemon Tree
1961 Main St. Unit 313, Watsonville, 291-1631, lemontreenaturals.com
RUNNERS-UP Cruz into Wellness, Kind Peoples
Chiropractor
McCollum Family Chiropractic
RUNNERS-UP Marie Royer, DC, Dr. Brendan Gray
Crossfit Studio
Seabright Crossfit
1619 Seabright Ave., Santa Cruz, 600-7867, seabrightcrossfit.com
RUNNERS-UP CrossFit West Santa Cruz, CrossFit Aptos
Dentist
A Gavin McClure, DDS
RUNNERS-UP William R Raffo, M., Carl V Primavera, DDS
Doctor (MD)
Rachel Abrams, MD
RUNNERS-UP Bruce Eisendorf, MD; Bruce Block, MD
Doctor (ND)
Aimée Gould Shunney, ND
740 Front St., Santa Cruz, 465-9088, drshunney.com
RUNNERS-UP Tonya Fleck, ND; Irene Valencia, ND
Esthetician
Melanie Meyer @ The Skin Bar
500 Soquel Ave., Ste. A, Santa Cruz, 295-1277
RUNNERS-UP Sue Bell @ Simply Skin Esthetics, Deann Bokariza Neff @ Studio Spa
Fitness Classes
GOAT Santa Cruz
1055 17th Ave., Santa Cruz, 216-5659, goatsantacruz.com
RUNNERS-UP Fuel PHitness, Toadal Fitness
Golf Course
DeLaveaga
401 Upper Park Road, Santa Cruz, 423-7214, delaveagagolf.com
RUNNERS-UP Pasatiempo, Seascape
Gym
GOAT Santa Cruz
1055 17th Ave., Santa Cruz, 216-5659, goatsantacruz.com
RUNNERS-UP Toadal Fitness, In-Shape Capitola
Hot Tub/Spa Store
Hot Spring Spas of Santa Cruz
RUNNERS-UP Appi Pool & Spa, Paradise Valley Spas
Martial Arts
Sanford's Martial Arts
4626 Soquel Drive, Soquel, 475-9676, sanfordskarate.com
RUNNERS-UP MINORSAN Self-Defense & Fitness, Niji Dojo
Massage Therapist
Yvonne Horner, CMT
526 Soquel Ave., Ste. A, Santa Cruz, 925-640-5174, yvonnehornercmt.com
RUNNERS-UP Don Grey, Holistic Women's Wellness
Medi-Spa
Rejuvenate Medi-Spa
RUNNERS-UP Pacific Coast Aesthetics
Midwife
Dana Ramsey, CNM
2907 Chanticleer Ave., Santa Cruz, 477-2375, sutterhealth.org/pamf
RUNNERS-UP Sunshine Tomlin, Kate Bowland
Nutritionist
Rebecca Hazelton
RUNNERS-UP The Healthy Way, Jocelyn Dubin
Orthodontist
John A. Hedrick
RUNNERS-UP Mark Joiner, North Coast Orthodontics
Outdoor Store
Down Works
222 River St., Santa Cruz, 423-9078, downworks.com
RUNNERS-UP Play it Again Sports
Personal Trainer
Carina Reid
RUNNERS-UP Mary Doyle, Brittany Barrett
Vitamin/Supplements
Staff of Life
RUNNERS-UP Herb Room, New Leaf Community Markets
Pilates
Monarch Pilates
6894A Soquel Ave., Santa Cruz, 475-8994, monarchpilates.com
RUNNERS-UP Pleasure Point Pilates, Hot Elevation Studios, Joy of Movement Pilates & Gyrotonic
Running Store
Fleet Feet
7960 Soquel Drive, Ste. I, Aptos, 662-0886, fleetfeetaptos.com
RUNNER-UP Santa Cruz Running Company, Aptos Running
Sailing Charter
Chardonnay
790 Mariner Park Way, Dock FF, Santa Cruz, 423-1213, chardonnay.com
RUNNERS-UP O'Neill Yacht Charters, Lighthall Yacht Charters
Skate Park
Derby Park
508 Woodland Way, Santa Cruz
RUNNERS-UP Mike Fox, Skypark
Skate Shop
Bill's Wheels
1240 Soquel Ave., Santa Cruz, 469-0904, billswheels.com
RUNNERS-UP Boardroom, Skateworks
Spa (Pampering)
Yoso Wellness Spa
740 Front St., Santa Cruz, 600-8053, yosowellness.com
RUNNERS-UP Chaminade Resort & Spa, Well Within Spa
Spa (Soaking)
Well Within Spa
417 Cedar St., Santa Cruz, 458-9355, wellwithinspa.com
RUNNERS-UP Sage Float Spa, Maitreya Zen Garden and Healing Retreat
Sporting Goods
Play It Again Sports
RUNNER-UP Helm
Snowboard/Skiing
Helm of Sun Valley
RUNNER-UP Pacific Wave
Stand-up Paddleboard
SUP Shack
2214 E. Cliff Drive, Santa Cruz, 464-7467, supshacksantacruz.com
RUNNERS-UP Covewater, Kayak Connection
Surf School
Club Ed Surf School and Camps
RUNNERS-UP Richard Schmidt, Surf School Santa Cruz
Surf Shop
O'Neill
110 Cooper St. #100D, Santa Cruz, 469-4377; 400 Beach St., Santa Cruz, 459-9230; 1115 41st Ave., Capitola, 475-4151, oneill.com
RUNNERS-UP Freeline, Pacific Wave
Surf Spot
Pleasure Point
RUNNERS-UP Steamer Lane, The Hook
Swim School
Adventure Sports
303 Potrero St. #15, Santa Cruz, 458-3648, asudoit.com
RUNNERS-UP Jim Booth Swim School, Seahorse Swim School
Therapist
Emmanuel Denike, LMFT
RUNNERS-UP Michelle Franklin, Ph.D; Catherine Marcotte, MFT
Veterinarian
Adobe Animal Hospital
1600 Soquel Drive, Santa Cruz, 462-5293, adobevets.com
RUNNERS-UP Santa Cruz Veterinary Hospital, Aptos-Creekside Pet Hospital
Yoga Instructor
Lauri Broderick Burr
RUNNERS-UP Maya Lev, Katie Jacobson
Yoga Studio
Pleasure Point Yoga
RUNNERS-UP Hot Elevation Studios, Village Yoga