Best Bank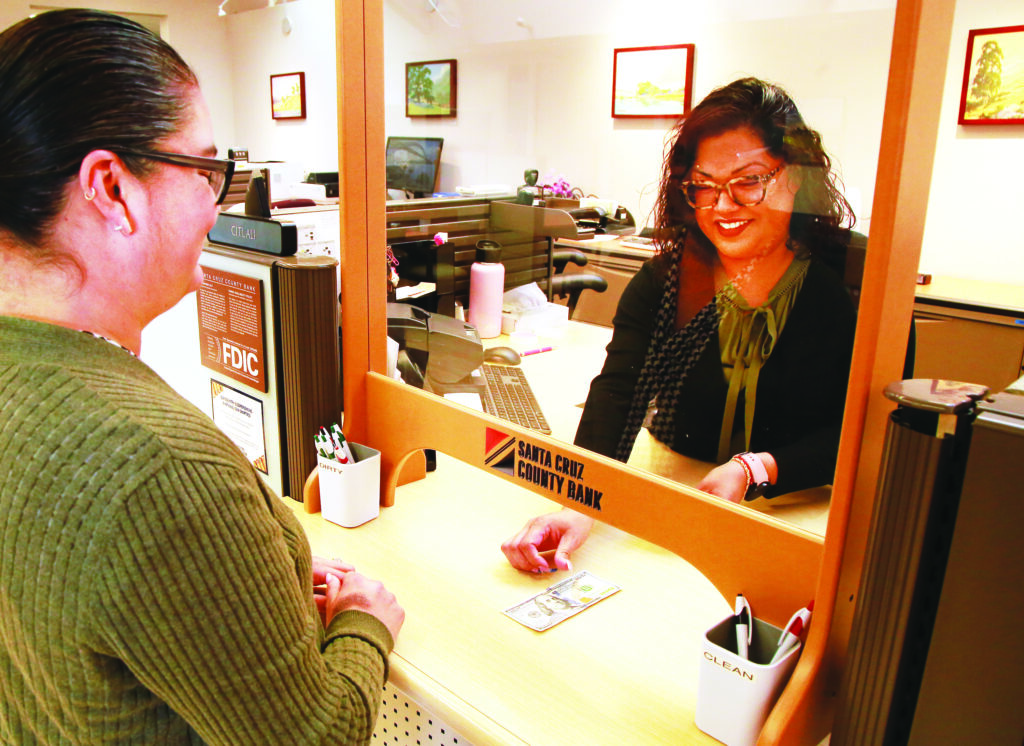 1. SCCB has been a local community bank for 18 years.
2. Community banks are regional in size and only operate in California.
3. It recently expanded into Monterey County and plans to open a branch in Salinas by the end of the year.
4. Through its work with the Payroll Protection Program, SCCB distributed over $573.7 million during the pandemic and saved 50,000 jobs.
5. Customers are greeted by security guard Jose Rodriguez, one of the most upbeat people in Santa Cruz.
Best Bookshop
1. A family-owned business since 1973, Bookshop has survived earthquakes, flooding, fires and a pandemic. Independent bookstores are on the upswing but only survive through community support.
2. During quarantine, Bookshop delivered books on the sidewalk to customers who ordered ahead of time.
3. Its most recent bestsellers are Burning Questions by Margaret Atwood and All About Love, bell hooks' final novel.
4. Event Director Chorel Centers' current favorite books are Groundskeeping by Lee Cole and My Body by Emily Ratajkowski.
5. At the info desk, there is an emotional-support stuffed animal named Norbert Krunchbucket.
Best Furniture Store
1. SC41 opened on 41st Avenue in 2008.
2. It takes pride in exceptional customer service and well-trained staff.
3. Owner Michael Baetge says he saw a "pickup in sales" during the pandemic, especially when it came to furniture built for comfort.
4. SC41 avoided many of the supply-chain problems that other furniture retailers faced during the pandemic—it doesn't rely on China (where many factories shut down) or the U.S. southeast (where freak storms leveled the only two factories producing foam) for materials.
5. The space has been a furniture store since the 1960s and used to be home to the legendary Daffy Don's.
Best Green Retailer
1. Meredith Keet owns the low-waste living shop and "refillery."
2. After Keet's family traveled around the world for a year, seeing first-hand the harmful effects of plastic pollution worldwide, they were inspired to make a positive change back home.
3. Customers, aka "first responders for earth," look for eco-friendly items that help reduce climate change.
4. Shampoo and conditioner are Ethos' best-selling items.
5. Keet sources everything, and almost all items are made in North America.
6. Ethos' goal: a shopping experience that sparks interest and inspiration to make positive changes.
__________________________________

Adult Store
Camouflage
1329 Pacific Ave., Santa Cruz, 423-7613, shop-camouflage.com
RUNNERS-UP Frenchy's, Good Vibrations
Alternative Health Services
Santa Cruz Integrative Medicine
RUNNERS-UP Santa Cruz Naturopathic Medical Center, The Healthy Way
Antiques
Center Street Antiques
RUNNERS-UP Attilia's Antiques, Santa Cruz Antique Fair
Arts and Crafts
Palace Art & Office Supply
RUNNERS-UP Lenz Arts, Beverly's Fabrics & Crafts
Auto Dealer
Toyota of Santa Cruz
4200 Auto Plaza Drive, Capitola, 462-4200, santacruztoyota.com
RUNNERS-UP Subaru of Santa Cruz, Ocean Honda
-Auto Dealer – Watsonville
Chevrolet of Watsonville
RUNNERS-UP Ford, Watsonville Cadillac Buick GMC
Auto Repair
Specialized Auto
2415 Chanticleer Ave., Santa Cruz, 462-3458, specializedautos.com
RUNNERS-UP Rusty's Repair, Chandler Automotive Repair
Bank (Local, Non-Credit Union)
Santa Cruz County Bank
7775 Soquel Drive, Aptos, 662-6000; 819 Bay Ave., Capitola, 464-5300; 75 River St., Santa Cruz, 457-5000; 2020 North Pacific Ave., Santa Cruz, 600-4000, 4604 Scotts Valley Drive # 10, Scotts Valley, 461-5000; 595 Auto Center Drive, Watsonville, 761-7600; sccountybank.com
Bank (Credit Union)
Bay Federal Credit Union
3333 Clares St., Capitola; 48 Rancho Del Mar, Aptos; 2028 Freedom Blvd., Freedom; 420 River St., Santa Cruz; 255 Mount Hermon Road, Scotts Valley; 1481 Main St., Watsonville; 479-6000, bayfed.com
RUNNER-UP Santa Cruz Community Credit Union
Barbershop
Get Faded Barbershop
907 Cedar St., #3801, Santa Cruz, 600-8958, getfadedsc.com
RUNNERS-UP Waves & Fades, Guidos Barbershop
Boat Tour
Chardonnay Sailing Charters
790 Mariner Park Way, Dock FF, Santa Cruz, 423-1213, chardonnay.com
RUNNERS-UP O'Neill Yacht Charters, Stagnaro Charter Boats
Bookshop (New)
Bookshop Santa Cruz
RUNNERS-UP Two Birds, Kelly's Books
Bookshop (Used)
Bookshop Santa Cruz
RUNNER-UP Two Birds, Bad Animal
Butcher
Shopper's Corner
622 Soquel Ave., Santa Cruz, 423-1398, shopperscorner.com
RUNNERS-UP El Salchichero, Point Butcher Shop
Car Wash
Whalers Car Wash
2001 Soquel Ave., Santa Cruz, 423-0676, whalerscarwash.com
RUNNERS-UP Cruz Car Wash, Scotts Valley Car Wash
Carpet Cleaning
Connoisseur
RUNNERS-UP Quality Carpet Care, Aptos Carpet & Upholstery Cleaning
Children's Day Care
Simcha Preschool
3055 Porter Gulch Road, Aptos, 479-3449, simchapreschool.org
RUNNERS-UP Happy Days Children's Learning Center, Capitola Child Care
Computer Repair
Click Away
303 Potrero St., Santa Cruz, 420-1200, clickaway.com
RUNNERS-UP Pleasure Point Computers, User-Friendly Computing
Consignment Clothing
The Closet Shopper
RUNNER-UP Jet Set Bohemian, Crossroads Trading Co.
Contractor
Elite Construction Services
225 Ocean View Ave., Santa Cruz, 234-5052, discoverelite.com
RUNNERS-UP Testorff Construction, Bill Hees
Crystals/Rocks/Stones
Mountain Spirit
RUNNERS-UP World of Stones and Mystics, Serpent's Kiss
Custom Framing
York Framing Gallery
RUNNERS-UP Lenz Arts, Frame Circus
Dry Cleaners
Classic Vapor
285 Water St., Santa Cruz, 423-4646; 809 Bay Ave., Capitola, 479-0650
RUNNERS-UP Master Cleaners, Almar Cleaners
Eyewear
EyeQ
1101 Pacific Ave., Santa Cruz, 466-3937, eyeqsantacruz.com
RUNNERS-UP Plaza Lane Optometry, Site for Sore Eyes
Fabric
Harts Fabric
1620 Seabright Ave., Santa Cruz, 423-5434, hartsfabric.com
RUNNERS-UP Beverly's Fabrics & Crafts, Santa Cruz Sew & Vac
Feed Store
Aptos Feed & Pet Supply
RUNNERS-UP Mountain Feed & Farm Supply, Westside Farm and Feed
Financial Planner
Alison McClure-Ohana Wealth Management
RUNNERS-UP Jacob Young, Rachel Wedeen
Flooring
Bay Area Floors
RUNNERS-UP Samaya's Eco Flooring, Haltom Hardwood
Flower Shop
The Flower Shack
614 S. Branciforte Ave., Santa Cruz, 423-3877, flowershacksc.com
RUNNERS-UP Ace's Flowers, Susi's Flowers
Furniture
SC41 Furniture
2701 41st Ave., Soquel, 464-2228, sc41.com
RUNNERS-UP Illuminée, Couch Potato Discount Sofa Warehouse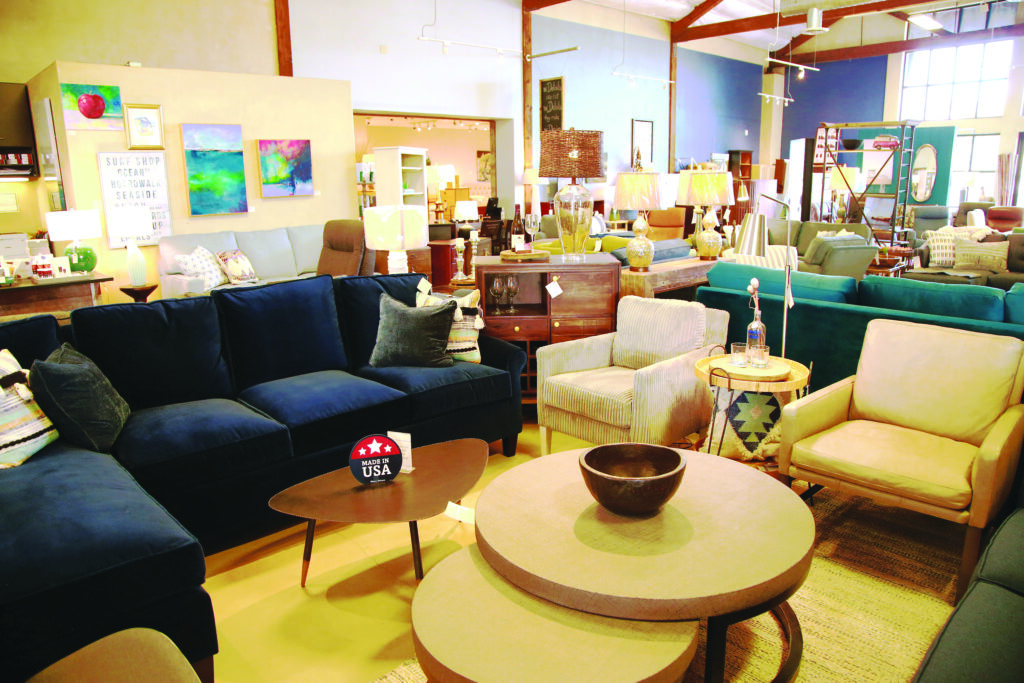 Garden Supply/Nursery
San Lorenzo Garden Center
RUNNERS-UP Dig Gardens, Bonny Doon Garden Company
Gift Shop
Zinnia's Gift Boutique
Graham Plaza, 219 Mount Hermon Road, Scotts Valley, 430-9466, zinniasgiftboutique.com
RUNNERS-UP Dig Gardens, Botanic & Luxe
Green Retailer
Ethos
101 Capitola Ave., Capitola, 854-2490, ethossantacruz.com
RUNNERS-UP Staff of Life, Dig Gardens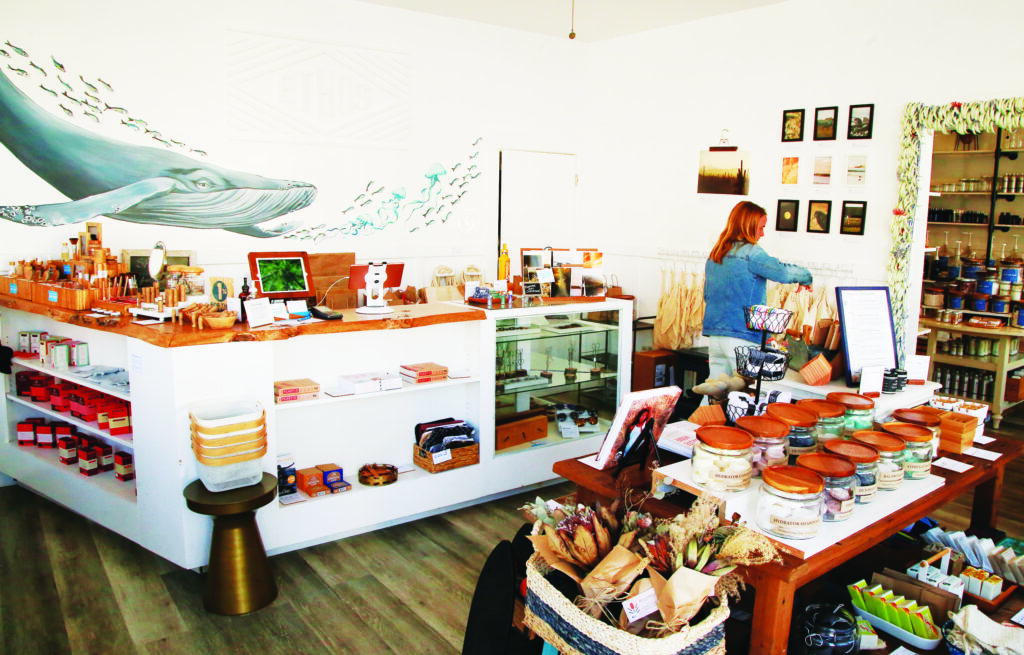 Grocery Store (Local)
Shopper's Corner
622 Soquel Ave., Santa Cruz, 423-1398, shopperscorner.com
RUNNERS-UP Staff of Life, New Leaf Community Markets
Grocery Store (Natural)
Staff of Life
1266 Soquel Ave., Santa Cruz, 423-8632; 906 E. Lake Ave., Watsonville, 726-0240; staffoflifemarket.com
RUNNERS-UP New Leaf Community Markets, Wild Roots Market
Hair Salon
The Nook
920 Soquel Ave., Santa Cruz, 295-6233
RUNNERS-UP Salon Santa Cruz, Urban Groove Hair Salon
Hardware Store
Ace Hardware
1214 Soquel Ave., Santa Cruz, 457-2222; 72 Rancho Del Mar, Aptos, 662-0222; 849 Almar Ave., Santa Cruz, 426-7650
RUNNERS-UP San Lorenzo Lumber & Home Centers, Outdoor Supply Hardware
Headshop
PipeLine
1130 Pacific Ave., Santa Cruz, 425-7473
RUNNERS-UP 831 Smoke Shop, Star Zone Smoke Shop
Home Decorating
Botanic and Luxe
701 Front St., Santa Cruz, 515-7710, botanicandluxe.com
RUNNERS-UP Dig Gardens, Warmth Company
Hotel
Dream Inn
RUNNERS-UP Hotel Paradox, Chaminade Resort & Spa
House Cleaner
Maxima's Cleaners
RUNNERS-UP First Class Cleaning Agency, Dynamic House Cleaning
House Painter
Jesse Gullings
RUNNERS-UP Andson Painting Inc., Brent Pepe Lopez
Hydroponic Supplier
The Grow Biz
2450 17th Ave., Ste. 100, Santa Cruz, 475-9900, thegrowbiz.com
RUNNERS-UP Harbor Marine
Insurance
Chris Buich, State Farm
2222 E. Cliff Drive, Ste. 200, Santa Cruz, 464-4300
RUNNER-UP AAA Capitola/Santa Cruz Branch, Farmers Insurance
Jewelry
Dell Williams
1320 Pacific Ave., Santa Cruz, 423-4100, dellwilliams.com
RUNNERS-UP Mountainside Handmade Jewelry, Super Silver Santa Cruz, Mark Areias Jewelers
Jewelry Repair
Dell Williams
1320 Pacific Ave., Santa Cruz, 423-4100, dellwilliams.com
RUNNERS-UP John's Jewelers, Stephan's Fine Jewelry
Kids' Clothing
Mini Mint
808 41st Ave., Santa Cruz, 600-8587, minimintstudio.com
RUNNERS-UP Hopscotch, Hope's Closet
Kitchen Store
Toque Blanche
1527 Pacific Ave., Santa Cruz, 426-1351, mytoque.com
RUNNERS-UP Outside-In, 831 Kitchens Baths Design and Accessories
Landscaper
Terra Nova Ecological Landscaping
RUNNERS-UP K&D Landscaping
Laser Hair Removal
Laser Hair and Skin Solutions
783 Rio Del Mar Blvd. #71b, Aptos, 689-9830
RUNNERS-UP Aptos Medical Arts, Rejuvenate Medi-Spa & Wellness
Lawyer
Fine Point Law
113 Cooper St., Santa Cruz, 471-5293, finepointlaw.com
RUNNERS-UP Dina C. Hoffman, Lee Ann Shenkman
Life Coach
Camille Ellis
RUNNERS-UP Sandy Jacquard, Healthy Way
Lighting
Riverside Lighting & Electric
RUNNERS-UP Illuminée, Om Gallery
Lingerie
Camouflage
1329 Pacific Ave., Santa Cruz, 423-7613, shopcamouflage.com
RUNNERS-UP Amoureuse, Romantic Nights For Two
Mani/Pedi
Tracy's Nails
1440 41st Ave., Capitola, 462-2292, tracysnailspa.com
RUNNERS-UP Opal Spa & Boutique, Red Carpet Salon
Massage School
Cypress Health Institute School of Massage
RUNNER-UP Five Branches University, Jasmine Flower Spa
Men's Clothing
Patrick James
7538 Soquel Drive, Aptos, 688-2105, patrickjames.com
RUNNERS-UP Berdels, Realm
Men's Shoes
Sockshop & Shoe Company
RUNNERS-UP Patrick James, Beck's Shoes
Mortgage Brokerage
Santa Cruz Lending Group
RUNNERS-UP Jeri Skipper Financial Solutions Home Loans, Brett Blevins
Music Instruction
MusicalMe
239 High St., Santa Cruz, 332-9002, musicalme.com
RUNNERS-UP Be Natural Music, Cabrillo College
Musical Instruments
Sylvan Music
1521 Mission St., Santa Cruz, 427-1917, sylvanmusic.com
RUNNERS-UP The Starving Musician, Jansen Music
Outdoor Furniture Dealer
American Leisure Company
RUNNERS-UP Illuminée, Dig Gardens
Pet Grooming
Bed & Biscuits/Groomingdales
2625 Chanticleer Ave., Santa Cruz, 475-1580, bedandbiscuits.com
RUNNERS-UP Earthwise, Paradise Pet Salon
Pet Sitting
Bed & Biscuits/Groomingdales
2625 Chanticleer Ave., Santa Cruz, 475-1580, bedandbiscuits.com
RUNNERS-UP Woofpack, Robin's Nest Pet Care
Pet Store
Pet Pals
3660 Soquel Drive, Soquel, 464-8775, epetpals.com
RUNNERS-UP Aptos Feed & Pet Supply, Petshop Santa Cruz
Pharmacy
Frank's Pharmacy
7548 Soquel Drive, Aptos, 685-1100, franksrx.com
RUNNERS-UP Horsnyder, Westside Pharmacy
Photo Developing
Bay Photo Lab
715 Soquel Ave., Santa Cruz, 425-1100; 2959 Park Ave., Soquel, 475-6090; 920 Disc Drive, Scotts Valley, 475-6686, bayphoto.com
RUNNER-UP Weber Goldsmith Gallery
Piercing Studio
Amory Body Arts
1720 Brommer St., Santa Cruz, 600-7801, amorybodyarts.com
RUNNERS-UP Staircase Tattoo, Black Pearl
Plumbing Company
Expert Plumbing
2551 S. Rodeo Gulch Road, Ste. 7, Soquel, 316-7338, expertplumbingca.com
RUNNERS-UP Bellows Plumbing Heating & Air, Duncan Plumbing
Portrait Photographer
Devi Pride
1060 River St., Studio #103, Santa Cruz, 600-6055, devipridephotography.com
RUNNERS-UP Kendra Stone-Hinds, Jana Marcus
Pre-Owned Auto Dealer
Argus
RUNNERS-UP Auto One, Santa Cruz Motors
Produce
Santa Cruz County Farmers' Markets
RUNNERS-UP Staff of Life, Sunnyside Produce
Real Estate Agency
Sereno Group – Santa Cruz
720 Front St., Santa Cruz, 460-1100, sereno.com
RUNNERS-UP David Lyng & Associates, Sol Property Advisors
Real Estate Agent
Lauren Spencer – Coldwell Banker
RUNNERS-UP Shemeika Fox – eXp Realtor, Thomas Brezsny – Sereno Group
Real Estate Team
Sereno Brezsny Associates
RUNNERS-UP Kroft & Hulsey Team, My Santa Cruz Real Estate
Record/CD Store
Streetlight Records
RUNNER-UP MetaVinyl, Grey Bears
Roofers
Daddario Roofing
RUNNERS-UP Turk The Roofer, Knox Roofing
Seafood (Market)
H&H Fresh Fish
439 Lake Ave. #A, Santa Cruz, 462-3474, hhfreshfish.com
RUNNERS-UP The Fish Lady, Stagnary Bros
Senior Home Care
Safe at Home Senior Care
RUNNERS-UP Lifespan Care Management, Aegis Living Aptos
Senior Residential Community
Dominican Oaks
3400 Paul Sweet Road, Santa Cruz, 462-6257, dominicanoaks.com
RUNNERS-UP Sunshine Villa, A Merrill Gardens Community
Solar Company
Alterra
207-B McPherson St., Santa Cruz, 425-2608, allterrasolar.com
RUNNERS-UP Sandbar, Solar Technologies
Tattoo Studio
Heavy Water Tattoo
22606 E. Cliff Drive, Santa Cruz, 854-7849, heavywatertattoo.com
RUNNERS-UP Good Omen Tattoo, F U Tattoo
Thrift Store
Goodwill
2550 41st Ave., Capitola, 462-1300; 204 Union St., Santa Cruz, 423-1078; 224 Mount Hermon Road, 430-9029; 470 Main St., Watsonville, 722-2376; ccgoodwill.org
RUNNERS-UP The Abbot's Thrift, Caroline's Thrift Store
Tires
Lloyd's Tires
303 River St., Santa Cruz, 219-4122; 311 Capitola Road, Santa Cruz, 346-1897; 5310 Scotts Valley Drive, Unit C, Scotts Valley, 777-5711; lloydstire.com
RUNNERS-UP Big O, Pasillas
Toy Store (Kids)
Wonderland Toys
RUNNERS-UP Childish, Mini Mint
Veterinarian
Adobe Animal Hospital of Soquel
1600 Soquel Drive, Santa Cruz, 462-5293, adobevets.com
RUNNERS-UP McConnell Veterinary Service, Scotts Valley Veterinary Clinic
Video Game Shop
Level Up
113 Locust St., Santa Cruz, 295-6329
RUNNERS-UP Gamestop, Hadbro Toys
Vintage Clothing
Moon Zoom
RUNNERS-UP Tomboy, Little Red Door
Waxing
The Skin Bar
RUNNERS-UP European Wax Center, Simply Skin Esthetics
Women's Clothing
Pacific Trading Company
1224 Pacific Ave., Santa Cruz, 423-3349; 504 Bay Ave., Capitola, 476-6109
RUNNERS-UP Amber Moon Boutique, Stripe
Women's Shoes
Sockshop & Shoe Company
RUNNERS-UP Bunny's Shoes, Shoe Fetish