The first time I went out during a Santa Cruz Restaurant Week, I was dead broke. I had just started my second year at UCSC and was surviving on free sandwiches, coffee, and bagels from the coffeehouse on campus that I worked at part-time.
When a friend discovered that for one week a bunch of nice restaurants in town would offer three-course dinners for $25, I scraped together enough cash to go, eager to take a break from my mundane diet and enjoy a nice meal for once.
Although I had been lured out to dinner by a good deal, the experience ended up meaning so much more. For one thing, I had my first gnocchi, which was life-changing in itself. But everything—the excitement of going to a new restaurant for the first time, the thoughtful curation of the menu, the careful attention of the waitstaff, indulging in three courses, and, most importantly, taking the time to share a special meal with friends—left me with a great memory.
It's easy to see why locals flock to participating restaurants during this event each year, but what sometimes goes unnoticed is how much the restaurants look forward to Restaurant Week, too. Not only because their dining rooms are full, but because they can proudly showcase their menu and their place in the dining scene to a legion of new diners. Many in the industry, I found out when I spoke with them, take the opportunity to visit other restaurants to enjoy their special menus as well.
Its timing at the beginning of fall, after most of the tourists have gone home, gives us all an opportunity to get back in touch with our restaurant community by going out, sharing a meal, and celebrating one of the reasons why living here is so special.

I asked each restaurant how they prepared for Santa Cruz Restaurant Week and why it is an important community event. It's apparent when you read their answers how excited they are to welcome new guests, show returning customers how appreciative they are of their patronage and take part in a countywide celebration of our cuisine.
To see the special menus, make reservations and enter giveaways for gift certificates to participating restaurants, visit SantaCruzRestaurantWeek.com.
---
Why should guests choose your restaurant to visit during Restaurant Week?
"Aquarius is undoubtedly one of the premier dining venues in Santa Cruz for a couple of reasons. The most obvious one being that it is right on Cowell Beach and affords some of the best beach and surf views in Santa Cruz. Secondly, and more importantly, Chef Ken [Drew] is new to the restaurant (since April of this year) and is doing some great food. He is truly
passionate about using products from local farms and purveyors. You can often find him at the Farmers Market on Wednesday afternoons. His style of cuisine is truly modern Californian, while he maintains the classical tried and tested culinary arts. The Restaurant Week menu has been designed to showcase his true culinary talents." — Mark Oza, Director of Food & Beverage at Aquarius at the Dream Inn
"[Back Nine Bar & Grill] is Santa Cruz's best kept secret, [with] easy access, ample parking and generous portions." — Michele Costa, General Manager at Back Nine Bar & Grill
"We are a fine dining restaurant and 100 percent Italian. Our chef is from Naples, I'm from Milan and our owner is from Calabria. We love to use local, organic food and serve it in Italian ways, some traditional and some more modern." — Andrea Gampelli, Manager at Cafe Mare
"At Chocolate, we see Restaurant Week as a time to welcome new customers with the option of a simplified and affordable menu that is inspired by the harvest season. In this way we strive to make the experience more approachable and ultimately more memorable. We put wines by the bottle on special at low prices to make the whole evening as affordable and gratifying as possible. At the same time, we view Restaurant Week as an opportunity to show gratitude toward our regular customers by offering them a fun and special three-course menu at a very affordable price." — David Jackman, Owner and Chef at Chocolate
"Guests should choose Hindquarter because we don't come up with cheaper entrée choices just to serve for the Restaurant Week menu. We offer three items that you will find on our everyday menu. You'll get a choice of salmon, steak or ribs—all prepared with the best ingredients and high standards." — Laurie Stephens, Manager at Hindquarter Bar & Grill
"We are a great place to visit during Restaurant Week for a number of different reasons. We have a spacious, comfortable
dining room with beautiful views of our Koi pond and cascading waterfall. We have an awesome Restaurant Week menu, with many delicious items. The best value in town! For example, we will be offering filet mignon and prawns as one of the items. We provide excellent service and a friendly, fun-filled environment. We have a full bar, quality wine and a tasty cocktail selection." — Jason Iwatsuru, Marketing Director at Severino's Bar & Grill at Best Western Seacliff Inn
"Guests should choose to visit Solaire for many reasons! In July, we were excited to welcome our brand new executive chef, Aaron Kiefer, who came to us from such showstopping places as the Hard Rock in Palm Springs, the Waldorf Astoria, and the Viceroy Hotel. If you haven't yet tried his delicious, locally sourced, and beautifully presented food, you must! Also, Hotel Paradox is like an urban oasis—our design and ambience are unique and make the restaurant and hotel property feel like a true in-town destination. Dining poolside in the evening is always a treat, and our cocktail offerings are some of the best in town." — Elana Solon, Food & Beverage Manager at Solaire Bar & Grill at Hotel Paradox
"The Water Street Grill will provide outstanding service of an exceptional three-course meal at a fixed price. Our restaurant will aim to create an enjoyable, memorable experience and surpass each guest's expectations. Our staff is looking forward to the opportunity to show Santa Cruz why The Water Street Grill should be added to their list of regularly visited restaurants." — Jonathan Degeneres, Manager at The Water Street Grill
"Restaurant Week has always been a way for [me] to say "thank you" to our incredible, supportive Santa Cruz community.
 [I] always go out of [my] way to have the best deal and use the freshest local ingredients. Restaurant Week is our way of telling Santa Cruz how much we love you. It's a delicious present. Come eat it!" — Arthur Russell, Owner and Chef at Your Place
"October is a beautiful time in Capitola … the skies are clear, the weather is warm and there is plenty of parking. Restaurant Week is a great opportunity for locals to visit the restaurant and experience the peaceful side of Capitola. We have chosen to offer dishes that we have become well known for. Our Wild Alaskan Halibut Baja Tacos and our chile verde are the top-selling items in our restaurant." — Sarah Orr, Manager at Margaritaville
"Our restaurant has been part of our local community forever. Because it's a neighborhood place, customers know our staff and staff know our customers. When a new customer comes in, I always encourage the staff to get to know them so they immediately feel at ease and that they're a part of our community. The next time they come in, we'll remember who they are and welcome them back." — Josh Parmelee, Owner at The Point Chophouse & Lounge
"Rosie's has a great sense of community. It's a place where you feel welcome. We make all of our food from scratch mostly using ingredients found within 100 miles of our restaurant. I don't think many people know that. Guests can feel good about where you're eating and what you're eating." — Rico Contreras, General Manager at Rosie McCann's Irish Pub & Restaurant
What is your approach to your Restaurant Week menu?
"Our Restaurant Week menu celebrates the bounty of the Central Coast, starting with local produce, meat and seafood, then building each dish around the ingredients that are at their peak this time of year. The offerings reflect disparate international influences which come together to form a cohesive vision with each course flowing seamlessly into the next. In addition, Chef Paul Queen and [I] have collaborated to develop a beverage pairing menu with an aperitif cocktail for each appetizer, a beer or wine with each entrée, and a selected sipping spirit to complement each dessert." — Ethan Samuels, Bar Manager at 515 Kitchen & Cocktails
"Right now we're going through a fascinating seasonal transition. Our Restaurant Week menu is a celebration of the end of
summer and the beginning of fall. Cherry tomatoes and cannellini beans collide with delicata squash, cider reductions and bourbon pecan jam. It's a great time to be in the kitchen and to be dining!" — Jessica Yarr, Chef at Assembly
"This year we changed our approach from last year. We decided to do the $25 menu and really increase the value. We have a couple of what I call "lost leaders" on our main menu, really great dishes that sometimes get lost among the favorites, and we decided to feature those on our Restaurant Week menu. It's a good way for us to showcase what we do here." — Mike Goss, Manager at Cremer House
"As we do with all of our menus, our Restaurant Week menu is value-priced, still only $25 for three generous-sized courses. Our long-time Executive Chef Jeff Westbrook has so much fun stepping outside the box to create this menu, and his enthusiasm is shared by the servers as they serve these beautiful meals." — Blaine Neagley, Restaurant Manager at The Crow's Nest
"We were thinking of bringing back some old favorites for people to try in case they forgot about them. We decided to bring back the trout, and to include slow-cooked baby back ribs because I feel like over the last few years we've really perfected the recipe and I want to get the word out about that. We want to remind people that we still make great desserts, with the addition of a warm apple pie with the world's flakiest, butteriest crust ever." — Ed Hoffman, Founder at Hoffman's
"The approach we took to our Restaurant Week menu was to offer a little something for everyone; we want anyone who dines with us to feel like they have options. We've incorporated old favorites and special items for this menu. Having a menu that is inclusive to everyone's dining preferences is important to us. We have created a menu that will definitely cater to any flavor you are looking for, so come on in and indulge yourself." — Aileen Garcia, General Manager, and Casey Garcia, Server and Manager at Ristorante Italiano
"We want to offer some of the classics on our menu and some seasonal dishes. It's a balance of what is always available, what is seasonal and what is more creative and attractive, some dishes that are classic in Italy, but are different. If people are already our customers it's a good opportunity to come try new items we have on our menu that will be available starting during Restaurant Week." — Luca Viara, Owner at Tramonti
"We're lucky enough to work with Swank Farms [in Hollister]—they're my in-laws. We sat down with Dick and Bonnie Swank to talk about what they would have available. We've been using that model through the changing seasons for the last year and a half. We're talking with our farmers and being inspired about what they have to offer and what they're proud of. That's the concept here, that we're putting together dishes that are seasonally correct, because we believe things taste better in the season that they're ready." — Dan Agostinis, Managing Partner at Johnny's Harborside
Why is Santa Cruz Restaurant Week an important event for the community?
"Restaurant Week is an important event in the community because it gives people the opportunity to experience new and different restaurants and meals that might be out of their comfort zone without creating a financial strain on their pocketbook. This week is the perfect time to create special memories with friends and loved ones while stimulating your taste buds." — Casey Dakessian, Food & Beverage Coordinator at Chaminade Resort & Spa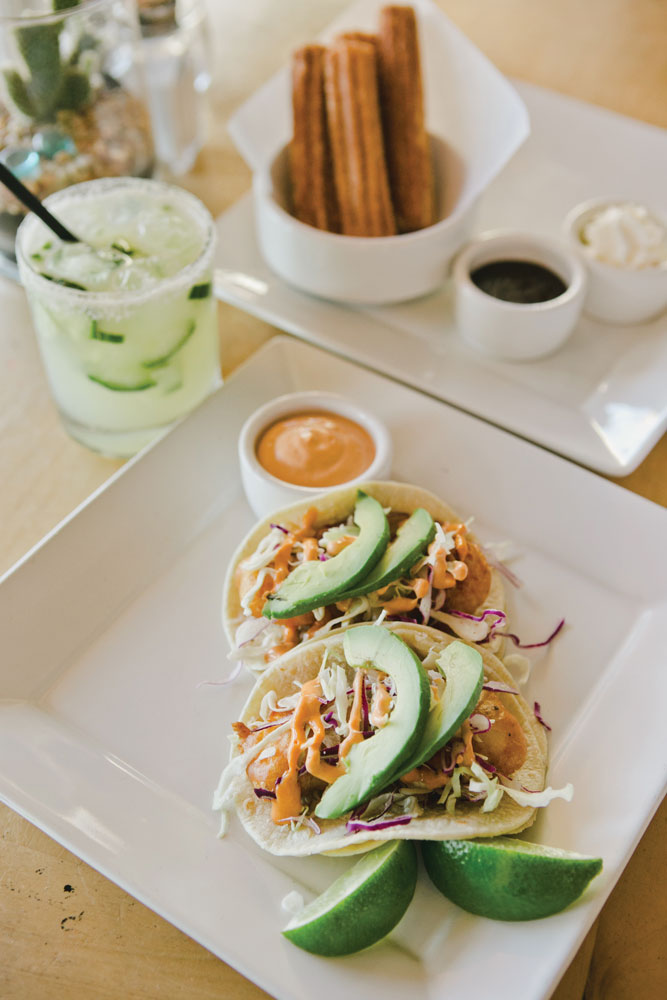 "What we like about this event is that it puts Santa Cruz in the eyes of a lot of people in the Bay Area. It also brings together local people to get to know our local cuisine. I think that's very important. It makes [the event] not just local, but regional. Restaurant Week gives us a strong connection between our neighbors who live here and the Bay Area." — Manuel Rangel, Manager at El Jardín
"It works! There's been an amazing response in the last few years. We do two or three times the normal amount of business on those nights. It's a nice festive atmosphere. It gets people downtown that don't normally come out here. A lot of people don't eat out as much as they should. There's too many people cooking in Santa Cruz. It's really a phenomenon how busy it is." — Paul Cocking, owner at Gabriella Café
"Restaurant Week is a great time to expand your circle of "go-to places." Everyone has their handful of places that they dine at regularly and sometimes it's hard to try new things. Restaurant Week is a great time to get out and try somewhere new." — Hollis Ferguson, General Manager at Hula's Island Grill
"There are a lot of things going on in the country and people are struggling to find their peace again. There are tough times to get through every day, but food brings people together. There's so much happiness and joy when they go out and experience a good meal and have fun again. Santa Cruz is like a small community, people come and go. During this week, we come back together again. It's truly important for us to go out and have fun. This is the most beautiful, tastiest time for tourists, for everyone, even for me. It feels special again, and the customer feels like a star, like they're very special. It's a beautiful moment to go out and experience everyone's creativity." — Ayoma Wilen, Owner and Chef at Pearl of the Ocean
"People get stuck in the restaurants that they go to. They go to the same places and eat the same dishes, because that's what they know. Santa Cruz Restaurant Week is an opportunity to get out there and try new things without breaking the bank. You could try two or three restaurants for the amount you'd pay to the one you go to every week. It gets people out of their comfort zone and into new things. If you don't like it, at least you tried it, and if you do like it now you have a new option. You can get a feel for restaurants at a discount price, but still have a full meal and have a full experience." — Dustin Miller, Asst. Manager at Splash
"Being in such a seasonal and tourist-based area, Restaurant Week allows restaurants to cater to our own community. As students or parents, eating out can be expensive and Restaurant Week affords individuals who maybe otherwise couldn't afford the opportunity to enjoy a three-course meal for a reasonable price. At the same time it allows the restaurants an opportunity to remind locals what makes each of us unique and special." — Jill Ealy, Co-Owner at Zelda's On The Beach
"It refreshes people's memory about what's out there, the variety of restaurants available for the locals. We participate because we want the exposure, we want to remind people that we're here and we're a great option that's been added to Santa Cruz." — Jay Dib, Owner of Mozaic
"The $25 or $35 price point creates an equal playing field to all of the restaurants. It gives all of us as a community an opportunity to go out, know what our budget is and sample the wares of all of the many fine restaurants in the Santa Cruz County area. It's a great time for us restaurateurs to go out and see what everyone else is doing, too. It's an exciting time." — Michael Harrison, owner at Michael's On Main
"Santa Cruz Restaurant Week allows the chefs of all participating restaurants to take the stage and engage in a bit of lighthearted competition. Plus, a week dedicated to a special menu at a reasonable set price is fantastic for drawing in new clientele who might not normally go into Red! This event also prompts members of the community who would not normally leave the house to get together with friends and reintegrate some positive memories into their lives. We all get wrapped up in the stresses of life, and passing time with loved ones is so crucial. It is medicine for the soul!" — Gannon Akin, Manager at The Red Restaurant & Bar
---
Where To Go
515 Kitchen & Cocktails
515 Cedar St., Santa Cruz. 425-5051, 515santacruz.com.
Aquarius
Santa Cruz Dream Inn, 175 West Cliff Drive, Santa Cruz. 740-8138, dreaminnsantacruz.com/santa-cruz-restaurants/aquarius.
Assembly
1108 Pacific Ave., Santa Cruz. 824-6100, assembly.restaurant.
Back Nine Grill & Bar
555 Hwy. 17, Santa Cruz. 423-5000, backninegrill.com.
Cafe Mare
740 Front St #100, Santa Cruz. 458-1212, cafemare.com.
Chocolate
1522 Pacific Ave., Santa Cruz. 427-9900, chocolatesantacruz.com.
Cremer House
6256 Hwy. 9, Felton. 335-3976, cremerhouse.com.
Crow's Nest
2218 East Cliff Drive, Santa Cruz. 476-4560, crowsnest-santacruz.com.
El Jardín
655 Capitola Road, Santa Cruz. 477-9384, eljardinrestaurant.net.
Gabriella Café
910 Cedar St., Santa Cruz. 457-1677, gabriellacafe.com.
Hindquarter Bar & Grille
303 Soquel Ave., Santa Cruz. 426-7770, thehindquarter.com.
Hoffman's
1102 Pacific Ave., Santa Cruz. 420-0135, hoffmansdowntown.com.
Hula's Island Grill
221 Cathcart St, Santa Cruz. 426-4852, hulastiki.com.
Johnny's Harborside
493 Lake Ave., Santa Cruz. 479-3430, johnnysharborside.com.
Lillian's Italian Kitchen
1148 Soquel Ave., Santa Cruz. 425-2288, lilliansitaliankitchen.com.
Linwood's Bar & Grill at Chaminade
One Chaminade Lane, Santa Cruz. 475-5600, chaminade.com.
Margaritaville
231 Esplanade, Capitola. 476-2263, margaritavillecapitola.com.
Michael's on Main
2591 Main St., Soquel. 479-9777, michaelsonmain.net.
Mozaic
110 Church St., Santa Cruz. 454-8663, mozaicsantacruz.com.
Pearl of the Ocean
736 Water St., Santa Cruz. 457-2350.
The Point Chophouse
3326 Portola Drive, Santa Cruz. 476-2733, thepointchophouse.com.
Red Restaurant & Bar
200 Locust St., Santa Cruz. 425-1913, redrestaurantandbar.com.
Ristorante Italiano
555 Soquel Ave., #150, Santa Cruz. 458-2321, ristoranteitalianosc.com.
Rosie McCann's
1220 Pacific Ave., Santa Cruz. 426-9930, rosiemccanns.com/santacruz.
Severino's Bar & Grill
7500 Old Dominion Court, Aptos. 688-8987, severinosbarandgrill.com.
Solaire at Hotel Paradox
611 Ocean St., Santa Cruz. 425-7100, hotelparadox.com.
Splash
49 Municipal Wharf, Santa Cruz. 466-9766, splashonthewharf.com.
Tramonti
528 Seabright Ave., Santa Cruz. 426-7248, tramontipizzapasta.com.
Water Street Grill
503 Water St., Santa Cruz. 332-6122, thewaterstreetgrill.com.
Your Place
1719 Mission St., Santa Cruz. 426-3564, yourplacesc.com.
Zelda's on the Beach
203 Esplanade, Capitola. 475-4900, zeldasonthebeach.com.