The incessant but soft pitter-patter of rain on our camp shade structure had become white noise as the hours passed on Friday afternoon of Burn Week.
I stood sheltered under the tarps of our structure, bundled up in a wool blanket lent to me by a campmate after a mishap had left me drenched. I calmly watched as people passed by, many struggling to walk through the sticky, deep mud. One person "swam" by, wearing only goggles, a swim cap and swimming briefs. Another adventurous soul traversed the mud wearing only skis. Many wore various types of plastic bags secured over their feet to get through the mud.
A few panicked participants ignored warnings and attempted to drive their vehicles through the perilous mud. With every turn of their wheels, I saw layer upon layer of mud coat each tire until the wheel wells were filled. I imagine they didn't make it far. As the rain took a short respite in the late afternoon, revealing a spectacular double rainbow over the Playa, I reflected, as I imagine many Burners did while we sheltered in place.
What does Burning Man mean to me? Why have I felt the need to continue coming to Black Rock City for no less than seven Burns? Why would anyone choose to put themselves in these physically taxing and sometimes unpleasant conditions?
What Is Burning Man?
It is difficult to really explain what Burning Man is like to those who've never been.
Every year, Black Rock City (BRC) is built and deconstructed in the span of a couple weeks. Many refer to Burning Man as a festival, though Burners generally don't use this term. BRC is a city with its own set of "laws" (the "10 principles") and culture.
Just like in every city, there are different sub-communities within BRC and people come to Burning Man for different reasons. While the media tends to focus on aspects of Burning Man that provide salacious stories to entice readers (usually relating to sex or illegal drug use), there is much more to BRC. While I can't speak for all Burners, I imagine that most of us who have gone many times do so because we get something much more meaningful from our participation. A common saying is that "you don't get the Burn you want, you get the Burn you need."
I can say, without a doubt, that I got the Burn that I needed this year.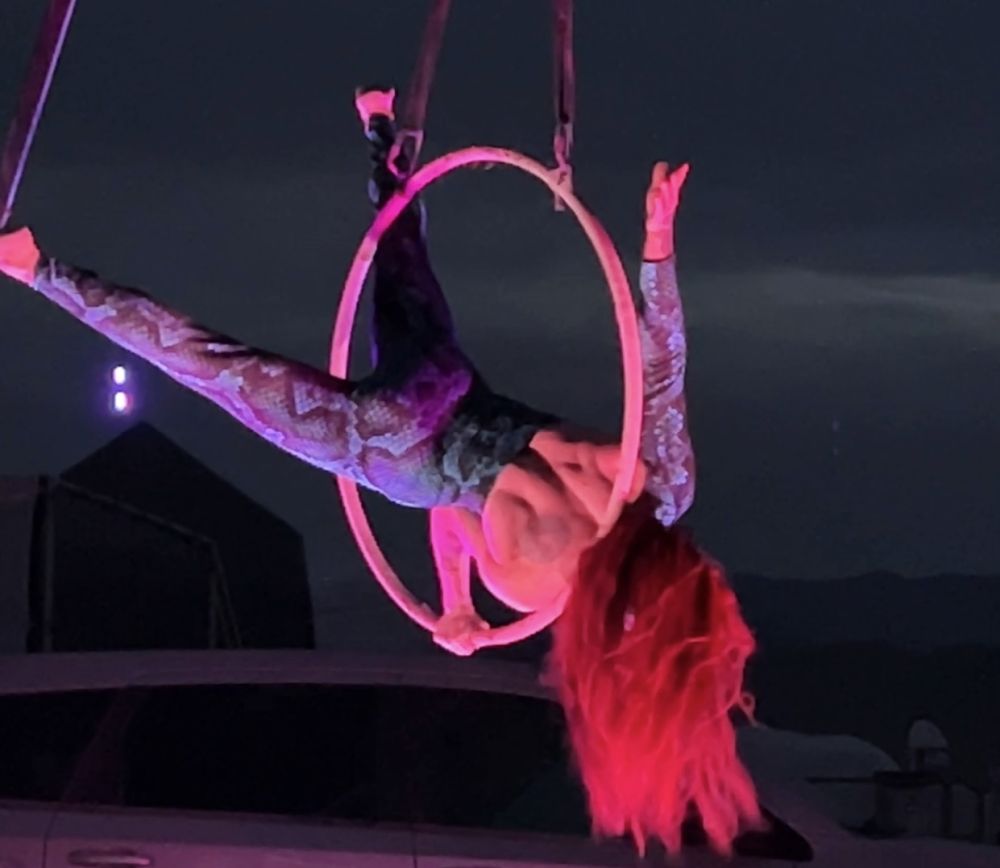 As a professional circus artist, my "gift" ("gifting" is one of the 10 principles) is usually in the form of my art. I teach aerial or pole classes and I perform. This year, I directed and performed in a circus show to provide entertainment for other Burners.
Many people have seen photos of the art from the Playa, however, nothing compares to seeing it in person. The art is mind-blowing. I am always amazed and inspired by the creativity and dedication required to bring these works of art to life on the Playa. Many of the art structures can be climbed, much to my enjoyment. Most of the wood-based art is intended to burn at the end of the week.
While I didn't understand how someone could destroy something so beautiful instead of preserving it during my first Burn, I now find it to be a lovely metaphor for the impermanence of all things in life. We don't need to physically hold on to things forever to enjoy them and appreciate our experiences with them. The actual burning of the art is quite visually stimulating as well, and the art is transformed in a way. While the burns were delayed this year, the "man" burned Monday night and the temple burned Tuesday, both delayed by two days. The "Tower of Babel," one of the larger and somewhat mysterious artworks also burned Monday night. In past years, art burned Thursday through Sunday of Burn Week.
One of the most amazing things about BRC is the generosity, often between strangers. I've never experienced anything like this anywhere else. From receiving heartfelt gifts with no expectation of any returned favor to receiving help from a stranger in a time of need, Burning Man brings out a side of humanity rarely seen outside of BRC in individualistic societies. Physical challenges such as the rain of this year or the more common dust storms serve as catalysts for these connections. If Burning Man occurred somewhere more mild, it's possible that these connections wouldn't happen or wouldn't be as meaningful.
The generosity, art and circus communities, are all things I usually explain to people when asked what draws me to Burning Man each year.
Burn to Rain
As I reflected this year, I looked at those Burners who, like me, have continued coming many times and will likely be unphased by the muddy challenges of 2023's Burn. I also watched those who appeared to be beginning to panic and those who had decided they wanted to leave as quickly as possible, even at the expense of their own safety, the safety of others and the land. Many people completely ignored the principles of Burning Man (which include "leave no trace") and left belongings, trash and even entire camp set-ups.
By traversing the mud, they made it deeper and harder for others to pass through it after them. The areas that were least traveled dried much quicker than the areas with the most traffic (such as the area in front of the porta-potties). I was sad to watch the complete disregard for the land.
Another principle came to mind during this rainy day: radical self-reliance. This is a principle that resonates quite a bit with me. I enjoy taking care of my own needs and traveling by myself (I have gone to Burning Man alone the last three times). I appreciate it when others around me do the same. Black Rock Desert is no joke, and participants really need to prepare adequately to survive the desert for one week.
I have prepared for rain every single year (garbage or ziplock bags are recommended for putting over one's feet). I also always pack extra supplies in the case that something causes a delay. It is recommended that all attendees do the same, as there are many things that could cause an extended stay.
When cell service returned, participants' inboxes were flooded with messages from concerned friends and family. Some news outlets had made statements ranging from hyperbolic to just ludicrous, such as one claim that Burners were being quarantined due to an ebola outbreak.
My experience of the mud wasn't bad at all. Sure, my plans for the Burn changed. I didn't get to do as many of the scheduled activities or see as much art on the Playa. However, I bonded with campmates as we navigated the mud and found other ways to entertain ourselves. Like most people, I did have to miss an extra day of work. I also ended up having to go almost straight to work after the exceptionally long Exodus. It took me 8.5 hours to drive from my camp to Route 34, the nearest highway, after departing around noon once the roads were declared safe to drive.
As usual, I made some amazing connections this year, connections that I likely never would have had outside of BRC. The conditions of Burning Man tend to expedite the forming of friendships. People who engage with the principles of Burning Man are generally more open and share themselves in an authentic way. Experiencing incredible moments and challenges together leads to some unforgettable memories. The friendships that I've made are deep and generally continue outside of BRC. I imagine that many repeat Burners return specifically for this reason: to find a community that accepts and appreciates them. For this reason, I will certainly return to Burning Man if it happens next year, rain or shine. Though it might be prudent to pack a portable toilet!