The atmosphere was electric. One hundred fifty people crowded Streetlight Records on Pacific Avenue in Downtown Santa Cruz. From teens to middle-aged fans, some still in work clothes, others in shorts and face tattoos, took up every inch of every aisle of CDs and records, buzzing with anticipation. Some were local. Others came from the Bay Area and beyond—one person drove 360 miles to be there.
"I'm from Wilmington, California," Giovanna Martinez tells me. "That's like six hours away from here."
Months of planning, back-and-forth emails, texts and calls led to this moment that can be summed up in a word: Drain.
And I'm not talking about plumbing.
Dad jokes aside, Drain is one of the fastest-rising bands in the world of hardcore punk music, and they're based right here in sunny surf city, Santa Cruz. A group that started in small rooms like SubRosa Community Space and Cafe Pergolesi (R.I.P.) has now played large, sold-out venues and received top billing at festivals like Sound and Fury and is about to go out on their first headlining tour sponsored by Monster Energy Drink.

"Everything we do now is surreal," says drummer Tim Flegal. "We just wanted to start a band, play music and hopefully tour."
In January, they played Australia for the first time with Comeback Kid, and in March, they did a 12-day European tour with hardcore heavyweights Madball and H2O. It was their first tour by bus instead of out of their van and certainly won't be their last.
"It was really fun," guitarist Cody Chavez tells me. "We'd all get into our own routines waking up, stepping off the bus to get breakfast, and we're in a new place."
This summer, they'll tour Europe again and play Germany's Wacken Open Air Festival, the world's largest heavy metal and hard rock festival. The 32-year-old fest attracts 85,000-plus attendees, and past bills feature legends like Motörhead, Slayer, Dio, Iron Maiden, Scorpions, Judas Priest, Megadeth and Saxon.
"As a kid, I remember watching videos on YouTube of Cannibal Corpse at Wacken," Chavez says. "It's crazy. I never thought we'd play it, so I'm pretty stoked."
On May 4, the scene mentioned earlier at Streetlight Records—Drain's exclusive listening party for their sophomore album, Living Proof—was the night before the worldwide album release. Attendees had the first listen and were the first to buy it, as an homage to their hometown and the 40831 scenes (a combination of San Jose's and Santa Cruz's area codes.)
"We didn't get to celebrate with our first album," singer Sammy Ciaramitaro says. "We had a record release show planned, and it all got robbed by the pandemic. So, we wanted this to give back to the community we love."
So how did a band that began as a fun project for a couple of UC Santa Cruz students become one of the biggest names in the hardcore scene?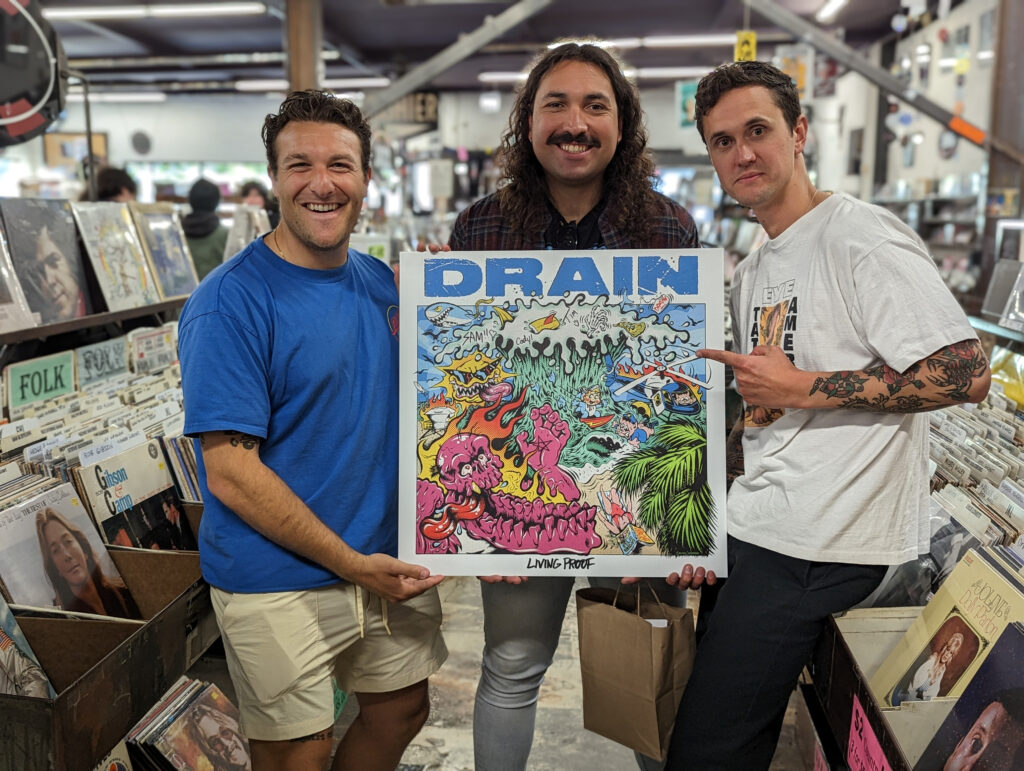 "We're all putting in work," Ciaramitaro says. "We're just doing it."
It might be a little more complicated than that, but it's the core truth. Drain is constantly putting in the hard work all day, every day. Just as the new album's name implies, dedication pays off.
British music publication Kerrang! recently called the California hardcore scene a "global phenomenon," with Drain "elevated to one of the scene's leaders." They chalk this up to two things: "Sammy Ciaramitaro being one of the nicest guys in hardcore" [a sentiment shared by many in the scene and immortalized in print in a Stereogum feature] and 2021's all-day RBS (Real Bay Shit) renegade show "that set things in motion, and the world saw first-hand just how alive and spin-kicking the scene had become." 
RBS has become a legend in the scene, and yes, it's all true. The first Bay Area hardcore show after a year and a half of lockdowns location wasn't announced until a mere two hours before doors. People only knew it was somewhere in San Jose on June 19, 2021. It was featured on various music and non-music media outlets, including BrooklynVegan and Stereogum, and is preserved on YouTube.
A merch pop-up was scheduled for earlier in the day at Printhead screen printing shop (which makes many of the 40831 merch, is owned by Cole Kakimoto of the now defunct Gulch and employed Ciaramitaro), also located in San Jose. Eager fans waited hours in the 100-degree sun just for a chance to buy goods from Scowl, Sunami, Gulch and Drain. It looked like a line outside the Apple store the day before a new iPhone release.
After being cooped up inside with no live music for so long, fans were anxious to rage out their frustrations. They came from all over the country, with some flying out from as far as Florida. By the end of the day, over 2,000 tickets were sold for an event held in a parking lot. Food, stage and sound were all provided by friends of the bands and all without the property owner's knowledge. Fans climbed garbage enclosures, trees and van roofs just to glimpse the performers as a swirling vortex of a mosh pit only settled between set-ups.
"That whole thing was so surreal," Flegal recalls.
"People thought we were industry plants; that was a real conversation," Ciaramitaro laughs. "But no, this is what happens when you're involved in what you do. You don't need a promoter to do this stuff."
ON THE RISING
Back home, Drain's celebrity has exploded. A cornucopia of underground music publications has featured them, like New Noise Magazine, No Echo and The Fader. They recently were interviewed on an episode of Alternative Press' "Artist Friendly" podcast by Joel Madden, co-founder of the publication's parent company, MDDN.
"We make it pretty well known that there's no distinction between the audience and the band, in my opinion," Flegal told Madden. "Get up here, take the mic, jump on the drums. That's the way it should be. That's why we do it."
"There's no audience/artist separation, the audience is part of it," explains Joe Clements. Along with being the singer for the '90s Santa Cruz hardcore band Fury 66, he played an early Pergolesi show with Drain in his Buddhist hardcore group, the Deathless.
"That's what I loved about [the past] hardcore scene, especially in Santa Cruz. They're bringing it back. Not to mention they're a fucking amazing band."
Drain shows summon something primal in listeners; a sense of wanting to break out and do something in a world that seems to be flushing down the drain, which is why people fly out to see the band all over.
"I've seen Drain three times now," says Rene Ayala, one of the fans who drove three hours from Modesto to attend the listening party at Streetlight Records.
When asked what he loves about them, the answer was simple.
"Their energy," he exclaimed. "They bleed California."
For Clements, he sees them as the next generation in the Santa Cruz hardcore family lineage, stemming back to Bl'ast! in the 1980s through the 1990s with Fury 66, Good Riddance and Vicious Midgets, but with Drain's original twist.
"I feel like they have more of a New York hardcore sound like Cro-Mags meets Gorilla Biscuits; it's so cool," he says. "But their vibe is totally Santa Cruz."
Living Proof marks their first on one of the largest–if not the largest–independent punk labels, Epitaph Records. Founded in 1981 by Brett Gurewitz, guitar player for the infamous Los Angeles-based punk band Bad Religion, it released the best-selling independent album of all time—Offspring's 1995 opus, Smash. Punks in the 1990s and early 2000s dreamed about being on the same label as L7, NoFX (before Fat Mike started his own label, Fat Wreck Chords), Rancid, Pennywise and many, many more.
"Epitaph and Fat specifically were labels I grew up listening to," Flegal says, adding that Bad Religion was also one of his favorite bands. "It doesn't even feel real sometimes."
Chavez laughs, "I was living in L.A. on a futon in my homie's living room. Then I got an early phone call from [Ciaramitaro], so I woke up all groggy, and he said, 'You want an espresso shot for the face?'" 
Epitaph signed Drain in September 2021, allowing them to take their time with new material and promote their full-length debut, California Cursed, since they didn't get a chance in 2020. Like all their releases, Living Proof was recorded and mixed by Taylor Young, a massive musician in the heavy music scene, having played for bands like Nails, God's Hate, Twitching Tongues and others.
Young is also one of the top producers in the underground scene. His credits read like a patchworked battle vest in a mosh pit: Xibalba, Suicide Silence, Cannabis Corpse, ACXDC, Terror and more, including another Santa Cruz-based metal group, Arsonists Get All The Girls. Regarding contemporary hardcore, he's worked with acts like Militarie Gunn, MSPAINT and Year of the Knife, and he's currently working on a new record for Sunami.
"There wasn't pressure because of the new label, but there was definitely a feeling that [Living Proof] had to be a little crazier and a little cleaner," Young says. "They made the songs a little shorter and to the point. Everything was more focused."
While the tracks might be shorter, the recording process wasn't. According to Young, California Cursed only took about a week from start to finish but for Living Proof, they spent a full nine days tracking the record and another four months for mixing. That gave Living Proof a crisper sound despite having the same flow as California Cursed.
"I'm a metal and hardcore person; that's what I work on," Young explains. "People come to me to make the most aggressive things. Jon [Markson, who mixed Living Proof] has a pop brain, so there was a blend of me looking for the guitars and drums to hit while he was looking for where the vocals and bass needed to sit for a regular person to enjoy."
The result is the fastest, most professional sound Drain has delivered.
"They've become mature musicians and know what they want now," Young says. "They know what Drain is; they have a vision."
For decades hardcore has grown out of a "tough guy" cliche. Part of that vision is tearing down the hardcore world's gatekeeping: shaved heads, camouflage shorts, black and white Xeroxed images and a dose of entitlement about what is or isn't hardcore.
Instead, Drain's album art is colorful and cartoonish. Their mascot is a cherub-faced kid in a shark costume, the Kewpie, drawn by local tattoo artist Derek Pratt. Their popular, frequently sold-out merchandise is everything from stuffies of their mascot to bathroom slippers, tank tops and, recently, a one-piece bathing suit. Their motto, "Drain is Your Friend," is welcoming, like the members themselves.
Living Proof is only 25 minutes long but it's a deluge of aggressive inspiration. Drain pushes themselves outside of their comfort zones. They branch away from the traditional hardcore formula on track six, "Intermission," which opens with a piano and then bursts into a hip-hop beat with San Fernando Valley rapper Shakewell spitting bars over it.
The second to last song, "Good Good Things," is a cover from the fathers of pop punk, the Descendents (who recently played the Catalyst and gave a shout-out to Drain before breaking into the song for an encore.) It's the first track the band has done without screaming vocals.
"It was surprisingly more difficult to play than one would think," Flegal says. "But I have it so fucking easy. I feel bad for these dudes because I couldn't do what they're doing and sing it."
For Young, it was a huge risk with an equally huge payoff.
"Sammy was nervous about singing it, but he was also pushing for the cover," he says. "It was a little bit more challenging. We could've done any cover, but we wanted to do ['Good Good Things'], and didn't want to make it a hardcore cover."
IN THE BEGINNING …
Drain's story began with Flegal, who started the band with college friends at UC Santa Cruz in 2014. As he told GT in 2022, "It was a completely different band—our sound was all over the place."
The following year, Ciaramitaro and Chavez joined the group, and they started distilling the sound into the hardcore realm. Chavez initially started on bass but soon picked up the guitar (his instrument of choice) and began writing riffs inspired by 1980s thrash metal. They cut their teeth all over town with shows at The Crepe Place, The Blue Lagoon, The Red Room and punk houses. They would play any spot that would have them.
"'Oh, there's a show? Will these people let us play? Okay!'" Ciaramitaro recalls. "One day we'd play with stoner rock bands, the next with technical death metal bands, it didn't matter."
Then there was Cafe Pergolesi. The beloved, defunct coffee shop was a central hangout for the band and others in the scene and hosted some of Drain's legendary early shows. The side room was always packed shoulder to shoulder with everyone moshing, haphazardly running into the speakers and watching the heavy equipment teeter, but never topple over. Ciaramitaro would throw a boogie board into the pit; sometimes he'd crowd surf on it; other times he'd let sweaty fans take the honor—a trick he continues to this day. Malachi Greene, the guitar player for 40831 band Scowl, often threw those shows.
Drain credits the scene's growth to the camaraderie contemporary fans share. Instead of fighting each other, like they did in the past with slogans like "Valley go home," these fans would see one another at shows and become friends. Drain also credits the support of local venues and practice spaces.
"Every single band wouldn't have a place to practice if it wasn't for Santa Cruz Rehearsal Studios," Ciaramitaro says. "You have to give respect to this town for what it's provided."
ONWARD, UPWARD
In 2019, Drain's mercury-quick 12-minute set at the Los Angeles Sound and Fury Fest was all the representative for Revelation Records in attendance needed to sign the band on the spot. They quickly wrote and recorded their first full-length, California Cursed, for the label, which brings us to 2020, RBS in 2021 and back to the present.
As Drain's popularity grew, they've never forgotten where they came from. From the very beginning, they've repped everything Santa Cruz and 40831. They make it clear that, first and foremost, Drain is a Santa Cruz band.
"When people ask, 'Where's Drain from?' I don't say 'the Bay,' I say 'Santa Cruz,'" Flegal explains. "We write everything in-house in this town. Everything we've ever done has been in a fucking room. Sometimes it comes easy. Sometimes it doesn't. But I like that. It keeps it punk in that way."
For example, they joined Scowl last September to play an insane show at the Church House on Pennsylvania Avenue. It was the final show for the iconic arthouse. After decades, the landlord shut it down, so the kids went wild. Hundreds scattered into the street hoping to get in somehow while there was barely any room inside. The thick air was rife with sweat.
"That was probably the hottest show I've ever played. I thought I was going to pass out," Flegal says.
Those in the back could barely see, but it didn't matter. The crowd was there to say goodbye to a favorite house venue, to represent the underdogs of Santa Cruz and celebrate two bands whose energy voices frustration. Living Proof is about that overwhelming sense of helplessness and how we can do something, even if it's screaming into a void. All it takes is the tenacity to keep going.
"This band is living proof that you can do these things and do it your way," Ciaramitaro tells me. "You can do it if you work at it, look inward and keep it true to yourself."