"I was devastated. I thought, 'Oh my gosh, this is it,'" Chuck Platt explains with wide eyes. "Then I got calls from some of the employees who have been here 20 plus years, and they all said, 'Hey Chuck, don't worry.' The Crepe Place gets through everything."
He's sitting in his office above the popular midtown restaurant and music venue, discussing the early days of the 2020 lockdown. It was a dark time for everyone, particularly for new business owners like Platt and his wife, Vanessa. They purchased the Crepe Place two years prior and had the usual new ownership wrinkles smoothed out just as the pandemic hit.
The long-term staff already knew: The Crepe Place would survive. The establishment had already endured a mountain slide, only to move into the Cooper House months before the 1989 Loma Prieta Earthquake condemned the building. More recently, Chuck was hospitalized in early 2022 after being hit by a car in front of the restaurant. He suffered a broken ankle and collar bone, an injury to his left knee and lacerations to his face and body.
"Things were going so well," Vanessa recalls. "Then our cook, Hugo, called and said Chuck had been in an accident."
At first, she didn't believe him, knowing her husband's penchant for pranks. When she realized it wasn't a joke, she rushed to his side. Vanessa, a CPA by trade, mainly works the back end, worried about how the Crepe Place would operate without Chuck. Her worries were quickly eased.

"Everyone offered to help and cover shifts so I didn't have to go in and could concentrate on making sure he was okay," she says.
Once again, the Crepe Place prevailed.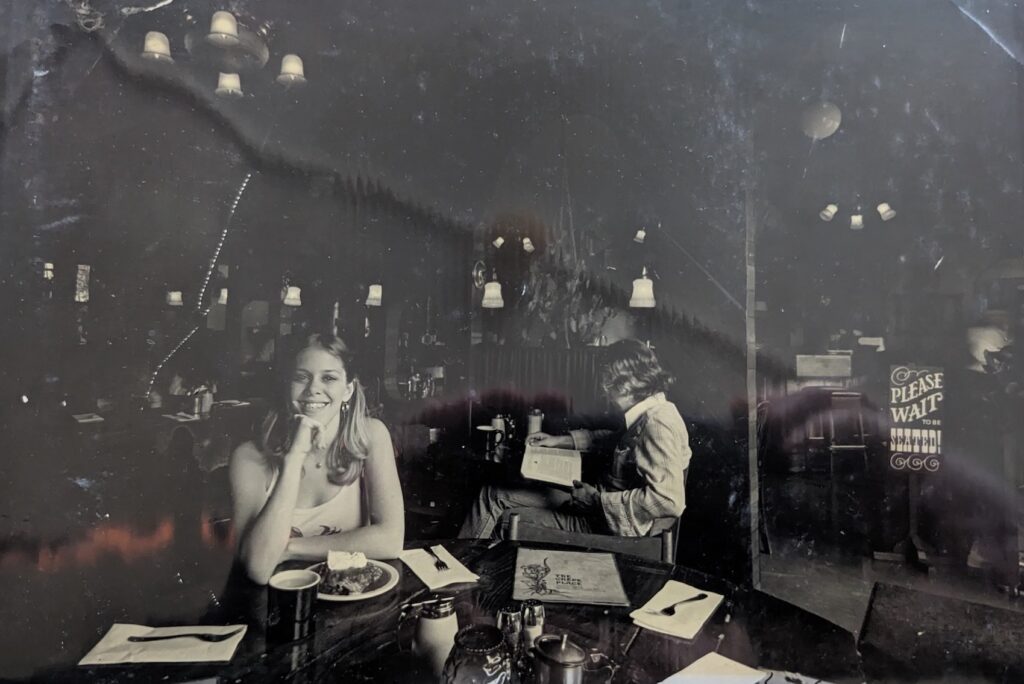 50 YEARS STRONG
February 2023 marks the Crepe Place's 50th year, and the spot will deliver 30 days of sweet, savory and sometimes loud surprises. Throughout the month, there will be an array of music from local acts like Kai Killion (Getaway Dogs), Hod & the Helpers and the DJs at People's Disco, and heavy hitters such as Russ Rankin, Mattson 2 and the Mermen.
Their golden anniversary will also be honored by midtown friends and neighbors, Sante Adarius, who concocted a special anniversary brew, Come Again, canned or on tap.
Chuck also plans on bringing back some classics as specials, including the Tunisian Doughnut, "an old-school, day-one Crepe Place item."
"I've never even had one myself," Chuck admits.
Longtime crepers might remember the honey and lemon syrup-soaked wonder, topped with cinnamon, powdered sugar and fruit jam. It was so delicious Good Times even showcased it in 1981.
"But no matter how full, I can always find room for a Tunisian doughnut," Donna Blakemore wrote. She described it as "huge," adding with chagrin, "now $1 but still worth it."
Chef Hugo Diaz—who's been there since 1996 and whose father, Antonio, has also worked as a chef at the restaurant since 1989—is excited about the "very tasty" treat's return, despite how long it takes to make.
"You have to make the dough and then let it self-rise for a whole day," Hugo divulges. "But it's worth it."
While the future is sweet, every survival story is about more than perseverance. Drizzled throughout are bonds of love, family and community, and the Crepe Place is no different. Every local has a Crepe Place story or memory, has known or been an employee or all of the above.
"It's a Santa Cruz restaurant," Eric "Giff" Gifford says—he co-owned the spot from 2007 to 2018 with Adam Bergeron. "We prided ourselves in being a reflection of our community—we felt the responsibility to keep the place going strictly from the feedback we would get from our customers."
With the wood-centric interior, Zen garden—Santa Cruz's "best kept secret," according to longtime bartender Nick Gyorkos—and extensive bar, there's not another place that embodies Santa Cruz. Its laid-back atmosphere and kitschy art—from the famous "Marihuana" poster and Bob Dylan painting to framed comic books and cluttered knick-knacks—make it a tower of a bygone era.
"It's always been like a family," bartender Dave Pierce says. He's been there for 26 of the last 33 years. "We have the best customers in the world, or at least around here."
More than a restaurant. More than a venue. The Crepe Place is a community hub and one of the few remnants of an older, simpler, less expensive time.
In addition to the owners and the art, the employees should be credited for the Crepe Place's unexplainable charm. Many of the staff have worked there for years—some for decades—generational employees for generational customers.
"There was a time when it was almost impossible to get a job here," Gyorkos recalls. He's worked there for 17 years. "Nobody ever left."
As rare as it is for restaurants to survive and thrive for 50 years, it's even rarer to see one that has changed so little. It looks almost the same as when Gary and Marlene Keeley opened the doors in 1973.

AS THE CREPE FLIPS
From the start, the Crepe Place has always been a family establishment. Gary Keeley's sister, Sharon, initially told him to open a creperie after a trip to Paris.
"She fell in love with them," he remembers, from his Corralitos home. "She said it would sell in Santa Cruz, and she was right. There was no other entity selling crepes, and I think most Santa Cruzans had never even heard of them."
They opened in a small, one-room building—long since demolished—on the corner of Ocean Street and Soquel Avenue.
"We could seat 12 people if they were friends," Keeley laughs. "We had three little tables, and the space was tiny!"
They called their new restaurant The Seine on The Other Side, combining the previous tenant's name—The Other Side—with the French connection.
"We tried to be French and used words like 'Fromage,'" Keeley says, pointing out that the original menu still hangs in the Crepe Place's backroom.
"Our customers called us the Crepe Place. So, when we moved near the clocktower on [North Pacific Avenue], that's when I changed the name," he says before adding with a laugh, "And it's a great name!"
That was 1974—present-day Los Piños location—where they continued to grow for the next 14 years. Keeley's daughters worked there, and his oldest, Lauren, would continue waiting tables for several years, eventually taking over the management aspects of the business. A lot of the menu is the same as it was then.
"[Lauren] says 'by far' the Special Salsa Crepe was our most popular," Keeley says. "She said, 'After waiting tables for years and years, I served more Salsa than anything else.'"
Another favorite was—and still is—the Whole Thing: a dessert crepe with chocolate, banana and nuts topped with whipped cream and a scoop of Marianne's ice cream.
The Crepe Place grew in popularity and size as time passed, eventually taking over the old United Bar space—and liquor license—next to its North Pacific Avenue location.
Keeley says the restaurant was always a reflection of the community, more carefree than today.
"We ran a fairly tight business, but we also had a lot of fun"
Once, a group of people wanted to talk with management about the best way to streak through the business. A naked person did indeed run through the restaurant—Santa Cruz's hippie days marked a very different era.
"Lauren said, 'Well okay,' and gave them a route!" Keeley laughs.
By the mid-80s, the Keeleys tried a second location on the UC Santa Cruz campus. It never caught on. By 1988, the restaurant was more profitable than it had been in years—until Christmas Eve that same year.
A landslide had brought the entire face of the bluff behind the building down on the restaurant. Instead of waiting for the inspection, clean-up and rebuilding, the Keeleys rented and renovated a downstairs unit in the famed Cooper House—now Abbott Square—Santa Cruz's most popular hangout at the time. They reopened in June 1989. However, four months later, the Loma Prieta Earthquake brought Santa Cruz's downtown to its knees and took the Cooper House with it. The owner of the Cooper House wouldn't allow any of his tenants to go in and retrieve anything."
Luckily, a city employee found a legal loophole that allowed Keeley back into the building. Because of that, some of the spot's classic decor, like the Bob Dylan painting, Marihuana movie poster and that iconic policeman sign, were salvaged.
With a lot of help from friends and community members—several locals volunteered their time and labor for free—the Crepe Place reopened at its current location in February 1990.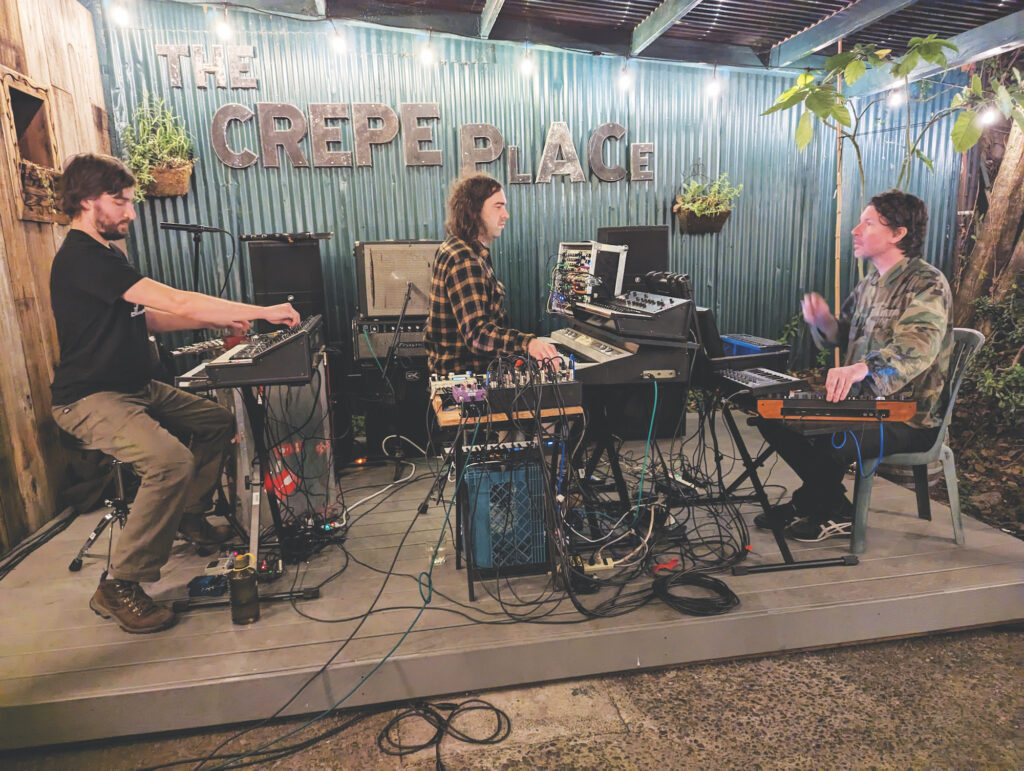 THE MUSIC NEVER STOPS
When longtime employees Adam Bergeron and Eric Gifford—a part-time employee and Bergeron's then-roommate—bought the business in 2007, they made two significant changes. First, they extended the bar to the striking shrine it is today. Second, they turned it into the all-ages midtown music venue it has become.
"When Adam and Giff came in, the Crepe Place became a really great music venue," Germaine Faison says.
Faison worked as a waitress at the restaurant for 23 years and under all three generations of owners. She hung it up in 2020 with the lockdown and her mother's cancer diagnosis.
"Some nights, there would be a great musician, and I'd want to go home but would be so glad I stayed," Faison says. "And then you'd see them on The Tonight Show. So many bands that played were about to blow up."
Acts like the smooth-voiced Americana of the White Buffalo, heavy psych rockers Black Mountain and the late Justin Townes Earle—the troubled, musical genius son of Steve Earle. According to Bergeron, whenever papa Earle played the Rio, he would come by to thank them for treating Justin so well. Often, he would pull up a stool, have a drink and watch a ballgame. It's a testament to the welcoming warmth of the business and a sentiment shared by many musicians.
"J. Tillman—aka Father John Misty—left Fleet Foxes and spent a year on what he called a 'spirit quest,'" Bergeron explains. "He would come and play gigs, but plenty of other nights, he would just come and drink beer."
Where else but the Crepe Place can fans pay a reasonable price to stand a foot away from major, national headlining acts like Pixies founding frontman Frank Black or Portugal. The Man or Canadian alt-country rockers the Sadies? —the Sadies return on March 1.
Meanwhile, the music continues with Platt, bassist for longtime punk outfit Good Riddance. He's also in the hardcore supergroup Seized Up, who packed the restaurant for their live debut in December 2019.
Without a stage, greenroom or the ability to host large crowds, the unlikely music venue has become one of the area's most endeared.
"Music made it more of a spot on the map for people who don't live in Santa Cruz," Gyorkos says. "People all over the world know the Crepe Place as a music venue."
Several employees have played the room with Gyorkos' different bands, from the six-piece soul revival outfit Harry and the Hitmen to the rootsy, country-folk group Bad Maps. The latter he plays with another beloved Santa Cruz musician and former employee, Dan Potthast, also known as Dan P.
"It's the best; I love it!" Potthast exclaims when asked about playing at the restaurant.
Along with Bad Maps and his 10-piece–now defunct–roots reggae and ska act, Dan P. & the Bricks, Potthast has performed solo multiple times while he was employed from 2007 until 2020.
A wooden show flier in the shape of a dachshund he hand-painted for his debut solo show still hangs above the doorway to the kitchen. Potthast returns to the restaurant on Feb. 22 with Beast! and Hod & the Helpers.
"I love that feeling of being on the floor, and the crowd is in your face," Potthast says. "The shows go off!"
GETTING BATTER ALL THE TIME
In 2017, Bergeron and Gifford were looking for a change. So, when they mentioned their plans to their CPA—Vanessa Platt—she saw a perfect opportunity.
"Chuck's always said he wanted a bar or restaurant where he could throw shows," she says. "It appealed to us because it's part of Santa Cruz history. People have been coming for years, and those are the stories we hear all the time."
Chuck adds, "My main job is to keep the Crepe Place relevant with the times. And that goes for the menu, without taking away classics."
When the Platts took over, they kept many classics like the Turkey Club, Crepe Gatsby and the Whole Thing. They've also added tasty treats to the familiar menu, such as tater tots and cauliflower wings. Chuck, who's had a plant-based diet since 1984, worked with Diaz to create vegetarian and vegan versions of every crepe on the menu.
Hungry patrons should also note the unique poutine—a Canadian delicacy of fries and cheese curds drowned in brown gravy (meat or vegetarian)—served only on Canada Day (July 1) and their Thanksgiving Crepe throughout November. But that's not all.
"We now have gluten-free crepes," Chuck proclaims. "We did several recipes until we liked the taste. They're great!"
So, after 50 years, what exactly is the Crepe Place's legacy? Brining crepes to Santa Cruz? A local watering hole where you're almost guaranteed to walk in and see a buddy or make a new friend? An intimate music venue with national headliners where local bands get on their feet? A relic of survival no matter what disaster is thrown at it?
The truth is, it's all of these things and more. After all, what would Santa Cruz be without the Crepe Place?
"The community in Santa Cruz is really special, and the Crepe Place is one of the top 100 reasons why," Bergeron says. "It's part of Santa Cruz's history."
The 50th Anniversary Brunch happens at the Crepe Place, 1134 Soquel Ave., Santa Cruz on Sunday, Feb. 26, 10am-2pm; The "All Vinyl DJ Party" is 3-8pm. Free. thecrepeplace.com