EDITOR'S NOTE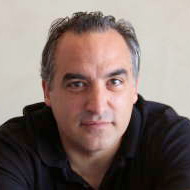 Les Gardner is a fascinating guy who knows a lot about the history of politics in Santa Cruz—not because he heard about it or read about it, but because he has been in the middle of it for years. You may not know his name, but if you live in Santa Cruz County, you definitely have been impacted by some of the decisions he's been part of here.

Hell, if you live in El Salvador, you've been impacted by some of the decisions he's been part of here, as Jacob Pierce reports in this week's cover story.

When Jake first started talking to Les about this story, we were all in a bit of disbelief in the newsroom. It couldn't really be true that Santa Cruz influenced elections in El Salvador, could it? Surely there must be some misunderstanding about what actually went down, we thought. But as you'll read, there wasn't at all. I won't spoil any of the details here, but this is definitely quite a bit different than anything else we've covered about this area's well-known passion for international affairs. What does the future hold for bizarre political stories with a Santa Cruz link? Only Les Gardner knows for sure.
---
LETTERS TO THE EDITOR
Read the latest letters to the editor here.
Over the Line

In the article "Poor Conductor," allegedly about the resignation of the City Parks Director, you used this opportunity to assail Councilmembers Krohn and Glover. Instead of floating a picture of Mr. Garcia, now resigned, which would have been journalistically factual, you had a half-page picture of the two councilmembers, still under investigation and unresolved.  

Presumably you had the information from the council's consultant, describing recent City Council behavior as "dysfunctional," "theatrical," "childish," "disrespectful" and "embarrassing." You could have included that factual statement, which is a direct comment on the council's leadership.  

In my opinion, you stepped over a line that many publications like the National Enquirer do.

I believe that you are better than this.

M. Lee Brokaw
Santa Cruz
Re: Looker

All this means for Santa Cruz is a bunch of high-end tech jobs, mainly for people that live outside of this area, more traffic and more Google buses, more million-dollar housing to support the really, really rich. But in the long run the people that actually have lived here their entire lives are the ones that get screwed, as always—unless of course they work for Google.

— Ron
Re: Nina Simon

Doesn't that go to show the ones that didn't believe in Simon's work. Had I not just come on board recently with the volunteers for the MAH, I would have never known any differently on the truth and what a role she took on for our community—not just the Museum. When I see the variety of faces and all ages, ethnicities, colors, shapes and sizes of humans come to visit, I see equality. Coming from a true local from birth to present and still residing here, yet downtown now, this is the message my father (Peter Demma, Hip Pocket Bookstore, 1964–1968) and many others that moved here in the '60s wanted for Santa Cruz. This is my core upbringing—along with all of my peers that grew up here, too—and how we all would like Santa Cruz to be in the eyes of the rest of the world.

I would like to say "Nina for President," but I wouldn't want to lay that one on her, and sounds like she's got her work cut out for her internationally. Bon voyage, Nina Simon, may we continue what you started and may you share the same light on as many communities your lifetime can handle! I know I speak on behalf of many.

— Melyssa Demma

Re: Recall Effort

Right wingers are being identified by Good Times as being the ones who are behind the recall of Krohn and Glover? That's ridiculous, and you know it, GT. I'm a left-wing Democrat, longtime resident of Santa Cruz, and I have my pen ready to sign the petition. These council members have to realize that they represent the entire populace of Santa Cruz, not a few. They need to understand that they pledged to be responsible for taking care of the city's business, not walking out as some protest. These council members need to pay attention to the health of the community instead of catering to a lawless few who have no regard for the community's health, including their own. Glover lied when he sided with the homeless activists when attempting to sue Santa Cruz in federal court. He claimed there was no drug use at Ross Camp. Really?

— Kevin
---
PHOTO CONTEST WINNER
Submit to [email protected]. Include information (location, etc.) and your name. Photos may be cropped. Preferably, photos should be 4 inches by 4 inches and minimum 250dpi.
---
GOOD IDEA
The Santa Cruz County Sheriff's Office is giving some advice to anyone who calls 911 to report illegal fireworks on or around July 4. In a media release, Sgt. Dee Baldwin suggests callers be prepared to describe the specific location where fireworks are being lit, the individuals setting them off and any specific dangers to property or people. Typically, callers only offer vague information, which clogs up the system, according to the release.
---
GOOD WORK
Anyone who wants an informative, Santa Cruz-oriented view into the confusing world of recycling is in for a treat. The city of Santa Cruz is offering free summer tours of its recycling center, the Resource Recovery Facility at 605 Dimeo Lane, on upcoming Thursdays and Fridays—June 27 and 28, July 18 and 19, and August 22 and 23. The 90-minute tours are at 10 a.m. and 1 p.m. each day. To make a reservation, email [email protected].
---
QUOTE OF THE WEEK
"Half of the American people have never read a newspaper. Half never voted for President. One hopes it is the same half."

-Gore Vidal