"The only honest art form is laughter, comedy. You can't fake it. . .try to fake three laughs in an hour–ha ha ha ha ha—they'll take you away man." – Lenny Bruce
Stop me if you've heard this one: A bushy-faced New Jerseyan, Jewish Deadhead moves to Santa Cruz from Chico and becomes the cornerstone of the comedy scene for the next two decades.
Ok, the punchline needs some work but that's why I'm a journalist and not a comedian. The person in reference, of course, is DNA, who made this his legal name after losing both of his parents when he was 27 and chose to be called by his initials. For 17 years he has brought laughter, music and art to his second adopted community, and this year he celebrates a milestone: the 10th anniversary of the Santa Cruz Comedy Festival (SCCF).
"I watch comedy and comedy festivals like some people watch sports," he says matter-of-factly. "I've designed and curated the particular line-up this year to satisfy the most people."
For the Big 1-0, he's pulled all the stops to make this the biggest fest to date. From Oct. 4 to 7, 40 comics will descend on 10 venues across the downtown and greater area for laughter, music, fun and possibly the cathartic breakdown.

This year features a cornucopia of returning local comedians such as Mac Ruiz, BJ Rankin, Chree Powell and Curtis Taylor III and venues like the Blue Lagoon, Streetlight Records and Kuumbwa Jazz Center.
"Every year except the drive-in year [2020] we've had a show at the Kuumbwa," DNA says. "Lenny Bruce used to play jazz clubs, you know? Comedy and jazz have a deep connection."
Yet 2023 also has lots of firsts with venues like Abbott Square and Rosie McCann's joining the mix to new acts such as Art Critique with comedians literally critiquing art ("It's where high-brow meets low-brow" according to DNA) and the Talkies–a multimedia comedy troupe out of Los Angeles.
"They make short films, some of them make PowerPoint presentations," he explains. "It's unlike anything you've ever seen before.
Then there's the Friday night headliners at the Rio Theatre: Marcella Arguello, Louis Katz and Moshe Kasher. All three have gigged in Santa Cruz in the past, but never together and never before at SCCF.
With so much to do, see and laugh with (or at, depending), we've narrowed the spotlight.
MAC ATTACK
No matter what the profession, hobby or skill, everyone has to start somewhere and that's usually at the bottom. For comedians that means open mics and local showcases, two things Santa Cruz comic, Mac Ruiz, is very familiar with.
"The Blue Lagoon is where you go to cut your teeth, it's the punk room," she explains over coffee. "It's your training. When we had the Poet & Patriot it was the Friday Night Lights or homecoming room. Everyone's there and you don't have to be a certain way. Now we have Rosie's which is the preppy room. It's in a restaurant and a bar so you can order a steak, salad and glass of wine or grab a shot of whiskey and a beer while watching stand-up."
She should know. Although a transplant to the Santa Cruz scene, she planted hard and quickly grew roots, hitting the rooms in 2019 and now co-hosts the weekly, free, 8pm, Monday night show at Rosie McCann's.
"I wasn't serious about comedy until I moved to Santa Cruz and saw there was such a healthy scene here," says Ruiz. "It seemed like such a good community so I jumped in and pretty much immediately felt welcomed."
Ruiz's comedy is open and vulnerable. Her act often includes personal stories of trauma she takes the power back from through laughter.
"We all go through a lot of silent battles that maybe no one will ever know about," she explains. "If I can take those battles, put them out there, and have even one person relate or gain the courage to get through their own, that's what gives me the courage to continue."
A five year veteran of the SCCF, this week Ruiz performs at the Santa Cruz Mountain Brewery with Eddie Pepitone and J.T. Habersaat on Wednesday, Oct. 4 and is hosting the Woodhouse Blending & Brewery on Saturday, Oct. 7.
"That's going to be a really cool show people should check out because we're going to have two stages," she says. "Which is something I've never seen before at the festival."
WOKE BULLY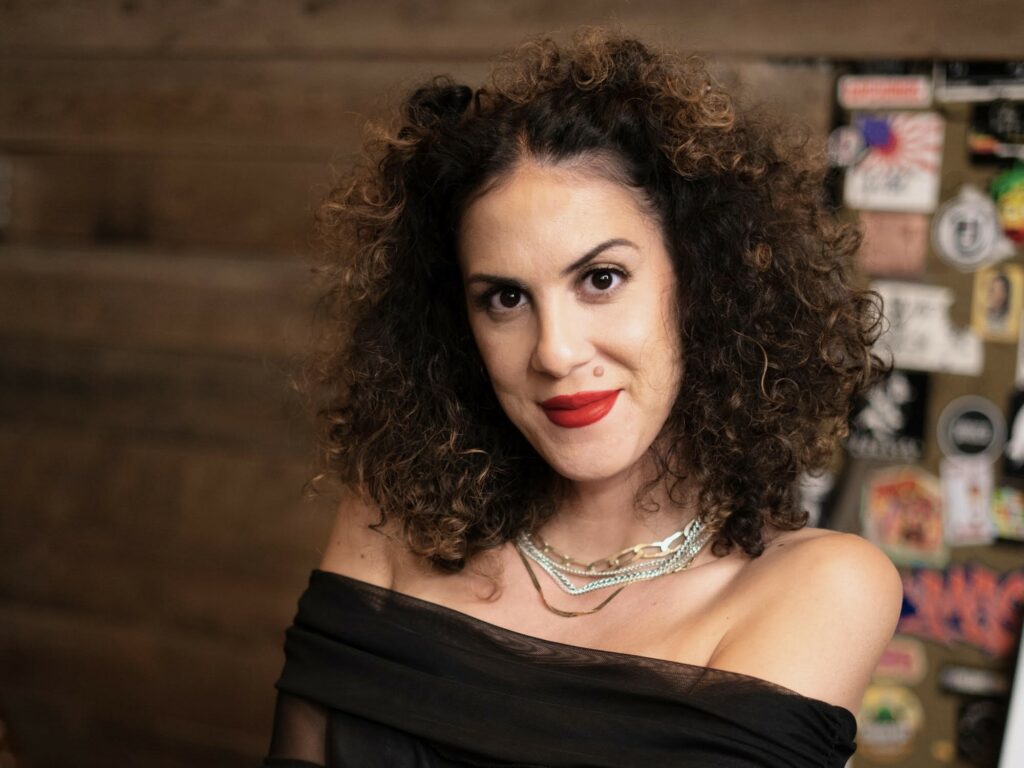 Marcella Arguello's origins in comedy sound like a scene from a Hollywood film.
"Jim Gaffigan told me," she remembers. "I went to see him headline Punchline San Francisco years ago before he was hugely famous. We were just shooting the shit and he just said out of nowhere, 'You should try comedy.'"
Born in Modesto, Arguello is no stranger to Santa Cruz.
"Modesto's great because it has access to everywhere," she says. "We'd take a short drive to go camping, or the Santa Cruz Beach Boardwalk, or San Francisco. As teenagers going to The Mystery Spot was the jam! We did it every summer."
The daughter of Salvadoran immigrants, Arguello says she was always the good kid growing up, at least academically.
"I would kiss my teacher's ass but then be a bully to some kids," she explains. "They couldn't tell on me because the teacher wouldn't believe them. It was the beginning of learning how to deal with the Hollywood industry."
Since her humble days doing stand-up around the Bay at places like the Punchline and the Brainwash Cafe–a laundromat in San Francisco that doubles as the longest running open mic in the city's history hosted by Tony Sparks–Arguello has earned a long list of credits.
She wrote for Netflix's Bill Nye Saves the World, appeared as herself on Fuse TV's We Need to Talk About America (a reality show where first generation, bi-racial comedians dissect American culture to side-splitting and contemplative ends with new episodes dropping this month), and hosted Tubi's clip show, The Cache. Her first album, Woke Bully, debuted at number three on the Billboard Comedy Charts and was named one of the Best Comedy Albums in 2019 by NPR.
This past February, she released her first MAX (ne: HBO MAX) special, Bitch, Grow Up! The hilarious 30 minute set takes audiences through topics like her height (6'2"), her dating life and her childhood pledge through the D.A.R.E. program to never take drugs, then growing up.
"It's literally one show, one take," Arguello admits, saying she only cut out two jokes.
Her fast-paced wit and sharp tongue is a warning to any would-be hecklers.
"Much to the chagrin of my father I've always been quick to point out some logical fact or misstep. I'm the 'Well, actually' person in my family."
As her star rises, she remembers her roots, personal and comedic, which is advice she would give anyone with the passion–or self-loathing–to get up in front of strangers for several minutes in an attempt to make them laugh.
"I wish younger comedians would watch older comedy," she says. "There are so many great women comedians, especially in the 1990s!"
As for the festival, she's excited to come back to Santa Cruz and share the stage with old friends.
"You want to know how long I've known Louis [Katz]? The last show I watched before I started doing stand-up was Dave Attell with Louis opening and we all partied after. I was 21 so that was 17 years ago."
KILLING IT WITH KATZ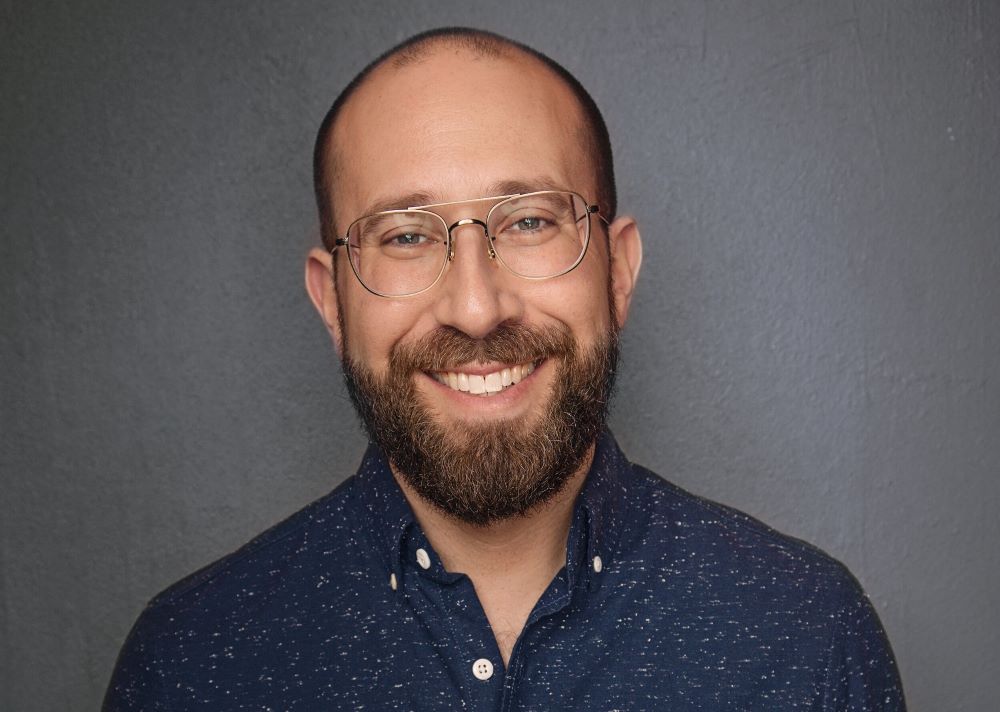 Louis Katz is a comedian's comedian.
His 2018 album, Katzkillz, was named one of the Top Five Comedy Albums of the Year by Vulture.com. He was featured on NBC, HBO, and five times on Comedy Central. His episode of This Is Not Happening–a four year long running show created by Ari Shaffer featuring comedians telling crazy, bizarre and hilarious stories from their lives–has nearly 3 million views.
So why isn't he a household name?
"It's cool being a comedian's comedian but it would also be nice to be an audience's comedian," he laughs. "But I'm happy and grateful for all I've achieved and where I'm at. So few people get to make a living doing this."
Just like his other Rio co-headliners, Katz's stand-up career started in the Bay Area. However, his comedy writing goes back to when he was only nine years old with his jokes read live on the Tonight Show with Johnny Carson. The show had prompted elementary school kids to send their best material.
"So the truth is," he laughs. "A lot of kids did. They just didn't become comedians so nobody gives a shit."
In the pre-internet days, comedy wasn't as mass marketed as it is today. There were basically three ways to get it without going to the clubs: albums, movies and Saturday Night Live, which Katz would stay awake for and sneak to watch when he could.
"It was like this secret world," he remembers. "It was on late at night but made fun of all the things that happened during the day. Like, they'd have commercials but they weren't real. I loved the subversiveness of it."
Another favorite around the Katz home was the legendary Mel Brooks.
"There's two different kinds of Jewish families: either you're a Woody Allen family or a Mel Brooks family. Like the Beatles and the Stones of Jewish comedy," he says. "And we were a Beatles and Mel Brooks household."
While attending his junior year at UC Berkeley, Katz joined a local sketch comedy group and it was during his first show that something clicked.
"The second night really killed and I remember I couldn't sleep. I was just staring at the ceiling thinking, 'This is it. This is what I'm going to do for the rest of my life.'"
While his time in the Bay might've been short–only four years before moving to New York where he still lives–he remembers it fondly. He would look in the back of weekly newspapers for lists of open mics and curated shows he might be able to get a spot on.
BURNING MENSCH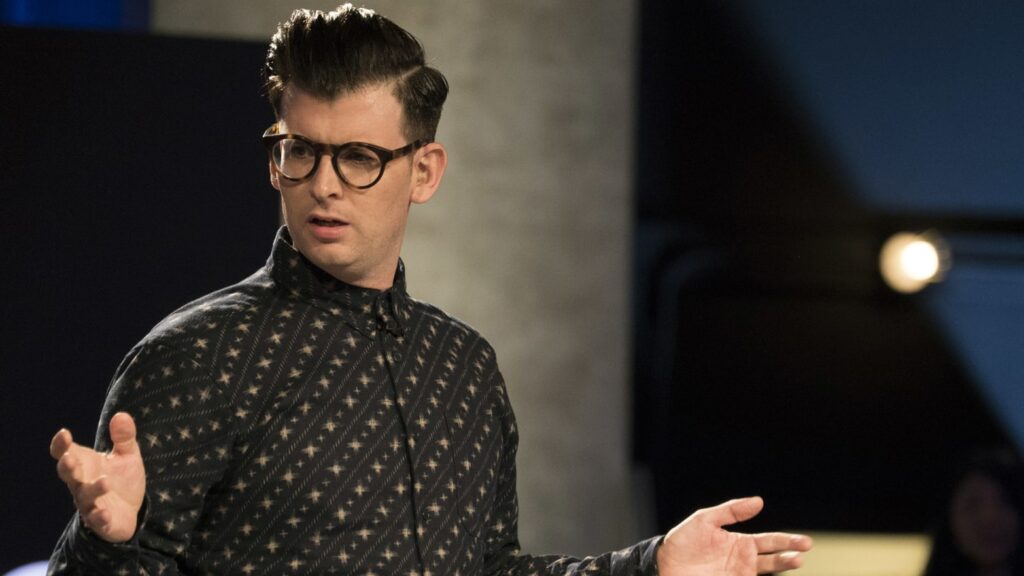 Here's another one for you: a comedian who's been sober for 29 years goes to Burning Man 2023—where celebrities, influencers and "regular" people posted about a rainy, mud-filled hellish landscape–but has the time of his life.
In fact, it was Kasher's 22nd time and his favorite year yet.
"It was funny to be inside of a fake news story," he says. "We were there and there was rain, and mud and it was inconvenient. But then we'd look at the news and go, 'Oh, I think we're in a refugee camp.'
"People love to hate Burning Man and listen, I can't hold that against anybody. There's a certain degree of schadenfreude when you see people who've been annoying you for over a decade talking about their special, annual third eye opening retreat. I get it."
Born in Queens, NY but raised in Oakland, Kasher's dive into the world of EDM (electronic dance music) is like many others in this area: 15 years old with a friend at a Bonny Doon Full Moon rave.
"That night definitely changed the trajectory of my life," he remembers.
"From there I became all of the things when you're sober and deep into the rave scene: a promoter, a dj, a sober ecstasy dealer that would very awkwardly see people from my Friday AA meeting who had gone out to party, so I'd hide in the shadows with a bag full of Molly pills in my pocket so they didn't know what I was doing there. The rest is history."
Kasher describes his family business as "writing words." His grandfather was a journalist and Yiddish author. His aunt is a Holocaust historian, author and documentarian.
Along with his specials, Kasher's writing credits include episodes of shows like Betty, This is Not Happening and his 2017 Comedy Central show, Problematic. He's a successful author, with his 2012 autobiography Kasher In the Rye: The True Tale of a White Boy From Oakland Who Became a Drug Addict, Criminal, Mental Patient And Then Turned 16 and the forthcoming Subculture Vulture: A Memoir in Six Scenes about the six subcultures that've defined his life.
Kasher's also no stranger to podcasting. His first in 2011, The Champs was co-hosted by Neal Brennan (co-writer of Chappelle's Show) and DJ Douggpound (Tim and Eric Nite Live!) which featured guests like musician Questlove, comedian Wanda Sykes, NBA player Harrison Barnes and more. It ran for five years and was voted "Best Podcast" in the L.A. Weekly's "Best Of 2014" issue.
In 2020 Kasher and his rabbi brother created Kasher vs. Kasher a short-lived, four episode podcast about how to do Judaism during a pandemic and lockdown.
"We're like the perfect see-saw of a Jewish family," he jokes of his brother. "An entertainer and a comedian."
His current show, The Endless Honeymoon Podcast, started in 2019 and features Kasher and his wife–the incredibly funny and dry-witted Natasha Leggero–and their guests. People call in asking for relationship advice that is dished out with one scoop of sincerity, a couple dashes of sarcasm, smothered in comedy and lightly roasted. Think Love Line only the hosts are married and much funnier than Dr. Drew..
It's named after their 2018 Neftlix special, The Honeymoon Stand Up Special, with the same format only includes the added bonus of a half hour solo set from each.
"We actually started doing that show together in Santa Cruz at the Vets Hall," he recalls of their 2016 The Honeymoon Tour. "The Mermen played before us. I will never forget that show, it was really awesome."
IT'S ALL IN THE DNA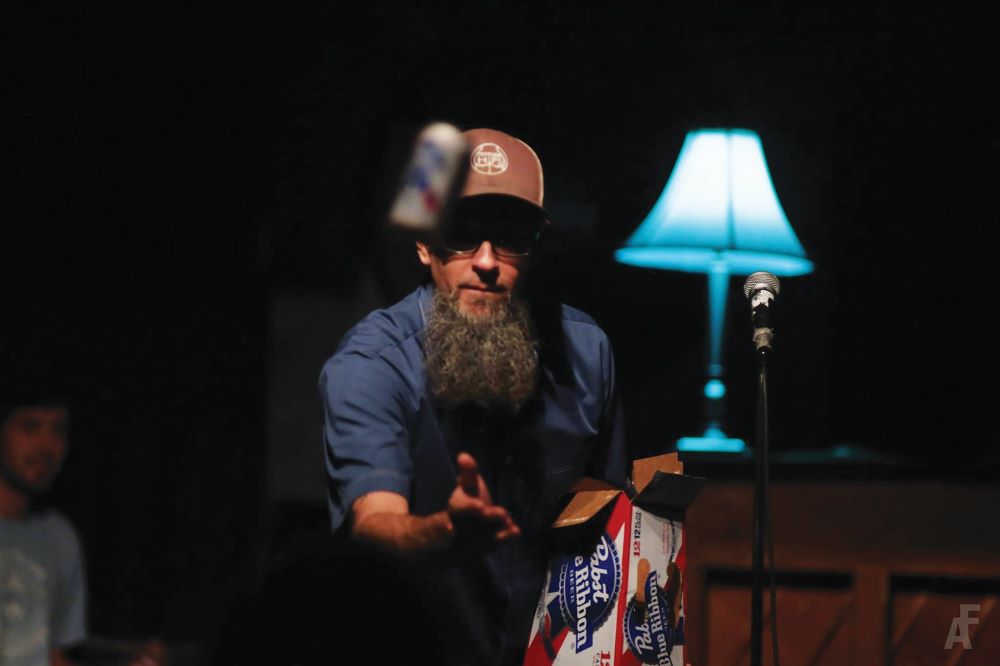 Along with stand-up and the Bay Area there's another thing all these comics have in common: DNA. After all, he's the reason for the Santa Cruz Comedy Festival in the first place.
When asked, neither Arguello, Katz nor Kasher could remember just how–or when–they met the man with the famous beard. In a way, it's an appropriate response. Whether it was Chico, Santa Cruz or the greater Bay Area, DNA's always been there in the background connecting people to each other, throwing a concert or hosting a show and doing everything he can to support whichever community he's in.
"In a weird way, we all met DNA long before we even existed if you think about it," Kasher slyly observes.
He's not wrong.
DNA is the double helix tying this all together. There are so many comedians and musicians that he's helped along the way whether it was by booking them, passing along sagely advice, or just being a friend to listen and laugh with.
"Back in the day we would get into every room we could," Arguello remembers.
As the owner of DNA's Comedy Lab he brought stand-up and experimental art to Downtown Santa Cruz, earning him the honor of "Biggest Leap of Faith" by ex-Good Times editor, Jacob PIerce. Even as the pandemic took his business and the fires threatened his home, he believed in the power of comedy to bring a community together and that year's SCCF was held as a drive-in with audience members honking out their laughter through their car horns.
For 13 years until 2019 he hosted the weekly, free, Blue Lagoonies comedy showcase featuring local amateurs, up-and-coming performers and Bay Area headliners. After taking a year off after the pandemic, he's returned as the show's producer and sometime host or performer.
He's been a board member of San Francisco's Comedy Day in Golden Gate Park for the past dozen years. For the last eight of those, he's been able to get volunteer Santa Cruz comedians to wake up early on the day of the festival, drive to Robin Williams Meadow and build the entire event. Everything from setting up the flatbed truck stage to building the green room tents, taking care of the trash, helping out with sound and more.
"It's a great team building thing," he exclaims. "Last year we all almost died because it was flash flooding with torrential rain. A two ton ten almost fell on our heads and we almost got electrocuted on stage. But–you know– I think those sorts of things are good for people."
"DNA has been very instrumental for me, feeling that it's possible for everyone to be included," remarks Ruiz, who volunteers for Comedy Day. "However you identify. Whatever the color of your skin is and anything in between. Everyone has a place. That's really set a high standard for me."
Truthfully, he's probably reading this right now thinking "Why are you talking about me when there's the festival, comedians and community to highlight?" Which is so very DNA of him. A mystic truthseeker trapped in the body of a hippy, Deadhead comedian who just wants to see those around him rise up and do good. Or as he likes to say: "It's not all about you. Nothing is all about anyone. It's all about us.
---