EDITOR'S NOTE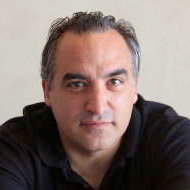 Santa Cruz County has never been known for its welcoming attitude toward new types of food entrepreneurship, and over the years we've covered the struggles of food trucks, for instance, to cut through a flood of red tape around their right to operate.
Well, food trucks have finally broken through into a certain level of acceptance from local officials, thanks in no small part to the crusading work of Food Trucks A Go Go. But as Aiyana Moya writes about in her cover story this week, innovative underground chefs have found a lot of new ways to deliver their creations, and they're running into many of the same roadblocks. What I particularly like about her story is that whether it's sidewalk vending, home cooking or kitchen incubators, she found people with incredibly interesting stories who are doing it. Give it a read!
Also, a note for election watchers: because we're going to press before the polls close, we don't have results in this issue. However, you can find our election-night coverage and the ballot results online at goodtimes.sc.
Lastly, you'll notice our cover has been updated this week to reflect our latest first-place win for General Excellence in the California Journalism Awards: "California's Best Weekly—Three Years in a Row." Thanks for reading!
STEVE PALOPOLI | EDITOR-IN-CHIEF

---
ONLINE COMMENTS
RE: PRIDE
I loved your article on the evolving Pride scene here in Santa Cruz. I know Eli Torres and Suki Berry as friends and neighbors. They are both exceptional artists, and I couldn't be more proud of them both. I remember talking briefly with Eli about their idea of the "Cherry Pit," and the group's concerns as to how it might evolve, and the effort involved in making that happen. Well, congratulations you guys! Your work has paid off and is truly a much-needed breath of fresh air in this town!
— Dag Weiser
If the "new queer culture" includes an emphasis on alcohol consumption at an overpriced pool party, count me OUT.
— Dish Delish
In reply to dish delish: Boo hoo, every party has a pooper. These Queens are continually doing an amazing service for this community and I love them!
— Jules
---
PHOTO CONTEST WINNER
Submit to ph****@go*******.sc. Include information (location, etc.) and your name. Photos may be cropped. Preferably, photos should be 4 inches by 4 inches and minimum 250dpi.
---
GOOD IDEA
FOOD BANK 50TH
Mark your calendars: Second Harvest Food Bank is celebrating 50 years of feeding the community, and wants you to join the celebration. On July 21, the nonprofit will host a dinner and dessert at the Santa Cruz County Fairgrounds to mark this milestone, with leaders from all over the community joining the event. The event is also in honor of Willy Elliott-McCrea, who, after 44 years of service to the Food Bank, is retiring. Buy tickets before they sell out at give.thefoodbank.org.
---
GOOD WORK
TOAST OF THE PARTY
Last weekend marked many Pride events, and after enjoying the celebration we wanted to congratulate the Queer Youth Leadership Awards (QYLA) program on being named—along with Assemblymember Mark Stone—the Santa Cruz Pride Committee's Grand Marshals. QYLA has been honoring LGBTQIA+ youth for 25 years, celebrating teens who have shown leadership in their community. Since it began, QYLA has awarded 100 people, with 500 nominees, all who identify as underrepresented identities. Stay updated on all things Pride at santacruzpride.org.
---
QUOTE OF THE WEEK
"The only restaurants that should be worried about food trucks are bad ones."

— Andrew Zimmern