EDITOR'S NOTE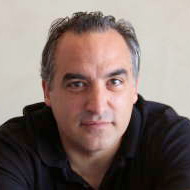 "This is the worst-case scenario," says an evacuee of the CZU Lightning Complex fire in a story this week by Jacob Pierce. I honestly can't think of a better way to sum up what we're all feeling right now. Covid-19 has had Santa Cruz County on the ropes for months, but the last week and a half since that freak lightning storm touched off massive fires in the Santa Cruz Mountains and around the state has made the on-and-off quarantines and bizarre toilet paper hoarding of the spring seem like "the good old days." You know, back when our neighborhoods weren't burning down. When our evacuees didn't have to add a new coronavirus risk to their list of worries by congregating in the Santa Cruz Civic and other shelter points. When we could go outside.

There will be so much loss to take stock of when these fires are over, both for our community and the individuals who have lost priceless parts of their lives. Just read the story this week by Aaron Carnes about Dan Frechette, who recorded an album in his Bonny Doon studio the night before it burned in the fire. He still doesn't know if his home was lost, as well. Or the stories of the evacuees who are facing decisions about if and when they can rebuild, or if they even want to try. It's a heartbreaking time.

There are also amazing stories about the work that firefighters, law enforcement and other community members are doing, and we'll continue to tell those, as well. We're constantly updating our coverage of the fire at goodtimes.sc; look there for the latest news and for resources. It seems like we've been saying "we'll get through this together" all year, but it's never meant as much as right now.

STEVE PALOPOLI | EDITOR-IN-CHIEF
---
LETTERS TO THE EDITOR
Read the latest letters to the editor here.
Since the fires began, readers have been posting about them on goodtimes.sc; some addressing our coverage, others simply wanting to send a message to the community. Here are a few of them:

 

Thank you for your excellent coverage. I keep combing the web to see if there's any news about a place cherished by hundreds of thousands of Baha'is across the U.S., and even in other countries: the Bosch Baha'i School on Comstock Lane, near Bonny Doon, but closer to the northern double back curve of Pine Flat Road. I believe it has been used as a staging area for previous fires, but none have been as horrendous as the network of fires started by the lightning that we're reading about. If you know the fate of "Bosch" (as we call it), kindly let us know. Many thanks! And stay safe.

— Gwyn Magaditsch

 

My heart aches for all my loved ones, their homes, their farms, and the wildlife in Santa Cruz County. I have lived in Felton, Davenport, and Boulder Creek. I hope with all my heart that the weather aids the first responders in containing these fires. Stay safe everyone.

— Michele Maxwell

 

My heart hurts for my hometown of Boulder Creek. Stay safe my loves.

— Cori

 

 

Our prayers are with you all.

— Mario

 

Awesome reporting! Best news I've read so far on fires. Peace to all!

—   Karen P.

 

My wife and I are in Tahoe after evacuating Scotts Valley Thursday evening. Thanks to all the firefighters, and prayers for all to get through Covid-19 and fire.

— Fred Tomlinson

 

My father built our family cabin on Kings Highway in Boulder Creek in 1931. There have been no fires since it was built and none for some time before it was constructed. So it is closer to 100 years since there was a fire and that's made for one thick forest bed. The fire could easily hide in the loam for some time after the main conflagration has passed. Add a little wind, and we do it all again.

—   Bruce Springer

 

Awesome reporting. Great journalism. Thank you for such thorough information.

—   Angela White

 

 

Our prayers are with you.

—   Faten Mansour

 

 

Prayers for all.

— Sandra Jordan


Renaming Cabrillo

Lately there have been concerns about renaming Cabrillo College.  Whether I agree or not is not a concern.  If you refer to a map of our local area, you'll see that Cabrillo College is directly east of New Brighton State Beach. I would like to be the first to recommend the new name to be New Brighton Beach College, or simply New Brighton College. 

George Zadravec | Aptos
---
PHOTO CONTEST WINNER
(10256272)
Grab the kids and unleash your inner artist at the Original Paint Nite. You'll all go from a blank canvas to a masterpiece of your own, with plenty of laughs along the way.

You'll be guided by a talented and entertaining artist, who will:
bring all the supplies and set you and your group up with canvases, paints, and brushes
lead you through step-by-step process to paint "Milky way at the Pines"
entertain and delight your group and make it a memorable experience!
You and the kids will love what your create, and how much fun you have doing it. No experience needed. Come early and grab some snacks!
Please Note:
This event is for children ages 6 and up
Each child must be accompanied by an adult
Every attendee(child and adult) need a ticket
Looking for something besides Plant? At Yaymaker, we do a lot more than Plant Nite and Family Events. Check out some of our other experiences like Paint Nite and Candle Making. For all of our events check out: www.yaymaker.com
Submit to ph****@go*******.sc. Include information (location, etc.) and your name. Photos may be cropped. Preferably, photos should be 4 inches by 4 inches and minimum 250dpi.
---
GOOD IDEA
HERE TO HELP 

Many families and individuals impacted by the California wildfires qualify for CalFresh, which helps families and individuals purchase food. Evacuees may see if they qualify for CalFresh food assistance by applying online on a mobile device or computer at getcalfresh.org or mybenefitscalwin.org. They also may apply by phone at 1-888-421-8080, between 8am– 5pm, Monday through Friday. Paper applications may also be picked up and submitted at 18 W. Beach St., Watsonville, 1020 Emeline Ave., Santa Cruz, or via fax to 831-786- 7100. 
---
GOOD WORK
GET USED TO IT

University of California campuses will start phasing-out single-use plastics, paving the way for campuses free of non-essential plastics by 2030, the UC Office of the President and CALPIRG Students announced jointly Monday. The new policy will transition UC away from plastic bags in retail and dining locations and eventually eliminate single-use plastic food service items and plastic bottles, helping to reduce plastic pollution in California and prevent microplastics from contaminating waterways. The Plastic-Free Seas Campaign collected more than 12,000 student signatures over the past year.
---
QUOTE OF THE WEEK
"It is known that wildfires behave unpredictably—this is fundamental—but it is my experience that humans in the presence of wildfire are also likely to behave in aberrant and unpredictable ways."

-Michael Leunig