EDITOR'S NOTE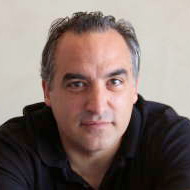 I've been thinking lately about the disappearing art of the classic alternative-press first-person story. It may seem ridiculous to worry about the loss of the first-person perspective in a world where there's more of it than ever, especially online. But I'm not talking about opinion essays, or the thousands of blogs that package editorializing on someone else's reporting as original work. I'm talking about truly personal journalism, the kind pioneered by "New Journalists" like Tom Wolfe, Joan Didion, Hunter S. Thompson and Gloria Steinem; the "participatory journalism" of George Plimpton, who would actually join and play with everything from pro sports teams to orchestras in order to get the most insightful story possible.

I got a hit of Plimpton from Liza Monroy's cover story this week; it's ostensibly a profile of maverick Santa Cruz surfboard shaper Carl Gooding. And it is that, don't get me wrong—Gooding is a fascinating subject. But Monroy's story is just as much about her own journey, and the challenges she faces as a woman surfer—some of which she wasn't aware of until she started taking a deeper look at exactly how the design and shape of a surfboard works—and eventually, designed and shaped one herself. I think it's a great surfing story, profile and example of how participatory journalism continues today.

STEVE PALOPOLI, EDITOR-IN-CHIEF
---
LETTERS TO THE EDITOR
Read the latest letters to the editor here.
ONLINE COMMENTS

Re: Water District Merger

This whole idea is a complete waste of time and money. Everyone knows that Scotts Valley is going to develop more with the Town Center and more high-density housing. And absolutely nothing to build more water production and storage infrastructure. Soquel Creek Water District is spending $100 million to use less than 15% of the wastewater, when they could have used 100% of it for the same amount of money, contingent on if they could use the rail corridor for a larger pipeline. Said pipeline could be extended to Deep Water Desal. Now you have plenty of water to eternity. But, no, we need the brilliant Rail + Trail billion-dollar project. Morons control the infrastructure decisions in California. Let's build a section of High Speed Rail, or don't fix a $10 million repair job on Oroville Dam. Everyone in SLVWD is going to oppose this, and they already started sending in their protests today.

— Bill Smallman
---
PHOTO CONTEST WINNER
Environmental Volunteers' After-School Nature Walks program for 2020/2021 is designed to help students and their families get to know our local city parks and open space areas. Small, individual, family groups will be guided by a knowledgeable environmental educator during a 90-minute (covid-safe) exploration of a local park. These small groups will be introduced to fun nature-based activities, and a chance to learn more about the plants and animals all around us. Offered twice a week (Tu/Th), the location will change to a new park each month, and families are welcome to sign up for as many as they like. Cost is $8/child for each session. The field trips are intended for children ages 6-11.

Submit to [email protected]. Include information (location, etc.) and your name. Photos may be cropped. Preferably, photos should be 4 inches by 4 inches and minimum 250dpi.
---
GOOD IDEA
THINK OF THEM

The Family Service Agency of the Central Coast's I-You Venture is helping alleviate some of the increased loneliness and isolation seniors in care facilities have been facing during the pandemic. Community members can send "Thinking of You" cards, or donate items such as crossword puzzles, word search books, adult coloring books and art supplies. Items can be mailed to: FSA/I-You Venture, 104 Walnut Ave., #208, Santa Cruz, CA, 95060, or dropped off at the Santa Cruz Volunteer Center,1740 17th Ave., Santa Cruz, CA (marked "Attn: I-You Venture"). Office hours are Monday-Thursday, 10am-noon and 1-4pm. They then deliver the items to local care facilities. For more information, call 831-459-8917, ext. 205.
---
GOOD WORK
SHOW TIME

While the rest of us talk about when live music might come back, Michael's on Main has been dipping music lovers' toes back into the live experience this month with their "Dinner and a Show" series—very limited capacity shows on Fridays, Saturdays, Sundays and Wednesdays, with seating at socially distanced tables. Table reservations are available for two or more, and face masks are required. Upcoming shows include Sambada on Saturday, March 20, and Anthony Arya with Life is a Cabaret on Saturday, April 3, Grateful Dead covers every Sunday, and more. Call 831-479-9777, ext. 2, for tickets.
---
QUOTE OF THE WEEK
"Surfing is a way to be free."

-Lisa Anderson, Four-Time World Surfing Champion