EDITOR'S NOTE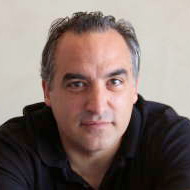 This is the third year we're doing Santa Cruz Burger Week, and every time we do, we get letters from vegetarian and vegan readers bemoaning the focus on beef. We've had veggie burger options every year, but of course it's true that the majority of Burger Week offerings are beef burgers.

But will it always be that way? Anyone who read my dust-up with Lily Stoicheff in these pages a couple of years ago over who has the best burger in town knows that I do have a thing for well-made burgers, but I'm also an aficionado of great plant-based patties, going way back to my days of haunting the Saturn Café when it was on Mission Street (I loyally followed to its current location downtown, of course).

When I first tried the Impossible Burger last year, I was instantly sold. The idea of making a veggie burger as "rare" and juicy as possible might seem gimmicky at first, but the results are remarkable. In combining the umami bomb that most beef-burger eaters seek with the sustainability of a plant-based product, I have long suspected Impossible Foods has found a winning formula.

Then I saw more and more places locally add it to their menus—now there are nearly 20 places in the county (by my last count) that serve it. Several Burger Week participants are offering an Impossible Burger as an option, including not only Saturn, but also Flynn's, Hula's, Parish Publick House and Splash.

So in our pullout cover story for Burger Week, we take a closer look at how the Impossible Burger is changing the veggie burger game. You'll also find a guide to every participating restaurant, along with their menus and an explanation of how this week of burger feasting works. Like me, you can plan your own restaurant route for the next seven days. See you there! 
---
LETTERS TO THE EDITOR
Read the latest letters to the editor here.
Down the Drain

Perhaps the most crucial problem currently underway in the Soquel Creek Water District is the huge amount of money that has been, and continues to be, spent on developing a system to clean up sewer water and inject it into the aquifer (sometimes referred to as the poop water project). Yes, it is being done elsewhere, but that is no reason to justify doing it here.

It is said that it is virtually impossible to eliminate all the various pharmaceuticals people dispose of in their toilets, and that treated water being dumped into the oceans contains such contaminants. This being the case, there is no reason to believe that the district could avoid contaminating our aquifer. Furthermore, it is questionable whether this source of water is necessary, as there is evidence of adequate water without it. Yet the district management continues to spend tons of money on the project. It is time to know the truth!

Another significant problem is the number of water offset credits granted to the Aptos Village Project. The fence that surrounded the project since the beginning of construction had a lot of signs on it that extolled the idea that the project has saved great amounts of water, much of it having to do with a claim that the developer replaced a significant number of fixtures at Cabrillo College.

Replacing a single toilet results in a document four pages in length. The document describing the replacement of 70-some toilets and 40-some urinals at Cabrillo consists of one page and is signed by a foreman from the Village Project; no evidence of purchases by whom, when, where, how many, or the cost. Neither the college nor the water district produced any of that evidence. If this work was actually done, it is up to the college, the water district and the developer to prove it!

Thomas Stumbaugh
Aptos
West Cliff Ride

E-bikes are great, and so is the idea of using them as alternative transportation. Unfortunately, it seems only Claire Fliesler, the city architect of this plan, supports introducing 118 electrified bikes to the West Cliff multi-use pathway; 162 residents and pathway users have written the City Council in opposition, and 250 residents/pathway users have signed a petition in opposition. The comment that the pathway was designed to accommodate bikes, pet-walkers, seniors, wheelchairs, pedal-power bikes and electrified bikes is a bit disingenuous. The pathway in many critical sections is less than 6 feet in width and has no lane markings or regulatory markings. Folks have gotten injured along this pathway in bike-pedestrian collisions, and that is before introducing 118, 60-pound electrified bikes. In addition, residents and friends of the natural environment along West Cliff Drive find the idea of locating dozens of bright orange bikes in commercial lots along our coastline a degradation of a precious coastal environment. But, some folks think that multiple facial tattoos and nose ornaments are really cool. Are these the same folks that champion dotting the lighthouse, Steamer Lane and Mitchell cove with orange e-bikes? Also, CVC Section 21207.5(b) allows the City Council to forbid these electric bikes on the pathway. I wonder why.

Phil Crawford
Santa Cruz
---
PHOTO CONTEST WINNER

Submit to [email protected]. Include information (location, etc.) and your name. Photos may be cropped. Preferably, photos should be 4 inches by 4 inches and minimum 250dpi.
---
GOOD IDEA
Santa Cruz environmentalists have joined the Humane League's "imnotlovinit" campaign to raise awareness about the welfare of chickens that end up in America's sandwiches. UCSC's Banana Slugs For Animals will hold a silent protest in front of the McDonald's at 1421 Mission St. in Santa Cruz on Friday, March 1, from 5-6 p.m. The Humane League is campaigning to see McDonald's, the world's largest fast food company, publicly commit to a meaningful welfare policy for chickens suffering in its supply chain. For more information, email Sydney Fox at [email protected].
---
GOOD WORK
Julia Hartz is "an energy person." The Eventbrite cofounder, who grew up in Santa Cruz, said as much in a recent interview with the New York Times. "Maybe it was growing up in Santa Cruz, or maybe I was just born with it, but human energy, I just feel it so much," she explained. Also, a job with the Ugly Mug that Hartz took at age 14 left a big impression: "I would get there before it was light out and open up. From the Ugly Mug on, I've never not worked."
---
QUOTE OF THE WEEK
"We all need to make time for a burger once in a while."

-Erica Durance