EDITOR'S NOTE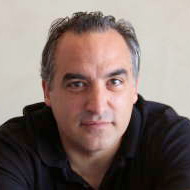 There is a long tradition of "anti-Valentine's-Day" Valentine's Day issues at Santa Cruz alt-weeklies. Maybe it's because journalists are naturally contrarians, or because the syrupy sweetness of the holiday is just so ripe for salting. But man, there have really been some great ones. Like the time we wrote about the ghosting phenomenon here at GT a couple of years ago. Or Georgia Perry's "Take a Ride in the Junk Trunk" memoir back at Santa Cruz Weekly, which was the worst-date story to end all worst-date stories. And back at Metro Santa Cruz, we celebrated V-Day one year with a "No Sex" issue.

It's not always doom and gloom with our love lines. Former GT staffer (and current Love at First Bite columnist) Lily Stoicheff wrote a truly heartfelt defense of Valentine's Day one year after she got sick of all our cold prickling. And I thought last year's V-Day issue with Maria Grusauskas' story on two local sex podcasters was remarkably cuddle-positive.

But yeah, we're back to our wet-blanket ways this year—sorry, Lily! Our V-Day issue cover story is about divorce, it's true; specifically, a local photo project that involves jamming people into a cursed wedding dress and getting them talking about their failed marriages. But I think Georgia Johnson's profile of Kay Hansen and Georgia Cantando, the two women behind this phenomenon, actually proves that our fascination with the dark side of Valentine's Day isn't really rooted in some kind of nasty cynicism. It's actually because the stories of our shortcomings and failures in love can sometimes be more revealing, moving and human than some idealized portrait of love triumphant—and are also super entertaining! Hansen and Cantando definitely understand this, and have taken it to a new level. So slip into something formal and uncomfortable, and give it a read!
---
LETTERS TO THE EDITOR
Read the latest letters to the editor here.
Complicit in Censorship

Thank you so much, GT, for sharing the story about the Financial Times' report on Netflix's decision to, at the request of the Saudi government, pull an episode of The Patriot Act because host Hasan Minhaj criticized the Saudi government, which is responsible for the (still unpunished) murder of journalist Jamal Khashoggi (GT, 1/9).  It was important to hear again, loudly and clearly, how Reed Hastings of Santa Cruz, head of Netflix, downplayed his company's stark act of complicity in censorship on behalf of a murderous regime by calling it  "banal" and "benign." He further claims that Netflix supports "artistic freedom." Really? Until when? Until an authoritarian government with which you have business dealings requests you silence an artist for condemning that government?

Hastings is the multimillionaire head of a media empire, and his casual disregard for the effects and implications of his actions on freedom of the press and intellectual freedom, and his willingness to cooperate with a violent, repressive government that wishes to continue to murder journalists unrestrained, is both supremely chilling and enormously revealing. With his words and actions, he shows himself, and his company, Netflix, as unfit to be one of the few mediums through which we may access brilliantly informative programs such as Minhaj's. As a result, people of conscience will look for alternatives to Netflix.  However, there are very few options for viewing media because U.S. antitrust laws have laid dormant for decades. Perhaps it's time to dust them off, so that we have the choice to access media from companies that have respect for intellectual freedom and freedom of the press.

As citizens who do not want to support companies that engage in immoral actions and decisions that destabilize the democratic process, what are we supposed to do? How far will participation in censorship by media monopolies go?

Jessica Murray
Santa Cruz
Jump Scare

There are many things to like about the Jump bikes that are now stationed all over town. They are convenient, good exercise and environmentally sound. Nonetheless, I've noticed a significant safety issue that seems to be getting no attention from either Uber (the owner of Jump) or the City of Santa Cruz. The city's FAQ page on the bikes is clear: "Can my child ride a Jump bike? No, bike share membership is limited to ages 18 and over." However, every day I see children and teenagers riding these bikes around town, usually without helmets (which happens to be illegal as well as unsafe). I understand that Uber's policy is merely intended to limit their liability and that they have no desire to try to actually enforce it. But where is the city? Does a kid have to be seriously injured or killed before they start enforcing the age limits (to say nothing of the helmet law for minors)?

Mordecai Shapiro
Santa Cruz
---
PHOTO CONTEST WINNER

Submit to [email protected]. Include information (location, etc.) and your name. Photos may be cropped. Preferably, photos should be 4 inches by 4 inches and minimum 250dpi.
---
GOOD IDEA
The Santa Cruz County Office of Education is coordinating the Santa Cruz County Mock Trial Competition. This year will be the 13th for the contest, which runs Feb. 6-27. Mock Trial gives students the chance to learn about their judicial system. Judges volunteer to preside over the hearings, and more than 40 local attorneys volunteer as scorers. The winning team will represent the county at the state finals in Sacramento in March.
---
GOOD WORK
Before southern California's Carlsbad Desalination Plant opened in 2015, UCSC scientists saw an opportunity to study the effects that high-salinity brine might have on coastal waters. Their study's results, published Jan. 25 in Water, included both good and bad news. There were no significant changes to nearby sea life from the discharge, they found. But salinity levels exceeded the permitted level, and the salt plume extended much farther offshore than had been permitted.
---
QUOTE OF THE WEEK
"I have decided to stick with love. Hate is too great a burden to bear."

-Martin Luther King Jr.