EDITOR'S NOTE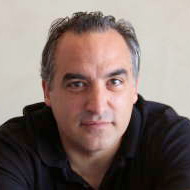 I love Santa Cruz's supernatural lore, and over the years at Metro Santa Cruz and Santa Cruz Weekly and even earlier incarnations of Good Times, I've written or published cover stories on "the curse of Santa Cruz," the local Alfred Hitchcock connection and the supposed hauntings of places like Sunshine Villa. While I'm personally not a believer in most of the paranormal elements that come with these stories, I continue to be totally hooked on them. Every place needs its legends, and we have some great ones.

Back then, though, even a lot of locals weren't that familiar with these tales. In fact, the first time we ran a cover story on the curse of Santa Cruz at Metro Santa Cruz, some people actually thought we had made it up. That's the interesting new wrinkle in Lily Stoicheff's cover story this week: Santa Cruz spookiness has gone mainstream. I never thought there would be a tour you could take of local haunted spots, although now of course I can't wait to take it. And we have our own local team of ghost hunters? We are really coming up in the world of paranormal chic. Deservedly so, as far as I'm concerned. Happy Halloween!

STEVE PALOPOLI | EDITOR-IN-CHIEF
---
LETTERS TO THE EDITOR
Read the latest letters to the editor here.
CARRYING ON A VISION

Santa Cruz for Bernie is a democratically run organization with 2,000 members whose volunteer energy over the past year achieved a victory for Bernie Sanders in Santa Cruz County in the June primary election. If anyone can claim to be carrying on Bernie's political vision here, we can. Now we've moved on to down-ballot elections as Bernie asked us to do. The current leadership of our group was elected by nearly unanimous acclamation at our August meeting attended by 250 members. Our group subsequently endorsed Drew Glover, Sandy Brown, Chris Krohn and Steve Schnaar as the Santa Cruz City Council candidates who we believe will best further the people-centered politics that Bernie advocated.

I point out these facts to dispel the suggestion in Linda Proctor's letter of Oct. 12 that a small group of activists has hijacked our organization's democratic process and mission. We apologize for our communication error in failing to notify Ms. Proctor that we considered her a member based on her activism for Bernie, and we would have welcomed her participation in our deliberations.

Jeffrey Smedberg | Founder, Santa Cruz for Bernie

Santa Cruz
No Sanders Platform for Santa Cruz

There is no "Sanders platform" (GT, 10/6). Bernie has not endorsed any candidate in the Santa Cruz City Council election. A small group of the senator's supporters control the local email list that was formed for the primary election, and this faction continues to imply that Bernie is behind the Krohn slate. Such deception dishonors Bernie by falsely implying his support. I voted for Bernie in the primary, as did most of my friends. For city council, I strongly support J.M. Brown, Cynthia Mathews, Robert Singleton and Martine Watkins, who will ensure the wellbeing of all our neighborhoods.

MICHAEL FREINBERG | ACME Building Consultants | Santa Cruz
Measure D and Climate Change

Measure D, the transportation tax, has been falsely represented as helping to greatly reduce greenhouse gas (GHG) emissions.

Transportation accounts for half of the county's GHG emissions. The Santa Cruz Regional Transportation Plan, of which Measure D is a part, achieves only a pathetic 3 percent decrease from 2005 GHG levels by 2035.

On Sept. 8, Governor Brown signed into law SB32, which requires the state to reduce GHG emissions to 40 percent below 1990 levels by 2030. Our county's 3 percent decrease won't even get us back to 1990 transportation GHG levels.

Many people think that climate change is too big for them to make any personal positive impact. But if enough concerned citizens vote no on D, we can tell the politicians we want a better plan with greater greenhouse gas reductions and a real positive impact. Visit skyhighway.com/~rjs to read a full analysis of Measure D GHG claims.

Richard Stover

Santa Cruz

---
PHOTO CONTEST WINNER
Submit to [email protected]. Include information (location, etc.) and your name. Photos may be cropped. Preferably, photos should be 4 inches by 4 inches and minimum 250dpi.
---
GOOD IDEA
VOTER GUIDE
We're told it's our civic duty to vote, but who's willing to step up and make that easy for the poor or disabled? This year, Community Bridges will offer free door-to-door transportation for all community members to their polling place, courtesy of its Lift Line program. Four years ago, 54 percent of eligible voters cast their ballot, even though 84 percent were registered. People can also still sign up to vote by mail. For more information, visit votescount.com. To schedule with Lift Line, call 831-688-9663.
---
GOOD WORK
WAVE OF OPPORTUNITY
The California Coastal Commission told the Mavericks surf competition that it wouldn't get a permit this year if it didn't open its doors to women for the first time ever. Last week, Cartel Management announced a women's heat. "It's quite simply the right time," an organizer told the Santa Cruz Sentinel. "There was no compelling driver other than it was the time to do it." Uh, and the fact that the commission made you?
---
QUOTE OF THE WEEK
"The supernatural is the natural not yet understood."

-Elbert Hubbard