EDITOR'S NOTE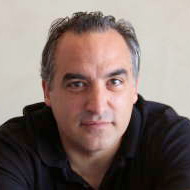 It was the 30th anniversary of Don Williams' African American Theater Arts Troupe, and their new production that is debuting online, that spurred the cover profile of the group and its founder this week. But this story is timely for so many other reasons, and the one I thought most about as I read Anna Maria Camardo's piece was how it fits into Black activists' struggle to force a new reckoning with issues of racial justice and representation in this country via the Black Lives Matter movement. I've respected Williams' work for a long time—AATAT started while I was at UCSC, and we wrote about it at City on a Hill while I was there (Camardo is also an alum of the paper, by the way), as well as at the local papers I worked at after that. But I never realized until reading this story how hard Williams had to fight even for this group to exist, that it was student protests that saved the program in the early 2000s, and that those protests were directly responsible for the establishment of UCSC's Cultural Arts and Diversity Resource Center. The fact that three decades in, AATAT is still the only group in the whole UC system dedicated to Black theater really punctuates what a visionary and an arts activist Williams is.

But again, there's so much to this story, and a lot of it has to do with the love and respect that has built up around Williams over the years. If you were ever involved with AATAT, you definitely recognized the quote on the cover this week as his favorite saying. Here's to many more years of AATAT, and thanks to UCSC's Susan Watrous for all her help with getting this story onto our cover this week.

STEVE PALOPOLI, EDITOR-IN-CHIEF
---
LETTERS TO THE EDITOR
Read the latest letters to the editor here.
ONLINE COMMENTS

 

Re: George Washington statue

So. Where does this all end? We have an admitted vocal minority that desires to erase anything they don't agree with and one side who respects History for what it is, and that it is and to learn from it, good and bad. Do we now rename the city because Mr. Watson was a bit of an undesirable? What about names of Streets, Parks and Communities named after Spanish Banditos or others who may not have been Angelic? Cancel Culture is a very slippery slope and only causes division. Be an adult and if you don't like something, pass it by, but to not deny others from their Rights to enjoy. Removing the Bust should require a refund of ALL money left to the City by Mr. Alaga in my opinion, Library funds also.

— James Griffin

 

Re: Pesticides

Geez, all of this is terrifying! I for one would love to see more oversight over the kinds of chemicals companies can use as pesticides, since winds and water run-off can easily lead to these dangerous compounds affecting the local environment and populations.

—  Josh

 

 


---
PHOTO CONTEST WINNER
Submit to [email protected]. Include information (location, etc.) and your name. Photos may be cropped. Preferably, photos should be 4 inches by 4 inches and minimum 250dpi.

---
GOOD IDEA
STICK SHIFT

METRO is now offering free rides to anyone coming to or from a Covid-19 vaccination appointment in Santa Cruz County. Riders will need to show proof of their appointment to the driver when getting on the bus, such as a picture, printout, or email confirming a vaccination appointment or a vaccine card. ParaCruz riders will need to specify that they are heading to a vaccination appointment when making their reservation to qualify for free fares. For more information, go to scmtd.com/en.
---
GOOD WORK
STEEP INCLINED

It's all in the name. Scotts Valley's Steeped Coffee is a local company that pre-grinds their coffee and serves it in biodegradable bags. Similar to tea, these bags are steeped in hot water. For their innovative packaging design, Steeped Coffee recently won the OnTrend® Best of Show award at a natural and organic foods conference hosted by the wholesale food distributor KeHe. There were over 550 other providers at the show. You can learn more about Steeped Coffee at steepedcoffee.com. 
---
QUOTE OF THE WEEK
"I think it was the ability of the theater to communicate ideas and extol virtues that drew me to it. And also, I was, and remain, fascinated by the idea of an audience as a community of people who gather willingly to bear witness."

-August Wilson