EDITOR'S NOTE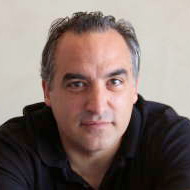 In the spring, when we had so much news about the coronavirus on our website goodtimes.sc that we worried readers would lose track, we started a live blog so it would be easy to find all of our updates. Then when the Black Lives Matter protests began in Santa Cruz, we had so much news about those that we realized we needed to start a live blog for it, as well.

When the fires hit Santa Cruz County last month, we wondered, "Do people really want another live blog on this site?" But it seemed like the easiest way for locals to find the most important information, which was changing almost hourly at the time, so we created one. On just one day, Aug. 21, more people visited goodtimes.sc to read those fire updates than any story in the history of the site, so I guess it was a good call. We'll continue to provide that coverage as long as it's needed; check our site regularly to see what stories we're posting there.

While we're doing the daily reporting our community needs right now, we haven't lost sight of the bigger cultural stories that GT is known for. Wallace Baine's cover story this week on the plight of artists in the age of Big Tech is an example of that. It's a fascinating read that takes on an important and difficult issue, and tells the story of artists right here in Santa Cruz (and beyond) that are dealing with it in a very real way. So support our artists, and our evacuees, and our firefighters … OK, there's a long list right now, so let's just all support each other.

STEVE PALOPOLI | EDITOR-IN-CHIEF
---
LETTERS TO THE EDITOR
Read the latest letters to the editor here.
Major Decision

While we are in the grips of a worldwide pandemic and currently distracted by political and economic chaos, global warming silently continues to threaten all life on this planet. According to NASA,19 of the 20 warmest years on record have all occurred since the year 2000. Scientists recently reported Canada's last intact ice shelf has collapsed where temperatures from May to early August have been 9 degrees warmer than the 1980 to 2010 average. Right here in California, 2017 was one of the worst fire seasons in history only to be followed in 2018 by another devastating fire season, which included the Camp Fire, the most deadly fire in state history that destroyed the town of Paradise. Global warming is directly harming the physical and mental health of local farm workers, who as a group are central among residents least able to escape the heat and smoke.

In the midst of all this, the Santa Cruz County Regional Transportation Commission (RTC) is about to make a critical environmental decision: whether to use the rail corridor for passenger rail transit or for buses. This once-in-a-lifetime transportation decision is an environmental decision because transportation accounts for about half of all global warming carbon emissions in our region. The RTC's 2019 Unified Corridors Investment Study (UCS) shows that compared to buses, trains on the corridor will save 10 metric tons of carbon dioxide every day. Removing that much carbon pollution is the equivalent of planting 61,000 one-inch diameter trees—a veritable forest of carbon cleaners—every single year, year after year.

 The UCS also predicted putting trains on the rail corridor would double the use of public transit from its current 5 million to 10 million annual users. That is a lot fewer car trips, and fewer car trips will make for safer, less congested roads for everyone.

Using cost data from the UCS, it is also plain to see passenger rail transit is a much better investment of taxpayer money. The cost to upgrade the rail corridor for rail service is about $12 million per mile, but to tear up the tracks and pave the corridor for buses would be about $29 million per mile, more than double the cost. Furthermore, bus service would cost twice as much to operate as commuter rail service per passenger mile, according to the National Transit Database compiled by the Federal Transit Administration.

Not only is passenger rail less expensive to build and operate in the rail corridor, passenger rail service paired with interconnected local buses would create a robust public transportation system allowing many two-car households to give up one of their cars. According to the UCS, going from a two-car household to a one-car household would save at least $500 per month and that would be a big help buying food and paying bills.

 Consider that in 2018, CalTrans published the State Rail Plan (SRP) committing the state to fund railway expansion, not highway expansion. The SRP includes funding for Around-the-Bay regional rail transit connecting Santa Cruz to Monterey and to the larger state rail network. Our southerly neighbors, the Transit Agency of Monterey County, have embraced the SRP. Right now, they are upgrading their rail system to begin Salinas-to-Silicon-Valley commuter service in 2023.

Taking action sooner is essential to avoiding the heat. Rail service could be up and running in 10 years. Because switching to buses would require many extra years to settle easement issues and redo existing plans, bus service on the rail corridor would be delayed 20 years or more, leaving us farther behind in the fight to reverse global warming.

Let's join our neighbors and use our rail corridor for rail service, not bus service. It's time to tell the Regional Transportation Commission that we want to leave an enduring environmental legacy for the benefit of the next generations.

 

Felipe Hernandez, Watsonville City Councilmember

Donna Meyers, Santa Cruz City Councilmember

Nancy Faulstich, Watsonville

Bob Elledge, Corralitos

Joanne Noce, Capitola

Grace Voss, Live Oak

Ross Clark, Santa Cruz

Mark Mesiti-Miller, Santa Cruz
---
PHOTO CONTEST WINNER
Images of dancers or sculptures don't leap to mind with the mention of climate change. But artists are increasingly using the carbon conundrum as a creative lens, using their mediums to design cultural moments that bring people together. As storytellers, artists are reaching people on a deeper and more emotional level than the cerebral facts and charts often used to shape the climate narrative.
Can art reach and activate people on climate in new and compelling ways? How can art convey the joy of nature and the grief of how humans are destroying it? Join us for a conversation about art, beauty and humanity in the age of climate disruption with celebrated choreographer Alonzo King, whose new dance is inspired by the beauty and tragedy unfolding in the Arctic. Also joining is senior curator Nora Lawrence, whose 2018 exhibition, Indicators: Artists on Climate Change, at New York's Storm King Art Center was one of the first major museum exhibitions to address climate change.
This program is generously underwritten by the Sidney E. Frank Foundation.

Submit to [email protected]. Include information (location, etc.) and your name. Photos may be cropped. Preferably, photos should be 4 inches by 4 inches and minimum 250dpi.
---
GOOD IDEA
FARM LIVING

Farm Discovery at Live Earth is offering Fall Farm Care three full days a week and Youth Farm Immersion one day a week. In response to continued distance learning at Santa Cruz County schools, Fall Farm Camp will include distance learning support for students. It will also include a variety of Farm Discovery lessons pulled from the Watsonville-based group's summer camp, field trip and farm immersion programs in Earth science, natural history, nutrition, environmental stewardship and more. For more information visit farmdiscovery.org/fall-farm-care or email [email protected].
---
GOOD WORK
TWICE THE RESPONSE

"We are now dealing with twin disasters," Community Foundation Santa Cruz County CEO Susan True recently said in a press release, citing the CZU Lightning Complex that continues to rage while the Covid-19 pandemic ravages the community. Since the announcement of pandemic-related school closures on March 13, the Community Foundation has given out a total of $8.5 million in response grants. To donate to the Community Foundation's Covid-19 Response Fund, visit cfscc.org/donate/COVID. To donate to its fire response fund, visit cfscc.org/fire.

 
---
QUOTE OF THE WEEK
"Somehow, the French got this idea of the starving artist. Very romantic, except it's not so romantic for the starving artist."

-David Lynch