Just weeks after reopening, following the coronavirus lockdowns, the Scotts Valley Branch Library—one of the most frequented branches in the county—has closed.
This time it's not because more people are contracting Covid-19—although case numbers are rising, again.
The location is undergoing a series of upgrades, from sound dampening to structural improvements. It's the branch's turn in line for a Measure S-tax dollar infusion.
"It's great it's going to be newer," said Paul Williams, a library assistant, who popped out of the closed facility Monday to collect the pile of returns. "They're doing some earthquake retrofits."
Just then, a minivan pulls up. Inside is Bella Cantey, 18, and her mom, Joell. Their timing is excellent.

They hand a stack of books off to Williams without even having to leave the vehicle.
"It's sad," Cantey said of the library closure before flipping quickly to a positive outlook on the future of the space. "I can't wait to see what it looks like. It's pretty exciting."
In 2016, area voters approved Measure S to generate $67 million in bonds to fix up or replace all 10 branches in the Santa Cruz Public Library system. Felton just got a brand new library. The Boulder Creek branch is currently getting work done, too.
According to the funding formula, Scotts Valley is in line for $3.75 million for library branch improvements.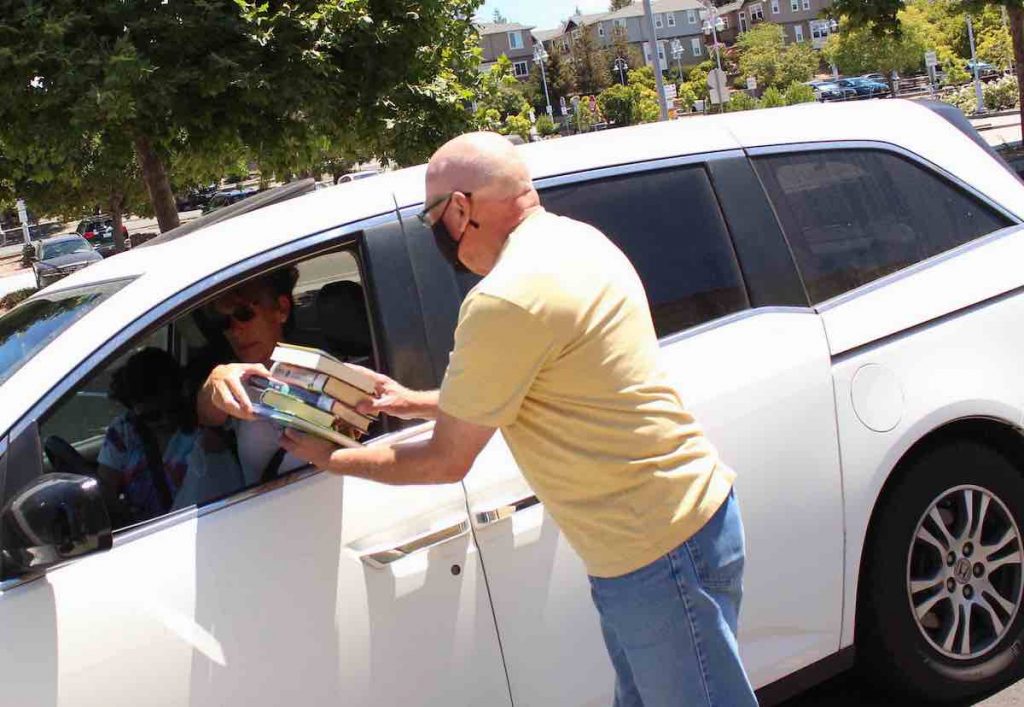 The Library Renovations Subcommittee worked with city and library officials, a project architect, and a design firm to come up with a list of potential improvements.
That list includes seismic upgrades, automatic doors, a new location for the service desk, moving the computer desk away from the children's area, new furniture, bike racks, benches and new drinking fountains with bottle filling stations.
"The Scotts Valley library is a much-loved absolutely-cherished facility," City Manager Tina Friend said July 30, the day before the closure. "It's one of the busiest places after school."
After handing off the returns, Cantey reflected on how great a place the Scotts Valley branch is for connecting with people.
"I don't talk very much," she said. "But it's nice to just go and sit in the library and just read."
The library is a great place to soak up community energy, she adds.
"When the kids get let out of school, I love going in there and just listening to them talk," she said. "They'll talk about random things.
"It brings people together."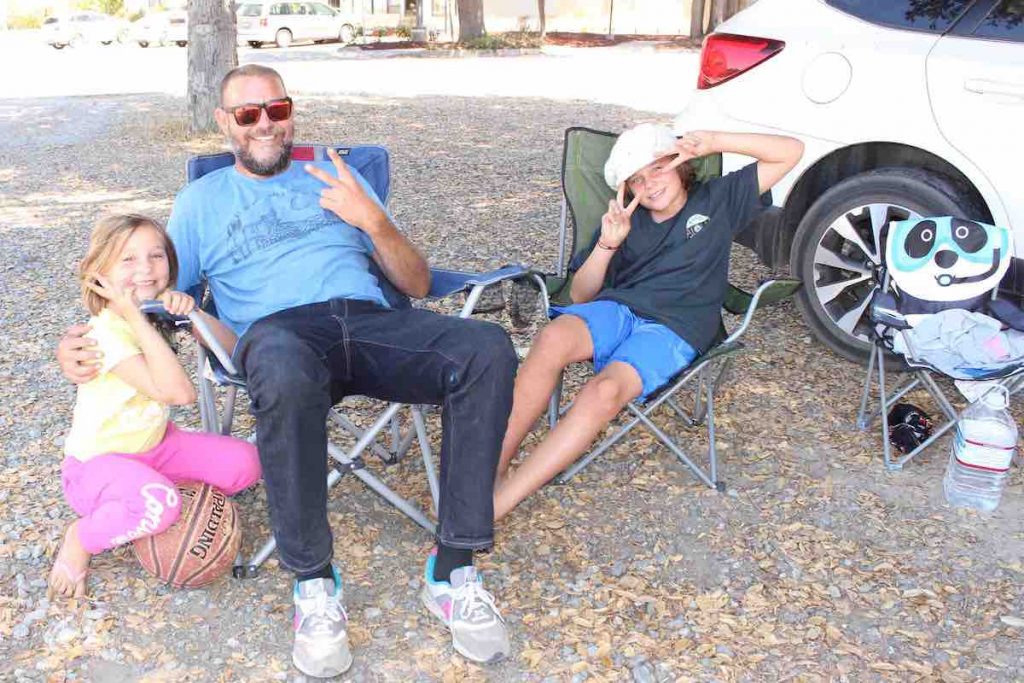 Just around the corner toward Skypark, the Knight family is relaxing in the shade.
Quint Knight, 9, says he just got a library card a few weeks back.
"It was actually really easy," he said.
He's been listening to "One-Punch Man," a Japanese superhero story, but he says he'd rather be reading it.
"It's about this guy, Saitama, and he works out every day," he said, explaining the character can shatter anything with a single punch. "I'd prefer it as a manga. I just feel turning pages is better."
His younger sister, Beatrix, 6, is a little more digitally-inclined—"You can just click a button," she points out, characterizing the audio selection or web-browsing process.
Her favorites are Dr. Seuss and Pete the Cat titles.
She says she enjoys "reading time" at school, where the class breaks off into groups and students read to each other.
But the Scotts Valley branch is much bigger than the one at Brook Knoll Elementary School, where they attend.
"That library is like a billion times bigger," Quint said. "It's probably, like, a quarter of the skatepark."
In fact, it's 100% of the size of a roller rink—because that is what it used to be in its former life.
It was turned into a library in 2011, and has had work done on its HVAC system, and parking lot since then.
But the interior acoustics of a place that's supposed to be all but silent have been an issue.
"You don't have a lot of compartmentalization into rooms," Friend said. "Sound really echoes."
That's why the new designs will put a large focus on what's called "attenuation"—the focused reduction of sound energy.
Three companies submitted bids that were being reviewed by officials this week. S&H Construction, Inc.'s total bid was $3.6 million, CRW Industries, Inc.'s was $3.3 million, and Patriot Contracting, Inc.'s was just over $3 million.
Staff recommended City Council award the contract to Patriot Contracting, Inc. for their "base bid" of $2.3 million and three additional components—for a total of $2.9 million (although it could choose to add some extra landscaping work, later).
The City Council was set to consider the item during its Wednesday meeting.
Borrowers can't put items on hold at the Scotts Valley location anymore, and all remaining holds are being sent to the Felton branch.
There are other changes going on behind the scenes, too.
Jim Landreth, who was selected for the Library Advisory Commission by the Scotts Valley City Council in January 2019, resigned. The City Council received an application from Pamela "Peppy" Woll, saying she'd like to serve as the community's representative and was looking at approving her appointment Wednesday.
In about six months, when the library is expected to reopen, it'll be nice to have a place Quint and Beatrix can go again, says dad, Beau.
"It's just cool cultural stuff, even if you don't check out a book," he said, adding there are definitely awesome parts to old-school literacy, too. "There's a certain smell to old books."