We really do live in a bubble here in Santa Cruz and you know what? That's a great thing. Often we set an example that the rest of the country should follow.
Richard Stockton's cover story on two great women at the top of local radio stations got me thinking hard about our differences and the way we buck national trends.
Radio is and always has been short on female voices, both on the air and in management.
An organization called Mentoring and Inspiring Women in Radio annually compiles a study of the number of women who work in radio management positions and its findings are distressing.
After tracking 11,215 AM and FM radio stations across the country, the site found that 20.6% or 2,316 stations had women holding the title of general manager in 2022. The number is even less for women in programming positions, the ones that determine what you will be listening to. Women hold only 14% of those positions.

So why? It's hard to find a reasonable answer. Back in the day the standard mansplaining reply was that men didn't want to hear women on the radio and women didn't want to hear women. They just weren't authoritative enough, supposedly.
"That's so old," says Rachel Goodman, one of our cover story subjects. And as bad as that is, she notes that it's even worse for minorities in broadcast media, where people of color are only 4% of network producers and white men make most decisions.
"Just think of the stories that don't get covered," says Goodman, noting childcare, health issues, equality.
So we have reason to feel good about the reverse of the trend in Santa Cruz, where not only are our cover subjects making history, but so did the late Laura Ellen Hopper, who programmed Watsonville's KPIG, one of the most influential stations in the world, before her death in 2007.
I'm proud to have worked for both of these women in my long, storied (uhh,checkered) career and saw first hand just how much care they brought to their listening audiences.
I'm really happy to introduce you to them and to celebrate the odds they bucked to keep local radio alive.
Brad Kava | Editor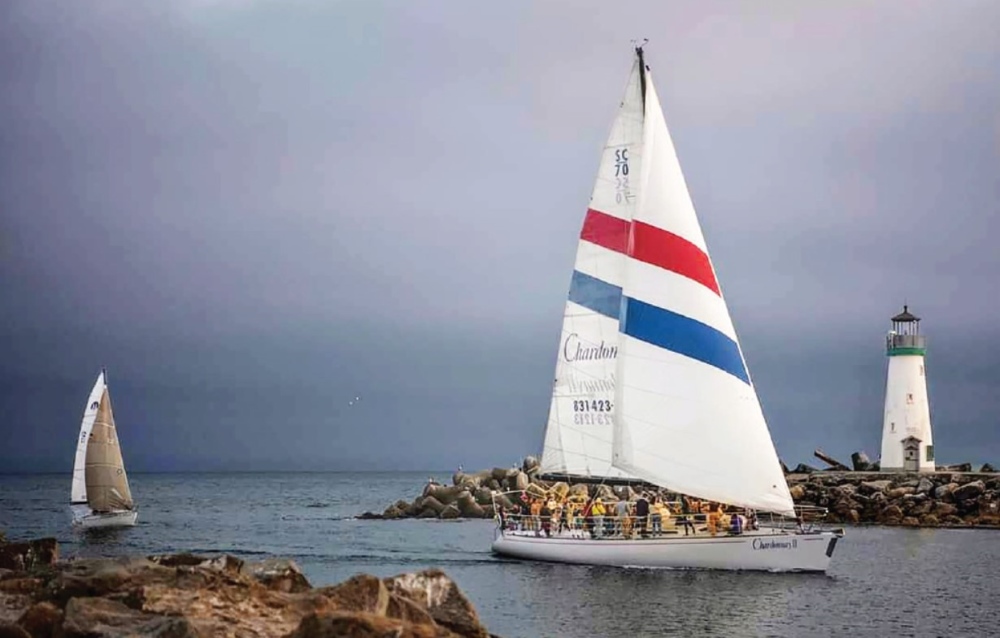 PHOTO CONTEST
SAILING HOME The Chardonnay sails past Walton Lighthouse. Photo by Virginia Sajan
GOOD IDEA
In honor of Indigenous Peoples Month local Amah Mutsun Tribal Band members and UCSC California Mission Project members speak at a free event Nov 18, 10:30 – 2:30pmat the Resource Center for Nonviolence. 612 Ocean Street. Tribal members Alexii Sigona and Carolyn Rodriguez share their perspectives on the cultural landscapes and history of Indigenous people.
UCSC Critical Missions Project Drs. Judith Scott, Renya Ramirez, and Daisy Martin speak about education practices and how listening can heal.
GOOD WORK
Throughout the month of November, for every 10 pounds of Smart Chicken purchased at Staff of Life Natural Foods in Santa Cruz and Watsonville, one pound of nutritious, air-chilled poultry will be donated by Staff of Life and Smart Chicken to the Second Harvest Food Bank. Staff of Life Natural Foods and Smart Chicken donated over 6500 meals.
Smart Chicken is made from 100% all-natural, free-roaming, grain-fed chickens that are raised without animal byproducts, antibiotics, or hormones and certified humane.
QUOTE OF THE WEEK
"All war is a symptom of man's failure as a thinking animal."
—John Steinbeck