Arts & Music
DIRTY CELLO San Francisco singer and cellist Rebecca Roudman has to make a serious choice. She channels Janis Joplin when she sings, and we don't draw that comparison lightly. Then, when she bows her large stringed instrument, it's pure Nirvana, one of the last bands to really rock the cello on tour. While we aren't huge fans of cover bands, this one makes each song sound new, with a setlist that includes Jimi Hendrix, the Rolling Stones and Janis Joplin. We saw them at the free Sunday afternoon concerts at Seascape Resort and here they are again, for free at the Capitola Twilight Concert, Wednesday 6-8 pm on the Esplanade (120 Monterey).
Paul Thorn & Band with Mira Goto opening
Thorn is a troubadour in the best sense, a traveler who brings his story/songs around the world. In contrast with earlier work that riffed on short-term love affairs, as well as "kissing the right one good-bye," the writing on Thorn's latest release, "Never Too Late To Call" features music from a man who is with the "right one" and is happy to be there. In the case of what is arguably the CD's most tender composition, "Sapphire Dream," Thorn teamed up with his daughter Kitty Jones, who co-wrote the song and accompanies her dad on vocals. Much has been written about Thorn's early years performing in his father's Pentecostal church and later coming under the tutelage of his Uncle Merle, a pimp and small-time hustler. Plenty of material to draw from for a great songwriter. The show is Friday, 7:30 to 10pm at the Rio Theatre 1205 Soquel Ave. Tickets are $32-$40.
Community
Bubble Magic What kid doesn't love bubbles? If you find one, don't bring them to this. Buuuut if your wee ones love the floating soap you must, must, must bring them to see long time Santa Cruz personality Tom Noddy, who will blow their minds with his bubble blowing skills.
You'd better arrive early to grab a spot at the Capitola Library's Ow Family Community Room for the 2-3pm performance, Thursday. The beautiful new branch is at 2005 Wharf Road, Capitola.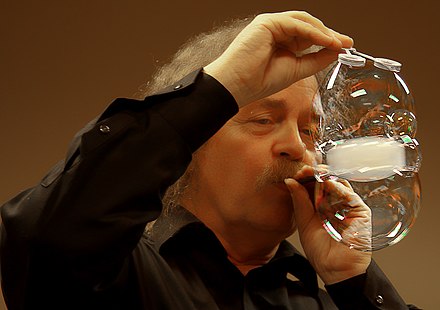 Take a Hike and Learn Something This 90-minute, behind-the-scenes hiking tour takes visitors into Younger Lagoon Reserve adjacent to the Seymour Marine Discovery Center. The lagoon has diverse coastal habitats and is home to birds of prey, migrating sea birds, bobcats, and other wildlife. Come and see what scientists are doing to track local mammals, restore native habitats, and learn about the workings of one of California's rare coastal lagoons. A tour is offered on selected Thursdays and Saturdays of each month beginning at 10:30 AM, including this Saturday. Space is limited to 18 participants. Call 831-459-3800 or sign-up online. Seymourcenter.ucsc.edu
Nerdville 831 OMG, the Silicon Valley Comic Con is gone, so Nerdville 831 on Sunday is your best local shot for all things nerdy, cool, colorful, fun, creative, artistic, modern and did I say cool. It's so great that the city of Watsonville is keeping fantasy alive, when San Jose has given it up. The Friends of Watsonville Parks and Community Services Department sponsors this fun and family-friendly day of anime, cosplay and collectables.
This year it honors the ANIME community in Watsonville with vendors and artists, local and from afar, making available homemade anime-related crafts and collectables.
This 10am-5pm event is free to all Pajaro Valley Unified School District (PVUSD) students with proof of current 2022-2023 student ID card. The event is also FREE for youth under the age of 5.
Tickets: $20 for adults and $10 for non-PVUSD students/youth (6-17).
It's at Watsonville High School's new gymnasium 250 East Beach Street and yes, the GT editor and his 7-year-old son will be there proudly showing the colors.