The salty old-timer remembers when all surfers were bodysurfers. Before leashes transformed surfboards into flotation devices. Before the crowds and the bad vibes and the meth-addled surf tribes. Before the creation of the surf industry and the contests designed to move surf-industry products. Before, even, the bodysurfer's curse faded from memory.
"Beware!" the old-timer croaks at surfers who pass too close to his van in the parking lot. "Every time you drop in on a bodysurfer, that's a season of bad surf luck."
How was the bodysurfer's curse forgotten? Blame the 1980s. When polyurethane foam, violence and Coors Light Party Balls overran Santa Cruz lineups, the curse became little more than a joke. Fluorescent wetsuits and the fascist leanings of certain punk rock music upended the natural order. Chaos reigned. Santa Cruz bodysurfers were forced to stray further and further from their traditional surfing grounds. But they adapted, learning to surf hollow, breakneck wedges unsuitable for boards and cold, remote spots haunted by white sharks. They also grew feral in exile, avoiding surfers altogether when possible. The curse floated along like a half-baked rumor in certain circles with limited consequences before eventually sinking from sight entirely. For Santa Cruz bodysurfers, interactions with surfers grew fewer and further between and were generally characterized by a single question: "You lose your board?"
Thus, when Steamer Lane hosts its first-ever USA Bodysurfing contest on Friday, April 21, the Santa Cruz surf ecosystem will take a significant step back to full health. As a prelude to the USA Surfing contest, which runs on April 22-23 at the Lane, the competition feels like a main-stage performance for bodysurfing. 
That's no knock on the Santa Cruz Bodysurfing Association (SCBA), which has operated locally since 1983. The SCBA has retained its goofy, outsider charm by design and welcomed all comers. The SCBA contest moved eight miles north of town to avoid crowds in the nineties and remains a fun, jubilant gathering of Californian bodysurf clans. For 40 years, it has hosted generations of bodysurfers from South Jetty Swells (Ventura), Chubascos Bodysurfing Association (Huntington Beach), Del Mar Bodysurf Club, Gillis Beach Bodysurfing Association (Manhattan Beach), the Wedge (Newport Beach) and beyond.

The USA Bodysurfing contest at Steamer Lane will be cutthroat in comparison. USA Bodysurfing is the brainchild of Vince Askey and Randy Gilkerson. Established in 2022 to operate contests in co-location with USA Surfing events, USA Bodysurfing has implemented surf contest guidelines, including four-person heats, a priority system and professional judges accredited by the International Surfing Association. Real-time scoring will also be available via the Stact App.
If all that isn't enough, USA Bodysurfing aspires to make bodysurfing an Olympic sport. To this end, Askey and Gilkerson worked with the International Bodysurfing Association (IBSA) to develop a standardized framework for global competition. The result is this year's inaugural IBSA World Tour. Steamer Lane is one of six regional qualifiers in California. Similar qualifiers are taking place in four other general regions: South/Central America, Hawaii/Tahiti, Europe/Africa and Australia/Asia. After the World Tour completes its qualifying series in each of the five regional areas, the top-ranking men and women will represent their region in the IBSA Bodysurfing World Tour Finals—tentatively planned for the North Shore of Oahu in 2024.
"Our goal is to promote bodysurfing, unify bodysurfers and create consistency in competition," IBSA Board President Patrice Grieumard says. "Standardizing the contest's formats and judging will enable the IBSA to establish a viable global format for bodysurfing contests. Ultimately, we want to elevate the profile of competitive bodysurfing and recognize the athletes from around the world."
Askey says the contest at Steamer Lane will host, top-to-bottom, one of the most talented collections of North American bodysurfers ever. While that point is debatable, many legitimate ringers have already signed up to surf the legendary Lane.
PAT MALO: SANTA CRUZ STYLE MASTER
The Santa Cruz Bodysurfing Association will be well-represented at the Lane. The hometown favorite in the Men's Open is Pat Malo, 41, a local style master with enough polished tricks in his bag to beat the Hawaiians and enough glide to take down the South Jetty Swells. Malo grew up bodysurfing Blacks, Sunny Cove, Santa Maria's and 26th Avenue.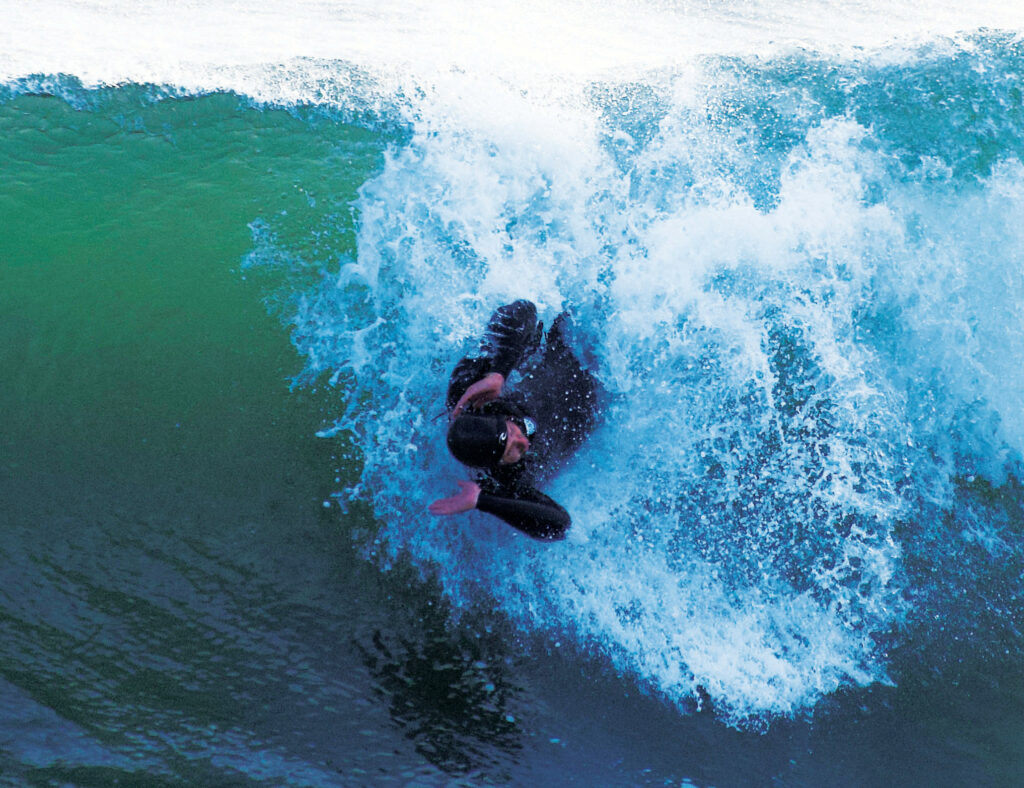 "I started to really dial in the tricks and poses by watching the lifeguards and the SCBA folks in the late 1990s," he says. Over the years, Malo has regularly won or placed in his division at the SCBA contests. "The SCBA contests were huge for my development. I was inspired by the locals, but also the bodysurfers who traveled to Santa Cruz."
Malo's love of competitive tricks is part of a Santa Cruz heritage. "Bodysurfers from Santa Cruz have been striking poses in competition since the early eighties," he says. "It may be our greatest contribution to the sport. I strive to be intentional with my body position the entire wave. Between maneuvers like underwater takeoffs, spins and re-entries, I try to hold functional yet aesthetically pleasing poses."
Malo rattles off a list of his go-to poses: "There's the classic 'Chicken Wing,' the 'Maui Boy' and a Santa Cruz original called the 'Burt Reynolds.' Plus, spins. Lots of spins."
Win or lose, Malo sees the future of Santa Cruz bodysurfing as bright. "Today, there are more quality bodysurfers in town than ever before," Malo says. "The kids are getting really good, really quickly, and lots of surfers keep swim fins in their quiver these days. I'd say bodysurfing is reemerging from the woodwork a little."
KATY COLLINS: THE CHARGER
Katy Collins, 28, represents Santa Cruz bodysurfing's finest legacy—its women. From world champions like Tish "The Fish" Denevan to mentors and shredders like Carla Christensen and Julie Davis, Santa Cruz's female bodysurfers have ruled the game since the beginning.
Denevan, retired from competition, remembers Lauren Crux and Karen Zelin putting on free bodysurfing clinics for women in the mid-1980s at Twin Lakes Beach.
"I rarely saw other women bodysurfers," she recalls. "At times, it was a bit lonely being the only woman out in the lineup. So, I showed up for one of the clinics with my fins and wetsuit."
Denevan entered her first SCBA contest in 1985 and won it. Similarly, Christensen and SCBA cofounder Tom Mader introduced Collins and her friends to bodysurfing, ushering them into the SCBA fold. Even today, Collins does her best to emulate Christensen.
"Carla is so elegant out in the water, and she's never afraid to get after the big one," Collins says.
Collins isn't afraid of going big, either. In addition to possessing a style suited for competition and an uncanny ocean sense, Collins appears fearless. In 2019, she swam into foggy, triple-overhead Ocean Beach to compete in the OB, a big-wave bodysurfing contest held in the wilds off San Francisco. Not only did Collins hold her own that day in 12- to 18-foot waves, but she also won the Spirit Award for her performance and made it to the finals of the open-format contest.
Collins remains humble when she's compared to Denevan or Christensen; she acknowledges the responsibility she carries to pay the ocean forward.
"Even more momentous than their titles are the barriers they've broken as lady chargers in a sea of men," Collins says. "It's important for ladies who are curious about getting in the sea to see gals like Tish, Julie and my mom out there, making it seem natural, not forbidding. Bodysurfing was, in Hawaiian tradition, a sport of Queens, after all."
Ultimately, Collins bodysurfs because it's "the most-pure form of fun. I love that you don't need any gear. Heck, you can do it naked," she says. "The connection with the ocean, the energy of the waves—you're a part of that. There is no barrier. It's pretty surreal, honestly. Plus, you're guaranteed barrels, and there's no eggy-ness happening. It's actually fun to party-wave bodysurfing. We don't take ourselves too seriously. We're just out to play, and I love that."
Of course, it won't all be fun and games on April 21. Collins and the Santa Cruz women will have multiple world champs to contend with at Steamer Lane, including USA Bodysurfing's 2022 winner Calla Allison, Red Bull big-wave star Katie McConnell and standout water polo player Scotti Shafer—not to mention teen phenom Michelle Urkov and the hard-charging Sunceray Chamblee.
DaFiN AND THE HAWAIIANS
They say it isn't really a bodysurfing contest unless the Hawaiians are there. Luckily, DaFiN Hawaii has flown over three-fifths of its crack bodysurf team—Dane Torres, Keali'i Punley and Wyatt Yee (Kaneali'i Wilcox and grandmaster Mark Cunningham couldn't make the trip). The Hawaiians are just here to shred. Wins at Steamer Lane won't count toward their point total on the IBSA World Tour—they must wait for the Hawaii/Tahiti regionals.
Torres, Punley and Yee are difficult to beat anywhere, but they're especially motivated by USA Bodysurfing. Each is eager to carry on the legacy of the great Duke Kahanamoku, the great waterman who represented Hawaii in the Olympics. They surf to win, but with boundless, kinetic joy. A vast assortment of tricks developed on Point Panic's impossibly long rights and honed on social media should help these young Hawaiians take down much of the field in the all-ages Men's Open. However, the cold ocean temperatures could be a factor. The Hawaiians haven't spent much time in the water north of Ventura County. Wetsuits could slow their roll.
THE SOUTH JETTY SWELLS
Dave Ford, 47, has competed in SCBA's contests since the 1980s. The bond between the South Jetty Swells and the SCBA remains strong thanks to the Ford family's multigenerational presence at the contest over the decades.
"As a grom [young surfer], it was intimidating because the waves in Santa Cruz were powerful, and the competitors were all solid," Ford says. "I remember events when we would swim in 10-plus heats. Sunny Cove had that nice little wedge."
Ernie and Carly Ford, excellent bodysurfers themselves, weaned three pinniped sons. Each is capable of winning the contest at the Lane, but only Dave is here. Sponsored by DMC Fins, Dave Ford's style is more in the classic vein of Mark Cunningham—no tricks or frills, just long, elegant rides tucked in the pocket or deep within the barrel.
Yet Ford isn't the only South Jetty Swell in town. The six-foot, three-inch Tony Sholl, 48, is a water polo coach and the Aquatic Supervisor for Santa Barbara. A powerful swimmer, Sholl can cover a lot of the lineup in a hurry and bodysurfs with the natural ease of a dolphin.
The Templeman Brothers are also a threat. Scions of an esteemed Ventura bodysurfing family, the brothers have different approaches, but often the same result: win or place. Brett Templeman, 46, is impossible to miss. He will probably be the only one competing in trunks. His no-wetsuit, throwback style serves him well. He catches a lot of waves and has a knack for positioning his hairy, bowling-ball torso right in the sweetest spot of the wave. His 42-year-old brother, Bart, is a dark-horse pick to win the contest. Bart moved to Santa Cruz County from Ventura years ago and board-surfs the Lane often enough to have an advantage. Watch out for Black Bart.
THE WILDCARDS
Additional legitimate threats competing at the Lane include Thorsten Hegberg, 54, of Huntington Beach's Chubascos Bodysurfing Association, a longtime competitor in the SCBA contests. Hegberg is known for being in the right place at the right time in nearly any lineup. As a result, he wins a lot of heats. It remains to be seen if he can crack the Lane's code.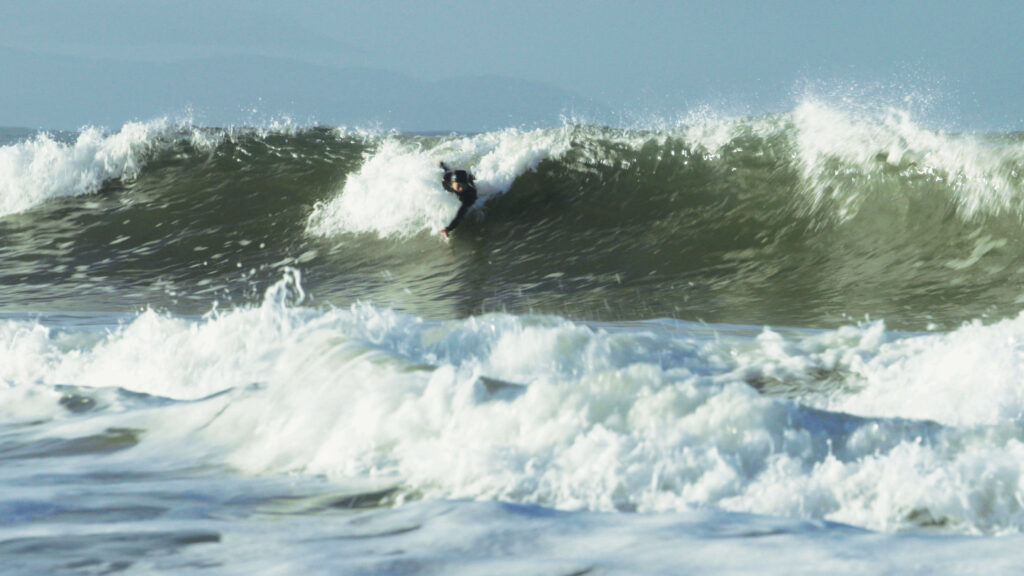 Del Mar's Mark Drewelow, 59, took the internet by storm with a video of his impossibly long left at bombing Black's Beach in San Diego. A relative newcomer to the competitive circuit, Drewelow is an innovator. He trains relentlessly, perfecting dramatic takeoffs with names like "the flying squirrel." He has the mindset and the skill to win, but little-to-no experience at the Lane. Another Del Mar bodysurfer, 49-year-old Greg Wilkinson, is a South African specimen. He won his division at the inaugural USA Bodysurfing event in Huntington Beach in 2022 and could easily walk away with the points at the Lane.
Askey has also floated rumors that the great one, Mike Stewart, might compete. Stewart is a nine-time World Champion bodyboarder and a pioneer of the bodyboarding sport—he's also one of the early big-wave tow-in surfers. Widely considered to be the best bodysurfer to ever strap on a pair of fins, Stewart's presence would radically shift the odds.
As the old-timers know, bodysurfing will never be about who is best. Contests, even IBSA-sanctioned USA Bodysurfing contests, will always be more about gathering the tribe than qualifying for the Olympics. After all, the greatest bodysurfer in the world is an anonymous bodhisat quietly ripping waves in some remote, swell-blessed corner of the Pacific Ocean, blissfully unaware of competition.
It is the sacred duty of bodysurfers to protect the stoke. Someday, god forbid, the violence and the Coors Light Party Balls could return to Santa Cruz. The bodysurfers will be forced to invoke the curse once more before spiriting away the stoke, hiding it in some rocky cove far to the north until the darkness passes once again.
The USA Bodysurfing Contest happens Friday, April 21, at 7am at Steamer Lane in Santa Cruz. usabodysurfing.org