The extensive slough system that runs through the heart of the Pajaro Valley has become a cornerstone for local recreation, wildlife viewing, education and research. 
These wetlands are home to various species of animals and plants, many rare and endangered. They help replenish groundwater, buffer the town from storm impacts and are popular spots for walkers, birdwatchers and scientists.
"You can talk to anybody in this city, in English or Spanish, and they would be familiar with the word 'wetland,'" said Christine Johnson-Lyons, a founder and longtime board member of Watsonville Wetlands Watch (WWW). "People know what they are, and at least one reason why they're so important."
But 30 years ago, public understanding and opinion of such habitats were limited. Wetlands across the state had been decimated for generations, drained and filled for urban development and agriculture.
The majority—about 90%—of California's natural wetlands have already been degraded. And in 1991, one of Watsonville's own sloughs nearly became part of that statistic.

A major, 800-home development had been proposed for the uplands of Struve Slough—right on top of sensitive habitat. Concerned, a group of residents banded together, urging that the city put a stop to the project.
"It was a long haul," said another founder, and current board member Bob Culbertson. "We expressed concerns, and the developers blew us off. We kept persisting, challenging every new plan they proposed. We told them about the endangered species, and they were like, 'Thanks for your input' and just kept moving forward with their plans."
WWW sued developers, taking them to court and working for years on a new plan, which eventually resulted in saving Struve Slough from the development.
The group's success kickstarted an effort in Watsonville to preserve and restore the city's wetlands. Now, they are one of the most influential nonprofits in the region, leading various restoration and greening projects, trail building and maintenance, as well as education and training programs for students.
"This has become an incredibly impressive organization," said executive director Jonathan Pilch. "We work with so many diverse and incredible partners … There is so much enthusiasm and energy on the board, from our volunteers and the entire community."
Pilch has been working with WWW for the past 16 years, acting as director for the past five. When he started, he said, the organization had only two official staff members. Today, they have 15.
Their volunteer base has also increased exponentially, he said.
"At those early restoration days … we'd get a handful of volunteers, maybe eight or 10," Pilch said. "At our last major Wetlands Day event in 2019, before Covid, we had about 400. We have seen amazing growth just in the past decade."
WWW's education programs have taken off as well. Pilch estimated that they have reached about 30,000 students, many of them through a partnership with the Pajaro Valley Unified School District. The organization's headquarters at the Fitz Wetlands Educational Resource Center is on the Pajaro Valley High School campus.
"There wasn't wetlands education at all, prior to the programs we brought forward," Johnson-Lyons said. "The impact WWW has had on these children and teens … it's thrilling to think about."
For years, the organization's Green Careers Institute aimed to teach high schoolers about climate change and the work being done to stop it. When the pandemic hit, they switched gears and launched the Climate Corps Leadership Institute (CCLI), a program blending distance learning and in-person activities. CCLI students participate in training programs and projects and are paid a stipend for their work.
"We've seen incredible growth of student leadership here," Pilch said. "Some have returned locally, and others went on to new places as future leaders."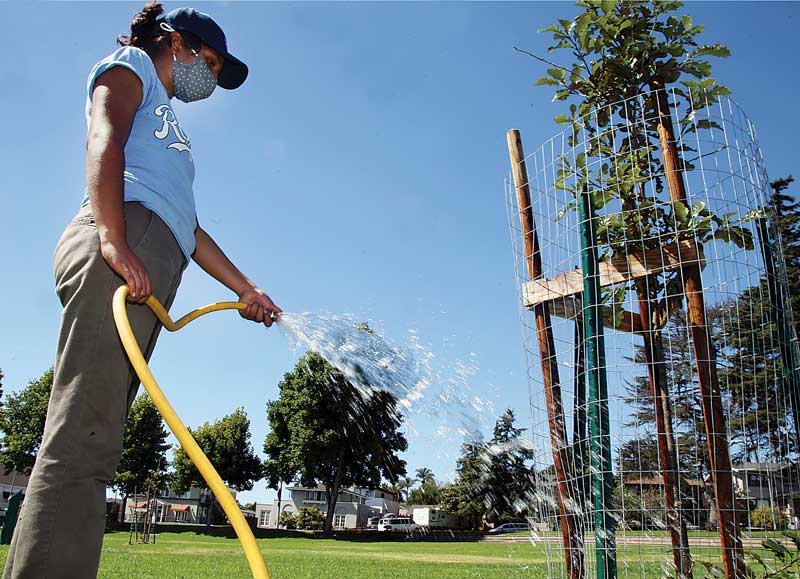 Emely Cortez, Bilingual Conservation Outreach Specialist for the city of Watsonville, participated in WWW programming when she was in high school.
"It was the most wonderful program I've ever done," she said. "It was intimidating at first … I came from a background with not a lot of opportunities. But [WWW] made me feel safe and welcome. They encouraged me to pursue college and think of a career."
Cortez ended up triple-majoring in environmental studies, science and communications with a minor in political science, before coming back to work in her hometown.
"I realized that giving back is what I like to do … to people and the environment," she said. "So I came back to work for the city. I was like, 'If they gave me all these resources to succeed, why not come back and do the same for others?'"
Cortez said she now has younger cousins who are participating in WWW.
"It makes me happy that the newer generations are taking advantage of these programs," she said.
WWW works with the City on its Urban Greening Plan, adopted in 2012. The plan calls for an additional 40,000 trees to be planted to increase the city's currently low tree canopy cover of 8%. A good target, Johnson-Lyons said, is closer to 30%.
The organization hosts tree planting events and offers free shade and fruit trees to the community to help in the effort. On Oct. 2, WWW will host a Native Plant Sale, where people can reserve plants to pick up at the Fitz Center at 500 Harkins Slough Rd. between 9am-1:00pm. Proceeds will support the nonprofit's restoration and education work.
A big focus of that work, Pilch said, is looking at the intersection of environmental issues and community health. This need is more important than ever, he said, as the effects of climate change continue to be more apparent.
"Our story will continue to evolve in the face of ongoing, and new challenges," he said.
Culbertson also alluded to their work with Action Pajaro Valley and their success in passing Measure U in 2002. Measure U, which limits where and how the city can expand, expires next year. WWW is joining in the campaign for the measure to be extended to 2040.
"What we do [at WWW] is not just theoretical," Culbertson said. "It's not just saying, 'save the Earth.' It's real, on-the-ground work. It's been great, very satisfying to be involved, working with such a dedicated group of people to protect our wetlands."
Added Johnson-Lyons: "This 30-year milestone has given me a chance to pause, look back at and recognize all that we've accomplished. And to look ahead, to continue the great work we've been doing."