To step through the front door is to fall in love with the bright, tidy paper and printing shop in the center of Doyle Street, wedged between Soquel and Water streets. DARCO was named by and after David Anthony Ray.
You might ask, "Who's David Anthony Ray?" The quick answer: the guy who's married to Beverly Ray. The long answer: the guy who's one of the protagonists in a love story that centers around a local print shop that has been in business for over 50 years. David and Beverly must be doing something right, living and working together for a half-century.
The fans and patrons of this midtown Santa Cruz landmark would agree. DARCO's clean, spacious showroom is filled with the soft colors of manila envelopes in every possible size; neatly arranged reams of paper stock for printers and computers; various stationery tablets, envelopes packaged by the dozen, legal pads, an assortment of pens and pencils, greeting card stock and sticky pads in neon hues. The main store is a full-service office supply emporium that spans back to anything like Office Depot or Staples. Heaven for paper lovers, DARCO invites serious browsing.
The print shop next door handles special orders—from brochures to business cards to promotional displays; a wide variety, astonishingly low prices and the kind of hands-on assistance that barely exists anywhere else. That's the secret weapon—customer service.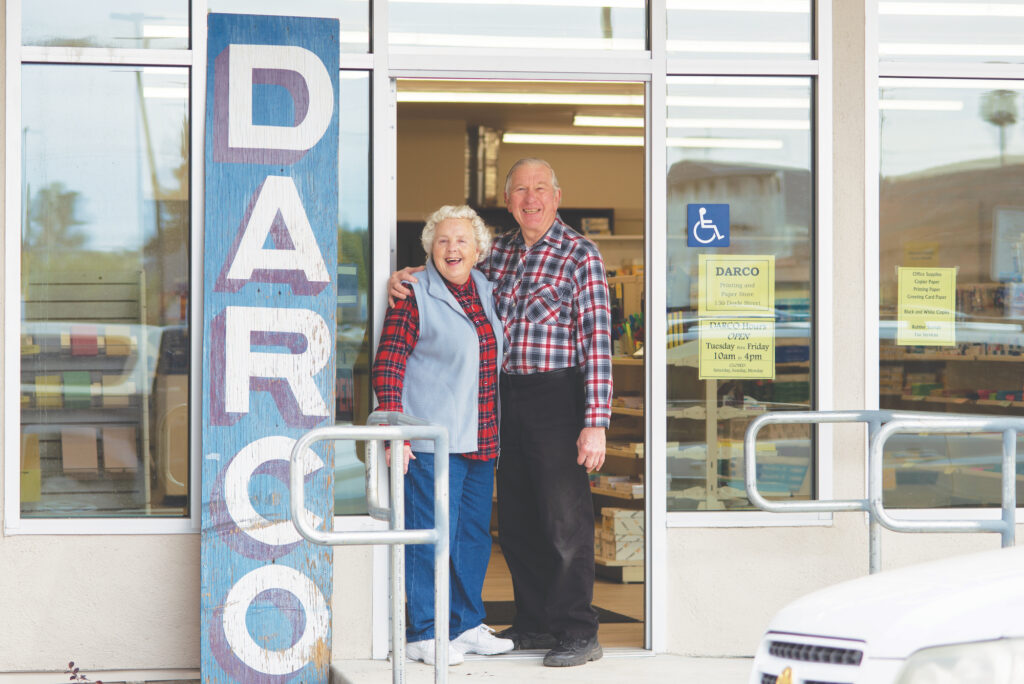 Beverly Ray, whose perennial pageboy now gleams white, totals up orders on her adding machine. At the same time, her husband and co-owner, Dave, consults about your special orders and custom printing needs, wearing a big smile as he looks up every so often, meeting your eyes. Nothing seems to ruffle their feathers or stop them from making sure you're happy you came by. During their busiest years, the couple had five employees working the front of the store and the printing shop. Business slowed a bit with the internet and the influx of big box chain stores. Now—after Covid quarantines, supply chain issues and most recently, the destruction of their front window and showroom by a wayward BMW—it's just the two of them.

"We decided to add the CO initials," Beverly explains. "If we added my initials, it just didn't have a good ring to it. DARBR." She has a point. So, DARCO it was, and in the beginning, 51 years ago, the print shop was initially run by Dave and his older brother Don.
"There were lots of print shops back then," Dave recalls. And while the Rays still have long standing accounts, the work has downsized to accommodate their schedule. And that suits them just fine.
LOVE STORY
Dave and Beverly met at her mother's summer cabin in Boulder Creek in 1965. He played guitar for her, a crucial ingredient in their early courtship. The couple married in San Francisco right before Dave left for military service. While separated, letters continued back and forth about the extent of his leave.
That was over 55 years ago, and the Rays continue to redefine togetherness.
After the service, which included a stint in Vietnam in 1968, Dave and his brother came to Santa Cruz to open DARCO while Beverly worked with the Federal Reserve. By the time Don left DARCO for a job at UCSC, Beverly had amassed plenty of business experience and could help run the shop without much oversight. She started as a "tube girl" in the era long before email, sending communications through the pneumatic tubes that typically crisscrossed multi-story office buildings.
"Then I ran the IBM machine balancing out all the department's accounts and processing the military checks," Beverly recalls.
She'd come down to help at the print shop on weekends, but in 1972 they decided that she should move to Santa Cruz permanently, and the two of them would run the shop together.
The idea to open a print shop grew organically out of Dave's boyhood interests.
"I actually had a letterpress print shop when I was 10 years old," he says. "I set type in the garage."
Later in his life, Dave attended San Francisco City College, where he studied offset printing.
"He printed our wedding invitations," Beverly smirks.
Adds Dave, "Even now, I do the printing, and she does deliveries."
"He pays the bills, and I collect the money," Beverly says playfully. "That's the DARCO division of labor."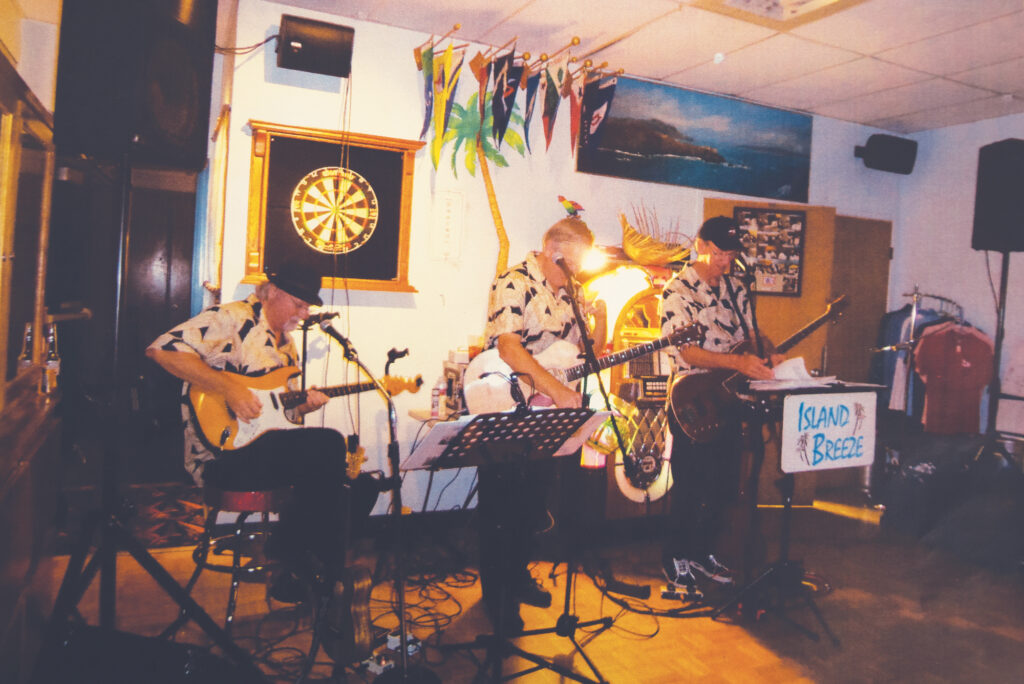 THE INCIDENT
Dave still plays guitar. He's been playing with a Hawaiian surf rock group, the Island Breeze Band, since 1998. Along with Stan Meidinger, Patti Maxine and Stan Parola, the outfit has played everywhere from the Pono Hawaiian Grill to the Santa Cruz Boardwalk—Beverly was even one of the hula dancers for a while.
Dave was up in Santa Rosa for a gig a year and a half ago. On his way home from the show, he swung by the store. The usual quiet stillness of nighttime on Doyle Street was anything but. There were emergency vehicles with flashing lights, orange cones and yellow police tape.
"I knew something wasn't right," Dave laughs.
A BMW had plowed through DARCO's front showroom window.
"I was inside, in the back, when it happened," Beverly says. "I called 911. They came so quickly, and they were so kind to me. I wanted to stay there until Dave could get back because the store wasn't secure, with the front window knocked out."
One of the officers volunteered to stay and keep an eye on the place so Beverly could head home and decompress. She didn't want to call Dave.
"He was two and a half hours away, and what could he do at that point? I didn't want to worry him. He had a gig to play," Beverly says.
Beverly was safe, and someone was watching over the store. Why put a damper on Dave's performance? It's that kind of thoughtfulness that has kept the marriage strong.
It took some time following the Beamer mishap, but DARCO reopened; the updates are sleek without being over the top. The place looks and feels like itself, only better.
"We've got LED lights," Beverly says.
Open from Tuesday through Friday, the couple spends their three-day weekends either at their Boulder Creek cabin, inherited from Beverly's mother, or at a new vacation dwelling they recently purchased on Lake Don Pedro outside of Merced.
They'd survived all the expected—and unexpected—ups and downs of running a small business in a destination beach town, including the earthquake of '89 and a global pandemic, but an accident in 2021 stopped things for a year and a half of remodeling. The Rays continued to operate a scaled-down business at their printing facility next door while the main store underwent the forced renovation. New ceiling and walls, fresh paint, a beautiful new floor and a spacious front show window, recently finished.
"We made it back," Beverly grins, face glowing, white hair shining.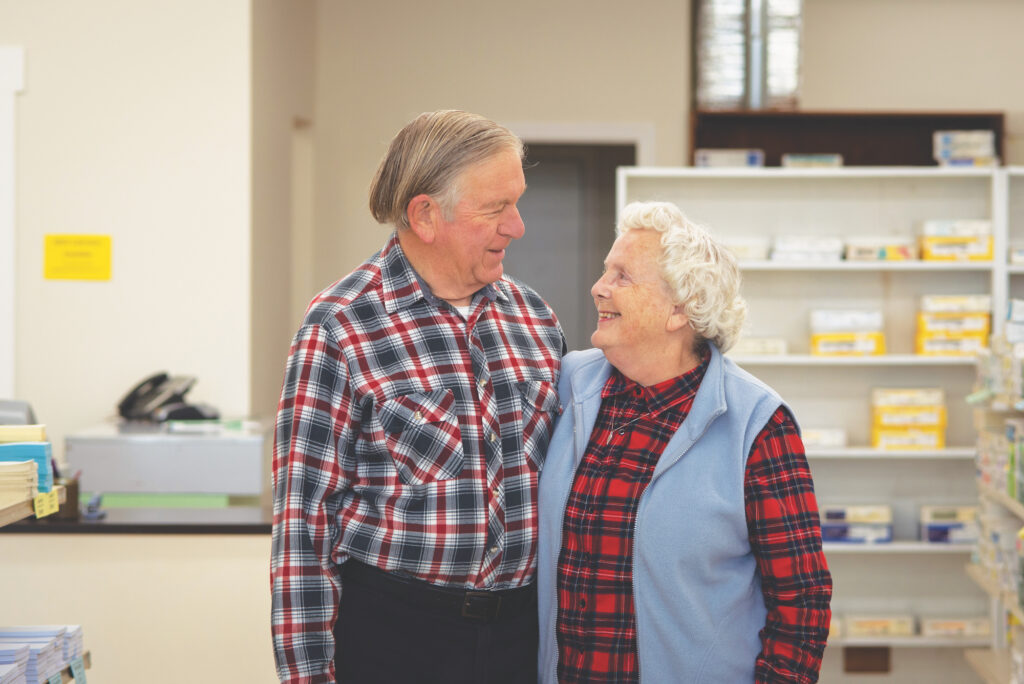 THE WAY IT IS
"It's just the two of us now," Dave explains. "I put up the shelves, and Beverly fills in things the way she wants. She makes those stationary notepads with all the different colors. They're very popular. Who can resist those colorful 'Things to do Today' notepads?'"
"I do the invoices and statements on a computer," Beverly says, nodding toward the desk in the back of the store. "But everything else I do by hand. Computers just aren't as reliable. She pats the adding machine that sits firmly alongside the cash register.
Dave has handled printing for over five decades and contends that he's never bored. And yes, things have changed throughout the years, but not in ways you'd expect—if you're talking to the Rays.
"Now it takes longer to get the products," Dave says. "Those big box stores blasted my business. Now it's just Palace and us. There used to be more choices. Now, things have merged into a few styles and colors. Like with cars."
Beverly adds, "But there's nowhere else to buy, just one piece of paper or one envelope.
And that kind of detailing is part of why they can keep their doors open.
"Our success is also due to our customers," Beverly insists. "Word-of-mouth return customers. We don't tell people what we have. We ask people, 'what do you want?'"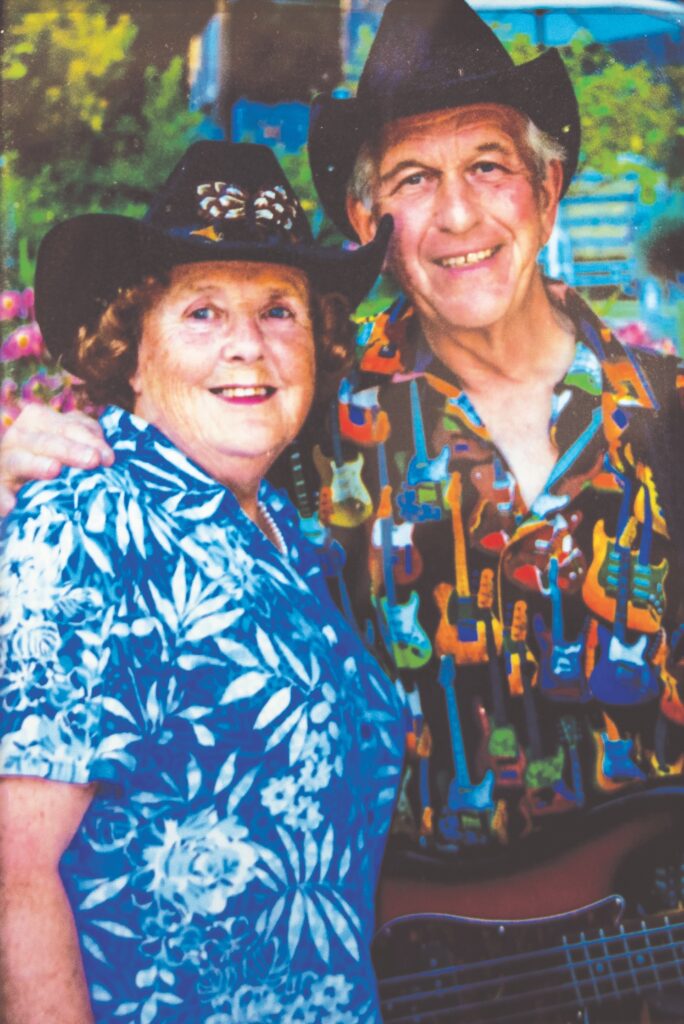 Crosby, Stills, and Nash plays softly in the background on a recent visit. The Rays just returned from a three-day weekend at their new lakefront property.
"Raking leaves, watching the deer that come to visit," Beverly grins.
The couple has mastered the pace of a longstanding romance.
"We enjoy doing a lot of things together," Dave says, beaming at his wife. They nod in agreement.
Does Beverly ever get tired of having Dave around?
"Oh, definitely no," she insists. "I still have all his letters. Can you imagine? I treasure every minute I'm with him."
DARCO Printing & Paper Store, 130 Doyle St., Santa Cruz; 831-426-5616.