Best New Restaurant
1. Trestles was opened last year by chef/owner Nick Sherman. After attending culinary school, the Santa Cruz native cut his teeth in the Napa restaurant scene.
2. It's named after the Capitola Trestle built in 1907 and iconic to the area.
3. Sherman and his two brothers each thought of the name independently and brought the same idea to one another—it was fate.
4. Located in the quaint Capitola Village, which is appropriate since Sherman says "it took a village" to open it. He credits his family and friends for help.
5. Trestles' philosophy: Fresh, local and seasonal ingredients used to prepare dishes that pop with originality will keep guests coming back.
Best Restaurant (Santa Cruz)
1. Sean Venus founded Venus Spirits out of a desire to bring his love of handcrafted spirits to Santa Cruz.
2. Venus distills its own whiskey, vodka, gin, rum, agave spirits and even a traditional Scandinavian spirit, aquavit, derived from the Latin phrase, "water of life."
3. The menu at Venus features a gourmet, drool-worthy burger loaded with bleu cheese, mustard garlic aioli, smoked mushrooms, frisée and bourbon bacon jam.
4. The craft cocktail menu features house-distilled spirits, including multiple gin and tonic options like lavender/grapefruit/juniper and orange/star anise/bay.
5. Venus is located in the upper Westside, a hip neighborhood with multiple restaurants and breweries close to West Cliff Drive.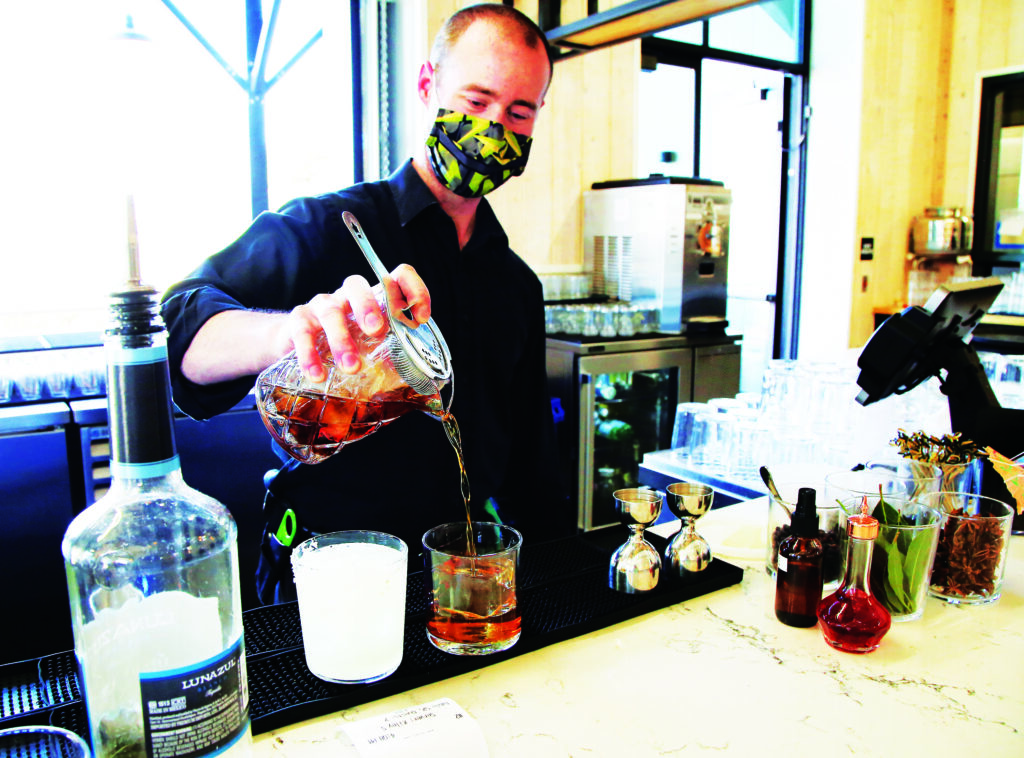 Best Wine Selection (Retail)
1. Established in 1938, Shopper's Corner has been a destination grocery store since it opened.
2. The staff prides itself on exceptional customer service; some employees have worked there for several decades.
3. The store has an incredible selection of local wine and over 3,000 varieties from around the world, including some of the most difficult to find.
4. Co-owner Andre Beauregard, who made his name in the family business as the wine buyer, is also a winemaker for the West Cliff label.
5. "Wine makes daily living easier, less hurried, with fewer tensions and more tolerance." —Benjamin Franklin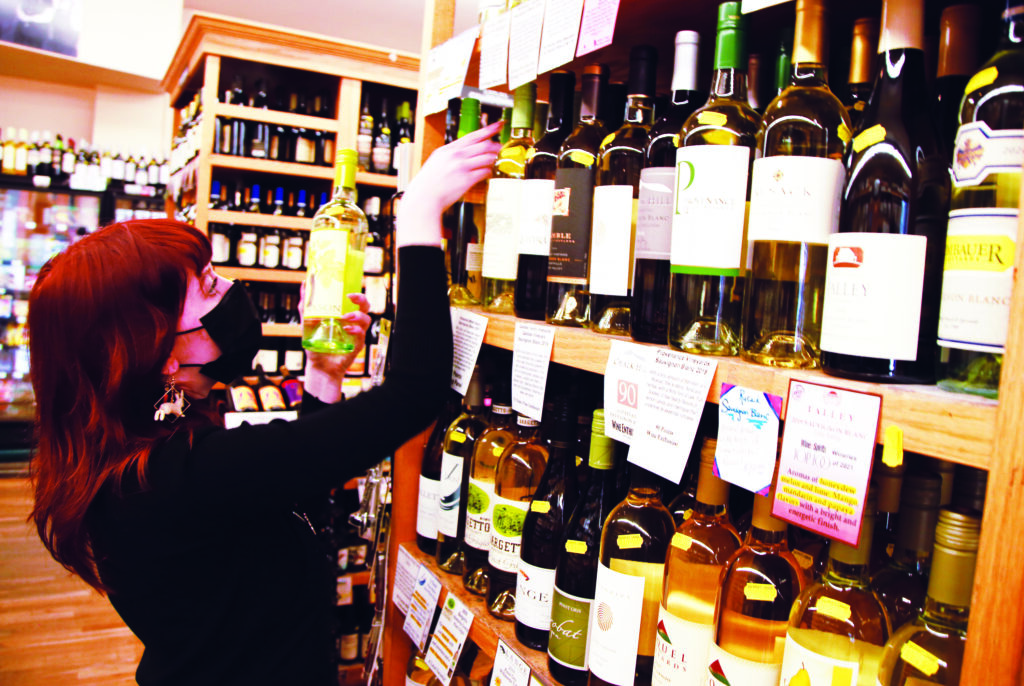 Best Patio Dining (Aptos)
1. The Hideout's patio features the holy trinity of outdoor space items: umbrellas, heaters and strings of lights.
2. The restaurant rose from the ashes, re-opening after closing for almost two years to rebuild following a devastating fire.
3. The remodel included adding special panels to reduce noise, increasing the size of the bar (always a good thing) and lofting the ceilings.
4. The Hideout is located in Aptos, near another successful redemption project in Nisene Marks State Park, once ravaged by clear-cut logging and is now full of second-growth redwoods.
5. Its diverse menu is inspired by Italian, French, American, Asian and Mexican cuisines.
__________________________________

Acai Bowl
Samba Rock Acai Café
RUNNERS-UP Café Brasil, Amazon Juices
Appetizers
Crow's Nest Restaurant
RUNNERS-UP Hula's Island Grill, Shadowbrook
Bagel
Bagelry
320 Cedar St., Santa Cruz, 429-8049; 1636 Seabright Ave., Santa Cruz, 425-8550; 4763 Soquel Drive, Soquel, 462-9888, bagelrysantacruz.com
RUNNERS-UP Holey Roller, Firefly Coffee House
Bakery
Gayle's Bakery
504 Bay Ave., Capitola, 462-1200, gaylesbakery.com
RUNNERS-UP The Buttery, Companion Bakeshop
Barbecue
Aptos St. BBQ
8059 Aptos St., Aptos, 662-1721, aptosstbbq.com
RUNNERS-UP Mission St. BBQ, Cole's BBQ & Catering
Bar Food
Parish Publick House
841 Almar Ave., Santa Cruz, 421-0507; 8017 Soquel Drive, Aptos, 708-2036, theparishpublick.com
RUNNERS-UP The Crow's Nest, Shadowbrook Restaurant
Bread
Companion Bakeshop
2341 Mission St., Santa Cruz, 252-2253; 7486 Soquel Drive, Aptos, 612-6655, companionbakeshop.com
RUNNERS-UP Gayle's Bakery, The Buttery
Breakfast
-Santa Cruz
Walnut Avenue Café
RUNNERS-UP Zachary's Restaurant, Harbor Café
-Aptos/Soquel
Red Apple Café
783 Rio Del Mar Blvd., Aptos, 685-1224, redappleaptos.com
RUNNERS-UP Silver Spur, Sunrise Café
-Capitola
Gayle's Bakery
504 Bay Ave., Capitola, 462-1200, gaylesbakery.com
RUNNERS-UP Avenue Café, The Cook House
-Scotts Valley/SLV
Heavenly Roadside Cafe
RUNNERS-UP Auntie Mame's, Rocky's Café, Spanky's, Chubby's Diner
-Watsonville
Cowboy's Corner Café
RUNNERS-UP Red Apple Café, Beach Street Café
Brunch
Harbor Café
RUNNERS-UP Chaminade, The Crow's Nest
Burger
-Santa Cruz
Betty Burgers
505 Seabright Ave., Santa Cruz, 423-8190; 1222 Pacific Ave., Santa Cruz, 600-7056, bettyburgers.com
RUNNERS-UP burger., Jack's Hamburgers
-Aptos/Soquel
burger.
RUNNERS-UP Parish Publick House Aptos, Betty Burgers
-Capitola
Betty Burgers
1000 41st Ave., Santa Cruz, 475-5901, bettyburgers.com
RUNNERS-UP East End Gastropub, Carpo's Restaurant
-Scotts Valley/SLV
Bruno's Bar and Grill
230 Mt. Hermon Road, Scotts Valley, 438-2227, brunosbarandgrill.com
RUNNERS-UP Malone's Grille, Two Doors
-Watsonville
Wooden Nickel
1819 Freedom Blvd., Freedom, 724-2600
RUNNERS-UP Fat Boy Burgers and Grill, Kong's Burgers & Cafe
Burrito
-Santa Cruz
Tacos Moreno
1053 Water St., Santa Cruz, 429-6095
RUNNERS-UP Taqueria Los Pericos, Taqueria Vallarta
-Aptos/Soquel
Taqueria Los Gordos
7488 Soquel Drive, Aptos, 688-0911
RUNNERS-UP El Chipotle, Manuel's Mexican Restaurant
-Capitola
Tacos Moreno
1601 41st Ave., Capitola, 464-8810
RUNNERS-UP Taqueria Vallarta, Mijo's Taqueria
-Scotts Valley/SLV
Los Gallos Taqueria
18 Victor Square, Suite. A, Scotts Valley, 439-9803
RUNNERS-UP Taqueria Vallarta, Maya Mexican Restaurant
-Watsonville
El Frijolito
11 Alexander St., Watsonville, 724-8823
RUNNERS-UP Ranch Milk, Super Taqueria
Calamari
The Crow's Nest
RUNNERS-UP Cafe Cruz, West End Tap & Kitchen
Caterer
Barbara & Company
2431 Chanticleer Ave., Santa Cruz, 426-6051, barbara-company.com
RUNNERS-UP Five Star, Pono Hawaiian Kitchen & Tap
Cheap Eats
Charlie Hong Kong
1141 Soquel Ave., Santa Cruz, 426-5664, charliehongkong.com
RUNNERS-UP Pretty Good Advice, Taqueria Vallarta
Cheese Selection
Cheese Shop 831
3555 Clares St. Ste. V, Capitola, 515-7406, cheeseshop831.com
RUNNERS-UP Staff of Life, Shoppers Corner
Chinese Cuisine
Canton
RUNNERS-UP Panda Inn, Shun Feng
Chocolatier
MacKenzies Chocolates
1492 Soquel Ave., Santa Cruz, 425-1492
RUNNERS-UP Donnelly Fine Chocolates, Mutari
Clam Chowder
Stagnaro Brothers
59 Municipal Wharf, Santa Cruz, 423-2180, stagnarobrothers.com
RUNNERS-UP The Crow's Nest, Riva Fish House
Coffeehouse (Independent)
Cat & Cloud
3600 Portola Drive, Santa Cruz; 10 Parade St., Suite A, Aptos; 719 Swift St. Suite 56, Santa Cruz; Abbott Square, 725 Front St., Santa Cruz, catandcloud.com
RUNNERS-UP Verve, 11th Hour Coffee
Cookies
Pacific Cookie Company
1203 Pacific Ave., Santa Cruz, 429-6905, pacificcookie.com
RUNNERS-UP Gayle's Bakery, The Buttery
Cupcakes
The Buttery
702 Soquel Ave., Santa Cruz, 458-3020, butterybakery.com
RUNNERS-UP Gayle's Bakery & Rosticceria, Melinda's Gluten Free Bakery
Date Night Restaurant
-Santa Cruz
Gabriella Cafe
910 Cedar St., Santa Cruz, 457-1677, gabriellacafe.com
RUNNERS-UP Oswald, VIM Dining & Desserts
-Aptos/Soquel
HOME
3101 N. Main St., Soquel, 431-6131, homesoquel.com
RUNNERS-UP Cafe Sparrow, The Hideout
-Capitola
Shadowbrook Restaurant
RUNNERS-UP Trestles Restaurant, Cafe Cruz
-Scotts Valley/SLV
Ristorante Casa Nostra
RUNNERS-UP Scopazzi's, Bruno's Bar and Grill
-Watsonville
California Grill
RUNNER-UP Ella's at the Airport, Jalisco Restaurant
Deli
Zoccoli's Delicatessen
1534 Pacific Ave., Santa Cruz, 423-1711, zoccolis.com
RUNNERS-UP Garden Liquors & Deli, Erik's Deli
Desserts (Bakery)
Gayle's Bakery
504 Bay Ave., Capitola, 462-1200, gaylesbakery.com
RUNNERS-UP The Buttery, The Farm Bakery & Gifts
Desserts (Restaurant)
Shadowbrook Restaurant
RUNNERS-UP VIM Dining & Desserts, Bittersweet Bistro
Donut Shop
Ferrell's Donuts
2227 Mission St., Santa Cruz, 457-2760
RUNNER-UP Dunlap's Donuts, Allbright's Donut Shoppe
Falafel
Zameen
851 41st Ave., Santa Cruz, 713-5520, zameencuisine.com
RUNNERS-UP Falafel of Santa Cruz, Nick the Greek
Food Event
Greek Food Festival
Downtown Santa Cruz
RUNNERS-UP Clam Chowder Cook-Off, Grazing on the Green
French Fries
Betty Burgers
1000 41st Ave., Santa Cruz, 475-5901; 505 Seabright Ave., Santa Cruz, 423-8190; 1222 Pacific Ave., Santa Cruz, 600-7056, bettyburgers.com
RUNNERS-UP West End Tap & Kitchen, Carpo's Restaurant
Frozen Yogurt
Yogurtland
1955 41st Ave. Ste. A4, Capitola, 462-3100; 1487 Main St. #102, Watsonville, 761-1500
RUNNERS-UP Top A Lot Yogurt, Cruz Creamery
Greek
Vasili's Greek Restaurant
RUNNERS-UP Zameen Mediterranean Cuisine, Nick the Greek
Hawaiian Cuisine
Pono Hawaiian Kitchen & Tap
RUNNERS-UP Hula's Island Grill, Aloha Island Grille
Hot Dog
Happy Dog Hotdogs
324 River St., Santa Cruz, 332-2057
RUNNERS-UP Funks Franks, Taylor's Hot Dog Stand
Ice Cream
Marianne's
1020 Ocean St., Santa Cruz, 458-1447; 218 State Park Drive, Aptos, 713-4746; 104 Stockton Ave., Capitola, 479-8888, mariannesicecream.com
RUNNERS-UP Penny Ice Creamery, Mission Hill Creamer
Indian Cuisine
Ambrosia India Bistro
207 Sea Ridge Road, Aptos, 685-0610; 6006 La Madrona Drive, #D, Scotts Valley, 713-5594, ambrosiaib.com
RUNNERS-UP Royal Taj, Malabar Restaurant
Italian Cuisine
Lillian's Italian Kitchen
RUNNERS-UP Tramonti, La Posta
Juice Bar/Smoothies
Amazon Juices
1066 41st Ave., Santa Cruz, 854-2225, amazonjuices.us
RUNNERS-UP Clean Juice, New Leaf Community Markets
Kid-Friendly Eatery
Carpo's
RUNNERS-UP Dharma's Restaurant, Kianti's Pizza & Pasta Bar
Kombucha/Probiotic (Local)
Living Swell
RUNNERS-UP Amazon Juices, Boochy Boy
Late-Night Eatery
The Crepe Place
1134 Soquel Ave., Santa Cruz, 429-6994, thecrepeplace.com
RUNNERS-UP Manuel's Mexican Restaurant, Charlie Hong Kong
Mexican Cuisine
-Santa Cruz
El Palomar
RUNNERS-UP Copal, Taqueria Los Pericos
-Aptos/Soquel
Manuel's Mexican Restaurant
RUNNERS-UP Tortilla Flats, El Chipotle Taqueria
-Capitola
Taqueria Vallarta
RUNNERS-UP El Toro Bravo, Tacos Moreno
-Scotts Valley/SLV
Maya Mexican Restaurant
3115 Scotts Valley Drive, Scotts Valley, 438-7004, mayasv.com
RUNNERS-UP Taqueria Vallarta, Los Gallos
-Watsonville
Cilantros Parrilla y Cantina
RUNNERS-UP Jalisco Restaurant, El Frijolito
Middle Eastern
Laili
RUNNERS-UP Zameen, Mozaic
New Restaurant
Trestles Restaurant
RUNNERS-UP Venus Spirits Cocktails & Kitchen, Mentone
Outdoor Dining
The Crow's Nest
RUNNERS-UP Shadowbrook, Laili Restaurant
Patio Dining
-Santa Cruz
The Crow's Nest
RUNNERS-UP Laili, Venus Spirits Cocktails & Kitchen
-Aptos/Soquel
The Hideout
RUNNERS-UP Bittersweet Bistro, Michael's On Main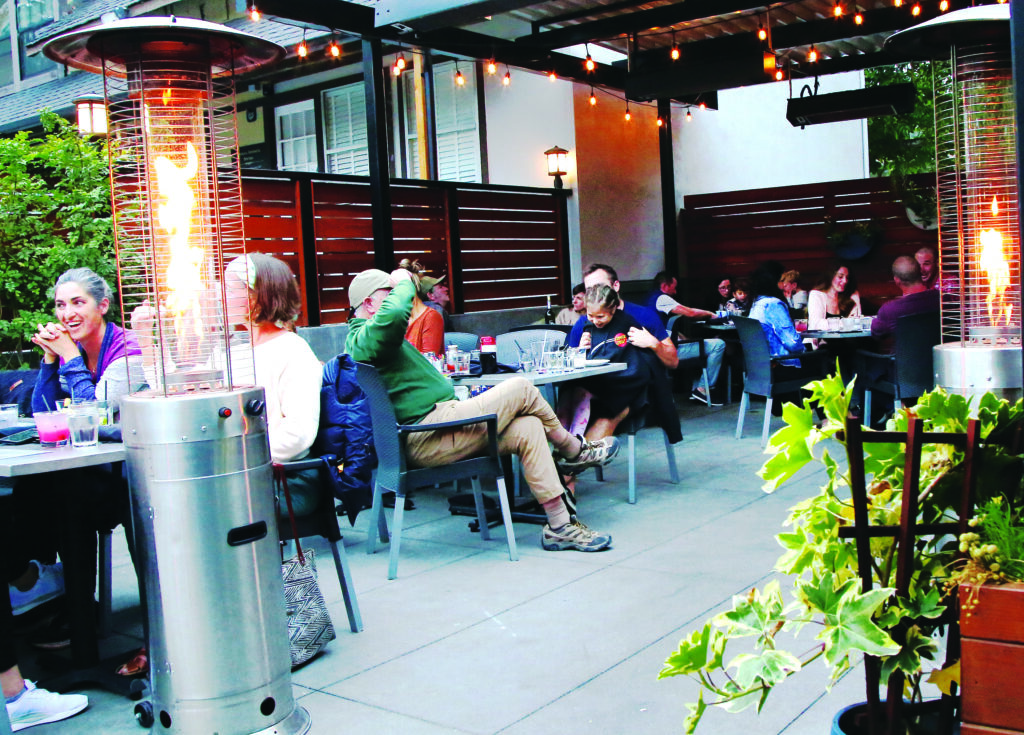 -Capitola
Shadowbrook Restaurant
RUNNERS-UP Zelda's on the Beach, Cafe Cruz
-Scotts Valley/SLV
Cowboy Bar & Grill
5447 Highway 9, Felton, 335-2330, feltoncowboy.com
RUNNERS-UP Casa Nostra, Malone's Bar & Grill
-Watsonville
Ella's at the Airport
RUNNERS-UP Jalisco Restaurant, Cilantros
Pizza
-Santa Cruz
Pizza My Heart
1116 Pacific Ave., Santa Cruz, 426-2511, pizzamyheart.com
RUNNERS-UP Woodstock's Pizza, Bantam
-Aptos/Soquel
Pizza 1
253 Center Ave., Aptos, 684-1110, pizza-1.com
RUNNERS-UP Mentone, Village Host Pizza & Grill
-Capitola
Pizza My Heart
2180 41st Ave., Capitola, 475-6000; 209 Esplanade, Capitola, 475-5714, pizzamyheart.com
RUNNERS-UP Pleasure Pizza, Village Host Pizza & Grill
-Scotts Valley/SLV
Redwood Pizzeria
6205 Highway 9, Felton, 335-1500, redwoodpizza.com
RUNNERS-UP Boulder Creek Pizza & Pub, Round Table Pizza
-Watsonville
Cassidy's Pizza
1400 Freedom Blvd., Watsonville, 724-2271
RUNNERS-UP Slice Project, Corralitos Pizza
Restaurant
-Santa Cruz
Venus Spirits Cocktails & Kitchen
200 High Road, Santa Cruz, 600-7376, venusspirits.com
RUNNERS-UP The Crow's Nest, Lillian's Italian Kitchen
-Aptos/Soquel
The Hideout
RUNNERS-UP Cafe Sparrow, Mentone
-Capitola
Shadowbrook Restaurant
RUNNERS-UP Trestles Restaurant, Cafe Cruz
-San Lorenzo Valley
Ristorante Casa Nostra
RUNNERS-UP Scopazzi, Cowboy Bar & Grill
-Scotts Valley
Bruno's Bar and Grill
230 Mt. Hermon Road, Scotts Valley, 438-2227, brunosbarandgrill.com
RUNNERS-UP Otoro Sushi, Casa Nostra
-Soquel
Home
3101 N. Main St., Soquel, 431-6131, homesoquel.com
RUNNERS-UP Cafe Cruz, Michael's on Main
-Watsonville
California Grill of the Pajaro Valley
RUNNERS-UP Ella's at the Airport, Miyuki Restaurant
Salad
Soul Salad
7957 Soquel Drive, Aptos, 708-2106, soulsalad.com
RUNNERS-UP Carpo's Restaurant, Dharma's Restaurant
Sandwich
Zoccoli's
1534 Pacific Ave., Santa Cruz, 423-1711, zoccolis.com
RUNNERS-UP Garden Deli, Erik's Deli
Seafood
-Santa Cruz
Riva Fish House
31 Municipal Wharf, Santa Cruz, 429-1223, rivafishhouse.com
RUNNERS-UP Stagnaro Bros, The Crow's Nest
-Aptos/Soquel
Café Rio
RUNNERS-UP Cafe Cruz, Akira
-Capitola
Shadowbrook Restaurant
RUNNERS-UP Zelda's, Paradise Beach Grille
-San Lorenzo/SLV
Scrumptious Fish and Chips Food Trailer
RUNNERS-UP Rumble Fish, Otoro Sushi
-Watsonville
The Fish House
972 Main St., Watsonville, 728-3333

RUNNERS-UP Hindsight Cafe, Miyuki Restaurant
Soup
Erik's Deli
1664 Soquel Drive, Santa Cruz, 462-1919; 1475 41st Ave., Capitola, 475-4646, eriksdelicafe.com
RUNNERS-UP Shadowbrook Restaurant, Dharma's Restaurant
Small Plates
Barceloneta
1541 Pacific Ave. Ste. B, Santa Cruz, 900-5222, eatbarceloneta.com
RUNNERS-UP Venus Spirits Cocktails & Kitchen, Cantine Winepub
Steak
Shadowbrook Restaurant
RUNNERS-UP Hindquarter Bar & Grille, Alderwood Santa Cruz
Sushi/Japanese
-Santa Cruz
Akira Sushi
1222 Soquel Ave., Santa Cruz, 600-7093, akirasantacruz.com
RUNNERS-UP Mobo, Shogun
-Aptos/Soquel
Akira Sushi
105 Post Office Drive Ste. D, Aptos, 708-2154, akiraaptos.com
RUNNERS-UP: Sushi Garden Aptos, Poki Bowl
-Capitola
Sushi Garden
820 Bay Ave. #148, Capitola, 464-9192, sushi-garden.com
RUNNERS-UP Geisha Japanese Restaurant and Tea House, Miyako Japanese Restaurant
-Scotts Valley/SLV
Otoro
235 Mt. Hermon Road #G, Scotts Valley, 440-9040
RUNNERS-UP Rumble Fish, Sushi San
-Watsonville
Imura
1994 Main St., Watsonville, 761-8799, imurasushi.com
RUNNERS-UP Miyuki, Sushi Garden Watsonville
Takeout
Charlie Hong Kong
1141 Soquel Ave., Santa Cruz, 426-5664, charliehongkong.com
RUNNERS-UP Scrumptious Fish and Chips Food Trailer, Real Thai Kitchen
Taqueria
-Santa Cruz
Taqueria Los Pericos
RUNNERS-UP Tacos Moreno, Taqueria Vallarta
-Aptos/Soquel
Taqueria Los Gordos
7488 Soquel Drive, Aptos, 688-0911
RUNNERS-UP El Chipotle, Manuel's Mexican Restaurant
-Capitola
Taqueria Vallarta
RUNNERS-UP Tacos Morenos, Mijos Taqueria
-Scotts Valley/SLV
Taqueria Vallarta
RUNNERS-UP Los Gallos Taqueria
-Watsonville
El Frijolito
11 Alexander St., Watsonville, 724-8823
RUNNERS-UP Super Taqueria, Ranch Milk
Tea House
Hidden Peak
RUNNERS-UP Well Within Spa, Tea House Spa
Thai Cuisine
Sawasdee
RUNNERS-UP Real Thai Kitchen, Sabieng
Vegetarian
Dharma's
RUNNERS-UP Pretty Good Advice, Café Gratitude
Winery
Bargetto Winery
3535 N. Main St., Soquel, 475-2258, bargetto.com
RUNNERS-UP Beauregard Vineyards, Soquel Vineyards
Wine List
Soif Wine Bar & Merchants
105 Walnut Ave., Santa Cruz, 423-2020, soifwine.com
RUNNERS-UP Shadowbrook, Vinocruz
Wine Selection (Retail)
Shopper's Corner
622 Soquel Ave., Santa Cruz, 423-1398, shopperscorner.com
RUNNERS-UP Soif, Deer Park Wine & Spirits