It took squishy, delectable, sweet, itty-bitty black balls for Sam Kurita to open Santa Cruz County's first boba shop in 2004. Kurita traded in his suit, tie and cushy gig at a profitable semiconductor operation for an apron, longer hours and a risky bet on a trend that was beginning to make waves amongst foodies throughout Silicon Valley.
"I saw an untapped market here," the ponytailed Kurita says. "There was no boba [in Santa Cruz County]. We started doing crepes and boba tea at a place we called Ambrosia. There was no other shop like it in Santa Cruz."
Kurita is known around town as the man who officially brought the Asian drink to Santa Cruz County—a true OG in the boba biz. In 2005, he converted his popular crepe-boba spot into a Thai restaurant downtown, now Pacific Thai.
"We kept the boba tea but slimmed the menu down," Kurita explains. "We have to keep our boba menu simple compared to other places. Back in the day, we had more variety."
Kurita's risk and his approach have paid off. His Thai eatery is now considered a downtown Santa Cruz staple.

Wearing a black UCSC Grateful Dead hat and thick sunglasses—indoors—Kurita says his bubbly boba drinks boost his food sales, and his highly lauded Thai food keeps customers returning for his teas.
"We've sold boba for a long time, but more and more people—especially young people—are discovering boba these days," he says. "It's big."
The market size of boba is predicted to increase from $2.4 billion (2019) to $4.3 billion by 2027. And boba culture—aka "Boba Life"—continues to pick up steam. Large, multi-tentacled corporations like Peet's Coffee, Jamba Juice, Dunkin' Donuts and even Del Taco have been jumping on the boba bandwagon—experimenting with various boba concoctions.
But how big can boba get in the United States? Also, is it a fad, or is boba here, domestically, for the long run? Longtime industry players agree, for now, that boba and the culture surrounding it is here to stay. Even "boba" is an ironic cultural reference to the 1980s Hong Kong movie star Amy Yip. Her generously sized "assets" resulted in the nickname "Boba" (loosely translated Chinese slang for "champion of breasts.")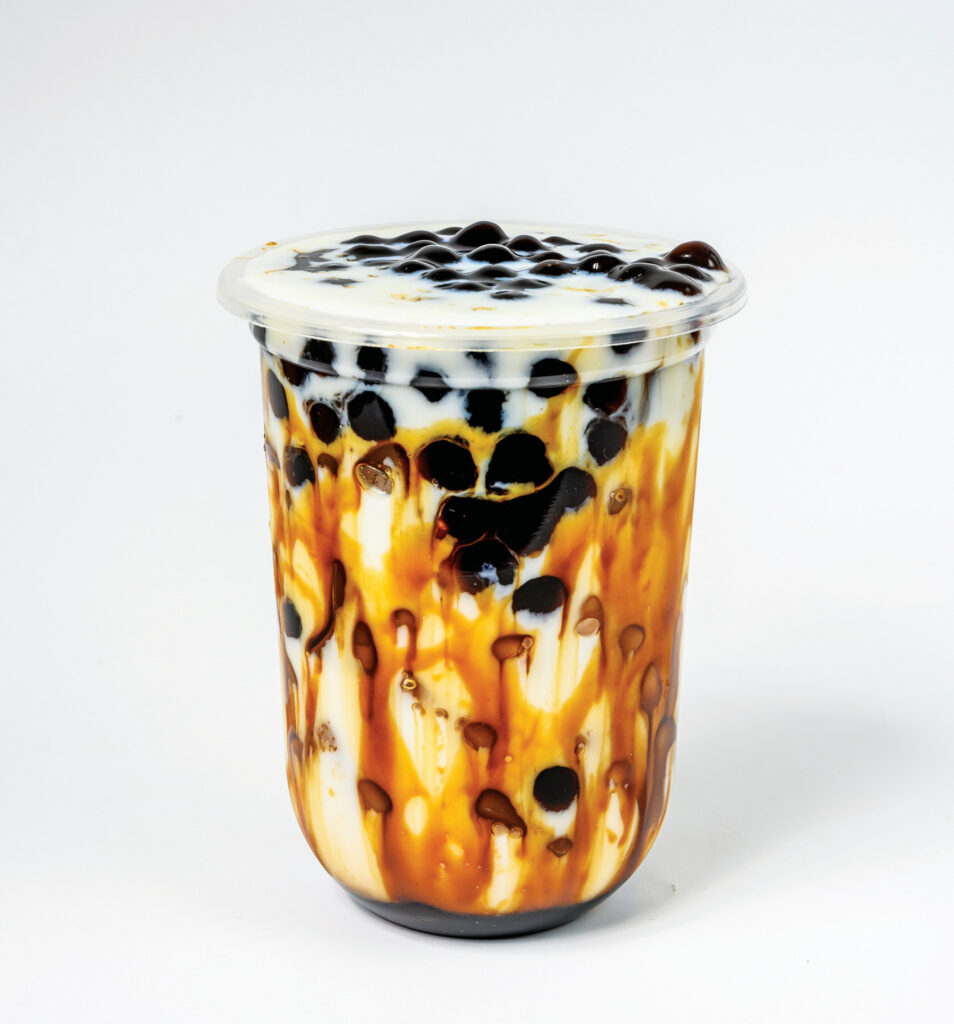 You probably don't envision Amy Yip when a buddy invites you to get boba. In the United States, at least, it's far more likely that a colorful shaken drink over ice—consisting of milk, black tea and chewy tapioca pearls (in its most basic form)—pops up in your noggin. However, the term "boba" and the perpetually evolving world encompassing it can get confusing. Sometimes, it's called "bubble tea" or "pearl milk tea," other times, it's called "boba tea," "tapioca milk tea" or just plain old "boba." The ubiquitous tapioca pearls are also called "boba," which doesn't help simplify things.
INTRO TO BOBA
Boba pearls are made by adding boiling water to tapioca starch, which is then kneaded until it reaches a doughy consistency. The tapioca is then shaped into balls and added to a vat of boiling water with brown sugar for about 30 minutes—for flavored boba pearls, fruit puree, or syrup is added to the tapioca starch before the kneading process. It seems simple, but high-quality boba can take years to perfect and is considered an art form similar to mastering scratch-made ramen noodles.
The "boba movement" was born in Taiwan, where tea shops are on nearly every corner. Boba shops are reviewed, chastised and criticized based on the quality of their pearls. The best boba has a "Q" or a "QQ," which means it has an incredibly chewy consistency. It's a good thing.
Back in the day, in its earliest form, bubble tea was a mixture of piping hot Taiwanese black tea, syrup, condensed milk and tapioca pearls. Like many regions worldwide, tea is big in Asia—Asian tourists go to tea tasting on plantations and experiment with Oolong, Darjeeling, Longjing and jasmine varieties, similar to Americans going wine tasting.
Boba is not tapioca pudding. The pearls in many delightful slurpable boba mixtures are made from tapioca starch, an extract of the South American cassava root. Also known as "yuca," cassava root is cultivated by over eight million farmers, mainly in tropical regions. It has become big business; the driving force behind scores of rural communities' economies.
Cute plush boba stuffies, comfy leather seating, flashy LED displays and a white color scheme with crisp green accents fill the airy confines of Boba Bay, Cheryl Schnaider's new premium tea joint in Capitola Village.
The 45-year-old mother of two says business has been "okay" during the off-season in the quaint beach town. For one week in August, though, Schnaider got a brief glimpse of Boba Bay's potential.
"Capitola is a tourist town that is very seasonal," she says. "That's what I'm realizing. In certain areas, boba is mainstream. A lot of people have to travel to get it. There's definitely a demand for [boba]."
Some businesses close up during the frigid months—the onslaught of atmospheric rivers tearing through the Central Coast this year is unprecedented.
Schnaider hasn't let that get in the way, though. Her menu is carefully curated, and her passion for boba is undeniable; Schnaider's discussions/explanations with curious customers are more like "Boba 101" classes.
"People use the word 'boba' for the drink itself," she explains. "But it's really the pearls. When people hear the phrase 'bubble tea,' they think it's because of the tapioca pearls—but the bubbles form when you shake the drink. People are surprised by the pearls. Most think of tapioca pudding."
19-year-old UCSC environmental science major Tani Ng says she's on a mission to try every boba spot in Santa Cruz. Wearing large headphones, she sits hunched over a table at McHenry Library. Ng says that she's yet to find good boba in Santa Cruz—until now.
"It's severely lacking here," she says. "Good boba is cooked well. Not hard. Boba has to have this subtle sweetness—not too plain. Bad boba is hard and plain. Some places are sweet, though. There's this intricate balance."
Isara Chongpilayert—an immigrant from Fatu, Thailand—sells around 150 boba teas and 70 crepes daily at iCrave in Capitola. Isara and his wife opened the hip boba-crepe biz in 2009 and have worked diligently to perfect it.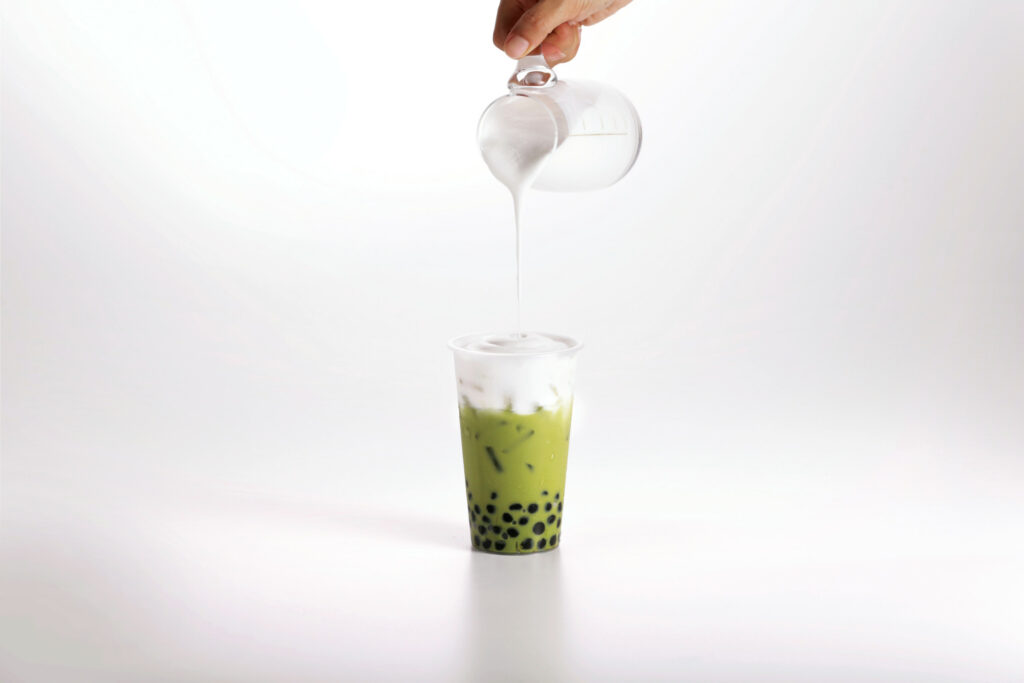 "Boba is all about the details—and freshness," Chongpilayert explains. "We have a special technique for our boba. It's soft and chewy. Some places have boba that is hard inside and uncooked. Our customers say our boba is perfect."
iCrave's eclectic décor, bright colors, Totoro motifs, affordable crepes and boba teas keep customers returning. Lines routinely stretch out the door.
"Boba, the drink, not the tapioca pearls, at its most basic, is flavored milk and tea with tapioca balls shaken and poured over ice," Chongpilayert says. "We sell more traditional boba than anything here. In bigger cities, there are more complicated ways of making boba. At my shop, I'm sticking to the boba basics—pure boba drinks. Because we only have two people working here, people would have to wait too long for their drinks. I make it easy for them."
BOBA RISING
Using a half-empty taro-root boba tea in the courtyard of UCSC's Iveta Café, computational media grad student J.T. Zong explains boba's global popularity and significance. Her eyes, framed by delicate moon-shaped glasses, light up as she compares our boba with the small province where she grew up, just outside of Shanghai.
"Boba really is a global phenomenon," Zong says thoughtfully. "It originated in Asian countries initially, but people are making it everywhere. It's an okay thing, I guess. I'm glad that I can get boba here. But it's not as good as in China. It's really sweet compared to home. And they use real teas in China. Better tea. They care. Even the big chains like Quickly."
With years of boba-cred, Zong says she can separate good boba from the pretenders and those just trying to make a quick buck.
Initially dominated by small family-owned businesses selling run-of-the-mill tea drinks made cheaply with simple powders and syrups, quality has grown exponentially. While not comparable to what Zong is used to in Shanghai, she says there are finally good boba options in Santa Cruz County.
Boba Bay, my go-to treat spot, represents the ongoing boba revolution. Schnaider reaches across the shiny, white countertop and hands me a large plastic cup with a cute little sea otter cradling a bubble tea. The scarily purple Taro boba is my favorite. I grab a giant pink boba straw and puncture the thin plastic that separates myself and pure, unadulterated boba bliss with ninja-like precision. The ambiance, the quality and it's in Capitola!
I'm admittedly a boba newbie—just a few years in—but even I can taste the difference.
"There are two types of bubble tea—the fast food type—like Quickly or restaurants that serve it as a compliment to their menus. The ingredients are low quality, like powders," Schnaider says. "Then there are specialty shops that serve high-quality teas, made fresh. At other places, boba teas are pre-made, or the ingredients are cheap and gross. When I trained with a Taiwanese supplier, he used Quickly and some other chains as examples of bad boba."
Schnaider is convinced that quality matters and will win in the end.
Unlike traditional coffee joints, boba shops have been emerging as hangout destinations for Asian American youth, existing as a de facto, safe place for chilling on weekends and after school. For a group of adolescents living a fast-paced digital life but still sequestered in the throngs of suburbia, boba spots represent a "cultural home."
"Boba is fun, sugary and sweet, so many teenagers and young people love it," Ng says. "They hang out at boba shops and talk for hours. If they go to a restaurant to eat, many stop and get boba. Boba replaces the normal drinks we get in the food place, like soda."
Like Starbucks cups, hip boba brands garner attention and business from Asian American youth, who often sport elaborately decorated bubble tea cups as accessories. You won't see Quickly cups or low-grade logos—chosen brands demonstrate individuality and a deep and comprehensive understanding of boba and its unique, vibrant, customizable culture.
"At home, we go out with our friends and get boba," Ng says. "It doesn't happen as much here yet. People in Santa Cruz mostly go to cafes or coffee shops instead. But if you go to San Jose or more established boba areas, it's the opposite. Boba spots are hangout spots. We like places that feel like ours—with cool, comfortable seating, good music and playing games and stuff."
BOBA BREAKTHROUGH
Boba is becoming a heralded drink everywhere and is no longer specific to any nationality. Just about everyone has tried it or at least knows what it is. As boba's appeal, visibility and popularity continue to a crescendo, everyone from every background can raise a collective toast and celebrate a drink—a plastic cup, cellophane lid, large colorful straws and mountains of teentsy black balls—that has surpassed expectations.
"Boba going mainstream? I don't think it's a bad thing," Ng says. "More people are being exposed to something truly Asian. Asian culture. It's good for parts of Asian culture to become more widespread. So, it's not that 'super weird' thing that we're into. Boba can be a gateway to other parts and aspects of Asian culture."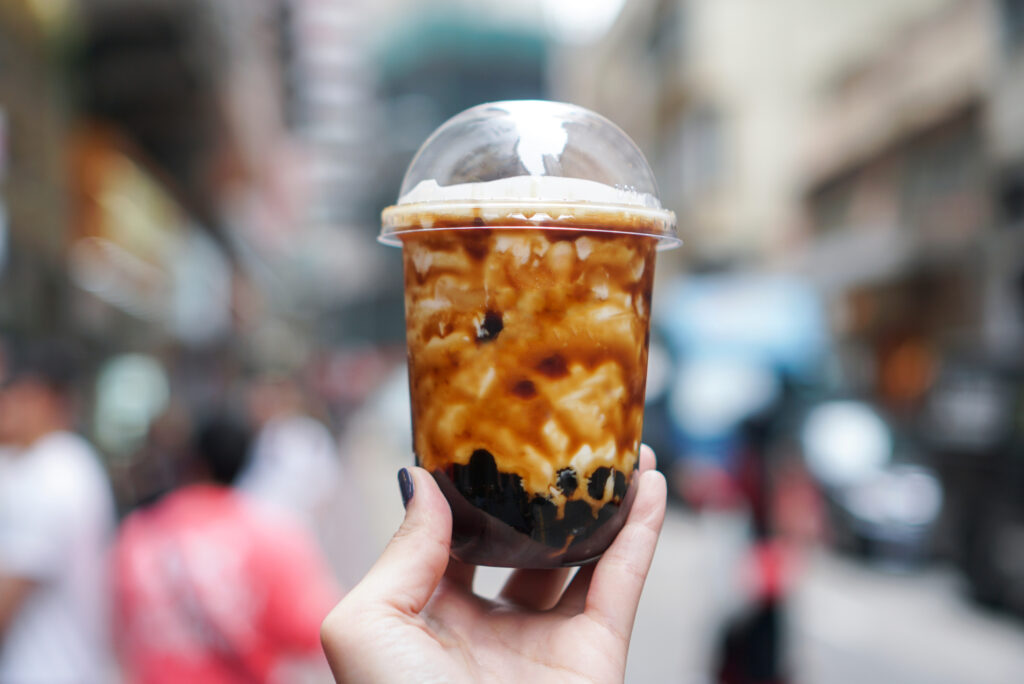 During the dreary and masked-up days of Covid, labor shortages, a disaster in the Suez Canal and pervading hiccups in the global supply chain they caused, parts of the Western United States and Canada experienced a sudden and severe boba shortfall. A lot of the boba slurped in the States is imported from Asia—the drink's most critical ingredient, tapioca starch, is grown there.
Some mainstream press even raised fears of a broader bubble tea shortage, panicking shop owners and boba addicts nationwide.
"For months, with supply chain issues and Covid, we couldn't get any pearls," Kurita recalls. "I scrounged for boba pearls anywhere I could, trying to order wherever I could get them. For months it was impossible. I ordered 15 pounds from a vendor in Los Angeles, and all I got was a cup of good pearls. The rest was powder. So, we tried to make them ourselves, but it didn't work out. We just took the hit."
The fact that U.S. mainstream media reported on the boba shortage during the darkest times shows how much the beverage has become embedded into our consciousness. It turns out those tiny chewy balls are a big deal.
Santa Cruz County Boba Mania
Boba Bay – bobabay.com
Signature Drink: Oreo Tiger Milk Tea
Cruzin' Crêpes – 831-423-5590
Signature Drink: Mangonada
iCrave – 831-515-7578 
Signature Drink: Okinawa Brown Sugar Bubble Tea 
Mr.Z's Crepes and Teas – 831-228-1588
Signature Drink: Strawberry Jam Matcha Latte
Pacific Thai Santa Cruz – pacificthaisantacruz.com
Signature Drink: Matcha Chacha 
Quickly – quicklyusa.com/santacruz
Signature Drink: Nutella Snow 
Soul Sweets the Dessert House – soulsweets831.com
Signature Drink: Sassy Matcha Latte 
TZone – Santa Cruz – tzonegroup.com
Signature Drink: Lychee Lover