EDITOR'S NOTE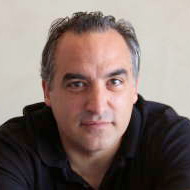 There are a lot of different ways we get story ideas. Sometimes we're tipped off by a reader, sometimes a source we're interviewing for one story gives us a lead on an entirely different one. And sometimes we simply walk into a building where it looks like something interesting is happening.

That's what happened with Georgia Johnson's cover story this week. Sometime late last year, she came into the office and said, "Have you guys seen that hammock café that's going into the old Homeless Garden Project building?" I think I just kind of stared blankly at her, since I had never conceived of a situation where "hammock" and "café" would be put together. But she explained that she had seen there was some work going on in the space, and stopped to talk to the owner, who explained about the whole phenomenon of hammock cafés in Japan, and how he was going to be bringing it here with his new business. She kept in touch, followed his progress, and in the meantime started diving into the larger social movement that this was a part of. The result is the first part of our Health and Fitness cover package. I've learned a lot from the story, and from hearing about her research on it over the last few months.

Also in our Health and Fitness coverage is Hugh McCormick's story on senior fitness. Now, you might be thinking, "Big deal, all seniors are into fitness now." That's what I thought at first, too, but when Hugh laid out the specifics of his plan for the story, I was sold. As more people in our society continue to live longer, how are seniors in their 80s, 90s and even 100s staying fit and active? Hugh talked to them for this story, and not only is it enlightening, it includes possibly the best use of the word "ninny" that I've ever seen. I'm telling you, we gotta bring ninny back. Here's to your health!
---
LETTERS TO THE EDITOR
Read the latest letters to the editor here.
HEALTHY STACK

In your article "Booking Ahead," (GT, 7/10), a partner of the firm designing the new Capitola Library is quoted as saying something to the effect that, "libraries will no longer be oppressive spaces with 8-ft. tall shelves stacked top to bottom … with old dusty books," right, Mr. Noll?  It sounds like you are not a frequent or recent user of your own public library. If you were, you would know that no stacks are 8-ft. tall, the books are displayed, not crammed, and the adult patrons find the quiet of the library to be restful, serene, and—if anything—liberating rather than oppressive. The most frequent complaint of adult patrons is that someone else is making too much noise. Quiet is refreshing. The presence of physical books—whether en masse or as individual volumes—creates a special atmosphere that can't be replaced by screens. Mr. Noll seems to know this on some level, as he says he has incorporated high ceilings in the design to "give a sense of grandeur, uplifting spirits." Good. That is actually what libraries are about. The role of public libraries may be expanding to include more functions as a community center, may be digitizing its collections, but I hope it never loses its fundamental identity as a place of peace, quiet, education, inspiration—and that it always has books.

Martha Dahlen
San Jose
REJECT THE RECALL

Approximately 35 years ago, Paul Lee and Paul Pfotenhauer asked me to serve with them on the board of the Citizens Committee for the Homeless. Scott Kennedy was on the City Council. The issues on homelessness then were very similar to those we experience today. After a particularly rancorous council meeting, demanding instant removal of the encampment at the corner of Highway 1 and Highway 9, Scott and I went to the camp and talked with a large group of homeless people. I believe he also went with Mike Rotkin another time. Among the outcomes of those conversations and deliberations of Santa Cruz City Council and Citizens for the Homeless were a transitional camp at a state park, the construction of a clean and sober transitional housing development, and construction of a family shelter with generous donations from the Rebele family.

Scott persisted in finding more effective solutions before driving people off the only space they could find, exactly as Drew Glover did a generation later. And we owe a debt of gratitude to the Council who made it happen. No one has been more generous in personal hospitality in their own home than Scott and Kris Kennedy and the other founders of Redwood Nonviolent Community. No one was more articulate or effective in his defense of the respect for people without access to resources and shelter. The slightest suggestion that Scott Kennedy would ally with efforts to undermine a legitimate election by recall, regardless of his personal or political position or conviction, especially one that leans heavily on racial implicit bias, is a betrayal of friendship and truth.
    

At the most recent council meeting I attended, I concluded my remarks with a strong caution: If this recall receives the required signatures for the ballot, it will divide the community of Santa Cruz as nothing else has in a third of a century. This will define the political scene for a generation. Ever so much more than a regular election, this ballot measure will be remembered for the names associated with this single issue, which above all else in our current communal life they considered worthy of overturning the expressed will of the majority of our neighbors and friends.


Darrell Darling
Santa Cruz
---
PHOTO CONTEST WINNER

Submit to [email protected]. Include information (location, etc.) and your name. Photos may be cropped. Preferably, photos should be 4 inches by 4 inches and minimum 250dpi.
---
GOOD IDEA
CASA of Santa Cruz County is looking for caring adult volunteers to speak up for the best interests of children who have been abused or neglected. Volunteers with CASA, which stands for Court Appointed Special Advocates, spend time with their child each week, gathering information from everyone involved in the child's case. Training runs the course of five weeks, usually on weeknights. Once a year, a special daytime training is offered that will take place Monday through Thursday from 9 a.m.-noon for two weeks. To learn more, visit casaofsantacruz.org.
---
GOOD WORK
Soroptimist International of Capitola-by-the-Sea is part of a global organization that empowers women. This local branch is accepting applications for its Live Your Dream Awards with a deadline to apply no later than Nov. 15. Women who are enrolled in or have been accepted into a B.A. or technical training program, are the heads of their households, and have a demonstrated need are eligible to apply. There are cash prizes. Applications are available online at best4women.org. For more information visit facebook.com/sicapitola or email [email protected]
---
QUOTE OF THE WEEK
"I don't believe in dying. It's been done. I'm working on a new exit."

-George Burns