When it comes to skateboarding, no brand is more iconic than Santa Cruz Skateboards.
Whether it's the ubiquitous yellow lettering against the red dot or the savage, blue, screaming hand, Santa Cruz Skateboards (SCS) is known throughout the smallest corners of the world. Its apparel and brand transcend the world of skateboarding, often repped by people who don't even skate but want to look cool just the same.
The art of Santa Cruz Skateboards has been exhibited in 20 cities across the world in traveling art shows and Jim Phillips, the creator of the brand's quintessential art, is recognized as a high-end artist with collectors around the globe willing to pay top dollar for anything they can get.
Last week Santa Cruz Skateboards celebrated its 50th anniversary with three, tricked-out days of art, music and skating. On Thursday there was a private screening of the upcoming Jim Phillips documentary Art and Life: The Story of Jim Phillips at the Rio Theatre which was followed the next day by two separate, invite-only parties. The first was for NHS employees past and present, a who's who of world-famous skaters, and fellow industry names. They gathered for the festivities complete with special edition skate deck giveaways, food and speeches from company higher-ups.
In honor of the momentous occasion, representatives from the City and County of Santa Cruz, the California State Assembly and Senator Laird's office all bestowed recognition proclamations to Richard Novak, one of the company's founders.

That party ended with a head thrashing set by local metal/punk crossover act Dusted Angel. Singer Clifford Dinsmore is also the frontman for legendary 1980's punk band, Bl'ast! featured in the infamous Santa Cruz Skateboard ad with a young Rob Roskopp, launching over the band.
"I also worked in the wheel department for two years, maybe three before I bailed to go to school," Disnmore remembers. "I have this vague memory of it being very surreal with all these gnarly chemicals everywhere."
Friday night the party moved to Moe's Alley where anyone lucky enough with a wristband saw rock, surf and punk acts The Bone Shavers (featuring Bob Denike, more on him in a minute), Screaming Lord Salba and his Heavy Friends (featuring the infamous skater, Steve "Salba" Alba), and San Jose's three decade running pop punks, The Odd Numbers.
Saturday was the grand finale, an open to the public celebration bouncing from two skate parks to land at the Santa Cruz Beach Boardwalk where pro-skaters demonstrated their skills. The night wrapped up in a ribbon of rock with a free concert by pillars in the underground, Dinosaur Jr.
"They were the soundtrack for Alien Workshop [Skateboards] videos of the 1990's," explains retired pro-skater and current NHS Inc. CEO and CMO (Chief Marketing Officer), Jeff Kendall. "So it was easy to pick those guys especially since they're available and on tour right now. We got lucky."
How did a small skateboard company started by three friends in the sleepy, surf town of Santa Cruz, become the oldest running skate company in the world? And how did it practically create the entire skating industry as we currently know it?
"Killer product, killer team riders, great brand identity, and great graphics backed up by R&D [research and development]," proclaims NHS Executive Chairman, Denike. With the company for 36 years, he spent the last two decades as NHS' CEO, stepping down only last year.
Yet before grinding into what makes Santa Cruz Skateboards the most influential brand for half a century, a bit of context and history is needed. It's a history that's well documented and repeated many times before, so this will be as brief as possible.
BIRTH OF A BRAND
"They were literally in the skateboard business by accident and overnight," Denike says.
The "they" he speaks of are local surfers Richard Novak, Doug Haut and Jay Shuirman.
They began in 1969 as a reinforced plastics company selling raw materials to manufacturers and making their own boards as Santa Cruz Surfboards.
"Doug was making surfboards throughout the whole beginning," Novak recalls. "But we [Novak and Shuirman] were running his retail shop."
It's the same retail shop where the Santa Cruz Boardroom stands today on 41st Avenue in Capitola.
Novak says he made skateboards prior for personal use. But in 1973 a friend from Santa Cruz–Jimmy Hoffman, Shuirman's surfing protege or "grem" as they called them back then instead of "groms"–went to McCully Bicycle & Sporting Goods in Hawaii. After talking with them, the sporting goods store challenged the Santa Cruz company with an order of 500 skateboards.
They quickly fulfilled the order with fiberglass decks and unused stock material they had around the shop. Soon after, McCully ordered another 500 that also sold-out almost immediately. That's when Novak, Shuirman and Haut had their "A-ha" moment. That year they founded NHS Inc. (an acronym of their surname initials) and Santa Cruz Skateboards was born.
"The only reason we did those businesses is because it allowed us to surf all day," Novak chuckles. "When I saw the skateboard deal going down I thought, 'Wow, we could build a business in this.'"
He and Shuirman were the two main drivers behind SCS, allowing Haut to continue his surfboard business while maintaining his retail store.
Realizing they wanted to have the best skaters riding the best products to represent their company, NHS Inc. dedicated themselves to constant innovation and created an entire industry around their products.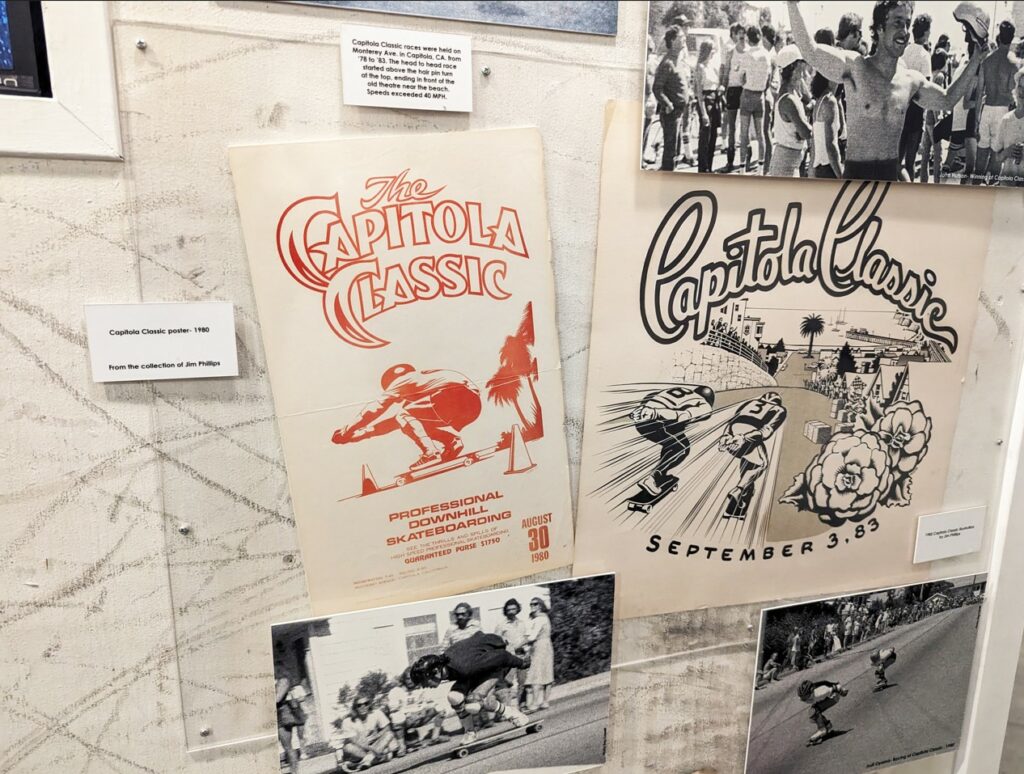 ENGINEERING AN INDUSTRY
The first of those innovations was the game changing Road Rider Wheels of 1974. Until that time, skateboards were made with roller skate ball bearings, which were loose balls in the wheel. NHS was able to get a different size balls for much cheaper and installed them as sealed precision bearings. This allowed the rider to have more control with a smoother, faster ride.
Throughout the decades the innovations would come in different forms.
They began making decks, first out of five ply then seven ply maple wood for lightness and durability. Inspired by Formula One race cars, they built the first independent suspension truck for a skateboard and created the Independent Truck Company–the most used trucks in the sport to this day. Santa Cruz Skateboards were also the first to have Everslick, a thermoplastic covering the bottom of the board that allowed riders to slide easier for longer distances. They were the first company to have full art prints on grip tape, the first stackable risers–called Cellblocks–and one of the first to make boards concave instead of flat.
All industry standards to this day and most of them came from the engineering mind of one man, Tim Piumarta, NHS' Director of Innovation in the R&D department.
"I always tell Bob that when I was 14 I was one of the lucky few in my generation that knew exactly what he wanted to do in life," Piumarta explains.
"And that was to make skateboards, but make them better, stronger, faster and last longer than before," he says.
In this spirit, NHS Inc. was the first skateboard company to have an R&D department and continues to be one of the only companies who still does to this day. When Shuirman tragically died in 1979 at the age of 40 from leukemia, it was Piumarta who filled his shoes.
No stranger to the sport, by the time he started working in R&D Piumarta was already an established all-around skater. He applied this knowledge to his life's mission. Armed with the motto, "You can't improve what you can't measure," he currently holds five U.S. patents with another five pending.
When asked how many he has internationally, Piumarta is at a loss for words.
"I don't know, a lot" he says.
"Two dozen?," replies Denike.
Piumarta's eyes grow wide in amazement before he sincerely exclaims in almost disbelief, "Is it really? Wow!"
Unlike the warehouse and other NHS offices which are covered in art, photos, skateboards, magazine cutouts, clothing and more, Piumarta's room is a sanitized white with bare walls. Instead of decorations, massive machines designed to test and measure the strength, successfulness and durability of the different skateboard parts fill the room. Walking in feels like being transported to an entirely different world apart from the rest of the company.
"I've walked through the door here for about 11,500 days," he says. "Every time I walk out the front door it's never 'Oh no' but 'What did we learn today?'"
When asked about Piumarta, Novak doesn't mince words.
"He's probably done more for skateboarding than anybody but he doesn't get credit for it," he says.
As the saying goes, every dog has its day and for the 50th anniversary, the R&D lab was officially dedicated to Piumarta. However, he doesn't take all the credit.
"If it hadn't been for the vision of Richard and Bob to invest in this starting in the 1980's, we wouldn't be here."
What's Piumarta's favorite of his innovations?
"The concave skateboard with the upturned nose but I have a lot I've forgotten," he chuckles.
INNOVATION IS KEY
Product innovation isn't the only way Santa Cruz Skateboards changed the industry. Simply put, there wouldn't be an industry without the hometown brand.
"Jay and I thought that if you could take skateboarding and make it an international business, all we'd want is a small piece of the pie," Novak explains. "We didn't want the whole thing, just a small piece and we'd be ok. So we needed a discipline that would appeal to Europe and Asia, and that was racing."
Today's groms might not know this, but before kids were serving tricks on the streets and in backyards, most of the competitions in the early days were around racing. In the 1970's Santa Cruz Skateboards began sponsoring racing competitions, determined to have the best racers on their team. Those early teams allowed SCS to become a powerhouse in the sport with riders like John Hutson, Mike Goldman and Denike himself.
"We took the money from Road Rider Wheels and dumped it back into Santa Cruz Skateboards," Denike says.
Even as skateboarding fell out of the mainstream and went underground–sometimes referred as "The Great Collapse"–and SCS went from a multimillion dollar company to almost broke, they somehow survived to thrive.
"1979 was the worst year of my life," Novak admits. "That was the year Jay died, the industry slowly collapsed and I only had three people who stayed with me."
SCS was able to reinvent itself and pivot with the trends when backyard pool–or bowl–and street skating filled the void. This was the era of the late Jeff Grosso, Rob Roskopp, Salba, Duane Peters, Eric Dressen, Keith Meek and more. It was also the era of Jeff Kendall, who went pro with SCS from 1986 to 1992.
"I retired at 25 and at that time I was like, 'Well, now I really have to figure out what my next job is going to be,'" he says.
Kendall has spent the last 37 years with Santa Cruz Skateboards, first as a rider, then as an NHS employee. For 30 of those years he worked in a multitude of positions starting as a team manager to brand manager, marketing director, vice president, chief marketing officer and finally CEO last year.
"I always knew [professional skating] wasn't going to last forever but I wasn't considering a job in the industry," he says. "I was paid to ride this damn thing, how am I going to beat that?"
It was also in the 1980's when Thrasher magazine, the sports' monthly bible for everything skateboard related, was founded. While Santa Cruz Skateboards as a brand technically had nothing to do with its creation, Thrasher was founded by Novak, Kevin Thatcher, Eric Swenson and Fausto Vitello initially to promote Independent Trucks, which Swenson and Vitello helped create with Novak and Shiurman.
The magazine's tagline, "Skate and Destroy" still lives today as stickers, t-shirts and tagged on the walls of skate parks around the world.
Santa Cruz Skateboards used the turmoil of the 1980s to change their signature style to something that would rocket them onto a completely different level than the competition.
Enter the psychedelic world of Jim Phillips.
PHILLIPS' HEAD
"I always felt the skateboard was my gallery," Phillips says with his signature smile. "The skateboards are out there all around the world every day. Why do you need a gallery at all?"
Prior to working for them, Phillips was already friends with Novak, Haut and Shuirman through the local surf scene.
"In fact there's an old story about how Novak kicked me off the beach the first time I surfed Pleasure Point," he remembers. "I was with my friend Big John Evenson when Rich and another surfer came up and said, 'You can't surf here!' I was ready to go but Big John stood there and said 'Why can't we? You guys are surfing down at The Hook, there's nobody out.' They said some running words and walked away."
"The only reason why we gave him permission is because his buddy was bigger than me!" laughs Novak.
Phillips became the art director for NHS and Santa Cruz Skateboards in 1975. It was his artistic brilliance that created the classic Santa Cruz logo in collaboration with Shuirman, who told Phillips to add the important detail of a red dot behind the lettering. At that time SCS graphics were more conservative with patterns of lines or lettering and the company's name or logo in wholesome, clean font.
So by the 1980's when punk rock was exploding, do-it-yourself ramps and backyard pools became the new skateparks and kids were looking for more extreme action, the classic Santa Cruz style started to feel dated.
In 1985 that all changed when Phillips designed the first Screaming Hand for NHS's SpeedWheels line. It was an overnight hit and has become one of–if not the–most recognizable images in skate culture and around the world.
A self-proclaimed workaholic, by the end of the decade Phillips had his own art studio cranking out designs for NHS's various brands and individual Santa Cruz Skateboard team riders. He used bold lines, bright colors and psychedelic cartoon imagery that perfectly balanced a railslide of humor, gross-out fun and badass imagery.
Kendall's End of the World board, the Salba Witch Doctor and Claus Grabke's Exploding Clock are only a few of the plethora of pieces that were sought after. Today, these designs are just as popular with some receiving reissues while originals sell to collectors for hundreds and even thousands of dollars online.
He draws his inspiration from an array of wells of artists like Hieronymous Bosch, Walt Disney, The Fleischer Brothers, Salvador Dali (who Jim co-painted the inside ceiling of a limousine with once) and others. The "mad artists" as Phillips says. However, his greatest inspiration is much closer to home.
"My wife Dolly, we'll have been married 56 years next month," he says, smiling. "We're madly in love. She's also helped along with some of my creations, gives me lots of advice, and critiques my work when I'm done."
Phillips' designs are so popular that in 2013 NHS Inc.won a copyright infringement dispute with New York fashion designer, Jeremy Scott, after his runway show collection blatantly copied Phillips' Roskopp Face design without permission.
However, Phillips' personal favorite design might be a surprise.
"I always liked the Slasher," he says, referring to the design he made for Keith Meek, who also worked in the art studio under Phillips.
"He's a character more than the Screaming Hand, but I had to talk [NHS] into both."
Phillips's world grew much smaller in 2011 when he was diagnosed with not one, but two forms of cancer: bone and melanoma. He retired that year to focus on his health when he was initially only given months to live. Now, 12 years later, he's as energetic as ever, filled with love and gratitude for every day.
In honor of the private screening of his documentary last Thursday, Philips decided it was time for his next move, unretiring. Attendees to the film were privileged to see the first Jim Phillips piece in 12 years: two slimy aliens holding surfboards at the beach done in a familiar style. The new work will receive a limited run of 66 prints, numbered and signed by the big kahuna himself.
"It's Dalí-esque," he says with pride. "I put 200 hours into it."
SCREENING HAND
As essential as those are to the history of Santa Cruz Skateboards, the company's innovation in art isn't just content, but also application. They were the first brand to print on previously ignored things like the wheels and they're the first to print a full board from nose to tail including the concave dips.
"That's probably one of the most raddest things I ever got to invent in my life," says NHS Production Manager, Dave Friel. After 38 years with the company, it's safe to say that Friel has most likely swiped the ink on anyone's favorite design from that era, including the original Slasher boards.
"I thought I was the coolest fucking dude on the planet," he remembers of the run. "I printed 400 boards, all four colors [cyan, magenta, yellow and black] on a white board in one day. That had never been done before."
Yet to be able to print on an entire concave board without ruining the image, Friel had to create a new type of screen. This one had jigs in the corners with braces that stretched the screen to fit the curves of the board. For years it was a secret design exclusive to NHS and SCS.
"[Our competition] kept going after the idea that something abstract, some weird movement had to make it work," Friel says. "However we were already onto the next thing. I innovated the silkscreen to a level nobody imagined."
TO FIFTY AND BEYOND
Today, as the company reaches middle age, Santa Cruz Skateboards shows no signs of slowing down.
"The one thing I want to do before I go is make the seven ply board obsolete," Novak divulges. "Any sport that you want to innovate, progress and move forward with, the equipment has to get better and better."
They have experimented with everything from nylon boards to a plastic in 1994 they called NuWood which was an injection-molded board that not only was nearly Indestructible, but it was recyclable (when skaters were done with it they could return it to NHS who would grind it up to make a new one).
This year they launched a crossover collaboration with Pokémon that featured different characters on the decks with some being more limited–and therefore more collectible–than others. However each board was individually wrapped in a foil package (like a pack of Pokemon trading cards) so buyers had no idea which board they were buying until they opened it. They sold out online in less than five minutes.
"As a brand, Santa Cruz has also been working on reissues for the past 20 years," Kendall says. "I have boards with my names on them that are still selling to this day which blows my mind."
Like his first, End of the World board which was recently reissued.
"I'm really proud of the people I have working for me, especially the last 20 years," concludes Novak. "They are NHS."
---