Crazy fun. Crazy chaotic. Crazy competitive.
The Santa Cruz Warriors' brand of basketball can be all kinds of crazy.
The occasion of their 10th anniversary season—which concludes a historic decade with a trio of home games happening this month—presents a timely opportunity to unlock that happy madness.
Here it is, played out in six parts:
Crazy fun.
It's still early amid a midseason tilt against the Texas Legends when 7-foot-tall Jayce Johnson makes a nimble putback in traffic. That's when PA announcer Brian Day yells, "Ice creeeeeeeam."

It's not your typical sports call. But when the Warriors score 100—and on this night, they explode for 130—everyone in attendance can get a free scoop from Penny Ice Creamery.
The moment presents one small taste of the Wave City Warriors' festive traditions.
Fans stand until the team's first bucket. Everybody loves the fundraiser ball toss between closing quarters. On this night, there are races on miniature bikes; a shooting contest a mohawked man wins; recognition for a local teacher of the month; dance-cam celebrations that get the gym grooving; and a chance for kids to take shots after the game.
Make no mistake: The main attraction is basketball, from some of the better players on the planet. A poll of team officials reveals that the biggest surprise for newcomers to the S.C. Warriors experience is the sheer quality of play.
But there's other intrigue afoot, including price points on tickets, popcorn and craft beer that doesn't require a second mortgage.
Santa Cruz Mayor Fred Keeley is all about it. He rarely misses a home game and says the Sea Dubs are his favorite team in the world, tracking ahead of the San Francisco 49ers and perhaps his family.
Speaking of family, he believes that element is what makes the so-called "Sea Dubs," and the wider experience, so special.
"It's a family-friendly team, and that means 'family' any way you want to understand it," he says. "It means the fans, the team, the vibe. Everyone checks their politics at the door, and we're all part of something together."
For this contest against the Texas Legends—who the Sea Dubs play to wrap up the season on March 25—he's sporting a yellow shirt and blue tie (team colors), a leather jacket, pot leaf-rainbow socks and vintage Jordan sneakers.
From his midcourt seat, he greets the visiting players, coaches, staff and returning referees too: "Hey! Welcome back to Santa Cruz!"
Keeley's in the moment, talking at length about how the team cultivates both good footwork and good citizen-athletes, which leads him to the past.
He was an early adopter in the push to build a stadium and was deployed by the City Council to lead a fiscal task force. He contends it would've been a no-brainer even when rounding down potential revenues by half.
But there was push-back.
"People said, 'We're an individual sports town—we surf, we climb, we mountain bike—is this really going to work?'" he recalls. "Not only do the finances work, but the wonderful relationship between team and the Warriors is unlike anything we have in town."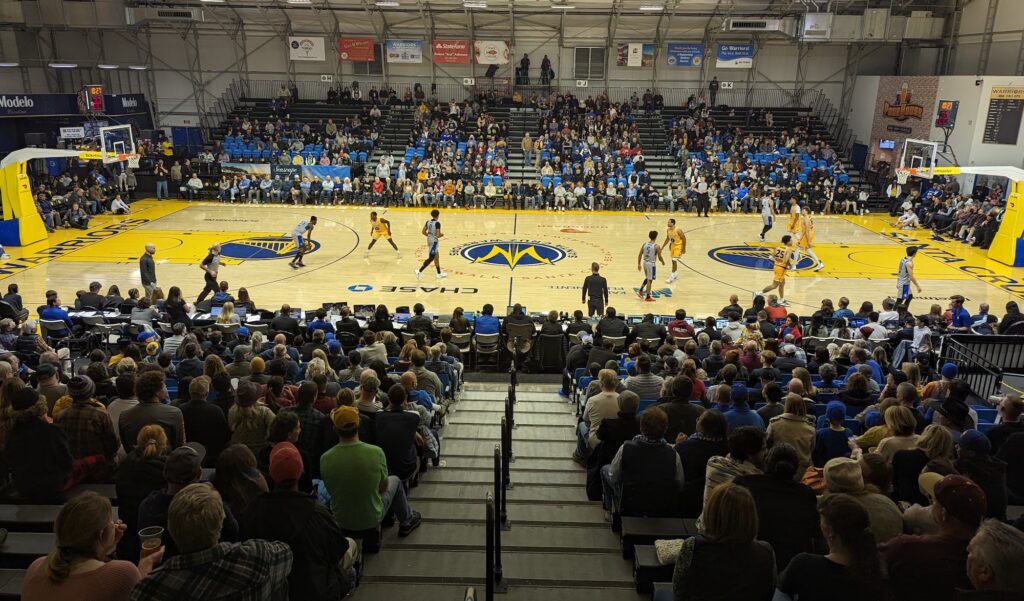 Crazy chaotic.
On this and many nights, the Sea Dubs orchestrate a game like a symphony conductor on LSD.
One moment an errant Warrior pass flies into the front row of fans. A moment later, densely woven defense creates a turnover that leads to five laser-precision passes and a dunk.
The individual next to me at the press desk, who attends every game he can on behalf of UCSC's City on a Hill Press, grunts in appreciation.
"They can be a little sloppy," Nico Santiago says. "But take away the risk, and you take away the joy. They take risks and play with freedom."
Following the win, head coach Seth Cooper describes how he cultivates that.
"Last year, we ran more [scripted] plays," he says. "Now I focus more on moving the ball and playing for each other."
Former Santa Cruz GM and current Golden State Executive Vice President Kirk Lacob calls coaching the G League as hard as any gig he knows. That's because Cooper has to juggle competitive excellence with developing specific players and keeping everyone on the roster happy. And if his players succeed, they move on.
"There is no more challenging league to coach in," Lacob says. "The better you do, the more likely you are to lose."
Cooper handles that with his own form of Zen, not focusing on outcomes like wins or the playoffs (the Sea Dubs are in contention for the last playoff slot as the season concludes). 
He's about processes, not perfection.
"Can we avoid those little lapses and stack good days on top of good days?" he asks. "I want our players to play as hard as they can, play together and play with urgency. Let's not worry about the score and just be good on every possession."
Two main things they share with the parent club contribute to their on-court sizzle.
One, they use the same strategies as Golden State, so fans are treated to many quick decisions and zippy ball rotations.
"The goal is to play the right way," Cooper says. "To play Warriors style of basketball."
Versatile wingman Elijiah Pemberton adds big-league context: "We play this way because they can't teach you everything the day they call you up."
Thing number two comes written on the wall in Kaiser Arena (followed by other ideals like "compassion," "competition" and "mindfulness") and drips from franchise culture setter Steph Curry: joy.
"Joy comes first—it's a pillar of Warriors basketball, something that permeates the organization," Lacob says. "At the end of the day, it's really about people. We try to bring in those who live the key characteristics. And Steph is the start and end of all of this. He plays basketball and lives his life with so much joy."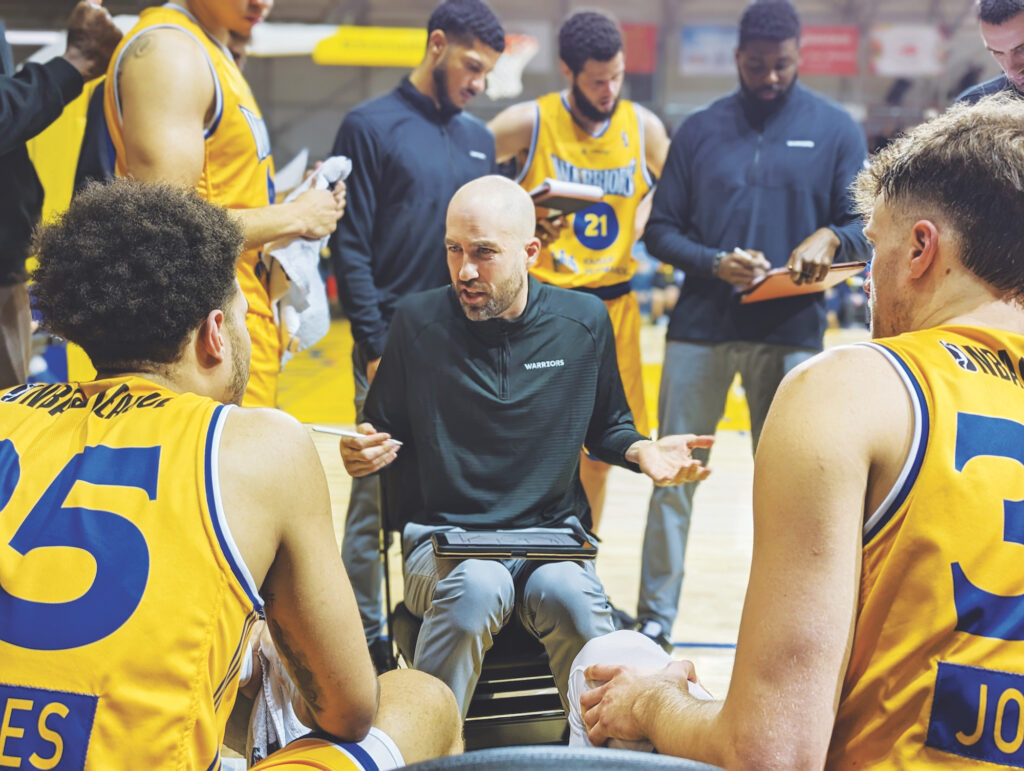 Crazy competitive.
There are things to like about Bismarck, North Dakota, between the Missouri River, soaring Art Deco capitol building and retail mall complexes. That said, temperatures can dip below zero, and the beach scene isn't exactly lit.
On June 27, 2011, then-new Golden State Warriors owners Joe Lacob and Peter Guber purchased Bismarck's Dakota Wizards and moved them to Monterey Bay, within a full-court shot of its Golden State parent club.
Like many Golden moves, it proved prescient. Back then, a sliver of NBA teams owned their farm team. Then-Santa Cruz president Jim Weyermann predicted once other organizations realized its benefits, they'd follow suit, telling me in 2012, "Every team in the NBA is going to want a development team. It only creates additional opportunities."
A lot has happened to vindicate that and allow Golden State to be not just the best pro basketball team across that time but the best team in all of sports: The Warriors were named "Franchise of the Decade" by the Sports Business Journal in 2019, an award that encompasses all 123 teams in the NBA, National Football League, Major League Baseball and National Hockey League.
What mainstream fans might miss is how big a role Santa Cruz played in all of that. Team President Murphy is fond of pointing out that 10 of the 2022 world-champion Golden State Warriors played in Santa Cruz.
In addition, a strong case can be made that essential contributors to their playoff push, stalwart center Kevon Looney and sharpshooter Jordan Poole, wouldn't have developed without extended time with the Sea Dubs. Two other key rotation players from the 2022 world champs, Juan Toscano Anderson and Damien Lee, represent more Santa Cruz successes.
"Take JTA, a local product who made the roster as a G leaguer, was a consummate professional in the community, and worked to be a glue guy—bringing defense, being a facilitator, being a great teammate," Murphy says. "Now he can be an NBA player and change his life and the lives of others."
Meanwhile, the Santa Cruz Warriors have earned their own awards, including G League Franchise of the Year honors three times.
Murphy was tabbed the NBA G League "Executive of the Year" in 2017-18 by the Santa Cruz Chamber of Commerce "Person of the Year" in 2022.
From 2016–22, Kaiser Permanente Arena sold out 110 straight games, which would've stretched longer without a global pandemic.
As Golden State racked up four world championships, Santa Cruz claimed one of its own in 2015. Kirk Lacob, then GM, celebrated the win by doing snow angels in the confetti on the Santa Cruz floor.
Chief Operating Officer David Kao—who started with the franchise selling tickets in Oakland—layers on more wow: Santa Cruz ranks number one in the G League in revenue, sponsorships, ticket sales and average ticket yield.
"The Warriors brand has gone from a Bay Area brand to a global brand," Kao says. "That's a change of landscape."
Kevin Danna is well-suited to put it all in perspective. As Wave City's pre-game, play-by-play and post-game announcer, he's watched and analyzed every game in the team's history.
"It's a place where a lot of individuals have gotten their start, whether as a player, a coach or a front-office person," he says. "It's a launching pad for a lot of people."
On the player side, Santa Cruz just promoted its 30th, Lester Quiñones, who happens to go bonkers in the game versus the Legends.
He works inside out, drilling four of six three-pointers and repeatedly finishing with force in the lane, scoring 30. After the game, he talks on the court with popular Santa Cruz Warriors sideline reporter Zena Keita—herself a rising star with potential to graduate to San Francisco and beyond.
"[I'm] just trying to make the right play," Quiñones says. "Playing hard, making reads and finding the open guy."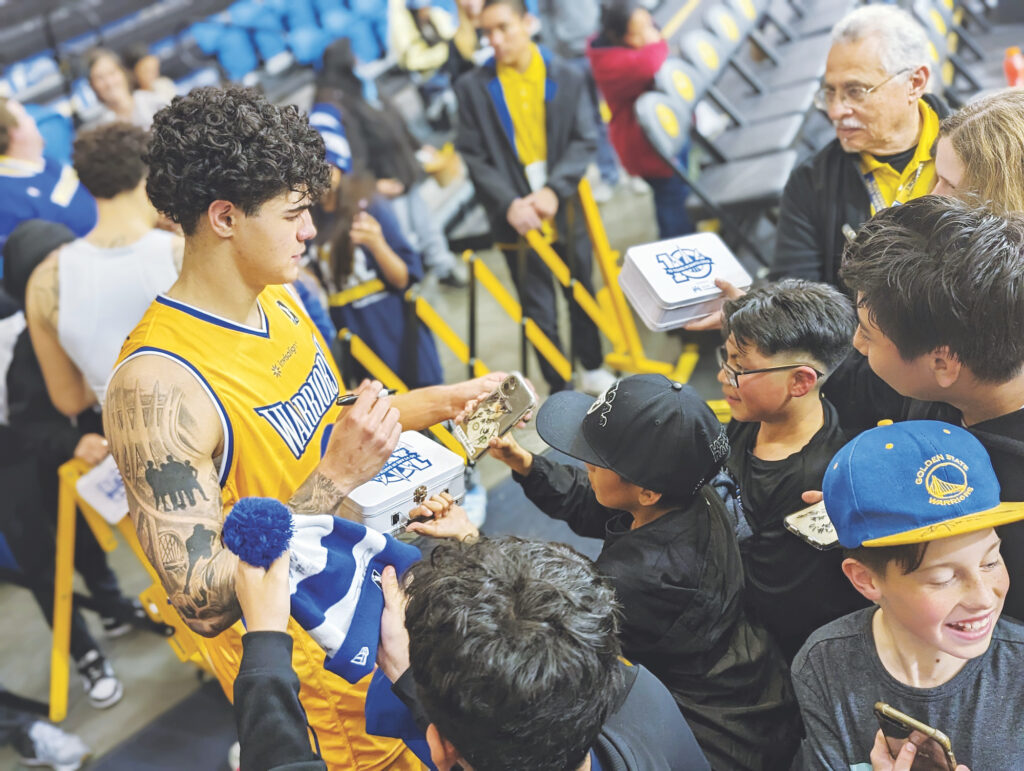 Crazy involved.
This whole endeavor goes bigger than basketball, which rings cliche but becomes more evident with every moment around Santa Cruz's Warriors.
That involves 29,928 square feet, which makes Kaiser Permanente Arena the largest indoor sports venue in Santa Cruz, and the largest green-certified venue in the Monterey Bay Area. (Meanwhile, the city is in talks with the SCW about a new stadium nearby.)
Willie Nelson sold out the place in 2019. For the 2021-22 season, it hosted over 80 outside events, including UCSC men's and women's basketball and volleyball matches. But all that rises to small consequences compared to what else it provides.
When fires and floods ravage Santa Cruz communities, it provides a shelter and a resource recovery center; when Covid raged, it served as a vaccine site. When elections arrive, it becomes the largest polling place in the county.
"The Warriors are involved in a lot of things that people wouldn't think about," Murphy says.
Last month's calendar of Black History Month community activities provides an example.
It included benefit auctions of player uniforms, a coaches' surf session with Black Surf Santa Cruz, a book discussion with How to Be a (Young) Antiracist authors Ibram X. Kendi and Nic Stone and additional book readings at an area elementary school. It closed with a panel webinar featuring Golden State Warriors player development coach Anthony Vereen, two-time WNBA champion and Olympic gold medalist Jewell Loyd and aforementioned sideline star Keita.
"Our [team] is in the community all the time—in schools, working in different forums," Murphy says. "They are part of the community and love living here, and their development off the court is important."
Crazy futuristic.
Several bizarre things happen every single S.C. Warriors game, not including the antics of the sea turtle mascot Mav'Riks.
When a player is fouled in the act of shooting, he only takes one free throw, which is worth two points. If a game goes to overtime, the clock shuts off, and the teams play to seven points. At one point, players were allowed to commit offensive interference, which makes for more action around the rim.
The atypical regulations are designed to make the game more streamlined and entertaining while testing out rules to adopt in the NBA. Past trials have led to improvements in both leagues, including coaches' challenges and shorter shot clocks. Insiders believe the G League midseason tournament will soon find traction in the big leagues.
Still, more future-focused plays are well-established. One subsidiary endeavor the Dubs invest in is a full-on eSports squad playing different video games professionally with a complement of coaches, trainers and scouts.
"Something we want to be is on the cutting edge of innovation to reach new fans," Murphy says, "and eSports is a way to do that."
Crazy existential.
Kirk Lacob cites an exciting conundrum the Wave City Ws encounter more often than teams based in Stockton or Sioux Falls. The launch-pad plan gets complicated.
"People say, 'I want to stick in Santa Cruz!'" he says. "But it's not supposed to be the end of your basketball journey. The whole point is to get you to the next level. It's a testament to the city and the organization and a good problem to have: 'I know you love it here, but this is not going to be your life.'"
The opposite can be true for players, which presents another existential challenge: Zero among them really want to be in Santa Cruz, even if they're enjoying their stay.
According to Coach Cooper, navigating that sanely is only possible with the right group of players. He credits his GM, David Fatoki, with curating individuals who are cool with keeping personal dreams sacred while staying team-centric.
"[Fatoki] is really focused on trying to find these guys who will play a selfless style of basketball and not put their ego in it," Cooper says. "That's what we've found builds a successful team."
At 25, Pemberton serves as a wise elder of sorts for the Sea Dubs, equally versatile on the floor and in the community.
Before the Legends game—Pemberton hits a huge three while getting knocked into the bench, only to rise smiling and high-fiving—he waxes poetic about his appreciation for his adopted home.
"I just stay ready to perform and try to enjoy a place that's brought me a sense of peace," he continues. "There are so many unique personalities here, and everyone's free. When I think of Santa Cruz, I think of free. There are a lot of genuine people out here."
With any other team and any other city, that type of thought—coming from an athlete talking basketball—might sound a little strange.
With Santa Cruz and its Warriors, it makes crazy good sense.
The Santa Cruz Warriors' final regular season games happen on March 17, 18 and 25. More at santacruz.gleague.nba.com and @santacruzwarriors.