[Editor's note: GTs interim editor Adam Joseph has a personal relationship with Amy Thomas.]
On New Year's Eve, Amy Thomas was planning on having a few friends over to her Watsonville home off College Avenue. The day before, she cleaned and prepared for the small gathering; but nothing could have helped prepare her for the storm.
The evening brought rain, and as darkness fell, Thomas and her 76-year-old mother, who lives in a "granny unit" attached to the home, noticed part of the driveway was immersed in water. They watched helplessly as the water swallowed more of the driveway and crept closer to the house.
Thomas, the principal at Watsonville Charter School of the Arts, called her friends to bring over sandbags. But shortly after lining up sandbags, the water level had already risen to the top of the bags, waterfalling over them and seeping into her mother's living space.
Thomas received a notification to evacuate after the whole house was submerged in muddy, contaminated water; most of her belongings were ruined (Thomas' friends have set up a GoFundMe to help her with the staggering, ongoing costs of cleanup and temporary housing).

"We were in a hotel for a couple of days, and now we're in a rental home that's way too expensive for us," Thomas says. "It has completely rocked my world. I lost everything. It's hard to bounce back when you lose everything."
Fortunately, Thomas' 13-year-old and 15-year-old boys were visiting family out of state, but Thomas had to find a place on the fly that was big enough for her kids, her mother and her pair of young doodles. She also had to ensure it was somewhere close to her boys' schools and Watsonville Charter.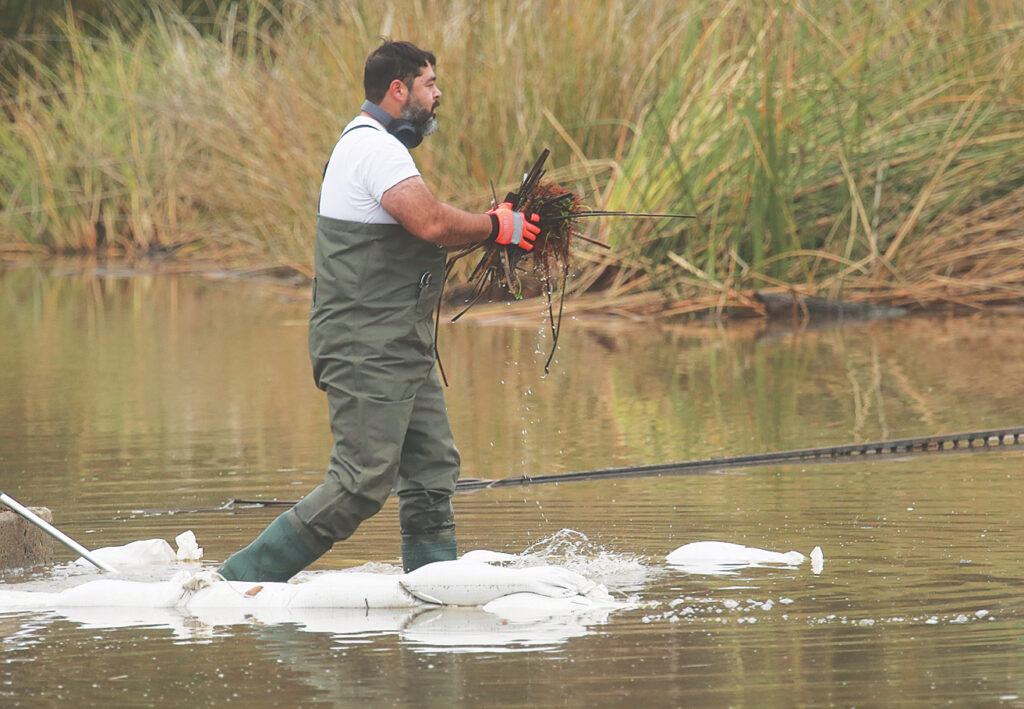 Thomas' story is similar to most of the population living near Corralitos Creek. The New Year's Eve storm led to widespread flooding, road closures, evacuations, power outages and toppled power and communication lines; scores of people were trapped in their homes.
But New Year's Eve was only the first day of a week's worth of downpours, which has led to devastation across Santa Cruz County. Capitola's iconic wharf was torn apart, chunks of West Cliff Drive's sidewalk collapsed into the ocean and Capitola Village's waterside restaurants are in complete disrepair.
Social media and major news outlets have shared photos and videos that capture Mother Nature's wrath and destruction. But the devastation endured throughout South County, like Thomas' neighborhood, has received less attention than the more touristy, wealthier spots, says Watsonville City Councilmember Ari Parker, who represents District 7, the areas that experienced vicious flooding.
"South County rarely gets attention," Parker notes. "These are seniors; their homes were devastated. I know that it's not intentional, but in all honesty, after all these years, it seems pretty intentional. The message is that North County is more important than we are."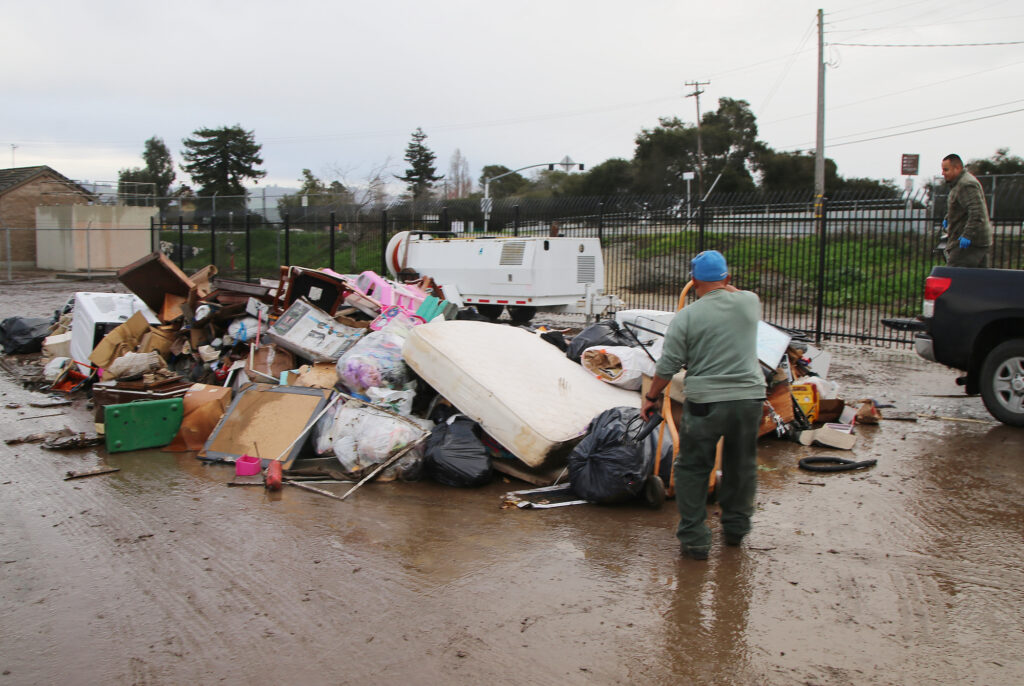 South County continues to get struck. A little over a week after Thomas and her family were displaced, she checked on her home on Monday, Jan. 9.
"It's flooded again," she says with frustration. A week ago, she shelled out thousands to a disaster cleanup service to dry out the saturated walls and floors and dispose of the drywall that had already begun to show mold. With more rain expected to continue throughout the week, Thomas and her neighbors have no choice but to wait until it's over.
As a result, Santa Cruz County has declared a local state of emergency, with initial estimates of damages upwards of $10 million. On Sunday, Jan. 8, the county held a press conference, alerting South County residents to prepare to evacuate—or stay evacuated. If the rainfall reaches expected levels, the county says the Pajaro River has a 60% chance of flooding. Thomas and other residents in the flooded area decry the ill-maintained Corralitos Creek as one of the reasons the flooding was so severe.
But Parker insists there wasn't much that could have prevented the flooding. Corralitos Creek is under Santa Cruz County's purview, and city measures to protect flooding, such as a pump station at Vista Montana and an overflow pond at Pajaro Vista, were working.
"You can't shore up something that doesn't have a levee," Parker says. "The priority with the Pajaro River levee project is to fix that whole area with Corralitos Creek."
Parker is referring to efforts that will restore Pajaro River's levee to prevent flooding, a project that was stalled for decades and just received funding last October. But it might be too little, too late.
"We need people to understand that this is a very serious event," Supervisor Zach Friend says at the press conference. "It may be the kind of flooding we haven't seen here in the last generation."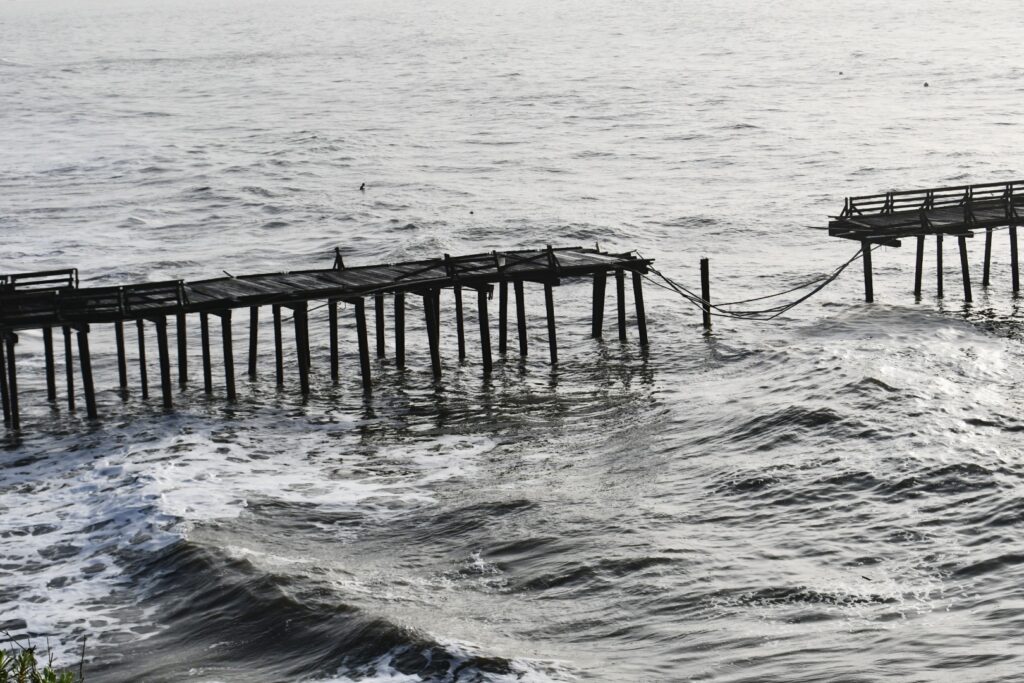 DAMAGE CONTROL
As the third deluge in a little more than a week bore down upon the Central Coast, Pajaro Valley Unified School District closed 11 of its schools, a measure they said was intended to protect kids and their families from possible flooding. Hours later, the district decided to close all 35 of its schools.
In Mid-County, school officials closed Soquel and Main Street elementary schools.
The moves were one of many preventative measures officials across Santa Cruz and Monterey counties took to protect citizens from floodwaters as rivers and streams neared or exceeded their flood stages.
This included the mandatory evacuation of 4,600 residences in Watsonville, flash flood warnings and the specter of evacuation for many others.
Santa Cruz County spokesman Jason Hoppin says that 32,000 people countywide were under evacuation orders Monday, although authorities were only enforcing those orders in low-lying communities where floodwaters gather.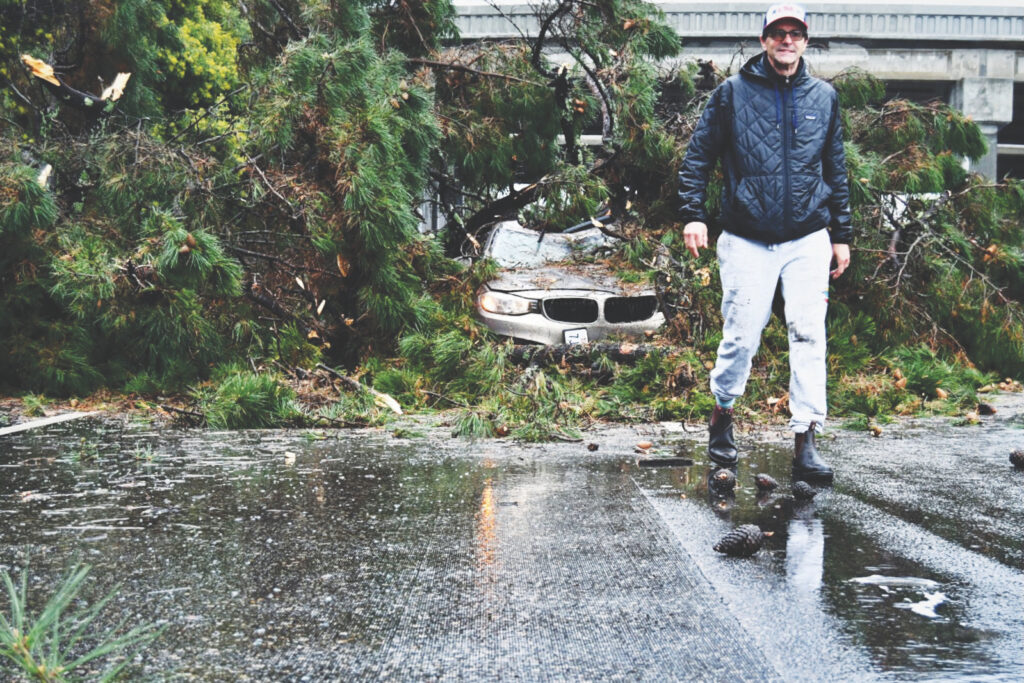 Parts of the San Lorenzo River flooded on Monday, including in Felton Grove and Big Trees, where rescue crews had to use a Jet Ski to aid their efforts.
Officials again closed Highway 1 at the River Street bridge to allow for debris removal.
PG&E reported 102 power outages in Santa Cruz County, impacting 6,224 customers.
That situation was exacerbated by heavy rains, mud, rockslides and fallen trees, which forced crews to stop working for their safety, says PG&E spokeswoman Megan McFarland.
After the Dec. 31 storm, workers with shovels and heavy machinery removed mud and debris from Watsonville homes, driveways and waterways. Residents dug themselves out and threw out furniture, appliances and clothes into giant dumpsters.
"I have no washer, no dryer, no freezer," Susan Louden, who has lived in her Anderson Drive home for 21 years, says.
The floodwaters entered her garage, destroying the appliances and most of the items stored there; the water bubbled up through her floorboards at one point.
Louden has the flood insurance required of homeowners living in the floodplains of the Pajaro River—and of Corralitos and Salsipuedes Creek—and also has possible financial assistance from FEMA. Since Monday was a federal holiday, Louden waited until Tuesday when a probable slog through mountains of red tape began for her and the other flood victims. The struggle with insurance providers and restoration services had begun—many have had to pay out-of-pocket while awaiting callbacks from adjusters, which still haven't come.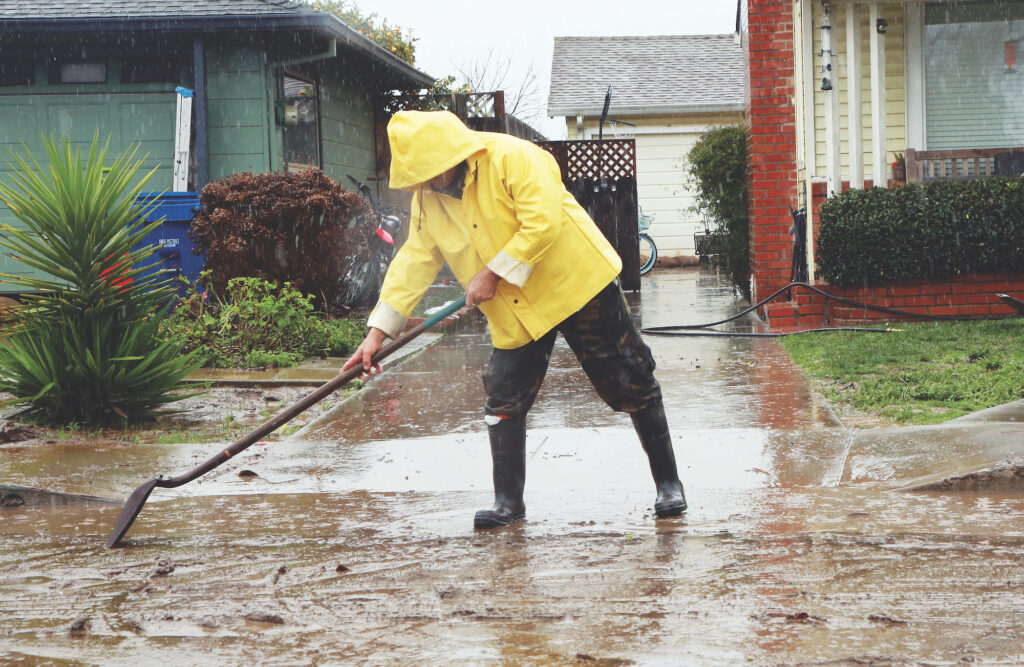 NEW YEAR NIGHTMARE
While city and county officials anticipated the storm approaching during the new year, the sheer volume of water overwhelmed Corralitos Creek, which overran its banks and flooded several neighborhoods in Watsonville.
Laken Drive resident Michelle Deering says she was rescued in a kayak as waters quickly rose Saturday night.
"I had to act very quickly," she says. "It was frightening, especially since we had no warning. I didn't know what was going on. I can tell you this: At the next city council meetings, they are going to hear from me and a lot of other people from around here."
Laken Drive stems off Holohan Road near Corralitos and Salsipuedes creeks and has been barricaded since Sunday morning due to standing water and scores of damaged homes.
According to Santa Cruz County Flood Manager Mark Strudley, roughly 10 inches fell in the Santa Cruz Mountains—more than twice the amount predicted—partly caused by the storm unexpectedly stalling over the region.
While hundreds of people received mandatory evacuation orders, many residents did not receive the alert or got them too late.
"The reason there was not much warning here—if any warning at all—was that we did not expect this to occur," Strudley says during a Pajaro Regional Flood Management Agency meeting. "We did not expect this level of flooding or breaching of Corralitos Creek to occur."
As a result, the scope of the evacuation zones was limited to the Orchard Park neighborhood and College Road area, not the city of Watsonville itself.
While the Pajaro River did not reach the 32-foot mark that would have brought it to flood stage, it did reach 22 feet, thanks to runoff from the Santa Cruz Mountains.
But Corralitos Creek peaked at 16.91 feet—nearly a historical level—causing the creek to break from its north and south banks between Green Valley Road and East Lake Avenue near Atkinson Lane. That sent floodwater to Holohan Road, the Orchard Park neighborhood, College Road and several low-lying areas.
Watsonville City Councilwoman Ari Parker says that a more focused level of communication—which includes in-person communication—is essential for the senior communities, which primarily lie in the flood zones.
"That's been the biggest and most difficult thing for all the seniors in this area, that they don't always check—a lot of them don't go online," Parker says.
The countywide evacuation orders also included parts of Felton and the neighborhoods on either side of Aptos Creek in Rio Del Mar.
On Jan. 2, Santa Cruz County officials declared a local emergency in the wake of the aforementioned atmospheric river winter storm on Dec. 30 and 31 that ravaged roads and infrastructure and caused widespread flooding.
Watsonville followed suit, with City Manager Rene Mendez declaring a local state of emergency due to the significant damages from the storm and floods.
These declarations, expected to be ratified by the jurisdictions' elected leaders at upcoming meetings, will allow them to request state and federal funding.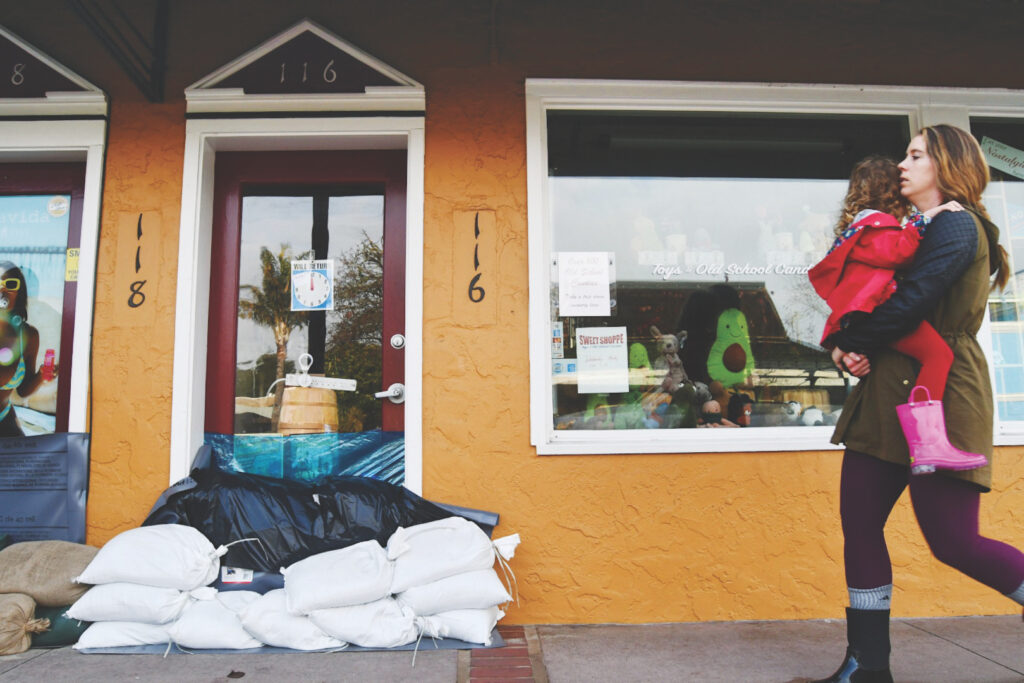 A LITTLE LIGHT
As rains slowed Monday afternoon—and as residents hard hit by the floods dug out and assessed the damages—there was one ray of sunshine. In Felton, the Loch Lomond reservoir "filled and spilled," bringing some good news for Santa Cruz.
With the recent rains, Loch Lomond Reservoir is full and spilling onto the Newell Creek Dam spillway for the first time since February 2019.
Located in the Santa Cruz Mountains, the reservoir holds 2.8 billion gallons—about a yearlong supply for residents—and is Santa Cruz's primary drinking water source.
"Having a full reservoir is a great way to start 2023," says Eileen Cross, the community relations specialist at the city water department.
But California needs much more. Since 2019, the state has endured the driest three-year period on record from 1896, California Department of Water Resources spokeswoman Akiela Moses says.
California's water deficit will take time—and much more rain and snow—to erase. In some ways, it's been a good start to the year, but the wet season is only half over.
Central reservoir storage remains below average, and conditions could turn dry, offsetting the recent onslaught of precipitation. Moses says groundwater levels in much of the state have also been depleted by the numerous dry years in the last two decades. Groundwater levels would take more than a single wet year to improve substantially statewide.
BATTERED BUSINESSES
Some of Capitola's most iconic restaurants may be forced to shutter forever following the beating the beachfront esplanade endured. While some businesses got away with minor water damage lapping at their doors, others—particularly those lining the beachside along the Esplanade—fared far worse.
When a large chunk of the Capitola pier collapsed into the roaring seas, powerful waves carried a massive support beam and debris through the front wall of the infamous restaurant Zelda's on the Beach. The local staple has been a favorite for over forty years, but with severe damages, its fate is unclear. Good Times could not reach Zelda's' owners during evacuation orders and preparations for continued storms.
Margaritaville, a first-story waterfront restaurant that has persisted over 30 years and through a change of ownership, was also hard hit. They announced on their Instagram that they would be closed through the end of January for repairs.
But some businesses in the village took to Instagram to remind residents that some shops remained open and needed local support.
In the wake of the damaging surges and impending storms, the Capitola City Council declared a state of emergency on Friday. The city is still working on estimating the cost of damages to property as businesses assess their ability to rebound.
Buildings along the Esplanade now have a green, yellow or red tag from the city, indicating if they are ready to reopen, have limited access for business owners to begin repairs or are entirely off-limits due to severe damage.
Sandbags continue to line the entrances to Capitola businesses, hoping to keep out the tides and torrential rain still to come.
TOMORROW NEVER KNOWS
On Sunday, Jan. 8, President Biden declared a State of Emergency in California, allowing federal aid assistance. It came just in time. Monday, Jan. 9, marked one of several of the storm's most powerful crescendos. The National Weather Service issued flood watches for over 34 million Californians—roughly 90% of the state's population, and all Pajaro Valley Unified School District schools are closed through Tuesday, Jan. 10—at the least—which impacts more than 18,000 students. The gusty winds, rain, flooding and rapid water rising in local rivers haven't ceased, and the NWS expects an onslaught of mudslides, landslides and debris flows. So, the ruthless procession of atmospheric rivers continues to pummel Santa Cruz County and the rest of the Central Coast.
On Jan. 9, the disaster cleanup company alerted Amy Thomas, who had already shelled out thousands for drying her home on New Year's Day, to let her know that her house had flooded again. They will return after this storm segment passes; the police shut down street access to her home as they spoke, and it was officially "red tagged." Her situation is not unique, unfortunately. And there's no definitive answer as to when this weather will cease. The NWS reported on Jan. 10: "In the short term, there's no end in sight to these storms through the end of the month."
ALL ABOARD THE PINEAPPLE EXPRESS
The science behind bomb cyclones and atmospheric rivers
As streets flood and waters rage throughout central and northern California, headlines warn of "bomb cyclones"—sounds like something from a Looney Tunes cartoon. Also, how are pineapples involved?
When cold and warm air masses collide, the denser, cold air pushes the lighter, warm air up and out of its way. This movement creates wind and causes a drop in atmospheric pressure. This drop in pressure can act like a vacuum, sucking more air in and up. In short, a bomb cyclone is a storm that intensifies very quickly.
To qualify as a bomb cyclone, the atmospheric pressure in a storm must drop by a specific amount within 24 hours. That threshold amount changes depending on the latitude.
This process, known as bombogenesis, creates intense winter storms known for high winds and extreme precipitation.
These storms are often fed by atmospheric rivers: bands of water vapor high in the atmosphere transported around the globe by jet streams.
California depends on atmospheric rivers. They provide up to half of the annual precipitation for the state. But while they can fill reservoirs, they can also bring floods.
A Pineapple Express is a specific type of atmospheric river that draws moisture from the tropical Pacific near Hawaii and funnels it to the west coast.
Even in the absence of a bomb cyclone, these atmospheric rivers can dump inches of rain in short periods of time. Researchers predict that climate change will make certain atmospheric rivers larger, likely resulting in oscillations between droughts and deluges.
Santa Cruz County water districts are preparing for this climate chaos with several projects attempting to capture and store excess stormwater runoff, such as injecting treated runoff into the groundwater basin through the City of Santa Cruz's Aquifer Storage and Recovery Project. The recent storm will put this and other strategies to the test.
STORM RESOURCES
Shelter space is available throughout Santa Cruz County to assist the nearly 32,000 residents—and their pets—who've had to evacuate their homes. The Santa Cruz County Fairgrounds, Cabrillo College, Scotts Valley Community Center and Jade Street Community Center are among several now available to evacuees.
Shelters: santacruzcounty.us/or3/shelterinformation or aware.zonehaven.com
Transportation: 688-9663 or communitybridges.org/liftline
PG&E Outage Info: pgealerts.alerts.pge.com/outagecenter
Road Closures: https://bit.ly/3vwmcwx
Evacuation Zones: aware.zonehaven.com
SANTA CRUZ COUNTY HOTELS OFFERING "EVACUEE" RATES
Beachnest Vacation Rentals: 722-0888
Capitola Venetian Hotel: 476-6471
Chaminade Resort & Spa: 800-283-6569
Courtyard Santa Cruz: 419-8700
La Quinta Inn & Suites Santa Cruz: 295-8807
Riverside Inn & Suites: 426-2899
Sunny Cove Motel: 475-1741
HOW TO HELP
The Community Foundation's Disaster Fund is helping nonprofits respond to the ongoing storms in the Pajaro Valley, San Lorenzo Valley, Capitola and other affected areas. Click HERE to contribute.