It's Kafkaesque. You are going about your life and suddenly you are handcuffed and locked up for something you didn't do.
It's unimaginably horrible and shouldn't happen. But it does. More often than you want to think about.
It happened to cover story writer and comedian Richard Stockton, who may not look innocent of anything, but was certainly innocent of armed robbery. He takes us inside a system that is a horror show when it goes wrong.
Someone told me: We may have the greatest justice system in the world, but the best thing you can do is stay as far away from it as possible.
As a police reporter for more than a decade, I saw my share of victims of false arrests.

Do you remember the 2013 case of Kenneth Maffei, a Santa Cruz man jailed for 18 days for allegedly stealing flowers from a police memorial? It turned out no one looked in his pocket to see the receipt proving he had purchased the flowers for someone else and left a box of donuts for the fallen officers.
Public defender Larry Biggam called it a "rush to judgment" —yeah, right. Eighteen days of a life lost to an egregious error.
I saw far worse in San Jose. A Santa Cruz woman was about to be charged with lying about being raped, until police caught the rapist just in time and he confessed.
I covered a crew of police officers who beat a man Rodney King-style claiming he had hidden behind a refrigerator and jumped out and attacked them. I went to the apartment, knowing there's usually not much space behind refrigerators. In this case, there was enough room for a piece of paper. These officers lied in court and nothing happened to them.
But at least in this case there were good cops who gave me information about the bad ones. That proved to me that the system can work, but sometimes doesn't.
What can we do? We can have civilian oversight on police actions, a place where people can have their cases heard before they go to court. The other is we can support the Innocence Project (Innocenceproject.org), a group formed to investigate false arrests and convictions, which has freed 245 falsely convicted people cumulatively sentenced to 3,826 years in prison.
I'm not saying all police are bad, because I know they are doing their best and most of them are heroes. But as a journalist, I know too well that we all make mistakes. In their case, a mistake can ruin a life and as a society we have to do all we can to make sure that doesn't happen again.
— BRAD KAVA
PHOTO CONTEST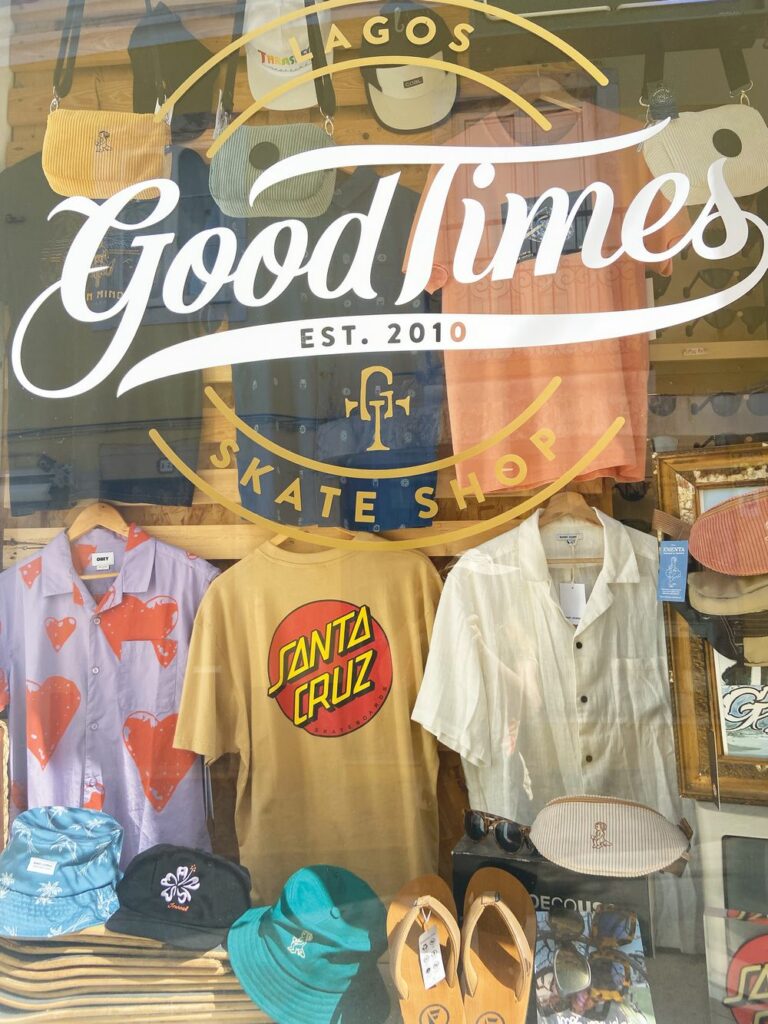 WORLD FAMOUS Santa Cruzan Joani Mitchell spotted this store's window display in Lagos, Portugal and made us feel at home. Photograph by Joani Mitchell.
Submit to [email protected]. Include information (location, etc.) and your name. Photos may be cropped. Preferably, photos should be 4 inches by 4 inches and minimum 250 dpi.
GOOD IDEA / GOOD WORK
Congressman Jimmy Panetta secured $750,000 in federal support for new air service from Monterey to Chicago. This grant aims to improve Americans' connectivity and allow people in communities like Monterey to fly more easily and affordably.
METRO has been working to make travel by bus faster, more reliable, and easier to access between Watsonville and Santa Cruz. There will be improved and relocated bus stops, new sidewalks and crosswalks.
Search METRO's Rapid Corridors Project to give your opinions and attend an online meeting at 6pm Oct. 12.
QUOTE OF THE WEEK
"Whilst timorous knowledge stands considering,
Audacious ignorance hath done the deed"
—Samuel Daniel