THURSDAY
INDIE
ROAR It's hard to describe Roar musically. It helps to understand that they are based out of Phoenix, Arizona. The scene there is eclectic and the bands all seem to hang out—groups like emo-rockers Jimmy Eat World, video game math rockers Minibosses, folk-punkers AJJ and nerdcore rapper Mega Ran are all best buds. Roar fits into this hodgepodge scene nicely with an interesting take on psych-pop that never feels retro and certainly has the spirit of the desert emanating from the tunes. Band leader Owen Evans even drummed for AJJ for a six year period. Roar's weird production and hyper catchy hooks fit in with the current era of internet "everything is available to everyone" distribution. The band even had their song "I Can't Handle Change" go viral on TikTok, because of course they did. AARON CARNES
INFO: 8pm, Felton Music Hall, 6275 Hwy 9, Felton. $17. 704-7113.
JAZZ
PERSON2PERSON What does one get when they cross two of the world's premier saxophonists with the same last name? The smooth, cool jazz sounds of Person2Person featuring Eric Person and Houston Person (no relation). The two first joined forces on stage 14 years ago in Rochester, NY and had such a good time–and great response–they've continued the collaboration ever since. Eric and Houston are musicians' musicians, two widely acclaimed players in the jazz world who have performed or recorded with the likes of McCoy Tyner, Chico Hamilton, Lou Rawls, Horace Silver and many more. MAT WEIR
INFO: 7pm, Kuumbwa Jazz Center, 320-2 Cedar St.,Santa Cruz. $36.75/adv, $42/door. 427-2227.
FRIDAY
FOLK-ROCK
IAN GEORGE Often compared to the Australian crooner Matt Corby, Minnesota-born singer-songwriter Ian George declares on his website, "We are all in this thing together. I love you." His songs follow this kind and open ethos, though he is "inclined to be difficult every once in a while," as he admits in his latest single "Grassy Knoll." He's from the land of a certain mythic songwriter whose sneering face happens to grace the Crépe Place stage, and his voice (unlike that other guy's…) is to die for: give Ian George a serious shot this Friday. ADDIE MAHMASSANI
INFO: 8:10pm, The Crépe Place, 1134 Soquel Ave., Santa Cruz. $10/adv, $12/door. 429-6994.
THEATER
SOMETHING ROTTEN! Mountain Community Theatre anticipates Spooky Season with a month-long run of the witchy and riotous musical Something Rotten! Set in 1595 (and written, for the record, in 2015), the Tony-winning show follows two brothers striving to live their theater-making dreams in a landscape dominated by the one and only William Shakespeare. When a local soothsayer predicts that the men will achieve success by setting a theatrical narrative to music, the first musical is born. This over-the-top comedy, originally conceived by Broadway luminaries John O'Farrell and Karey Kirkpatrick, has won countless fans in less than a decade and shows no sign of slowing down. AM
INFO: 8pm, Park Hall, 9400 Mill St., Ben Lomond. $30/adv, $35/door. 336-4777.
SATURDAY
POP
KPOP NIGHT KPop is the ultimate form of pop music. The groups take influence from any and every genre and refine it into the hyper-catchiest, danciest earworms that have ever existed. Certainly BTS, and all the individual members of the "army" get lots of attention, rightfully so, but there are a ton of great KPop artists that have mastered the craft of engineering the best pop music that has ever existed on planet earth. Party company You Had To Be There is bringing an infectious night of KPop to Santa Cruz this Saturday. And the only thing they request is that everyone come dressed in their favorite KPop threads. Oh, they also demand that everyone dance their asses off. No ifs ands or buts about it! AC
INFO: 9pm, Catalyst, 1011 Pacific Ave., Santa Cruz. $16/adv, $20/door. 713-5492.
PUNK
RUSS RANKIN Punk's not dead but it definitely has changed. Take this Saturday's acoustic punk show at the Blue Lagoon. Featuring four punks normally known for their loud music (Nick Machado from The Hit System, Chon Travis from Love Equals Death, Ben Perdition from Stumbling for Miles and Santa Cruz's own Russ Rankin of Good Riddance), this night will showcase the guys' softer, quieter, acoustic sides. Rankin is sure to play some of the songs off his 2022 acoustic album, Come Together Fall Apart, and audience members might even be blessed with a couple of new tracks if they're lucky. This show is proof that punk hasn't lost its heart. MW
INFO: 9pm, The Blue Lagoon, 923 Pacific Ave., Santa Cruz. $10. 423-7117.
SUNDAY
JAZZ
SUN RA ARKESTRA Esteemed promoter (((folkYeah!))) brings Afrofuturist pioneers The Sun Ra Arkestra to town for a concert of dreams. At 99-years-old, alto-saxophonist Marshall Allen, who has been a member since 1958 but isn't traveling with the band, leads the famed group through its 60+-year sojourn across swing, rock and blues. The 2020s have proven productive for the musicians, with 2020's Swirling soothing pandemic blues and 2022's Living Sky helping to revive the world. Go see this oracle of a band. AM
INFO: 8pm, Rio Theatre, 1205 Soquel Ave, Santa Cruz. $31.50. 423-8209.
MONDAY
POP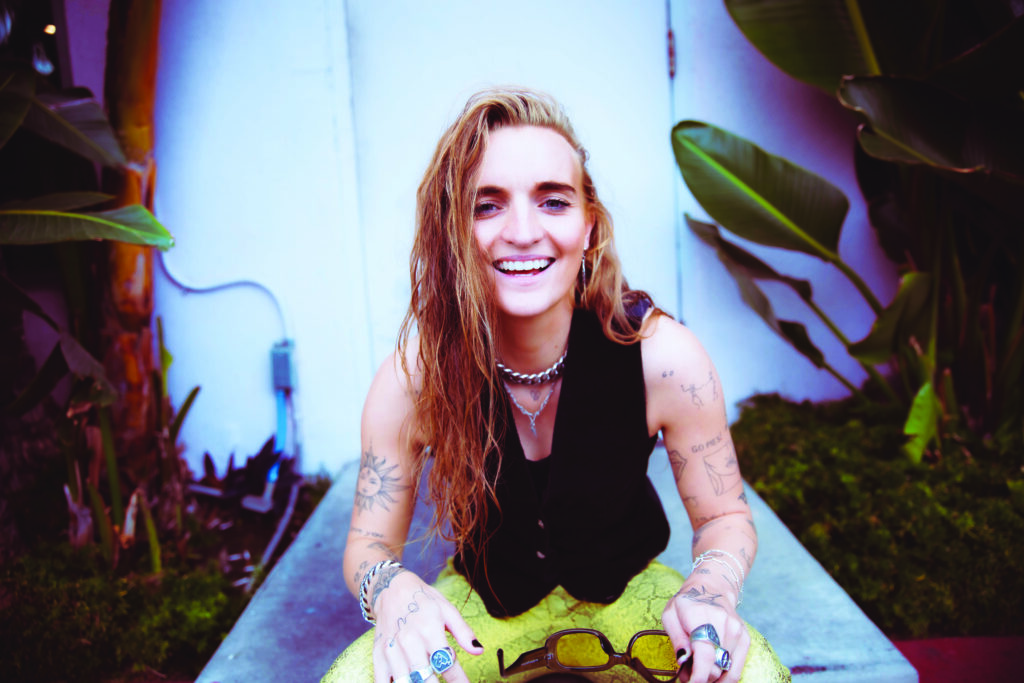 G FLIP Fans of power ballads and dance beats will find a reason to go out on a Monday night! Yes, G Flip is the spouse of Netflix reality star Chrishell Stause of Selling Sunset, but they are also talented in their own right, featuring the complex percussion that kicked off their musical career on every song on their latest album, Drummer. With lyrics that span topics from gender identities to big love stories, G Flip's songs are full of joy, humor, and a tinge of melancholy. This is pop music for the queer kids! JESSICA IRISH
INFO: 8pm, Catalyst Atrium, 1101 Pacific Ave, Santa Cruz. 16 & up. $22/adv, $25/door. 831-713-5492.
TUESDAY 9/19
REGGAE
GONDWANA For nearly four decades reggae act, Gondwana, have been bringing the irie vibes to audiences around the world. Because of this, they are one of the most internationally known Chilean bands playing today and recognized as one of the leaders in the Latin Reggae movement. Formed in 1987, they rose from the underground music scene during the brutal reign of dictator Augusto Pinochet and have continued their message of love, universal unity and praise ever since. This Tuesday they are joined by local act, Santa Cruda, for an uplifting night of celebration and life. MW
INFO: 8pm, Moe's Alley, 1535 Commercial Way, Santa Cruz. $30/adv, $35/door. 479-1854.