"Pumpkinhead is on display at our office," Anthony Austin says into the microphone. "We see it everyday."
To his left stands a seven foot tall, lifelike replica of the demonic monster from the 1988 horror classic, Pumpkinhead. The creature stands in all its glory with spindly veins, sunken ribs, massive, flesh ripping claws and its signature evil grin. It's so realistic it looks as if only actor Lance Henriksen (as the vengeful Ed Harley) can kill. Pure nightmare material.
Ok, a lifesize demonic monster might be a weird piece of decor for–well–practically any office. But when the company is Trick or Treat Studios (TOTS)–one of the premiere Halloween, horror and cult media memorabilia companies in the world–Pumpkinhead is only one villain in a rogues gallery of monsters, psycho killers and creeps.
"So It's a little bit weird when it's not there, like today," continues Austin, Director of Sales for TOTS. Instead, Pumpkinhead was terrorizing the lobby of the Santa Cruz Museum of Art And History to kick off the annual Festival of Monsters.
Surrounding the foyer a ghoulish collection of realistic horror masks from every decade and subgenre of spooky gazed down upon the audience and guest speakers. Among them Boris Karloff's Frankenstein, The Night King from Game of Thrones, Pennywise from IT, Michael Myers from Halloween and even a gruesome Art the Clown from the recent hit film franchise, Terrifier.

"Terrifier 2 came out and people were walking out of the theater because they couldn't deal with the gore," Austin tells the MAH audience. "It's probably going to be our present day Halloween or Texas Chainsaw Massacre."
What started as a small company by two horror movie fanatics unimpressed with the replica masks on the market has grown to a $30 million, international company.
Along with their signature masks, TOTS also sells everything from tabletop games, action figures, enamel pins, t-shirts, air fresheners, movie prop replicas and more. All of which is sold around the world from Brazil to The Netherlands and everywhere in between. Their masks and props often go viral online and can be seen in TikTok and YouTube videos. Like the Slashstreet Boys–a horror satire group that parodies boy bands–whose videos all have millions of views.
However, despite Trick or Treat Studios success, many in their hometown are not aware of the cool horrors unleashed upon the world from the heart of Santa Cruz.
"I don't think a lot of people know we're here," Austin admits. "I think we're well known nationally but I don't know about Santa Cruz."
When asked how many MAH attendees didn't know about the company, a multitude of hands shot up in the air. Or in Austin's words, "That's a lot of people."
So how did a local horror memorabilia company grow to be a monster in the industry while still lurking in the shadows of its home town? It all started in a seemingly normal way with two not-so-ordinary horror fans.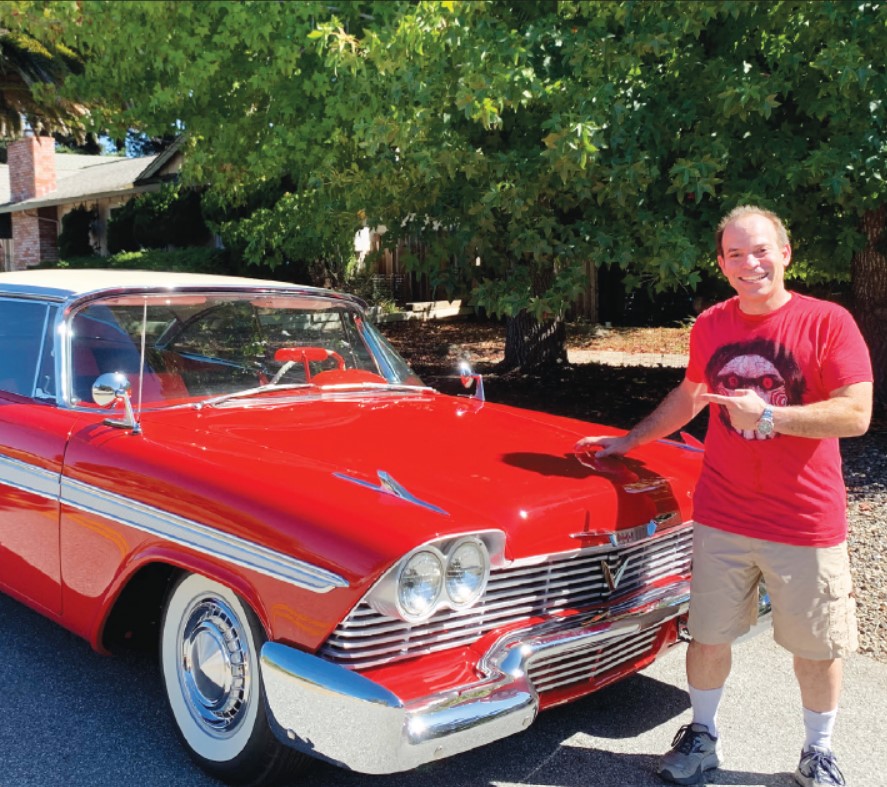 IT'S IN THE BLOOD
"I shouldn't say this," Chris Zephro admits. "When I was in junior high I had the same typewriter as the school. So I forged my work permit to be a projectionist at the Mann's Village Westwood [Theater]. It was the greatest job ever because I could see movies for free."
A lifelong fan of "anything horror"—Zephro even drives one of the 1958 Plymouth Furys used in the 1983 killer car film, Christine—the Trick Or Treat Studios co-founder seemed destined to be in the business. As a child growing up in Los Angeles, his father was a film distributor and good friends with Irwin Yablans, producer of Halloween, Halloween II, Halloween III: Season of the Witch and others.
"It was his film essentially," Zephro says of the original Halloween. "From the concept to the poster and the whole premise. He even hired John Carpenter. It was all Irwin Yablans."
Zephro was familiar with the Santa Cruz Area after his mother moved to Boulder Creek when he was a child. After graduating high school he moved to Santa Cruz County first attending Cabrillo College then graduating from UC Santa Cruz. He returned to Los Angeles to work for Warner Brothers but eventually returned to the area. It was here where he joined corporate America, working for a data storage company over the hill.
However, Zephro grew bored, disinterested and unhappy in the corporate life. Instead he decided to chase his passions like an '80s movie stalker after the final survivor. Enter the creature creator himself, Justin Mabry.
As a child in Jackson, Mississippi in the late 1970's and '80's, Mabry loved buying masks every Halloween season. Yet, as he grew older he realized the masks on the market were often cheap or didn't accurately represent the monsters on the screen. He began altering them, adding fake blood or small details, and by the time he was a teenager he was already sculpting his own.
Mabry told the Jackson Free Press in 2014: "When I was 17, me and my dad went and sat down with a bunch of business executives who offered to send my molds to Mexico and China for mass production. I said no. I was a kid; I had no idea how business worked."
This would change as he grew up and eventually Mabry sold his masks independently. Zephro started as a client ("I was one of his biggest customers" he admits) but the two quickly became friends, bonding over slasher films, monster merch and everything collectible.
So when Zephro decided he was done working for The Man, Mabry was the first person he thought of. "Basically, I just gave him a call on my drive home from work and asked if he wanted to start a mask company," he remembers.
"We were both like-minded in that some of our favorite mask and costume companies just weren't where they were [in quality]. And we knew it would be viable because there were a lot of people like us."
When he arrived home, Zephro told his wife the idea and suggested they use the money the couple was saving for a downpayment on a house. A bold move that might have axed some marriages. "Thankfully she was really supportive of the idea and away we went."
Trick or Treat Studios opened in 2009 for $25,000. Zephro wanted to keep it local for two reasons: first, Santa Cruz is home. And second? "I was really sick of driving over the hill," he says.
And why not Santa Cruz?
After all, it's home to the vampires of The Lost Boys. It shares with Watsonville the honor of being where Killer Klowns From Outer Space landed. Recently Santa Cruz was the doomed vacation spot for the Wilson family in Jordan Peele's US, of which TOTS sells merchandise made directly from the screen-used props and costumes. A practice they use with many of their products in order to assure detailed accuracy.
"It also makes it easier to go through approvals and why not?" questions Teresa Ganaden, Director of Operations. "If this guy did it for the movie, you're going to say he didn't do it correctly?"
Zephro says during its first year TOTS only made $48,000 and everything was run out of his house. Back then, the company had 18 masks. One of those originals, the Shock monster mask, remains his favorite to this day.
"It was one of the first production samples I received from the factory," he recalls. "I remember thinking, 'Oh man, this is so sweet.' It's on the back of my business card."
While the company had a built-in clientele base from the start, it wasn't until their second trade show that Zephro realized things were about to really take off. He remembers there was a lot of interest on the first day but not many buyers.
"I think people assumed the masks were much more expensive than they were," he explains. "So I printed prices in big numbers and put them under each mask. All of a sudden there was a 30 yard line to get to the booth, it was crazy."
With their masks gaining popularity, the company began making costumes. Those led to props then to collectibles and–currently–the action figure market. With so much inventory they moved to a warehouse off Carriker Lane in Soquel to accommodate everything. Recently they moved again to an even bigger warehouse off 17th Avenue.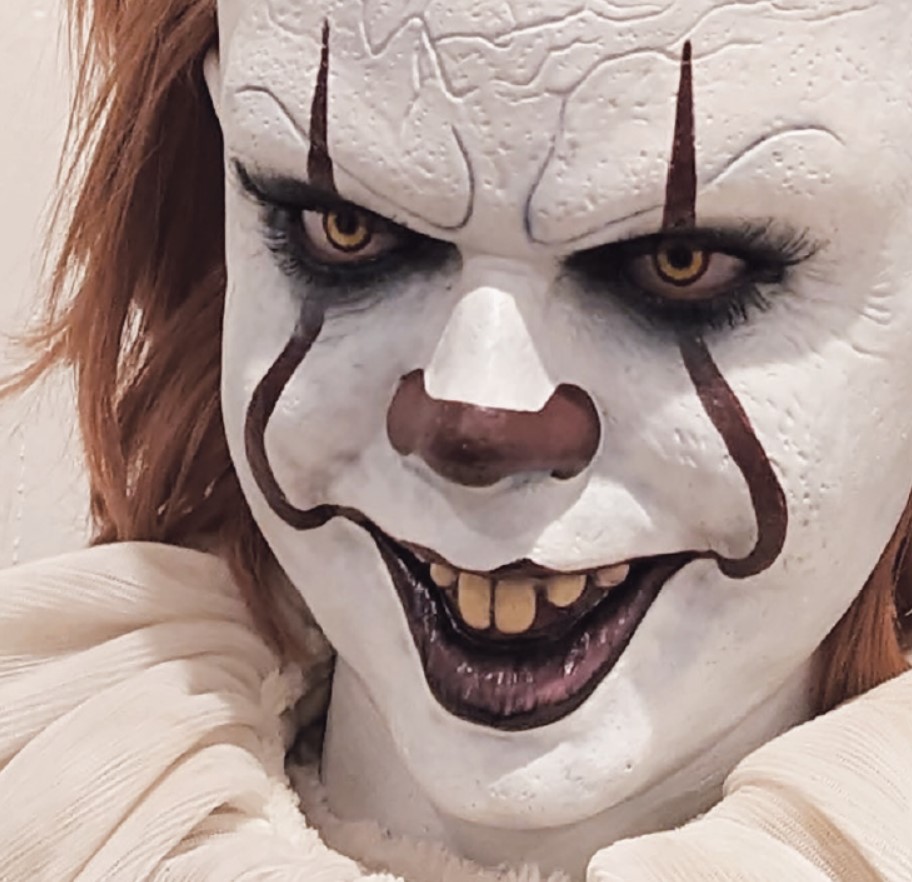 They began acquiring licenses for 1950's and 1960's sci-fi and monsters from New Comic Company LLC. They stretched their reach further with "Hellboy" from Dark Horse Comics and "The Goon" from Avatar Press. But it wasn't until 2014 when TOTS received its first, killer licensing.
"Universal Studios owned the rights to Halloween 2 and Halloween 3," Austin says. "Chris repeatedly kept emailing the Universal Studios rep, everyday. Every single day but they would never respond. After about the fiftieth time they responded, 'If you stop emailing us we will entertain the idea of you taking the Halloween 2 license.'"
For roughly $60 on the retail market, that movie's Michael Myers mask was a huge success for Trick or Treat Studios. No other company had gone after the sequels; they all wanted the original Halloween license, leaving a large space in the horror market that TOTS gladly filled.
"It's been fun to watch the Myers collection grow," states Ganaden. "It started with Halloween II, then the original [movie] through Halloween: Resurrection. We acquired the new franchise and last year the Rob Zombie [version]. So we've had every single Michael Myers mask. That's our guy."
Zephro's wife, Lauren, has sort of the opposite profession, but it's still creepy. She works in the Santa Cruz County Sheriff's crime lab, reconstructing dead bodies and crime scenes.
"I make monsters and she deals with putting monsters in jail," he says. Even meeting his wife showed he wasn't afraid to make the big reach.
They met at World Gym, where Zephro, 5-feet, 4-inches tall, approached Lauren, who is 6-feet, 3-inches. "I told her that if I were taller, I would marry her," he said. She didn't care about the height difference.
They have been together for 27 years and have a daughter at Aptos High.
Their house on Vienna Drive has become a must stop for daring trick or treaters. More than 500 show up to see the stage sets he creates in his "killer" trick or treat area.
CULT OF CHUCKY
In 2018 Trick or Treat Studios wanted to build the most screen-accurate Chucky doll ever created. That's the murderous "Good Guy" doll possessed by the spirit of a serial killer from the Child's Play and Chucky movie and television franchises, of course. Who wouldn't want a screen-accurate, life-like version of him in their home?
That was the question. So the company decided to first test the waters with a Kickstarter campaign. At that time Child's Play merchandise was scarce. According to Austin the only way to buy a life-size Chucky was through private builders with prices anywhere in the range from $2,000 to $3,000.
The campaign surpassed its $100,000 goal in a single day. Since then the 30-inch Chucky doll–complete with creepy eyes, posable limbs and a magnetic grip to hold his signature knife–remains a company best seller at $599.99.
"That was our first million dollar item," Austin recalls. "Other than the Halloween 2 masks, the Chucky doll really put us on the map."
"Since 2018 we've sold anywhere between 20,000–30,000 [Chucky dolls]," says Assistant Sales Manager, Laura Blum.
Blum and Austin have been with TOTS for six and seven years respectively, so they've seen it grow from a national to an international company. The company currently has offices in Massachusetts, Maryland, Los Angeles, Dallas and Mexico.
"It's been a dream job," Blum says. She's not alone in that sentiment.
"I love my job," exclaims Creative Lead and Product Development Coordinator, Sam Furst, from the Boston office. "We are really passionate about the things that we do. We put a lot of care into it and a lot of thought and time."

Furst joined the company in 2018 and is one of the mind's behind TOTS graphic designs and creative promotions, like their 2021 Captain Spaulding action figure from Rob Zombie's House of 1000 Corpses. The 30 second promo was shot like an old school commercial straight out of the late 1980's and early 1990's.
Furst has worked on the company's action figure line since its launch in 2020.
"We're approaching these as if they were made in the '80s and '90s," he says. "Not 'How do we make these the most 100 percent accurate' but 'How can we make these a fun toy?'"
"We were recently at the North American International Toy Fair in New York and debuted over 60 new action figures," declares Zephro.
Like their new GWAR action figures, detailed after the horror/shock rock metal band that dress as gruesome–and hilarious–intergalactic alien warriors. Furst, a longtime GWAR fan (called "bohabs,") says those are his current favorite project. However, he is quick to point out that while monsters are TOTS main focus, they're into everything "so cool."
"We just announced the True Romance action figures," he explains. "A lot of it just comes down to what we love."
Do You Want To Play A Game?
In addition to action figures, which are Mabry's passion project, TOTS also expanded into the table top game market, one of Zephro's obsessions. Walking through the TOTS warehouse, one will currently find a room half-filled with several shelves of boardgames (many still factory sealed) that looks more like a small boutique than a personal collection.
"He buys two or three of everything," explains Julie Stockwell, Corporate Accounts Manager. "One he plays and the other two he saves for future value."
"We've played Dungeons & Dragons together since about 2000," reminisces Joe Stoken, Director of Business Development – Gaming Division.
"Then we transitioned to board games because we couldn't always get everyone together each week. That's where our love affair with board games really started."
The types of games produced range from bluffing card games like Creature Feature–designed by Richard Garfield creator of Magic: The Gathering–to their newest licensed tabletop feature, Halloween. The latter follows the direction of the original 1978 film, with one person playing as Michael Myers and the others as main and secondary characters–or victims depending on how the game plays out.
True to TOTS standards, the board itself is a stunningly detailed map of the different houses–and the street they are on–from the movie.
"We studied the houses meticulously," explains Stoken.
Many of the items Trick or Treat produces are made with the screen-used props and molds directly from the studios and producers.
"Justin and I never ship a product we wouldn't have in our own collection," Zephro declares. "Sometimes we'll even compromise delivery dates. If it's not ready, it's not ready. I'd rather have something delivered late and perfect than on time but I know it wasn't what it could've been."
COME PLAY WITH US FOREVER AND EVER
It's this dedication, passion and pride in their work that transcends all levels of Trick Or Treat Studios. Plus, it's just plain fun, a word that was used often to describe working for TOTS.
"I drive from Salinas and see people getting pissed, stuck in traffic then having to go to their jobs," says Ganaden, Director of Operations. "But it's very different coming here, it's fun."
Take a tour of the Santa Cruz warehouse on 17th Street and it's easy to see employees enjoying their job. Inside the office of Warehouse Manager, Jose Moreno, the walls are adorned with original 1980's horror movie posters like the slashers Prom Night and Maniac, along with masks and other collectibles.
The main office is no different. From signed pictures, original art and movie posters to creature masks, replica monsters and movie props, walking around it's impossible not to nerd out to something unexpectedly cool. Which makes it easy to see why employees want to stay as long as possible.
Who would want to work for a soul-sucking company when you can be surrounded by some of your favorite things with people who love them just as much or even more?
"I was really excited when I found this job, it's fun," Sales Manager Blum says. "We have a family dynamic after all the years together."
Usually when someone says their work is "like a family" it's code for "leave while you still can," but not here. Instead of boring trust falls for team building exercises, Zephro will sometimes rent out a movie theater for the TOTS crew to watch their favorite horror films.
"Anything that there's a core connection to, [Chris] will take us," states Ganade.
They even call the communal office space the "living room" where employees will sometimes gather with their laptops to work and joke around.
"When we do trade shows it's like a family gathering," Austin says of their customers and fellow industry retailers. "Half the conversations are usually about 'How's life? How's the family?' The Halloween industry is a lot smaller than you think."
This past August TOTS announced moving into 2024 they will be discontinuing items from 15 different licenses. Some of these include major brands that helped define the company such as the Chucky franchise and Halloween II & III as well as a few newer names like Us and Nope.
However, fans will be excited to know TOTS recently acquired the licenses to Thundercats, The Goonies, Ghostbusters and Santa Cruz favorite, The Lost Boys. For Trick or Treat Studios, it comes down to the passion for what they do and always in the name of fun.
"I get to work with a number of my favorite special effects artists and bands that I like," Zephro says. "It's been something else."
"I was really excited when I found this job, it's fun," Blum says. "We have a family dynamic after all the years together." Usually when someone says their work is "like a family" it's code for "leave while you still can," but not here. Instead of boring trust falls for team building exercises, Zephro will sometimes rent out a movie theater for the TOTS crew to watch their favorite horror films. ?
---