On many days, when groups of school kids crowd into Conchita's Ice Cream in Plaza Vigil for an afternoon treat, handfuls of people experiencing homelessness show up, some pushing shopping carts loaded with their possessions through the store and others demanding free items.
The people, who can increasingly be seen camping in the City Plaza and throughout the city, have become an issue for business owners who say they discourage customers with aggressive behavior.
"They come in and want everything for free," said owner Conchita Gonzalez. "I don't do free."
Gonzalez, who runs the store with her cousin Marta Gonzalez, said they have seen people bathing in the fountain in the Plaza, and others under the influence of drugs.
Once, a person had a roll-away bed in the Plaza, and many others sleep on the park's benches, Marta Gonzalez said.

Both say they frequently feel unsafe, asking friends to stay with them when working alone. They often close their store early when things get too out of hand, as do other business owners in the Plaza.
"We have to deal with their mental problems," Marta Gonzalez said. "It's getting out of hand."
Carl Miller, who owns the Stop & Shop Family Bargain Center at 18 East Lake Ave., said that people occasionally try to steal clothes from the shop, although he said he would help them if asked.
Miller points out that many people are living just a few paychecks away from being homeless themselves.
"We're all doing the best we can," he said. "But to me, I don't think it's appropriate for these guys to be laying on the sidewalks."
Watsonville Police Officer Lourdes Gombos, who with a mental health worker forms part of the City's Crisis Assessment Response and Engagement (CARE) team, said that the department has seen an increase in complaints about people sleeping in public and aggressive behavior such as yelling at passersby and brandishing weapons.
But how the police respond depends on the totality of the situation, she said. City ordinance prohibits blocking walkways, but it is illegal to cite people for outdoor camping, Gombos said.
Outright bans on outdoor camping have been largely prohibited across the U.S. since the Ninth District Court of Appeals ruled in 2018 that outdoor camping cannot be criminalized unless the individuals are given an alternative shelter option.
That case, Martin vs. Boise, has reshaped the way many jurisdictions are dealing with their homeless populations.
"Unless it's actually a crime, the police focus on intervention," Gombos said.
In many cases, the CARE team talks to the people in an attempt to gauge their life situation and offer services.
"We can guide them to whatever it is they are looking for, whether it be shelter, food or financial aid or counseling services or rehab services," she said.
Many people, Gombos says, do not accept the help offered to them.
"The main reason is that they are not ready to give up their habits and they would rather be in a place where there are no rules," she said.
Business owners have the right to remove people from their shops, but the owner has to say they want the person arrested for trespassing, Gombos said.
"We are trying," she said. "It's just difficult to find housing first of all, and find people that actually do want to get the services."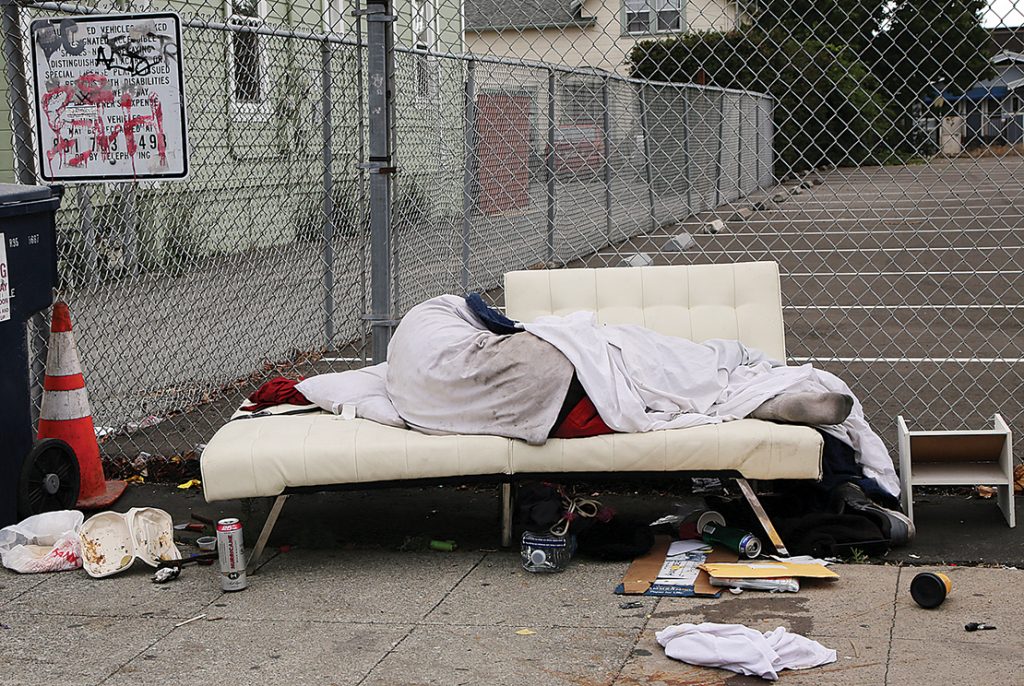 Pajaro Valley Shelter Services Executive Director Mike Johnson said that it is difficult to gauge the number of people considered unsheltered in the county, since the pandemic stalled last year's point-in-time count.
In 2019, he says, 2,400 people were considered homeless countywide. He estimates the current number could now be 40% higher, after more than one year of fallout.
According to Johnson, 57% of the people living in the county's transitional housing programs immediately lost their jobs when the Covid-19 shutdowns began in March 2020.
That left service providers scrambling to provide basic needs such as goods and diapers, he said. Many have since gone back to work but are still struggling to rebuild, Johnson says.
"If you take that dynamic and multiply it across the whole county, you can see the people that are extremely low to low-income are suffering more than everyone else in terms of their income potential and their ability to pay rent," he said. "Meanwhile, rents have stayed the same or gone up."
Johnson said that anyone seeing the growing numbers of encampments needs to "have a heart."
"We have to remember that these folks for the most part aren't choosing the situation that they are in," he said. "It's not that they said, 'I don't want to be housed,' it's just not available for them. They are doing what they can to survive, and they are people like the rest of us. They have just fallen through the safety net."
Santa Cruz County Housing for Health Director Robert Ratner says that the pandemic has exacerbated the housing crisis, with staffing shortages in the health and human services sectors and many offices that were closed during the pandemic.
The Watsonville Vets Hall, which was temporarily converted to a homeless shelter to help keep people safe during the pandemic, closed in August. While several residents were moved to two local hotels, many went back onto the streets.
In addition, many people with housing vouchers are finding a tight rental market along with many landlords who are not participating in that program.
The problem could worsen, Ratner says, as the eviction moratorium is set to expire at the end of September.
But the county has many programs in place to help homeless residents, Ratney said.
Ratner points to the Watsonville Works program, which pays homeless people to perform cleanup work around the city, and to the Community Action Board's Youth Homeless Outreach team, which works to get unsheltered young people back into housing.
The county's Rehousing Wave—part of Homeless Action Partnership, aims to find food, shelter and services for more than 800 people.
Two large affordable housing projects are in the works in Watsonville, Ratner said, one on Freedom Boulevard and one on Miles Lane.
Ratner says that the best way to address the problem of homelessness is to make sure it doesn't happen in the first place.
"I think prevention is really a key thing to focus on," he said.
---
Anyone facing eviction can call the Community Action Board at 778-4535, Families in Transition at 740-2947, Live Oak Community Resources at 476-7284 and Mountain Community Resources at 335-6600. The countywide hotline is 316-3222. Help can also be found by texting the word "Rent" to 211-211.