Ruben Ibarra and Chase Watkins used to be teammates on the St. Francis High baseball team, leading the Sharks to back-to-back Santa Cruz Coast Athletic League titles and three straight Central Coast Section playoff appearances.
The Watsonville natives continued their journey together on Monday. They were both selected on Day 2 of the 2021 MLB Amateur Draft.
Ibarra, a junior infielder at San Jose State, was drafted by the Cincinnati Reds in the fourth round, and Watkins, a sophomore pitcher at Oregon State, was drafted by the Chicago Cubs in the ninth round.
Ibarra was still speechless hours after his name was called on the MLB Network, telling him that he was the 119th overall pick in this year's draft.
"Luckily it worked out and the Reds want to give me an opportunity to be, hopefully, the face of the franchise pretty soon," he said. "I'm going to represent the organization as well as I can and I'm going to work my tail [off] day in and day out, nothing's changed from the work ethic, so let's get after it."

Watkins said the fact that they both were drafted on Day 2 is neat because this year's pool of players was one of the deepest ever, and they came from a high school of a little more than 200 kids.
"I think it's a cool thing for the kids that are in the South County area to see that it's definitely possible if you put your nose to the grindstone and work hard," he said. "You can have a shot, it's not like you have to go to Archbishop Mitty or Valley Christian to be considered for these things."
St. Francis baseball coach Ken Nakagawa said it was a special day to be part of and that he's happy to see his former players move up in the ranks.
"Very well deserved for both of them," he said. "I'm just glad that I was a part of their chapters and a part of their road … It's been a good journey for both of them."
Ibarra and Watkins were reunited recently at a pre-MLB Draft workout camp with the St. Louis Cardinals. The two bounced energy off of each other as they did during their days at St. Francis, where they also led the basketball team to a state championship game appearance and Northern California and CCS titles in 2017.
Ibarra said the scouts began to take notice, wondering how two future prospects connected so well on the field.
"They had forgotten a little detail about the hometown kids coming out to St. Louis and taking over," he said.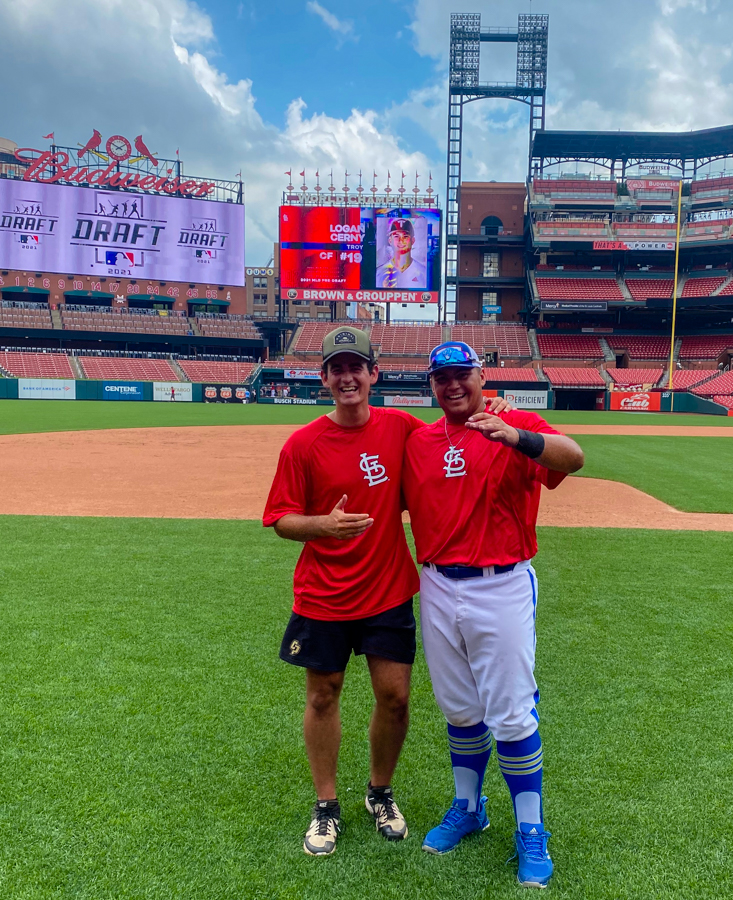 Ibarra said getting drafted on the same day with his former teammate was a blessing in disguise, and it's part of a plan bigger than theirs. He knew they had the capability and talent, which is why they worked well together.
Ibarra received All-Mountain West recognition for the 2021 season as he led San Jose State with a .381 batting average and led the Spartans and conference in several other offensive categories.
He finished as the national runner-up with an .850 slugging percentage and his 14 home runs this season moved him to second on the program's single-season leaderboard, finishing just one shy of tying the school record despite playing in 25 fewer games.
Watkins appeared in 25 games as a relief pitcher for the Beavers in 2021. He finished the season with a 3-4 record and 4.88 earned run average, recording 38 strikeouts in 31 and 1/3 innings.
The left-handed pitcher was named to the Fort Worth Regional All-Tournament Team after striking out six in six innings in the postseason.
Watkins is heading to Chicago on Wednesday for a post-draft physical and he believes he has a legitimate shot at a starting position with the organization.
The Sharks have now produced three potential major leaguers under Nakagawa's tenure. Sahid Valenzuela was drafted by the Oakland Athletics in the 13th round of the 2019 draft.
"Who would've thunk in this little school of 200 kids, right?" Nakagawa said. "I can't even say when the last time two high school teammates got drafted in the top-10 rounds in the same year."
Draft Day
Ibarra admitted that he didn't put his heart and soul into the draft just because there was always that 1% chance that he wouldn't get selected.
"You just have to mentally prepare yourself for the worst and be extremely grateful for the blessings and opportunities that come," he said.
But, Ibarra received a phone call Monday morning telling him to be ready to roll in the fifth or sixth round, which was still a good spot for him.
"I was just over the suspense, I was like, 'Who wants to take the big fella?'" he said.
By the end of the third round, Ibarra's advisor called him and told him that he had a deal locked in with the Reds. He said he could've gotten more in the later rounds but it was a gamble he didn't want to take.
Ibarra was the highest selected Spartan baseball player since Matt Durkin went 44th overall to the New York Mets in the 2004 MLB Draft.
He was also Santa Cruz County's highest draft selection since Scotts Valley High pitcher Robbie Erlin went 93rd overall to the Texas Rangers in 2009.
Other local talent selected in the MLB Draft includes San Lorenzo Valley High alumnus Tanner Murray, who was selected 125th overall to the Tampa Bay Rays in 2020, and Santa Cruz High alumnus Glenallen Hill Jr., who went 122nd to the Arizona Diamondbacks in 2019.
Watkins was the fourth Beaver selected by the Cubs all-time and the first since Kevin Rhoderick in 2010.
"It's a moment that you work for your whole life. It's pretty cool," Watkins said.
He was told two minutes before getting drafted that he was going to get taken in that spot. However, a few rounds prior he was talking to a coach on the San Diego Padres, which put Watkins in a pool of players.
"You just have to wait and see if they pick you, which is frustrating because you don't know," he said. "It was getting close to the end of Day 2, so it was nice to get that done so I didn't have to go to bed kind of wondering and waiting."
The next goal for them is to get promoted through the ranks and hopefully within two to three years get called to play in the "Big Show."
"Maintain my hope, maintain my faith and know that there's a process, trust the process and just continue to grind," Ibarra said.