Gary Grice, aka GZA, aka Genius (a nod to his colossal lyrical vocabulary and his lifelong interest in science, among other things), has chess on the brain.
During Covid, GZA played a lot of chess. A couple of years ago, Vans launched Channel 66, an online television network that was a pop culture mecca, featuring everything from skate videos to shows like "Chessboxing with GZA." The Wu-Tang legend curated music, discussed metaphysics and, of course, played live chess matches with celebrity guests, including Interpol's Paul Banks, Logic and Scott Frank, the creator, director and writer of the popular Netflix miniseries "The Queen's Gambit."
"Can you imagine that shit?" GZA lights up. "One of the top writers in Hollywood came to play me in chess."
While Vans' Channel 66 is no more, GZA's affinity for chess lives on—as part of a concert VIP experience, fans get to play a match against Genius.
2023 is a significant year for GZA and the Wu-Tang Clan family. It marks 30 years since GZA and his cousins, RZA and the late Ol' Dirty Bastard, blasted off with a Staten Island collective of longtime childhood buddies—Method Man (Clifford Smith), Raekwon the Chef (Corey Woods), Ghostface Killah (Dennis Coles), Inspectah Deck (Jason Hunter), U-God (Lamont Hawkins) and Masta Killa (Jamel Irief)—to form the world's greatest hip-hop ensemble of all time.

The outfit's 1993 debut Enter the Wu-Tang (36 Chambers) is a stark, unapologetic narrative propelled by a mix of "free-associative," explicit and sometimes humorous rhymes driven by pop culture and the reality of the only life these guys had ever known at the time. RZA's infinite collection of homemade beats, samples and perfectly placed dialogue plucked from '70s kung-fu flicks equates to something so vibrant; it was impossible to ignore when it hit the streets—over 30,000 copies were sold in its first week. It went platinum in a little over a year and triple platinum in 2018. Not only is Enter the Wu-Tang regarded as one of the most important albums of the '90s—in any genre—it is ranked number 27 on Rolling Stone magazine's updated "500 Greatest Albums of All Time" list.
To top it off, the album was selected in 2022 by the Library of Congress for preservation in the National Recording Registry for being "culturally, historically or aesthetically significant."
It was evident from the beginning; talent erupts from just about every second of Enter the Wu-Tang—every member has made at least one critically acclaimed solo record.
GZA's 1995 Liquid Swords is an undeniable hip-hop masterpiece. It's so lyrically dense that several critics mentioned that it would have been impossible to include the lyrics in the CD insert because it would be the size of a book.
"Little shorties take walks to the schoolyard/ Trying to solve the puzzles to why his life's so hard/ Then as soon as they reach the playground, BLAUW!/ Shots rang off, and now one of them lay down!"
It would be impossible to highlight all the prose that makes Liquid Swords so lyrically poignant. GZA's blend of metaphor and reality blurs lines with disturbing force.
"I be the body dropper, the heartbeat stopper/ child educator plus head amputator."
With the assistance of the RZA—whose encyclopedic musical knowledge brings in perfect samples that fit exactly where they're needed—the production level elevates Liquid Swords to a height that few hip-hop records reach. A class on par with Nas' Illmatic and Ice Cube's Death Certificate.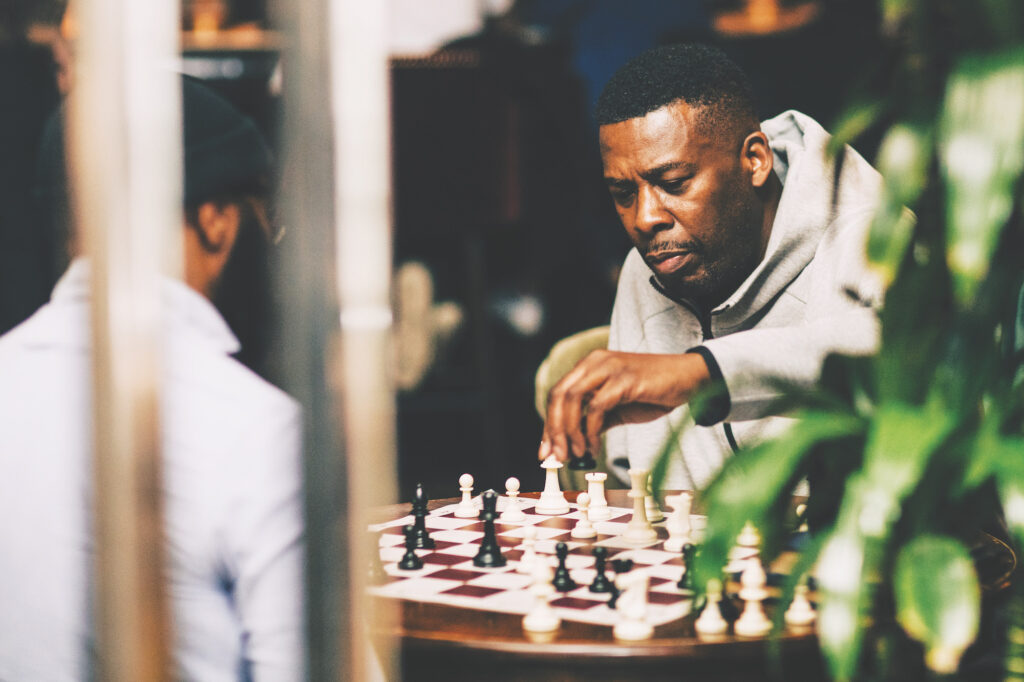 Before heading out on tour, Good Times caught up with GZA for a sprawling conversation.
What's a day in the life of GZA like?
GZA: A lot of thinking. I'm not as busy as I should be. I should be much busier, but I'm a laid-back, lazy dude who don't like to do shit but think and play chess—and write sometimes.
Who taught you how to play chess?
I learned how to play from a cousin at an early age, but I never played the game. He just showed me the rules. I didn't start playing chess until I met Masta Killa. I already knew how to play the game. I just wasn't skilled. So, he reintroduced me to chess, and that's when it started for me. That was 1991-92. I didn't even know how to set a board up. It was Killa who showed me. He brought me into the game.
What did you think of "The Queen's Gambit."
Beautiful! I might watch it again now that you mentioned it. It's been a year now. I play random [people] at different events and at my shows. But I was playing celebrities on the Vans ["Chessboxing with GZA"]. One of my guests was Scott Frank, the guy who made "The Queen's Gambit."
Who won?
I think I came out on top when it came to the chess matches. But I came out on top because I learned a lot from [Frank]. I got to pick his mind. Not really during the chess game, but we went to dinner, and I got to speak to him. He gave me a few pointers as a director because I've been directing videos since the '90s. Every time I write something, I imagine it on film and on the screen; I've always had this vivid imagination about a lot of shit, but I'm just lazy and laid back. I take a while to share shit. I think it's been 14 years since I've put an album out. But I learned a lot from him. He schooled me. He gave me great advice as a film person as a director. And I watched some of his other things like "Godless." This dude is amazing. He said he would help me develop one of my own projects. So, it was a learning lesson for me. I won the chess matches, and I learned a whole bunch of other shit.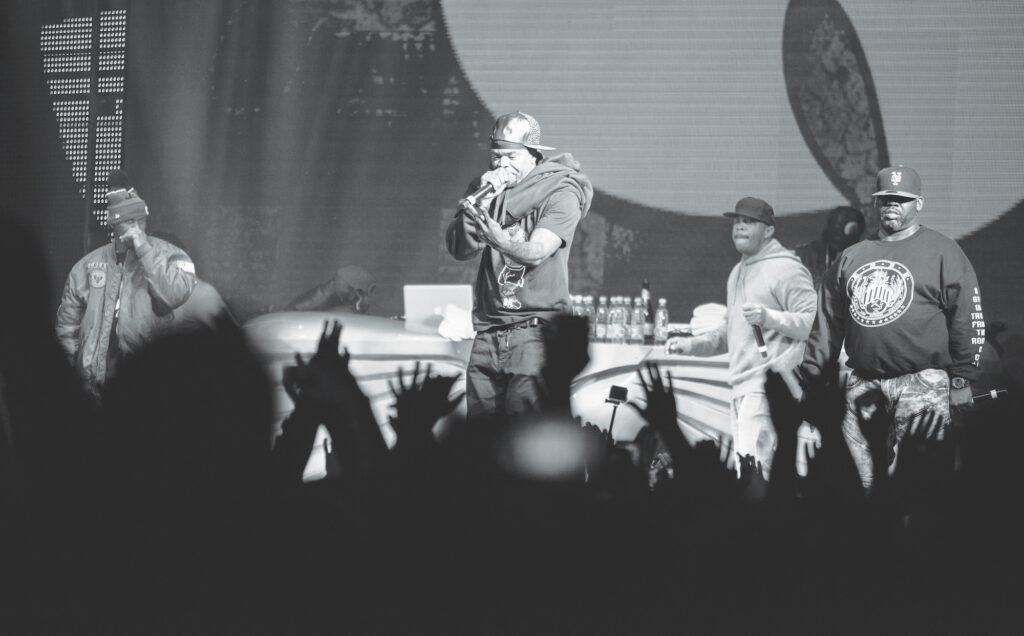 Speaking of filmmakers, you got to work with Jim Jarmusch on Coffee and Cigarettes. He's one of the greatest indie filmmakers. Do you stay in touch with him?
I was thinking about Jim Jarmusch today. He's such a laid-back [guy]. He reminds me of myself in a way. I don't know that much about him. But he's quiet. He's laid back. That's how our relationship started with Coffee and Cigarettes. And my manager at the time brought me on the project with RZA, and I look forward to doing some more shit with him. I want to do some projects with Jim. I think we are probably the same fucking Zodiac. I like Jim, man. I got to spend several hours around him—and Bill Murray. I've just been blessed throughout my life. I can't complain. I've been blessed on several levels.
I got Liquid Swords on CD when I was 16 years old, and I was hooked. You could let the album play from beginning to end without skipping. I've always put that record in the same category as albums like A Tribe Called Quest's The Low End Theory, Nas' Illmatic and Public Enemy's It Takes a Nation of Millions to Hold Us Back.
That makes my day. That inspires me a little more if I'm down in a funk or I'm not motivated. Just to hear that—I love Illmatic; I love A Tribe Called Quest. For you to compare [Liquid Swords] with those albums, it's a great thing.
I know I'm not the only person who feels that way. Liquid Swords is loved by millions worldwide of all backgrounds. Why do you think it resonates with so many?
I think it was the timing. I think there were a couple of things that brought about that album. It was me striking back at the industry, at the label, who didn't support me when I did my first album [Words from the Genius]—though I give all praises to the man who signed me to the first album, Tyrone Williams, and I was happy to be signed to the Juice Crew.
[Liquid Swords] was just shit I needed to let out at the time—it was real and organic. I didn't know how it would hit the people, and I can't say why it hit them; it's just something people [stood behind].
I enjoy the variety of samples, like Stevie Wonder, the Bar-Kays and Thelma Houston, and the cultural references to folks like Wes Craven. I'm sure it didn't hurt that RZA was the producer.
No one ever knew that was Thelma Houston until I mentioned it [the soul singer's "Don't Leave Me This Way" is sampled on "Labels"]. It was a song that RZA wanted to use, and it was something he felt was needed for the album.
There's some deep music knowledge throughout the album. The Mothers of Invention's "Plastic People" is sampled on "Cold War," and I had never heard of the Ohio Players until I heard the sample of "Our Love Had Died" on "B.I.B.L.E" I'll never forget those memories; Liquid Swords expanded my world musically. Do you have any memories of making the record that has stuck with you over the years?
I'm an artist that takes a long time to get something done. I didn't deliver fast enough—it takes me a while to write a rhyme. It's not like I'm sitting on thousands of rhymes. I think with this album, I struck back against the industry. I had something to prove. I had to let [execs] know that I am a genius of rap. It was a remarkable moment that I needed to share; I needed it to be heard, and I needed to be seen.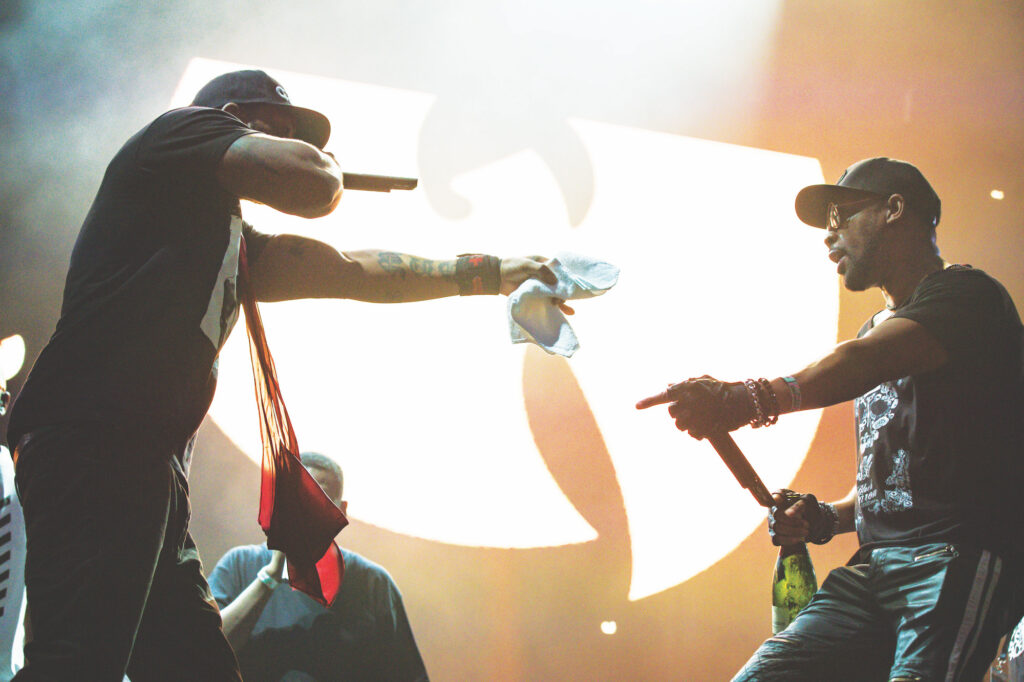 Are you working on any new material?
I always want the best in whatever I'm doing. Even if it's just buying a speaker, I want to buy the best speaker, not because it's the most expensive. If I deliver a new song, especially if it's conceptual—it has to be a song with a foundation built for learning or educating. I want to make it the best of the best. That's how I am, and when I'm working on something, it has to be the best it can be.
Have you been laying down any tracks or recording?
I've recorded a few songs, but right now, I'm at a standstill with this album. My ideas change as days go on. I want to create something great.
You're also working on a documentary, correct?
Yeah, the documentary is about mental illness and focuses on a young chess prodigy with ups and downs. He's been incarcerated and in and out of the system. He's been unfairly treated and mistreated like a majority of the people. I just want to shed light on that. I want to shed light on the mental illness situation and what some have gone through. So, I'm making a film about it and incorporating chess.
Is there a tentative release date?
I think sometime in 2023.
2023 also marks 30 years of Wu-Tang. What does that mean to you?
If I flashback and go through history, it means a lot. We were a group that came from nothing and started something. Of course, it was all built around hip-hop culture. It was something that was innate within us. The love and the passion you have for something, to continue to do something, and to reach the millions of people we reached is a beautiful blessing. It's something that I will always do, something I'll always love; I love writing, and I love talking about lyrics. We can talk for hours about lyrics. We can talk for hours about writing. We can talk about music samples, which is a blessing. It means so much that I can be on this platform and do what I do.
Speaking of someone who also has a platform but has used it recently to spread hatred. What are your thoughts on Kanye West?
Now it becomes controversial. Although I've never met [Kanye], I know he's a big fan of Wu-Tang, and he's a big GZA fan. How can I put this? I love Kanye. He's a great producer. He's a great artist. I don't know if I'm answering your question, but I respect him fully. I'm never going to say anything bad about him. I don't want to start going into other shit he's saying about certain things. I think that more shit is coming down on him than should come down on him. As artists, we just got to get on our platform, represent what we are saying, and stand behind what we feel.
There are certain places I can go, but I don't want to be in a situation he's in.
All I can do is stand by him. He's a brother, and it is what it is. He may not be the clearest when he tries to explain himself. Sometimes you got to take time and think about what the fuck you want to say to the public, to the media, and be really careful about what the fuck you say, but I support Kanye though he might need a little help with certain things.
Do you consider yourself spiritual?
There's always some spirituality, but it depends on how deep you are behind what you're saying. When you start speaking about certain things, you have to go to the foundation of it.
How do you stay humble?
I think you keep yourself humble by knowing who you are, what you do and what you have on the table, what you're working with, and that's all you have as yourself. I can't be Superman if I'm not fucking Superman. I can't look into a jar of a thousand fucking jellybeans and tell you how many jellybeans are in that fucking jar. I am who I am. I'm no different from you. We're no different. I'm not above you. I'm not below you. We are equal.
Whether you're an artist or not, or whether you are the biggest artist in the world, you have to go into it knowing that you are the same person. Same shit. There's no difference. I'm no different than you. And what makes us more alike is that you ask questions that I like to be asked.
What's one thing you've always wanted to do creatively but haven't had the chance to do yet?
I would like to write and direct a film. That's one thing that I haven't done, but I should have been doing it for years.
Well, you should reach out to Jim Jarmusch.
You know what? I'm going to call him today. I think he can open my mind. He's so laid back. I don't even know the other words I can use to express this dude. But I want to make a film with him.
I also want to learn more about people like Bob Dylan. I don't know much about his music, but people always say Bob Dylan is a master songwriter. I don't know many of his songs. When we talk about songwriters, I know his name is always mentioned.
GZA performs 'Liquid Swords' (Amplified opens) on Saturday, Jan. 21, at 9pm. $35/$40; $135-185/VIP plus fees. The Catalyst, 1101 Pacific Ave., Santa Cruz. catalystclub.com