Annie Morhauser hand crafted her own path to success and never looked back
Starting with nothing but creativity and an abundance of drive, Annie Morhauser has weathered economic downturns from earthquake to recession to Covid in the forty years since she started her line of luxury glassware, Annieglass.
"Onward" is her middle name, and as a tour through her 16,000-square-foot studio and fabrication facility told me, she's not about to slow down. A 40-year track record is worth celebrating.
Morhauser hit upon her bold signature design right off the bat. In 1983, she took her line of slump-glass dinnerware, with painted rim of 24 karat gold, to her first trade show. Her products were made in America. The company was owned and run by a woman.
The innovative dinnerware, all inspired by natural forms, was irresistible. Imitated by many, these hand-signed beauties have been avidly collected, given as wedding gifts and dazzled countless parties, photo shoots, and department store displays.
With the Roman Antique gold-rimmed design as her centerpiece, Morhauser kept tinkering, designing, testing, expanding and today employs more than two dozen workers in her busy Watsonville plant. Spend a few minutes in her company and you'd sign up to join them.
40 years, but who's counting?
Not Morhauser, who whips up new designs like most of us hop in the shower. Twice a year she introduces her new collections at trade shows and in her Atlanta showroom. Experimenting with ways to incorporate recycled glass into a new product line is her latest passion. Translucent green, embellished with abstract touches of gold, the new Elements line of repurposed glass beckons from her display shelves. Ideal as trivets for hot food items, cheese boards, and appetizer trays, these pieces challenge the party-giver to imagine new uses. The mother of invention takes on recycled glass.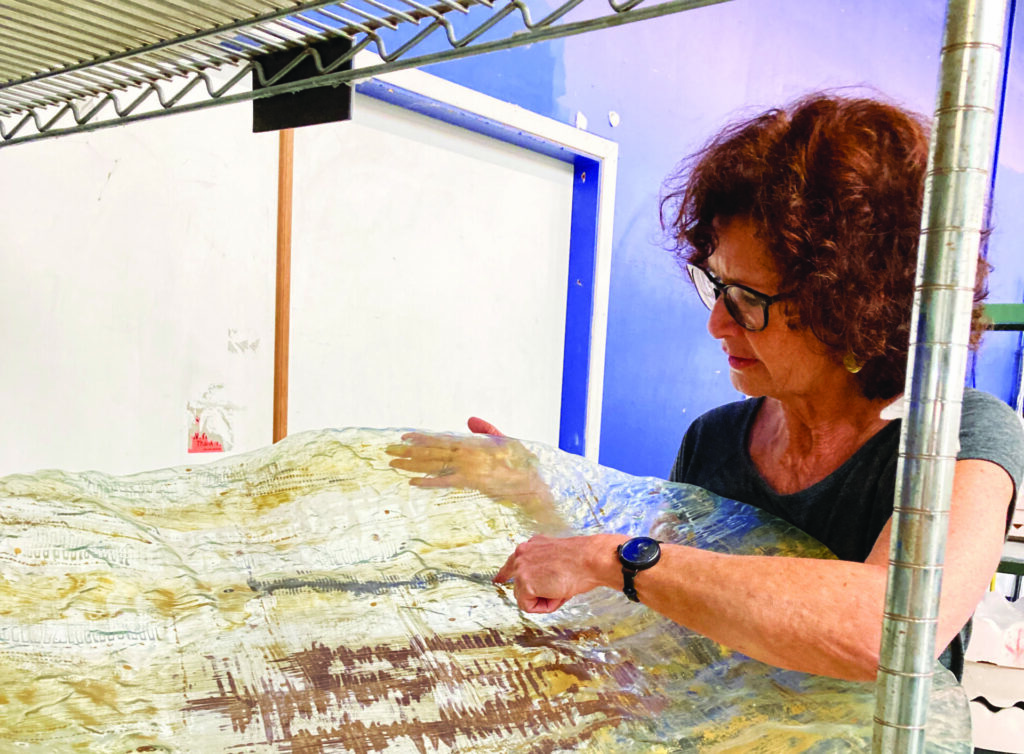 In the beginning
"I had to be resourceful," she recalls, just off the phone with some distributors at Amazon. Inspired by glassworkers she'd met during her days as an art student at Oakland's California College of the Arts, Morhauser knew she wanted to give it a try.
Always being told that she couldn't do or join certain things because she was a woman, the glass artist took creative revenge. "I named my company Annieglass just to show them," she says, smiling. "The Santa Cruz Glass people supplied me with whatever they had available and I literally foraged for whatever was left over in their dumpster."
Obviously hand-crafted but visually appealing, her early work made in a 400-square-foot space in the Old Sash Mill gradually took off. With the help of Michael Reinhold, her business partner and husband, the designs expanded.
"He gave it a brand. Took it to Gumps, Saks Fifth Avenue in New York. He really thought big."
She grows momentarily wistful mentioning her ex-husband, who died just a few years ago. After the 1989 earthquake hit her small plant was knee-deep in broken glass.
Should she just quit, move back East and start over? Nope.
Instead she took out a loan and bought a factory. Morhauser knew she wanted to grow Annieglass into a national business.
"When I started I was excited when I finally had a phone with two lines!" she laughs. "The early success kept me intrigued," she admits. "It only gave me small victories, but it gave me enough of them to keep going."
So she hired a national sales manager in 1996, "and it just continues to grow."
An artist who created a successful business: how did she make it happen? She thinks for a minute.
"I'm always forward looking, paying attention, always looking ahead. I think versatility and problem-solving are my strengths," she says, tracing the platinum edges on a new tiger print appetizer platter.
Matthew Eaton, her longtime production manager stops by to describe Morhauser's pioneer technique for slumped glass with gold patterning. Taking what she could find—window glass—she melted it over ceramic molds. The process, which today involves the use of increasingly complicated ceramic molds, is called slumping. The initial shapes were basic circles, squares, and rectangles.
Today thanks to a mammoth, computerized water jet glass cutter, Annieglass can make an endless variety of shapes. After slumping the pieces are painted with precious metals—by hand or by screen printing—then fired in huge kilns. After finishing, polishing, and signing, they're ready to go out into the far-flung Annieglass market of 400 department stores, plus online shopping.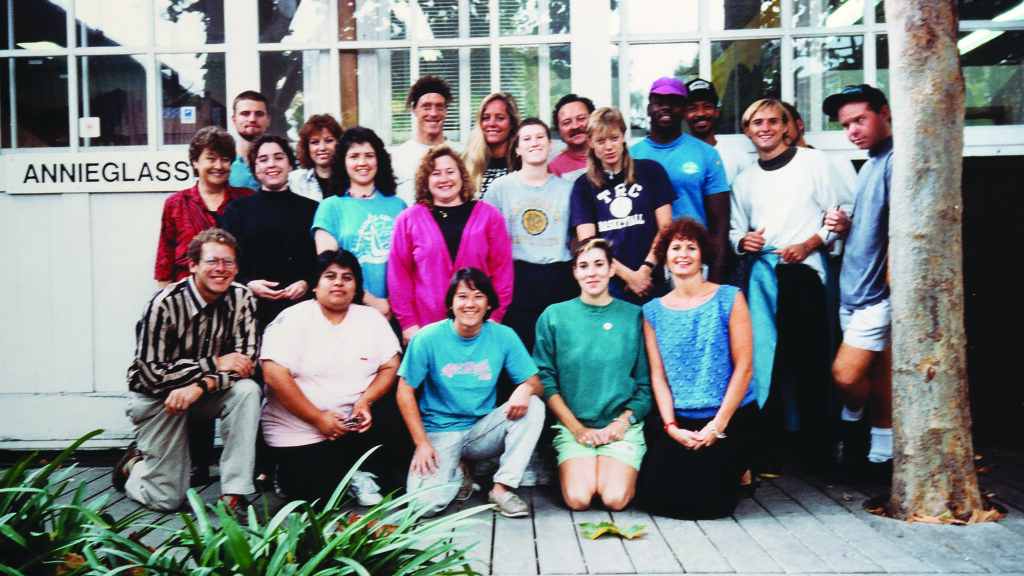 The Watsonville Studio
Morhauser's daughter Ava Reinhold has just stepped into the National Sales Manager role.
Seven years ago Ava initiated the inhouse, twice-monthly Craftbar events. Popular and well-attended, these hands-on events are held at the Watsonville plant by a variety of local artists who lead participants in embroidery, pottery decorating, glass painting projects, kept company by the weekend beer and wine bar.
"And we have free tours of the plant on Friday and Saturday," Morhauser reminds me, never misses a marketing opportunity.
The vast warehouse is the center of fabrication and experimentation—part studio, part plant.
"It's all made right here in Watsonville," she explains happily as we walk through corridors of digital electric kilns. One of the labels, Denver Kilns, closed down during the pandemic, due to supply chain problems. "So we switched to a new manufacturer, Euclid. Fingers crossed—we just had two new Euclid kilns hooked up this week by the electricians and we'll start firing this week."
Another row of half dozen round Skuitt kilns are used almost exclusively for making bowls. The kilns are fed shaped window glass, heated up in two hours to almost 1,400 degrees. Everything is controlled by computers. After an overnight cooling, they're ready for detailing, in smaller, adjoining studios.
A wall of towering storage racks face the kilns, holding finished tableware and sitting ready to fill orders. The signature Roman pieces with the gold, or platinum borders. The newer serving platters, from household-sized to enormous platters for catered parties with rippling borders that resemble pale aqua flowers.
Newer shapes all have their own shelves, the translucent grove plank cheese boards, and butterfly serving pieces whose glass wings are covered with small golden butterflies. Large (very large) glass scallop shells cry out to be filled with ice and stuffed with champagne bottles.
"They've been used as baptismal fonts," Morhauser confesses.
Pulling an enormous new sculptural piece halfway out of one rack, Morhauser points out its rippled surface shimmering with traces of gold and platinum abstractly brushed across the surface. Her energy is contagious. Each piece is destined for the wrapping and shipping station at the far back of the shop, next to the roll-up doors for easy UPS access. Jumbo rolls of green bubble wrap hang from overhead dowels for easy access.

"We can ship out 400 pieces daily," she says.
Artisanal pieces like these have been photographed at one time or another for the likes of the NY Times, House and Garden Magazine, the Smithsonian, where these pieces are part of the permanent collection. Annieglass is everywhere.
In 2022 Annie Morhauser was named Santa Cruz County Artist of the Year. An eye-catching video, Resilience, documenting Morhauser's rise from artisan to entrepreneur, was created for the awards event by her muralist son, Taylor Reinhold, working with Joel Hersch and Michael Daniel of Swan Dive Media.
"When I spoke at the award ceremony, I was asked what advice I would give to others starting out" she says. "My answer was, 'Don't be afraid to fail.'"
Annie Morhauser has walked that talk.
"Early on I was programmed to not look back, not look over my shoulder. Instead I'm forward looking," she says. "A lot of it's just paying attention, to competition, to trends. That's how we went from a Fort Mason craft fair to the New York Gift Show, and now we have a year round showroom in Atlanta. In the beginning it was just me, and now we have sales reps all over the country. We're in every Bloomingdales. I'm always looking ahead."
Polishing her own instincts, Morhauser regularly invites consultants and other specialists to finetune her corporate skills. She pauses often to give credit to her team. Shipping and customer service manager Sherlyn Torres has been with her for 32 years.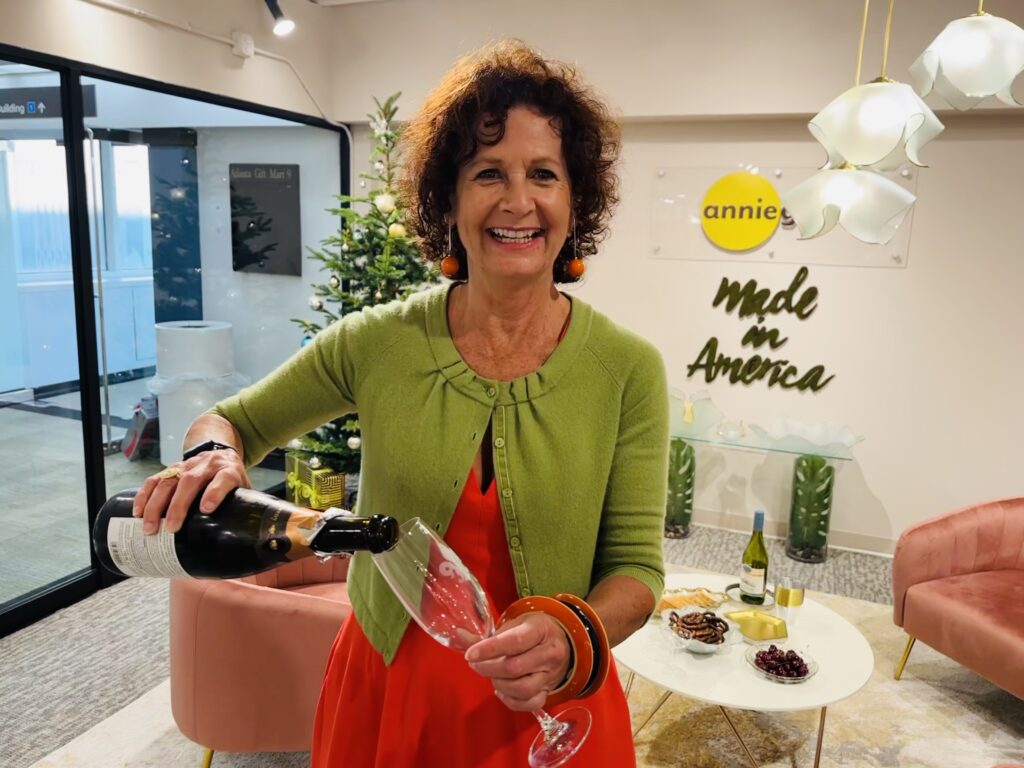 The Present and Beyond
"In the old days we used to loan things to magazines, and then they'd give us credit," Morhauser says.
Through trial and error Morhauser realized that as far as product placement went, prop stylists were based in New York, not Santa Cruz County.
"Now social media is key, although it's hard to find influencers who reflect exactly what we do," she says.
She still contends that "being in the best stores has always been the best way to get the word out. We're a luxury brand. And surprisingly we're better known in the deep South than we are in San Francisco. There's a real strong showing in jewelry stores, like Dell Williams here in Santa Cruz. Jewelry stores have added bridal registry service, bringing in gifts like mine." From craft, to gift, to bridal registry market. "And we were able to do bridal registry because we don't do things in sets. You're able to buy just one at a time. You can just pick and choose, rather than buying an entire set."
This novel/innovative single unit approach was, she admits, a negative in the beginning.
"But the deep South went for it, because people had inherited china they liked to use, but they wanted to make it their own. So they'd buy our bowls, or our chargers, because those single pieces went along with their heirloom place settings."
Morhauser is thrilled to announce, "last year was our biggest year because a million and a half people got married. A million and a half weddings! A record, after a few years of putting off weddings entirely. During COVID we were shut down like everybody else, and 18 months later we're having the best year we've ever had."
Even after four decades, there's no down time.
The seemingly tireless woman who lives in jeans and running shoes, never sits still. Never seems stressed. How does she do that?
"Part of it for me is curiosity. I'm never bored. Making this business work uses my intellect. Designing the pieces feeds another part of me, the artistic part. But I couldn't just work in a studio. I need the challenge of how do we problem-solve this?" Her passion for problem-solving is her super power.
"My mother was an immigrant from Italy, she saw the depression and she always said necessity is the mother of impression."
Where competitors "got their egos involved," Morhauser stayed versatile and flexible. She recalls other creators who wouldn't put their products on Instagram. "But that's what you need to do. I waited 10 years before I bought the huge water-jet machine that cuts out all the new irregular shapes, hearts, flowers. I didn't know anyone else who had one, so I held off." She laughs at her own caution, now admitting that the water-jet machine was a game changer.
"All of a sudden I could stop making just circles and squares, that was big," she says, laughing. "It broadened everything— I could make octagon shapes, tree shapes, flower shapes. I felt like I was 19 again. It was so fun."
Innovation, and fun, continues. In honor of the 40th anniversary of Annieglass this summer, Morhauser designed massive roundish sculptures/platters with gold and platinum streaks dancing across the surface. Inspired by a documentary on painter Gerhard Richter she saw in a painting class with Tobin Keller at Cabrillo College, Morhauser used a squeegee to apply the shimmering marks to glass.
"They're the largest pieces I've ever made," she says, running her hand across the traces of precious metal on the surface. "They're 38 inches across. The crew calls them Giant Tortillas! Actually they are called the 40th anniversary limited edition and yes, you can serve on them. All were sold out within 48 hours to our wholesalers around the country."
Recycling is her current obsession.
"It's a dream of mine, recycling. I've been trying to get a grant to do the recycling on a larger scale. I can't do it by myself. It's science, you know, getting different types of glass to be compatible with each other. You have to experiment. Keep notes in a little book."
At 66, does she ever think about retiring?
Take a guess.
Even with a house in Hawaii waiting for her whenever she's ready, she loves being stimulated.
"It's all too much fun to step away any time soon."
---