WEDNESDAY
ART
PAINT NIGHT AT ABBOTT SQUARE Do you love to paint? Have you ever dabbled on a canvas with some acrylics or oil? This Wednesday all you need is two hours of time, 35 dollars and a can-do attitude. Led by Anastasiya "Ana" Bachmanova of Follow The Sun Art, this one day class at Abbott Square delivers a step-by-step guide on how to paint a Boardwalk sunset inspired wonder. Of course, true art comes from within, so don't be afraid to add a little of yourself in it with color and composition tweaks. Just remember what Bob Ross said, "We don't make mistakes, just happy little accidents." MAT WEIR
INFO: 5:30pm, Abbott Square, 725 Front St., Santa Cruz. $35.
THURSDAY

SOUL
TRUE LOVES There's the joy of true love, and then there's the joy of True Loves, a Seattle-based soul-funk ensemble of eight musicians who've got the groove. For fans of Parliament and Tower of Power, the vibe is all out "Theme from Shaft" intro turned epic jam sessions. Prepare yourself for killer sax solos, jazzy guitars, and a baseline that doesn't quit. The '70s energy is strong, so bust out your paisley and get ready to fall hard for True Loves. JESSICA IRISH
INFO: 9pm, Moe's Alley, 1535 Commercial Way, Santa Cruz. $18/adv, $23/door. 479-1854.
FRIDAY
COUNTRY
EMILY ANN ROBERTS For Emily Ann Roberts there was no turning back from the moment at the Grand Ole Opry as a little girl when she saw Vince Gill sing "Threaten Me with Heaven." As a finalist on Season 9 of NBC's The Voice, Roberts wowed the world with her gospel-inspired vocals and covers of timeless country songs by Patsy Cline, Dolly Parton, The Chicks and even Elvis. The Knoxville native took some time to finish high school after the show, but now at 24 she's back with her much-awaited debut album, Can't Hide Country, coming out September 22. What's more, she's played the Opry 16 times… and counting. ADDIE MAHMASSANI
INFO: 8pm, Chaminade Resort and Spa, 1 Chaminade Lane, Santa Cruz. $35-$65. 476-5600
ROCK
CHASE THE MONSTER If you're familiar with the local rock or metal scene, then you probably already know Chase the Monster. For the past four years they have been serving up their special blend of psychedelic-blues, stoner-metal throughout the Bay and state. Their shows are a unifying force between punks, metalheads, blues rockers and stoners alike, all headbanging with their horns held high. For those unfortunates who haven't seen them live yet, Chase the Monster's singer, Nel Barrow, may already look familiar, as you've probably seen the Cruz Kitchen & Taps mural on Pacific Avenue that–unofficially–happens to have a very striking resemblance. MW
INFO: 9pm, Blue Lagoon, 923 Pacific Ave., Santa Cruz. $10. 423-7117.
FRIDAY/SATURDAY
ROCK
JERRY'S MIDDLE FINGER Garrett Deloian and Rodney Newman met in 1993 and bonded over a mutual passion for The Grateful Dead. It was this love for all things GD that kept the two in touch over the years. About 8 years ago, they decided to form a band in LA. But rather than pay tribute to The Dead, they honored the great one himself—Jerry Garcia. While LA is not known for a robust Dead tribute scene (unlike say, Santa Cruz), their band, Jerry's Middle Finger found a large audience. And they've been able to traverse the west coast and play for packed houses of Dead fanatics. Hell, they're playing two nights at Felton! Will they play all their personal favorite Garica songs or recreate a specific Jerry Garcia show. All signs point to maybe. AARON CARNES
INFO: 8pm, Felton Music Hall, 6275 Hwy 9, Felton. $20. 704-7113.
SATURDAY
HIP-HOP
JUNGLE BROTHERS As The New York Times and other major publications celebrate the 50th anniversary of hip-hop this month, Moe's Alley brings some of the genre's greatest innovators to town. The legendary trio Jungle Brothers pioneered the fusion of jazz, hip-hop and house music in the 1980s with optimistic, Afrocentric lyrics. Their 1988 debut album Straight out the Jungle influenced a broad array of artists from De La Soul to A Tribe Called Quest. Soon these groups would form the New York City collective Native Tongues, which championed a jazzy sound and politically conscious themes that shaped a generation. AM
INFO: 9pm, Moe's Alley, 1535 Commercial Way, Santa Cruz. $25+. 479-1854.
FUNDRAISER
PAJARO VALLEY FLOOD RELIEF The Pajaro Valley suffered devastating floods this past winter. As the community continues its long recovery, Cabrillo College, Arte Del Corazon and other local charities have come together to co-sponsor a fundraiser celebrating all that makes the region shine. In addition to beer tasting, there will be live music, poetry and Ballet Folklorico dancing. Several local artists will also be present selling their artwork to support the cause. While a donation of $10-$20 is suggested, the organizers emphasize that after this difficult time, no one will be turned away for lack of funds. AM
INFO: 12pm, The Slough Brewing Collective, 65 Hangar Way, Ste D, Watsonville. $10-$20 Suggested Donation. 477-3338.
SUNDAY
METAL
YEAR OF THE COBRA The first time I saw Year of the Cobra was way back in the Before Times of 2015 at the Blue Lagoon. They were amazing. I was even more blown away when I learned the band–consisting of Amy Tung and Johannes–had only formed earlier that year. Eight years later, Year Of The Cobra has rightfully earned their way into the hearts and minds of metal fans and critics. Their latest album, 2019's Ash and Dust, is a perfect example of what makes their live performance so good: Tung's hauntingly sweet vocals floating above misty ground of grimey guitar riffs and crushing drum beats delivering a sense of impending doom that draws you in like siren's song. MW
INFO: 8pm, Catalyst Club, 1011 Pacific Ave., Santa Cruz. $12adv/$15door. 713-5492.
MONDAY
POP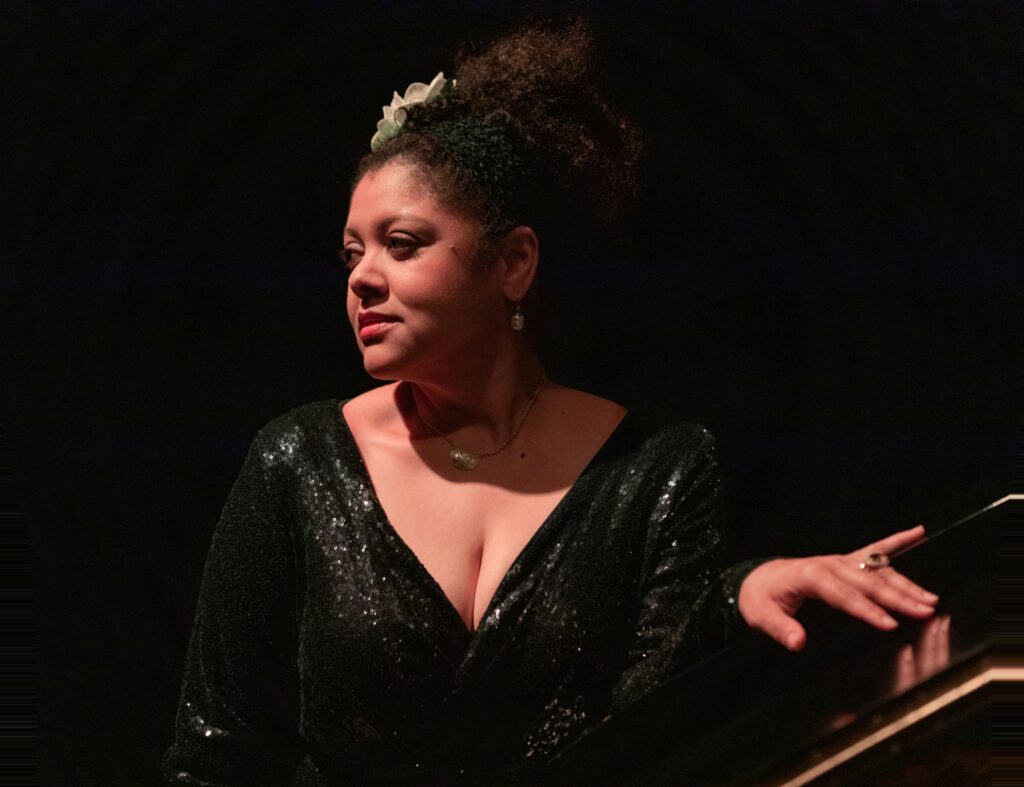 KIM NALLEY: MUSIC OF BURT BACHARACH Burt Bacharach was a prolific songwriter, whose tunes were unbelievably catchy. Yet, his approach was such that music snobs could appreciate his skill. He blended chamber pop, jazz and lounge, often using odd time signatures and chord choices. Some of his classic tunes include "I Say A Little Prayer," "(There's) Always Something There To Remind Me," "Walk On By" and a million others. San Francisco based jazz/blues vocalist Kim Nalley comes to Kuumbwa to pay tribute to the music of Bacharach. She's joined by pianist Tammy Hall, bassist Michael Zisman, drummer Kent Bryson and backing vocalists Brown, Sturgis & Brown. AC INFO: 7pm, Kuumbwa Jazz Center, 320-2 Cedar St., Santa Cruz. $36.75/adv, $42/door. 427-2227.