EDITOR'S NOTE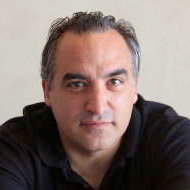 When we first discussed this week's cover story, we didn't know it would be a cover story. Though George Saunders is a renowned literary figure, our fall story schedule is always packed, and in the run-up to an election it's even harder than normal to be flexible with the editorial calendar—you can't move an election story to Nov. 9, after all.
Then when Adam Joseph reached out to Saunders' reps, they said he only does interviews via email, and that he would need a month to reply. A month? Considering that we're constantly asking sources to get back to us in a couple of days, or even a couple of hours, it was a stipulation that seemed to be beamed in from another world. Sure, this guy had a new book coming out, but could he really be that busy?
So Adam sent his questions, and waited. It didn't take a month for Saunders to reply—in fact, it was only four hours! I was obviously curious to see the answers, and I had the same reaction Adam did when he first read them: "Ahhh, this is why this guy writes his answers out, and why he makes a point to ensure that he has all the time he needs to reply." As Adam notes in his story, Saunders' responses are crafted with the same wit, insight and attention to detail that he brings to literary endeavors. In the end, we had to find a place for it on the cover this week, even though the event isn't until Nov. 1 (at the Veterans Memorial Building in Santa Cruz; see the story for details). Is it the best Q&A we've ever run? You decide.
STEVE PALOPOLI | EDITOR-IN-CHIEF
---
PHOTO CONTEST WINNER
Submit to [email protected]. Include information (location, etc.) and your name. Photos may be cropped. Preferably, photos should be 4 inches by 4 inches and minimum 250dpi.

---
GOOD IDEA
BRING MARY HOME
Longtime Santa Cruz folk musician Mary McCaslin had not lived in Santa Cruz for several years. But when she passed away on Sunday night, her last wish was to return here to be buried. Now her husband Greg Arrufat and friend Ginny Mitchell are raising funds to make that happen through a GoFundMe. Donate at gofund.me/d0ee2a02.
---
GOOD WORK
SWING BY FOR THE FENCES
Big Basin is on the mend, thanks in part to the creativity of volunteers and State Parks staff. The 2020 CZU Fire burned nearly every structure in the Big Basin, but now hundreds of feet of split rail fence are among the first reconstruction in the park. Crafted by hand by State Parks staff and volunteers, the rails are made from redwood trees that were so fire-damaged they had to be felled. See the new fences yourself by reserving a day-use pass for the park at: thatsmypark.org.
---
QUOTE OF THE WEEK
"A short story is the ultimate close-up magic trick—a couple of thousand words to take you around the universe or break your heart."

– Neil Gaiman