Will Norman stands in front of his home on Drew Lane. He wears knee-high waders, standing in floodwaters inundating his neighborhood since January when the Corralitos Creek spilled over.
It's only gotten worse from there. The March 11 storm caused a 100-foot section of the Pajaro River levee to break away, sending water roaring into the town of Pajaro and nearby residential areas and ag fields.
Officials have told him that someone will soon pump the water into Corralitos Creek, but it is anyone's guess when that will happen. The wheels of government, he muses, grind slowly.
"The water is just sitting," Norman says. "There's nowhere for it to go."
He points up the road, where the water is deeper, and asphalt is partially submerged in a sinkhole. Further up, homes show evidence that water reached as high as six feet.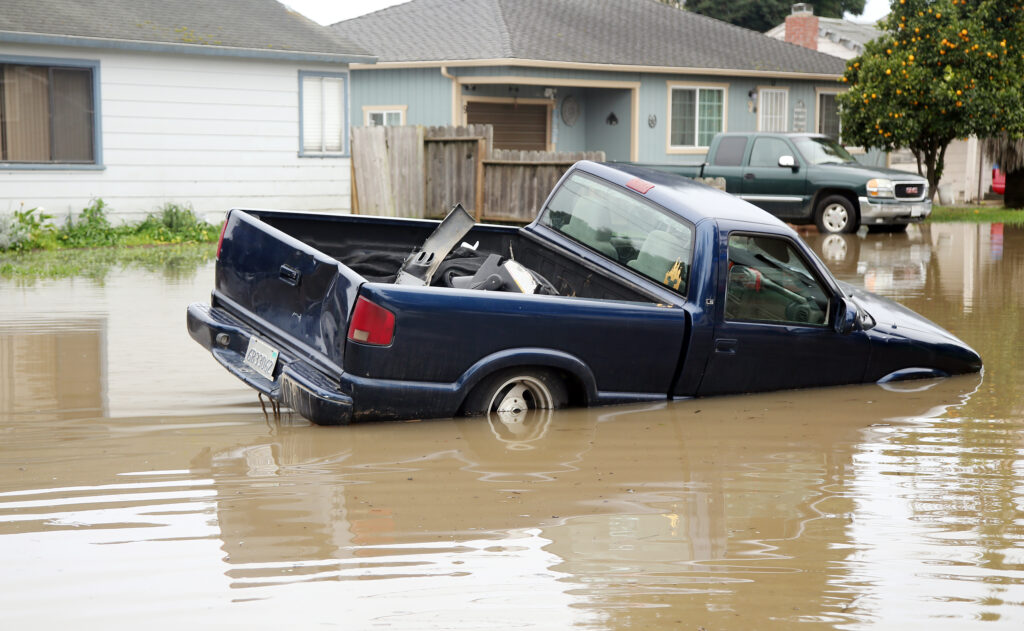 More than 70 sandbags he placed around his home failed to keep water and mud out of his garage, so he built plywood platforms in his backyard to hold the belongings he managed to salvage.
With mud and water filling the crawlspace under his house, it's unclear how much damage has occurred.
Norman is among thousands of people in South Santa Cruz and North Monterey counties whose lives have been upended by the storms and subsequent floods.
Maria Cacho has been sleeping on the Pajaro Bridge with her two sons, 7 and 9. She was among the hundreds initially evacuated when the levee broke. Cacho was among about 50 who gathered on the Pajaro Bridge on Monday, waiting for answers: Were their homes flooded? When will they be able to check on their homes? But little news was offered.
"They're not saying anything," Cacho says, pointing to the Monterey County Sheriff's deputies guarding the blocked Pajaro Bridge. "Nothing."
Alexis Aguilar only had time to grab two sets of clothes and some important paperwork when Monterey County Sheriff's deputies ordered him to evacuate from his Johnson Street residence around Midnight on Friday.
Like Cacho, Aguilar says he has received little information about when he can return.
"We need answers," Aguilar says. "Where am I going to stay?"
Jonathan Gonzalez was one of a few allowed to return to the evacuated town, where he retrieved one cat, a bird, a guinea pig and two exuberant huskies.
Nearby, two Monterey County SPCA officers fill their trucks with many rescued animals, including an anxious rooster crowing loudly from a cardboard carrier.
"We've rescued a little bit of everything," Investigative Supervisor Jacob Duarte says.
In December, Pajaro resident Hannah Northrop says she and her boyfriend moved to Pajaro from the Santa Cruz Mountains. She had already seen a community burn in the CZU fires, which forced hundreds to evacuate. Northrop felt like it was the same experience all over again; officials came by her house around 1am to tell her to pack up and leave.
"It's the second time we've been under mandatory evacuation," she says.
When she looked outside, she saw water surrounding her house, but it hadn't gotten inside. She had power and running water at the time.
"It's a little frightening," Northrop says. "I just don't remember going through anything like this before. Right now, we're just trying to get a plan together."
Today's rainstorm isn't expected to be as torrential as initially predicted, but it won't help. Or make it any easier for the many displaced residents to return home.
Pajaro residents are still advised to refrain from drinking or using tap water for cooking.
Potable water is available at the Pajaro Valley Golf Course, 967 Salinas Road in Royal Oaks.
Please direct donations specifically to the Pajaro area by noting "Pajaro" in the comment field of the donation pages: cfmco.org/stormrelief or cfscc.org/disaster.