Flippy 2 robots—tagline: "Flipping awesome"—are now in place at 100 White Castle burger joints, and more are on order for hamburger houses around the world.
"The Future Burger" from Future Farms promises to "work better for you and better for the planet" with a pea protein- and soy-based patty and a little beet powder for color.
Chat GPT artificial intelligence, when asked to craft a poem about the future of hamburgers, responded (in part) with this:
In the future, burgers will evolve
As our tastes and technology resolve
To create new flavors and textures bold
That will delight both young and old
It's a lot to take in. But the underlying point is this: The future of burgers is exhilarating, daunting and delicious at the same time.

In honor of Burger Week, Good Times resolved to dive—tastebuds first—into that future.
Behold The Belushi.
It's a half-pound burger stuffed with bacon, blue cheese crumbles, aged Irish cheddar and American cheese that's all beer-battered and—deep fried.
Truth be told, eating this burger often is a great way to limit any sort of future—the menu reads, "Not approved by the AHA—wish you the best"—but for the duration of the meal, it resembles magic. (Full disclosure: A half Belushi proves plenty for this burger lover.)
The Belushi occupies a prime place on arguably the most ambitious burger menu in the Santa Cruz area at The Parish Publick House, which has locations in Aptos and on the Westside.
Joining it are belly bombs like the jalapeño-and-cream-cheese-stuffed Filthy Freddy, bacon-loaded Penitent Pi, and The Huckleberry with more bacon, sautéed mushrooms, Swiss cheese and horseradish mayo on grilled sourdough.
Parish lists 10 burgers, all told. Despite that robust range of options, the team there loves to break out new inventions for Burger Week, which runs Feb. 22-28.
For 2023's edition, they're doing a French dip-inspired burger layered with onion slow-sauteed in Jameson whisky, melty gruyere cheese and unlimited au jus "gravy"; a kimchi burger with spicy marinated cabbage and Korean barbecue sauce; and a special burger alternative just in case (fried chicken with brown butter and syrup on a waffle bun).
Co-owner/operator Erik Granath loves how Burger Week inspires his team to venture into new territory, with many items returning later in the year as specials, and how it pushes Parish to scale preparations for the masses who materialize for the informal caloric holiday.
"Year one, we learned a lot of lessons about what we can accomplish," he says. "It's always a blast, always a ride."
As far as the future—beyond the importance of staying creative with recipes—he defers to his food point man, kitchen manager Zac Bates.
"The future is vegetal, animal substitutes, plant-based," Bates says, "Moving towards more healthy and sustainable lifestyles."
So, less Belushi, more beet juice?
Bates laughs and replies, "Indeed, yes."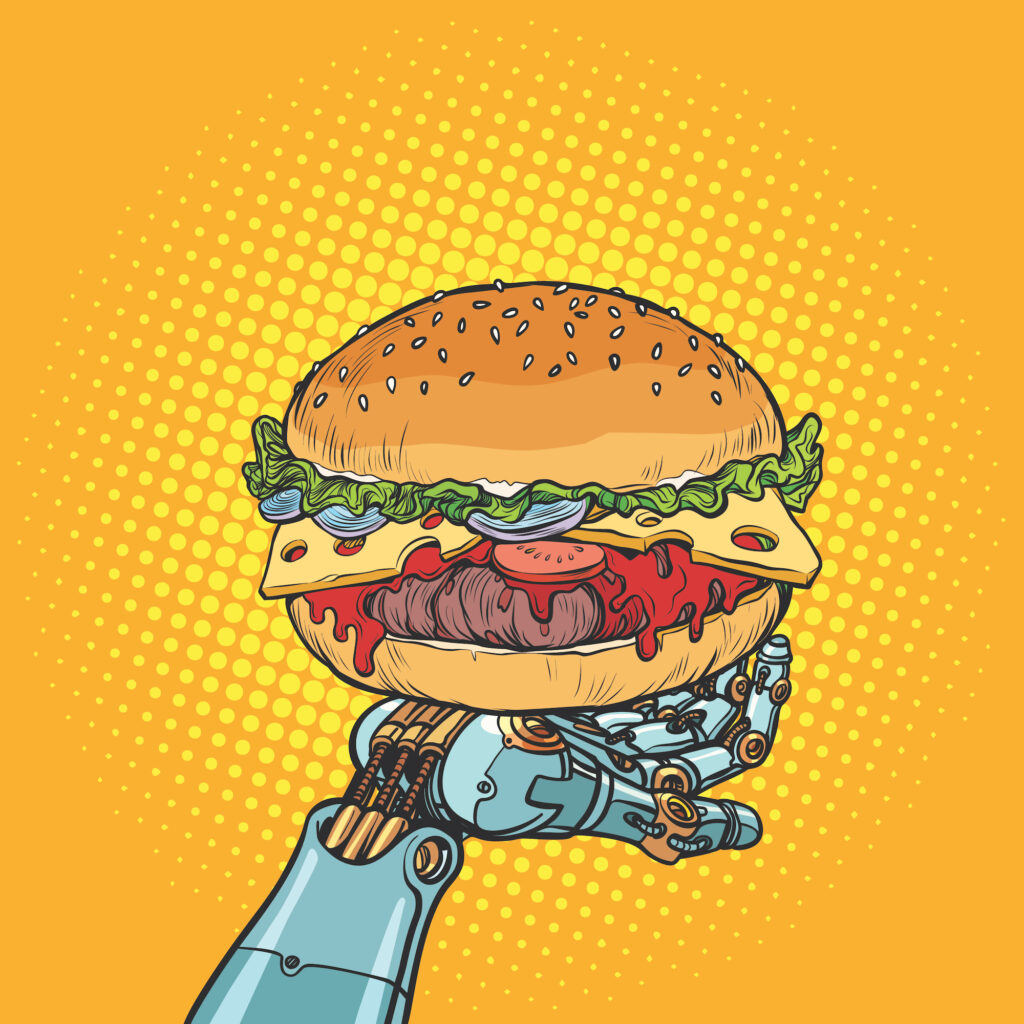 Surf City Sandwiches founder and co-owner Paul Figliomeni, a classically trained chef, is of two minds when talk turns toward the future.
On the one hand—and a balanced diet can mean a burger in each hand—he believes the future lies in solid fundamentals rather than bells and whistles.
That's reflected in his Burger Week headliner, a sturdy Angus patty seasoned lightly with salt and pepper, cooked in its own fat, with a choice of cheese (I went with ghost pepper jack), lettuce, kosher pickles and mayo.
Nothing complicated; everything high quality.
"This one speaks for itself," he says.
He does have a fondness for more daring burgers like his past Burger Week star, the Spicy Muchacho with chorizo, ghost pepper jack, tomato, chipotle mayo, avocado and crispy fried tortilla strips. Still, he believes the best thing coming to the world of burgers lies elsewhere.
"The future is blends," he says. "The sky's the limit."
He's currently workshopping a burger that combines Duroc pork belly with Angus brisket and Angus chuck, served patty-melt-style with melted Swiss, sharp cheddar, caramelized onions and Sriracha honey aioli on marble rye.
"I do a lot of research and development," he says. "That blend has a ton of flavor but also cooks nicely because of the fat content."
One fun futuristic side note: While Santa Cruz represents SCS's original flagship location, its newest outpost will feature a tiki bar and nestle into a 37-acre land-locked surf park marvel in Mesa, Arizona, featuring a traveling wave, stationary rapid wave and experiential dining. Cowabunga.
Seabright Social subscribes to a similar simplicity theory—and brings the ghost pepper into play too: Its Burger Week feature act, the Brisket Burger, layers on house-smoked brisket, seriously spicy cheese, arugula and pickled onion.
SbS co-owner Keiki McKay is happy people have calmed down on the over-the-top toppings.
"Everybody was trying to make burgers cool and unique with things like foie gras or gold leaf," she says. "Now I think it's more classics with fresh ingredients and small creative tweaks. I could be wrong, but it works for me."
The key for Back Nine Chef Ben Kralj is also straightforward: Get your grind on.
That's the differentiator for his Outlaw Burger with a whiskey glaze, pepper jack, applewood smoked bacon and an onion ring on soft ciabatta.
"The secret is we grind our burgers in-house," he says. "That's why they taste so good."
Few spots do that—let alone char-broil it, so patty drips ignite and further flavor the meat—because grinding is time-consuming, expensive and easy to outsource. However, that frequently comes with flavor-compromising preservatives.
Also uncommon: the type of intuitive marinade Chef Dameon Deworken applies to his Cruz Burger at Cruz Kitchen & Taps. 
He mixes garlic, ginger, soy sauce, fish sauce and a secret blend of spices into his patties, which play nicely with American cheese, jalapeños, homemade pickles, cilantro and lettuce on brioche buns (bacon and avocado optional).
His flavor insight also appears in his house veggie patty, which he worked at length to perfect. Deworken ultimately settled on a balance of beets, shiitake mushrooms, lentils, ginger and—surprisingly—peanut butter, treated with a similar marinade, minus the fish sauce.
His restaurant partner Mia Thorn sees his type of resourcefulness as part of a more significant pattern beyond the rise of plant-based burgers, which—per several studies—is part of a steady and increasing global desire for more alternative "meats."
"I feel like the future of burgers isn't necessarily in the average American 'box,'" she says. "Like our burger, it will feature other flavors and different profiles you don't [currently] see around town."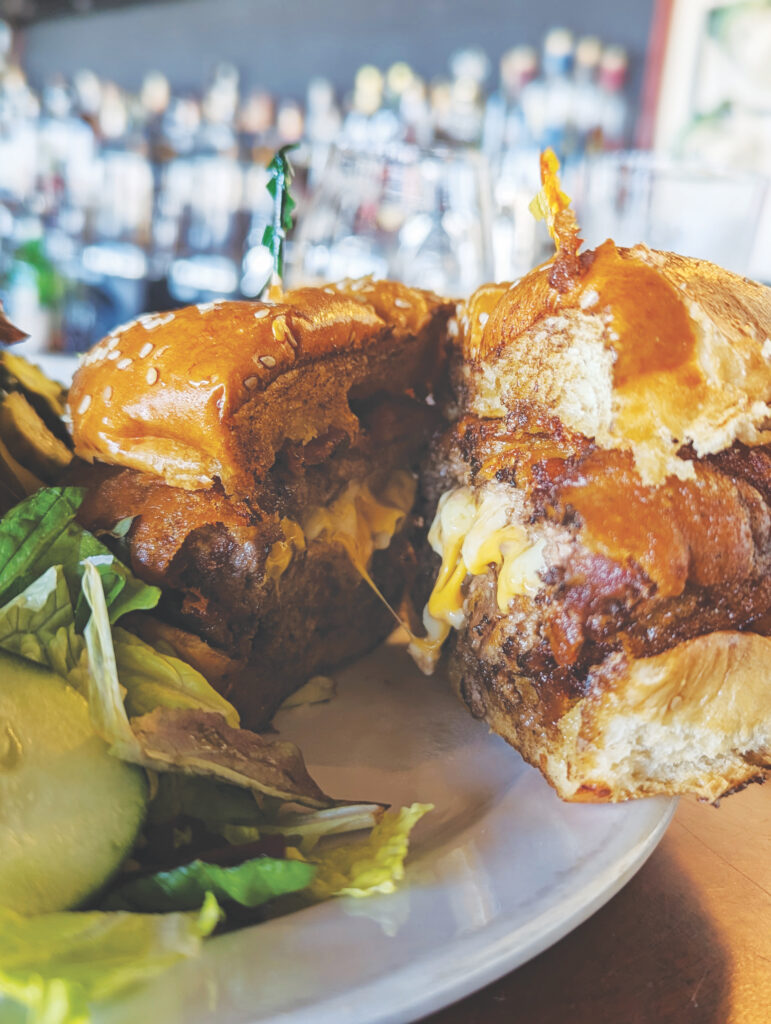 At Surf City Billiards Bar & Cafe—an under-the-radar foodie oasis—Chef Tawni Lucero keeps with that theme, drawing inspiration from a distant corner of South America.
Her lead special for Burger Week is the Oh So Messi, a nod to two Argentinian legends, World Cup champ Lionel Messi and open-fire chef Francis Mallman, whose private Patagonian island is called La Soplada (in English, "blown away").
On a foundation of flame-broiled ground chuck Braveheart Black Angus beef, she's adding two more traditional Argentine legends: from-scratch chimichurri and provoleta, a piece of salty provolone that's spiced, dusted and fried.
Not that the expansive flavors stop there. Lucero is also prepping 1) a patty melt with smoked gouda, onion jam and sautéed shiitake mushrooms sizzled to order with Sriracha aioli on the outside (rather than butter or mayo) to give it a crispy, spicy, orange-tinged effect; and 2) a grilled teriyaki portobello with pepper jack and a pineapple-and-habanero chutney.
The cross-continental sweep of her flavors reflects her view of the burger's arc going ahead.
"My idea of what's coming is global," she says. "I see more fusion and unifying flavors."
While she calls her vision "a utopian ideal" of what burgers can be, SCBBC owner Zac Crandell is less optimistic, messaging her that "They're going extinct" and "The future of burgers is nonexistent."
Versions of that response surface several times on this odyssey. Paul Cocking, owner of Gabriella Cafe—which happens to make a grass-fed doozie of a Burger Week entry on a homemade bun—lowers the boom without blinking.
"The future of burgers doesn't look good because beef is ruining the planet," he says with a hint of carnivorous sarcasm. "So, we're enjoying it while we can."
Laurie Negro, the owner of the popular Santa Cruz boutique chain Betty Burgers, takes on that challenge in two ways.
One, she sources antibiotic-free, hormone-free and pasture-raised beef from family-owned Painted Hill Natural Beef because she values how they treat the planet and its animals.
Two, she offers every one of her burgers—including best sellers Point Grinder and Texas Two-Step—with a Beyond Meat patty swapped in.
"Burgers do have a future," she says. "It's plant-based, as people become more health conscious and environmentally aware."
For Burger Week at her four locations, she's introducing a Bahn Mi Burger, a Reuben Burger and a Cha Cha Cha Burger with roasted onions, sautéed red bell peppers and jalapeños, pepper jack and special house green onion "lube."
"Everybody has sauce," she adds. "Not a lot of people have lube."
At Betty and across Santa Cruz, the diversity of burger options points to a primary takeaway from Good Times' plunge into #thebraveburgerfuture: There are a prodigious number of spots putting real thought and care into their craft.
So, while the future of burgers will head in less-than-predictable directions, for one week in February, it will find a reliably delectable destination in Santa Cruz.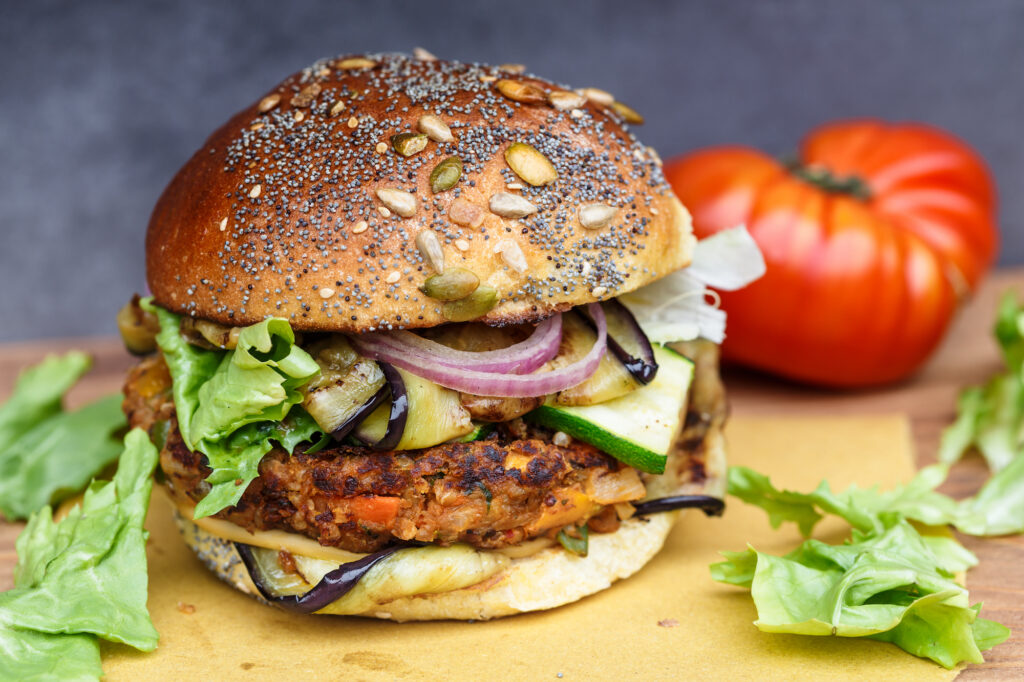 BURGER WEEK PARTICIPANTS
Some might consider Burger Week the fitting counterpoint to Good Times' recent Health & Fitness Issue, but in many ways, this is a fitness issue too, as in, we're gonna fitness all these burgers into our mouths.
Each participating restaurant across Aptos, Capitola, Felton, Santa Cruz, Scotts Valley and Soquel will present a burger for $10, $12 or $15, and at least one will do a special burger at each price point. The options abound. You might say trying out a modest fraction of them is a healthy challenge.
Back Nine Grill & Bar
555 Hwy 17, Santa Cruz, 831-226-2350; backninegrill.com
Belly Goat Burgers
725 Front St., Santa Cruz, 831-225-0355; bellygoatburgers.com
Betty Burgers
1222 Pacific Ave., Santa Cruz, 600-7056; 1000 41st Ave., Santa Cruz, 423-8190; 505 Seabright Ave., Santa Cruz, 423-8190; 415 Trout Gulch Road, Aptos, 831-612-6668; bettyburgers.com
Bruno's Bar and Grill
230 Mount Hermon Road, Scotts Valley. 831-438-2227; brunosbarandgrill.com
Crow's Nest
2218 E. Cliff Drive, Santa Cruz. 831-476-4560; crowsnest-santacruz.com
Cruz Kitchen & Taps
145 Laurel St., Santa Cruz. 831-713-5173; cruzkitchenandtaps.com
Felton Music Hall
6275 Hwy 9, Felton. 8312-704-7113; feltonmusichall.com
Gabriella Café
910 Cedar St., Santa Cruz. 831-457-1677; gabriellacafe.com
Gilda's
37 Municipal Wharf, Santa Cruz. 831-423-2010; gildas-restaurant.com
Heavenly Roadside Café
1210 Mt. Hermon Road, Scotts Valley. 831-335-7311; heavenlyroadsidecafe.com
Hula's Island Grill
221 Cathcart St., Santa Cruz. 831-426-4852; hulastiki.com
Mad Yolks
1411 Pacific Ave., Santa Cruz. madyolks.com
Makai Island Kitchen & Groggery
49A Municipal Wharf, Santa Cruz. 831-466-9766; makaisantacruz.com
Malone's Grille
4402 Scotts Valley Drive, Scotts Valley. 831-438-2244; malonesgrille.com
Mozaic
110 Church St., Santa Cruz. 831-454-8663; mozaicsantacruz.com
Paradise Beach Grille
215 Esplanade, Capitola. 831-476-4900; paradisebeachgrille.com
Paradox
611 Ocean St., Santa Cruz. 831-425-7100; hotelparadox.com/santa-cruz-restaurants
The Parish Publick House
841 Almar Ave., Santa Cruz, 831-421-0507; 8017 Soquel Drive, Aptos, 831-708-2036; theparishpublick.com
The Point
3326 Portola Drive, Santa Cruz. 831-476-2733; thepointkitchenandbar.com
Pono Hawaiian Kitchen & Tap
3744 Capitola Road, Capitola. 831-476-7458; ponokitchenandtap.com
Riva Fish House
31 Municipal Wharf, Santa Cruz. 831-429-1223; rivafishhouse.com
Robbie's Sandwiches
3555 Clares St., Ste. TT, Capitola. 831-515-7411; robbies-sandwiches.business.site
Rosie McCann's
1220 Pacific Ave., Santa Cruz. 831-426-9930; rosiemccanns.com/santacruz
Roux Dat Cajun Creole
3555 Clares St., Ste. G, Capitola. 831 295-6372; rouxdatcajuncreole.com
Santa Cruz Diner
909 Ocean St., Santa Cruz. 831-426-7151; santacruzdiner.com
Seabright Social
519 Seabright Ave., Santa Cruz. 831-426-2739; seabrightsocial.com
Sevy's Bar + Kitchen
7500 Old Dominion Ct., Aptos. 831-688-8987; seacliffinn.com/sevys-bar-and-kitchen-aptos
Surf City Billiards
931 Pacific Ave., Santa Cruz. 831-423-7665; surf-city-billiards.business.site
Surf City Sandwich
4101 Soquel Drive, Soquel. 831-346-6952; surfcitysandwich.com
The View at Chaminade Resort
1 Chaminade Lane, Santa Cruz. 831-465-3449; chaminade.com/santa_cruz_restaurants
Vinocruz
4901 Soquel Drive, Soquel. 831-426-8466; vinocruz.com
Zachary's
819 Pacific Ave., Santa Cruz. 831-427-0646; zacharyssantacruz.com