World premieres, percussion superstars and a farewell to Ellen Primack
"Without music, life would be a mistake," said the German philosopher Friedrich Wilhelm Nietzsche more than a century ago.
And I agree.
Arguably the invisible tissue that connects us each to each, music magically weaves networks among musicians, composers and listeners.
Once interconnected, we remain that way. We always remember favorite songs, or the first time we sat in a darkened theater, swept away by the beauty and power of live orchestral music.
Nothing, certainly nothing on a digital screen, can compare with that enchantment, which is why August is my favorite month in Santa Cruz. For two weeks, thanks to the Cabrillo Festival of Contemporary Music, the town will be awash with brilliant music, much of it as new as tomorrow.

The appeal of the festival lies partly in its power base of outstanding musicians, many of whom return year after year to perform, rehearse and surprise each other.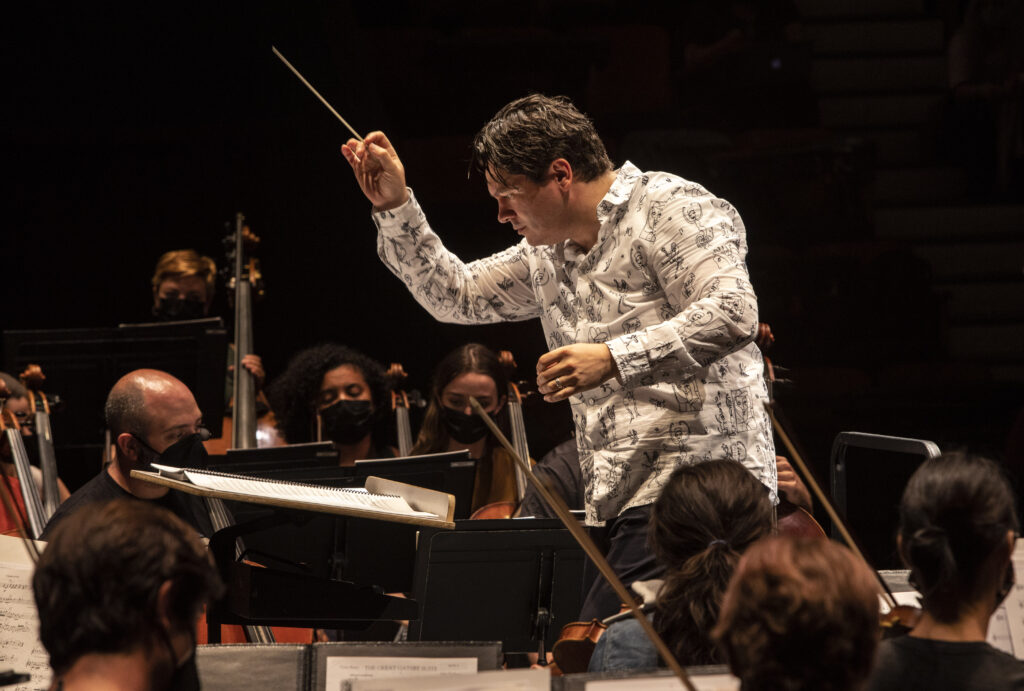 "The Cabrillo Festival is different than other festivals," Music Director Cristian Măcelaru told me. "Because the intensity with which we fulfill our unique mission informs the quality of the music we present. I believe that new music needs the same kind of attention as we give to masterpieces of the past."
And Maestro Măcelaru's attention draws from an international reservoir of colleagues and protegés able to finesse new compositions and breakthrough performances.
Among musicians, networking is a self-validating prophecy. For example, a renowned teacher mentors gifted pupils who in turn showcase works she creates for them at the Santa Cruz festival. Or an innovative emerging composer might come to the attention of the festival director at a workshop halfway around the world, and then, voila, arrives to bring that spark, that something new and extraordinary, to the Civic Auditorium. Thus are connections created and renewed.
For the next two weeks, from the free open rehearsals starting on July 30 through the resounding final evening on August 13, we will hear a potent stream of new music live in the Civic Auditorium.
Taking center stage this season is percussion: A galaxy of objects that can be hit, shaken, scraped and struck, some come with their own sonic voices—bass drums, maracas or cymbals. Others are tuned to the composer's desired pitch—such as timpani, vibraphone and xylophone.
Oscar-winning composer Tan Dun's percussion concerto, The Tears of Nature, will be performed on August 5 by virtuoso soloist Beibei Wang. During the festival's second week, acclaimed percussionist Colin Currie returns to Santa Cruz with an arsenal of drumming instruments that include pans, buckets and oven racks to perform Julie Wolfe's street-inspired concerto, riSE and fLY.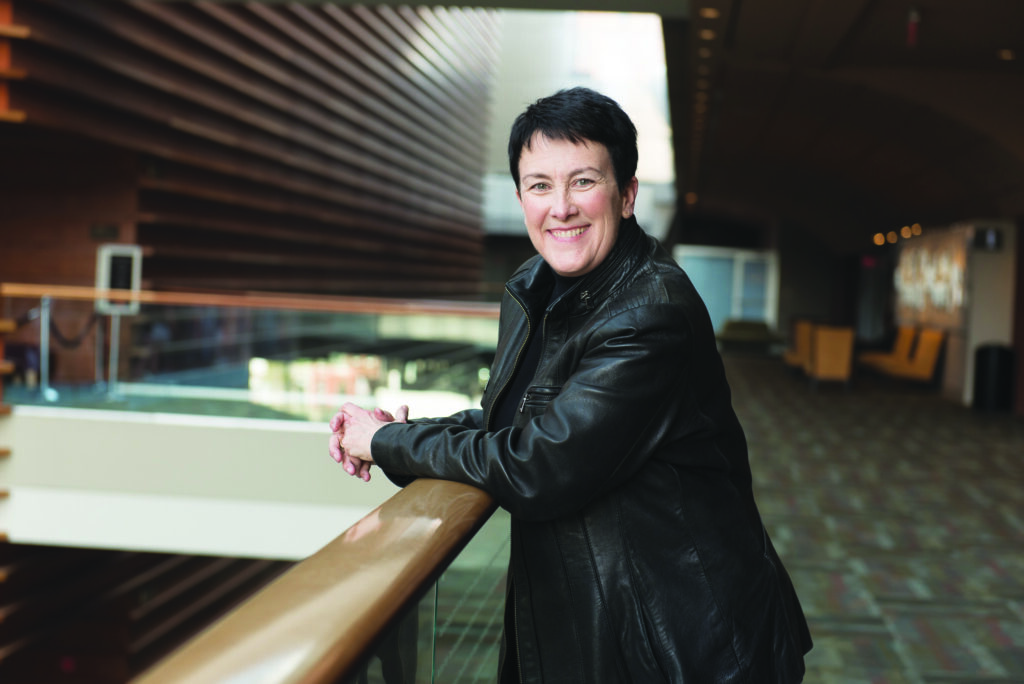 And just to make sure we're paying attention, Opening Night Friday August 4 spotlights master percussionists Svet Stoyanov and Matthew Strauss performing the West Coast premiere of Duo Duel, an electrifying double concerto by Pulitzer Prize-winning composer Jennifer Higdon.
Higdon, a prolific and in-demand artist, whose second opera—Women with Eyes Closed, debuts in Philadelphia, September 2024—will be in residence once again during this year's festival.
"I always have fun at Cabrillo," she told me, the warm backbeat of Tennessee in her voice. "I get to work with musicians I've worked with in other orchestras, and because the town itself is so much fun it's nice to catch up with some of them in a more relaxed atmosphere."
During the cloistering of the pandemic, Higdon says she "wrote and wrote," including the Duo Duel destined for Cabrillo. "I think the isolation we were all feeling in the early months created a certain introspection, a need to reach out. So I wrote a more melodic percussion concerto, using only pitched instruments. The piece moves between a marimba, vibraphone and six timpani—it's very energetic," she laughs.
Higdon believes that the rare double concerto will "give people a chance to see percussion virtuosity—it looks like a choreographed dance with the two players working together." The visual experience should be as exciting as the electrifying sound. And the composer admits that this dynamic tour de force contains "some of the fastest work ever written for percussion."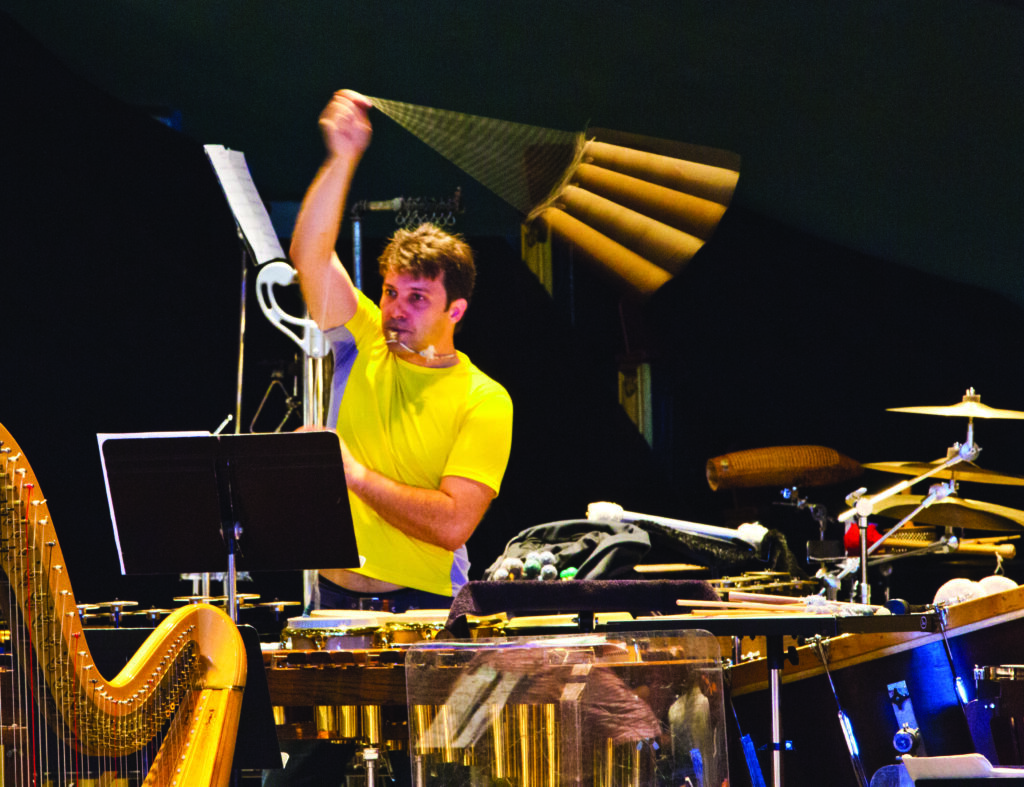 One of the virtuoso percussionists who'll perform Higdon's epic concerto, Duo Duel, is Bulgarian native Svet Stoyanov. "It transcends speed," explains the marimba specialist about Higdon's concerto. "It's much more about flow, and at that point, I believe craft turns into art."
Considered a marimba virtuoso, Stoyanov maintains that he really plays "a lot of instruments in the percussion family." And he also maintains that live performances of these instruments are especially fun for audiences. A world music aficionado, Stoyanov is adept with Bulgarian native instruments. "In fact, I'll have one with me at Cabrillo and may be able to demonstrate a bit."
Being a good musician, according to Stoyanov, requires a performer to become versatile with the language of more than one instrument. "I'm in love with universal possibilities of sound and textures—it's truly one of the most beautiful things about percussion, what makes it so very rich to the listeners as well."
Percussionists like to joke, he says, that they are "all closet rock drummers." But with the idea of a concerto for percussion, "people have no idea what to expect. That's both comical, and I think very exciting to the listener. If you go to a concert you're literally going on a journey. You know you're going to experience something you've never had before."
The great thing about working with Higdon, he admits, was that she "agreed to actually explore how the beautiful and melodic lines of a piano concerto could be applied to the art of percussion."
Stoyanov speaks for himself and his colleague Matthew Strauss when he says, "We love Jennifer Higdon. We love her music. And we're really grateful to Jennifer who loved the idea of creating an emotionally expressive percussion piece and embraced it so very wholeheartedly."
At the end of the day, Stoyanov believes that the piece he'll be performing is about "exploring how beauty can be applied to the idea of percussion." He is committed to a renaissance in percussion as an art form.
"You know, when people hear about the percussion concerto they're excited. They don't know exactly what to expect, but they know there's increasing depth in the musical potential for these instruments." And having a celebrated composer dedicated to creating a double percussion concerto, "changes not only the present," Stoyanov contends, "but the future of our art form as well."
The Cabrillo Festival 2023 season is by no means confined to percussion. In addition to a farewell commission to honor Ellen Primack, by Festival favorite Anna Clyne, Pulitzer-prize winning composer Kevin Puts has composed an Orchestral Concerto inspired by Amanda Gorman's Hymn for the Hurting. Composer-in-residence Dan Caputo opens the festival's Finale with a texturally complex piece, Liminal, which explores the feeling of that elusive realm between sleeping and waking. Originally scheduled for the 2020 season (canceled due to COVID), Caputo's creation of ambient layers came about from his lifelong interest in soundscapes and musical behavior across many genres.
Sound, space and atmospheric abstractions underpin his omnivore appetite in musical exploration, and Caputo cited Gyorgy Ligeti's avant-garde orchestral music and electronica—"the layering of all these sounds"—as one of his compositional points of origin. "I'd say I was sort of influenced by contemporary classical music, which I studied as a doctoral student, and then by the experimental electronic world, people like Kate Soper, and Daniel Lopatin of Oneohtrix Point Never. I listened to a lot of experimental work."
Liminal began, Caputo explains, with "treating the orchestra as one large body, using it to make and vary single gestures. Off-balance rhythms yet synchronized gestures," he describes the compositional strategy, as opposed to writing for individual instruments or sections and then putting them all together.
The score ended up requiring specialized score symbols inserted at the top of the pages of music, to help synchronize the communication between conductor and musicians. "I always try to pre-plan," says Caputo, a professor of music at University of Southern California. "But as the music gets created I let the ideas go where they want to go." The piece we'll hear at the opening of the festival's final concert is the last one composed by Caputo entirely for live orchestra. "It was my last non-electronic composition."
Caputo, like many musical artists, found himself stuck in quarantine during the pandemic, composing in solitude. Working electronically provided the solution, as he recorded himself playing, and re-recording, engaged deeply in sound experiments of shimmering layers and aural development, joining live instruments, such as clarinet or violin, with electronic accompaniment. Now working on large-scale EP-length works for streaming platforms such as Bandcamp and Spotify, Caputo looks forward to Santa Cruz. "I've never been to the Cabrillo festival, but of course I have lots of colleagues who have enjoyed performing here."
Bringing the festival to its conclusion on August 13 will be the World Premiere of Anna Clyne's Wild Geese, commissioned by the festival to honor longtime Executive Director Ellen Primack, who steps down from her role this season.Primack, 62, has employed her extraordinary tenacity and passionate belief in the power of performance to build the Cabrillo Festival for Contemporary Music's influence in the expanding world of new music. After 32 years as Executive Director, she will turn over the reins of the festival in October to H. Riley Nicholson, currently the Executive Director of the Symphony of Northwest Arkansas.
Primack characterizes the Festival's "two-fold personality" as both international and yet small. The depth of the orchestra, drawing participants from all over the country, as well as their willingness to stretch out of any known comfort zone, is, she smiles, "one of our strengths." As is access—"especially rehearsal access, which allows audiences to experience the entire living, breathing process."
Ellen Primack has characterized her work as "match making:" joining staff, musicians and donors in open-hearted, open-minded support for adventurous contemporary music. "One of Cristi's strengths," she reminds me, "is that he's committed to fostering programs that are relevant, and that has led to a diverse soundworld. At the festival you're going to like something," she grins. "And you'll probably fall in love with at least one offering."
Open rehearsals are a gateway drug, Primack likes to explain. "Inviting us to slow down and be inside live music. The festival is so much about the live experience. The audience itself has a role in the actual performance." She's convinced that even younger audiences realize that "live music is distinctive. The other thing about new music is the diversity of voices. And the young composers we bring to the festival speak their language."
Free family concerts help to bring in the next generation and those live exposures are the memories we build upon, that stay ever after in our lives, Primack believes. "We have a $20 youth ticket for patrons 30 years of age or younger, for any of the performances," she reminds me, with a gleam in her eye. "Early experiences help us feel comfortable with music, and our obligation is to tell the stories, to allow people to have a new vocabulary filled with energy and a sense of joy." And that energy has fueled Primack's enviable track record of finding support for the commissioning of more than 50 new pieces for the festival orchestra since 2006, including work by Philip Glass, John Adams, Mason Bates and Jennifer Higdon.
"The festival is thriving artistically, and this seemed like a good time for me to step down, to find more time for family and friends." While stepping down from her role with the Festival, Primack is nowhere near retiring. She'll help with the transition to a new Executive Director, as well as continue her arts consulting. "I'd like to rebuild the arts cohort in our community, sharing ideas, brainstorming. And building leadership." Leadership is something Ellen Primack knows about.
Don't miss the bounty of rehearsals and concerts at this year's Cabrillo Festival of Contemporary Music. The world will be listening! July 30-August 13, at the SC Civic Auditorium 307 Church Street. For tickets visit cabrillomusic.org or call 831.420-5260, x5