In 1968, the Beatles released a 30-song double album unlike any other record in their repertoire—and really, unlike any other rock album that came before it. The Beatles White Album is a template for creativity; the soundtrack for a movie that was never made and never will be made is driven by an unspoken concept: When it comes to art, there is no right or wrong, just infinite possibilities.
That unspoken concept that John, Paul, George and Ringo conjured to power the songs on the White Album inspired Santa Cruz musician/stringed instrument repairman/teacher Rick McKee to do something that not even the Beatles had done: perform the White Album live, in its entirety. McKee knew it would be challenging, especially since the Fab Four had in-studio assistance, a master producer, skilled engineers and pretty much everything they needed to create whatever sound or effect was required.
There really hadn't been any other band to attempt this feat. While the jam band Phish had famously performed the album during their 1994 Halloween show in Glens Falls, New York, it wasn't what McKee envisioned. As impressive as Phish's vision of the Beatles' masterpiece was, it was just that, an interpretation. The Vermont quartet took many liberties. Most notably, they doubled the speed of "Don't Pass Me By," and they sang the "I've got blisters on my fingers" conclusion to "Helter Skelter" in barbershop quartet harmony. Also, for the album bookend, "Good Night," Phish simply played the Beatles' studio recording over the PA.
McKee wanted the performance to be a note-for-note rendition of the record. Something that hadn't been done, to his knowledge, before. Luckily, most of his friends are musicians, so he didn't have trouble gathering a group of some of the Central Coast's most talented names.
THE BEGINNING
Dale Ockerman (keys, guitar, electric sitar, trumpet) was among the first people McKee enlisted. The Santa Cruz musician spent several years playing lead keyboardist, touring with Doobie Brothers and is a longtime music teacher. Richard Bryant (Paul McCartney vocals) and Ken Kraft (guitar and George Harrison vocals) were also brought on board.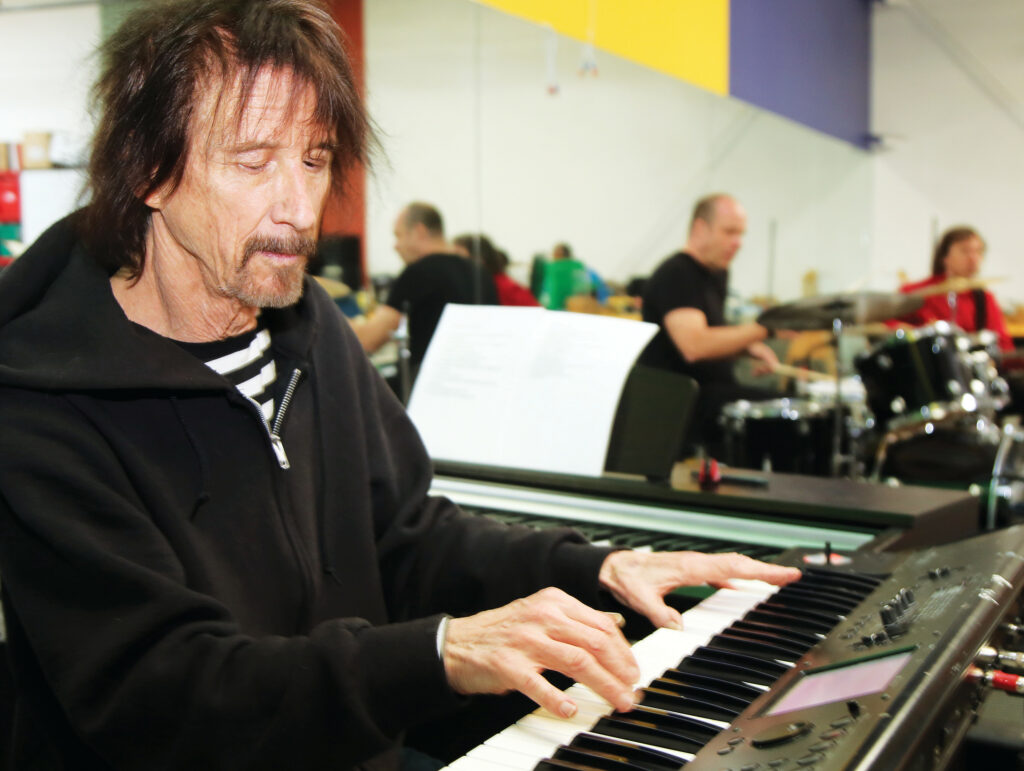 The White Album Ensemble was officially formed as an eight-piece band with one goal: to carry out McKee's vision. The group rehearsed two to three nights every week in the Aptos Hills for over five months. When they weren't rehearsing, they were researching, diving deep into the White Album, and they did it all without sheet music or tablatures. The WAE was booked to debut at the Rio Theatre in May 2003—for two nights.
"When Leonard Bernstein and the New York Philharmonic would do 'Rhapsody in Blue' by George Gershwin, it wasn't a tribute, and they didn't wear suits," Ockerman explains. "It was just some really good players who performed ['Rhapsody in Blue'] really well. And we wanted [the WAE] to be entertaining because it's great music, and people would appreciate it. That's what we were shooting for, as opposed to being like Beatlemania; we didn't want to go down that road."
Kraft adds, "Our idea was to recreate [The White Album] as it was, not just play the music but recreate it as closely as possible to the record itself. I've heard Phish's version, and it's not like that. We didn't know of anyone who had done the whole album live the way we did. So, we were bound and determined to do it. We got really inspired. We got a self-education going. This stuff is amazing and more intricate, soulful and fulfilling than I ever imagined. We'd never delved into it so deeply."
Ockerman reiterates how vital every single detail was—the handclaps in "Ob-La-Di, Ob-La-Da"; the harpsichord sound in "Piggies"; the faint toe-tapping and prerecorded birds chirping in "Blackbird"; the intermittent tambourine in "Glass Onion"; how Lennon's vocals reverberate in the second verse of "Yer Blues" that begins, "My mother was of the sky, my father was of the earth/ But I am of the universe, and you know what it's worth!"; and the oscillator used to create the guitar sound on "While My Guitar Gently Weeps."
"Happiness Is a Warm Gun" is considered the most challenging of all the tunes—Ockerman cites the various time signatures as the element that makes it such a beast. But the WAE nails it.
"We did every detail we could possibly do," Ockerman says. "That's why we started out with eight guys, not four, and two keyboard players to have organ and piano."
In addition, the stacked lineup features two guitar players, so one player can handle the rhythm duties while the other player focuses on the lead harmonies. Also, the singers can focus only on the vocals and not worry about playing guitar simultaneously. Ockerman explains that's how the Beatles did it, but since it was in the studio, they could just overdub all the parts. Making it happen live is exponentially more difficult because it was never intended to be played live—at least by the Beatles.
WHITE ALBUM ENSEMBLE MANIA
The first two performances at the Rio 20 years ago sold out.
"We could just tell how good it sounded and how much people enjoyed it," Ockerman says.
Ockerman, Bryant and Kraft—the three WAE constants—knew after those first two shows the project was bigger than they expected. It was more than just a straightforward concert, too.
"It was like a theater piece," Bryant says. "There was video involved; there was dance. It was a presentation that was almost like a multimedia thing. That's how it was initially done. We figured, well, we'll do this kind of like a play, and it just went on from there."
The WAE followed up the first two performances with four more sold-out shows at various venues throughout the Central Coast.
"It was more fulfilling than I ever could have imagined," Craft says. "We'd never delved into something so deeply. So, then we came up with the idea that we should put as much time and energy and thought and preparation into doing another album, but that wouldn't be long enough since the White Album is as long as two albums, so we decided to do two albums with an intermission."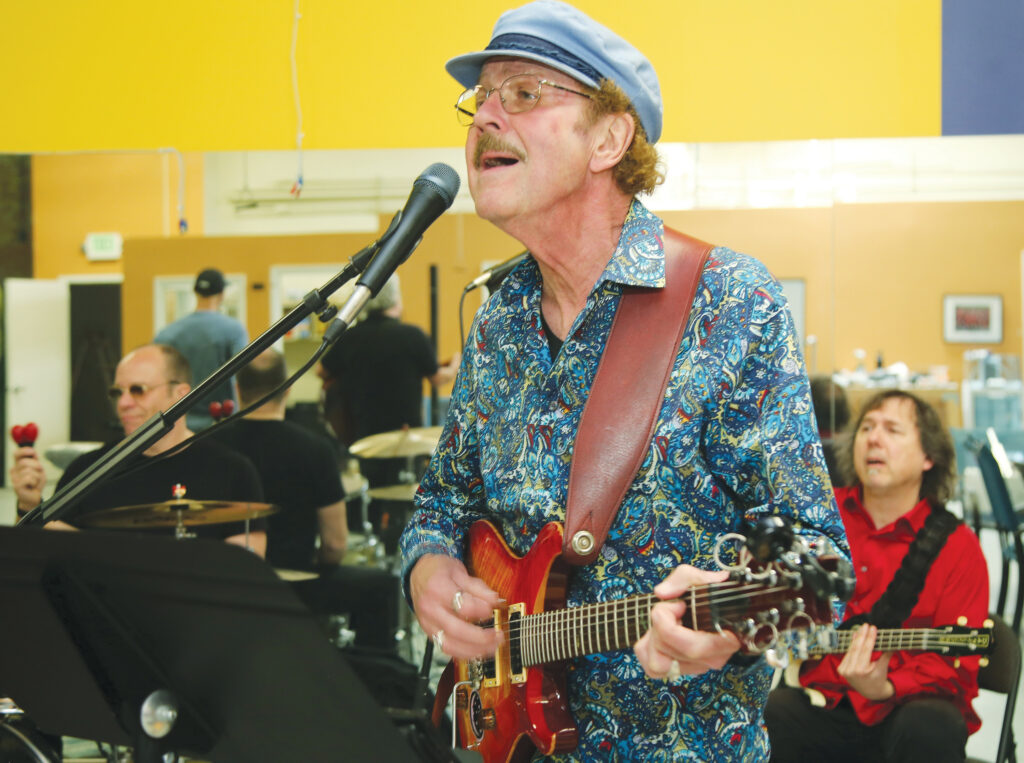 Bryant explains that the WAE decided to perform Beatles material from 1966 on after the band stopped touring. They began with "Rubber Revolver," which included a performance of Rubber Soul in its entirety, followed by Revolver. Then, "Let Abbey Road Be," featuring Abbey Road and Let It Be and the immensely popular show that included Sgt. Pepper's Lonely Hearts Club Band and Magical Mystery Tour.
"After we exhausted the albums, it started to ramp down a bit, and the only thing we could add was Across the Universe, the movie, which features rearrangements of Beatles songs with other people singing," Craft says.
WAE began featuring guest vocalists like James Durbin and Tammi Brown and collaborating with full orchestras, including the Monterey Symphony and the Santa Cruz Symphony, which raised money for the youth symphony. The charts were made by Barry Phillips, the ensemble's Grammy Award-winning local cellist/producer, who has played with Eric Clapton and Paul McCartney and produced late sitar master Ravi Shankar.
Ockerman says it's difficult to hear all the parts when rehearsing with 16 people, especially without multi-track recording, so in these situations, the WAE employed "sectionals" using keyboards. The strings would assemble independently and break down symphonic charts into string quartets. The horns would do the same, using charts to break down into manageable sections for trumpet, tenor sax, trombone, etc.
Ockerman likens the process to "preparing for a feast." You start with many ingredients, then check the recipe and clean and chop the vegetables.
"Then you start cooking," he says. "We do a full band and orchestra run-through on stage, soundcheck and make sure everyone can hear what they need [to hear]."
After all the rehearsing and prep, it's time to eat the feast or perform it live for an audience.
"The fun is getting up and playing for the audience, and looking at the smiling faces, the lips singing along with favorite songs," Ockerman says. "It's easy [at that point] but easy to tear up and forget the next note."
The WAE has become a beloved entity in the region. Every show they perform has sold out, and they've raised over $200,000 for nonprofits along the way. Everyone who has ever been involved with the group has standout moments. Craft recalls a stripped-down acoustic show WAE performed about 12 years ago at Kuumbwa Jazz.
"We were doing 'A Day in the Life,' and I noticed a father and son in the audience holding each other and weeping," he says. "It really affected me, so at the end of the night, I found the father and asked him what made him [so emotional]. He said he lost his wife recently, and it was their song. He thanked us. Then I thanked him."
AND IN THE END
On a Sunday, a little over a week before the WAE performs two shows at Santa Cruz's Rio Theatre, they are rehearsing in a space they've never played before, a place that used to be a dance studio.
After their two-decade run, which initially started as a challenge to perform the White Album live in 2003, the rotating collective of the area's most gifted musicians, none of whom would say they're in it for the money, are adept when it comes to adapting; these guys are experts at making any musical situation work. For this rehearsal, there's a shared feeling amongst the eight performers that their final shows must be otherworldly, especially since it will be the WAE's last two shows.
"Space and hearing are always a challenge with large ensembles," Ockerman notes. "High volume schmears things up. Coffee helps. Beer or doobage don't! These complex arrangements only work with listening, hearing and showing up."
WAE rehearsals have been refined many times over the last 20 years. They are now a pleasurable but serious musical run-through of every song, ensuring all the little quirks are addressed. These guys are musical archeologists like Alan Lomax.
They note everything: For example, some songs, like "Get Back," have many versions; the movie, the album and the single—all have different endings.
"Across the Universe" was initially televised on a BBC special, a live broadcast benefiting the World Wildlife Fund. The Beatles played with members of the London Symphony and a choir in one key.
The Let it Be album had a studio-enhanced version, a single with a lot of Yoko Ono and female vocals, and a Mellotron (an early, pre-synthesizer keyboard that featured a key that, when pressed, played back the tape of a symphony note.)
"You realize it's the sound of the feeling of a version that feels best," Ockerman explains. "It's arts played by heart."
These final concerts will feature Bryant, Drew Harrison, Kraft, Stephen Krilanovich, Ockerman, Trey Sabatelli, Endre Tarczy, with special guest appearances from former Lennon vocalist Alan Heit and Will McDougal on keys. There will be a horn section featuring Dan Young, Jim Hannibal, John Hensley and Steve Wilson and a string quartet featuring Priscilla Whitcomb, Renatta Bratt, Lydia Davis and Rebecca Dularte-Corbin.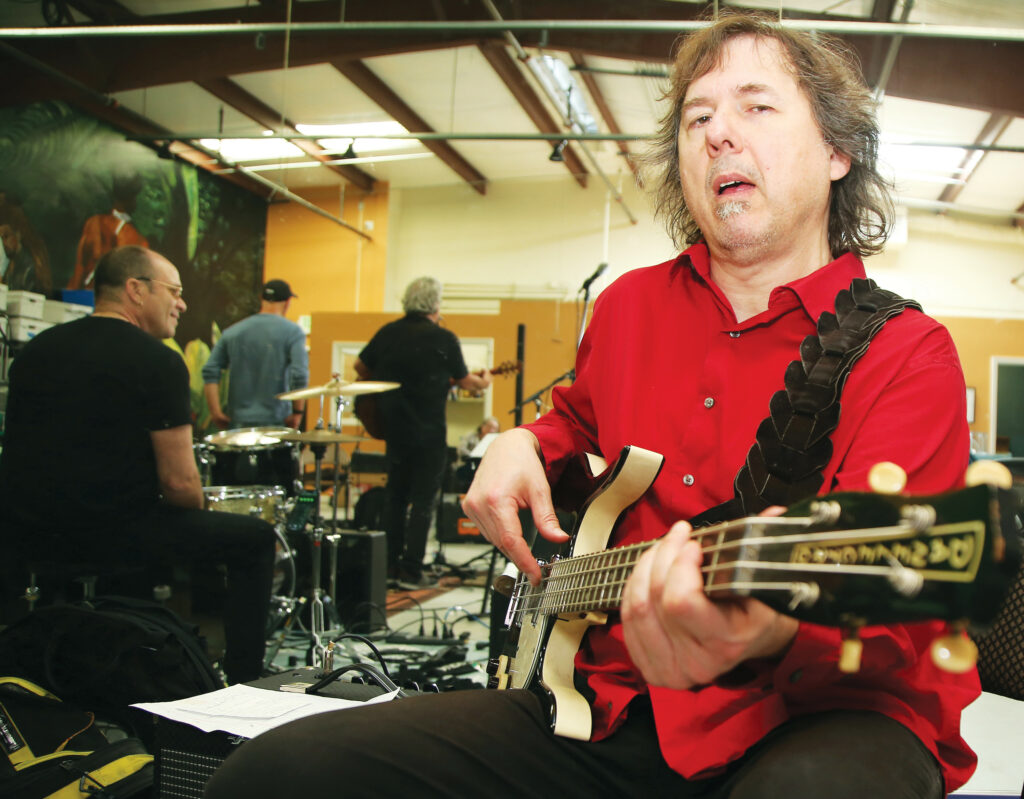 The same program is planned for Friday and Saturday night. The WAE will perform the album Let It Be, which was initially named Get Back—filmmaker Peter Jackson used Get Back as the name of his brilliant eight-hour documentary, a master class in creativity. The rooftop performance showcased in Get Back was the Beatles attempt at playing live for an audience, something they had not done since 1966 at San Francisco's Candlestick Park. Get Back is appropriate for the occasion. It marked the final time the Beatles ever performed together live.
The second set will be Abbey Road, the Beatles' final album—and for many, their favorite—a fitting musical statement.
"Those two hours that we get to play this music, we are all 15 years old again," Bryant says. "It stops time. It's really beautiful."
Many moments resonate with the WAE players. It's what's kept them going for 20 years. But Ockerman says it's important to know when to say goodbye—time to throw in the towel.
"It's been 20 years, and we've done it all," he says. "We've had a great run and want to go out with a bang."
The White Album Ensemble performs Friday, April 21, and Saturday, April 22, at 8pm at the Rio Theatre, 1205 Soquel Ave., Santa Cruz. $35-50. tix.com; tickets are also available at Streetlight Records, 939 Pacific Ave., Santa Cruz.