Week of September 6, 2023
WEDNESDAY
SOUL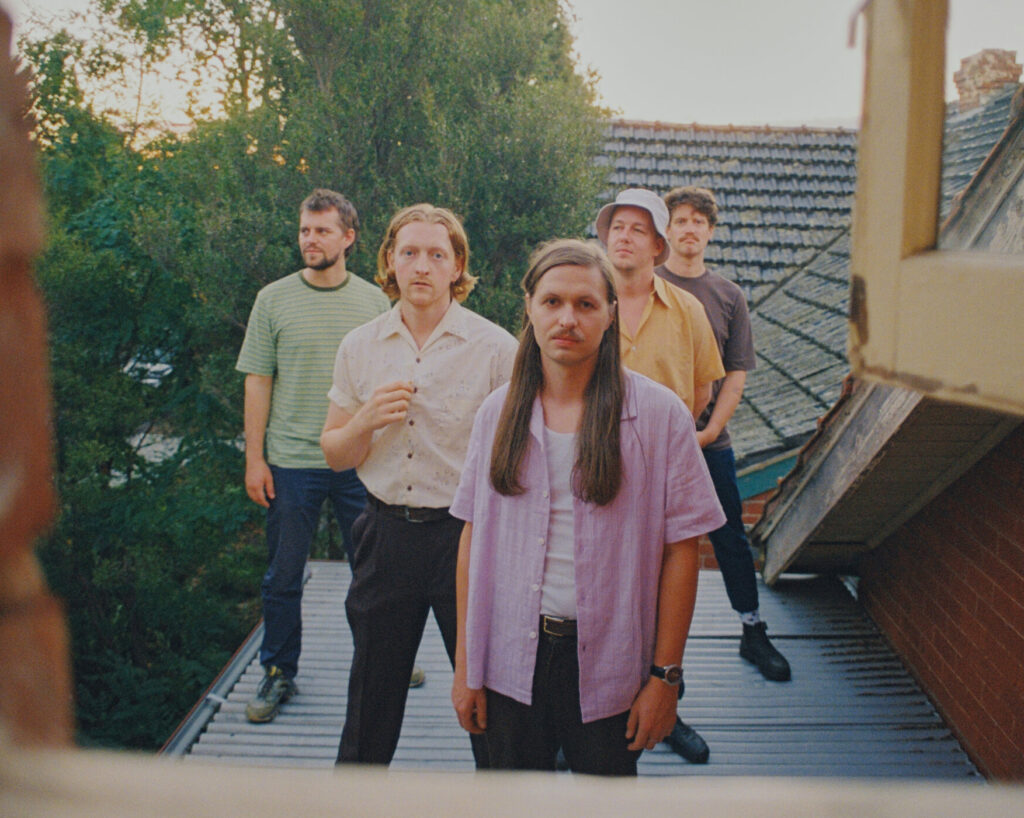 SURPRISE CHEF For my money, the 1970's were one of the best times for music because every genre was exploding with new sounds, especially soul. Jazzy rhythms, funky bass lines and interstellar exploratory melodies defined '70s soul music with artists like Curtis Mayfield, Isaac Hayes and Earth Wind & Fire. Australian five-piece R&B group, Surprise Chef conjures these artists, along with a little Stevie Wonder "Superstition" vibes and some Latin flavors, for their mood-invoking blend of motherfunkin' soul. This Melbourne act has been grooving since 2017 and have hit their golden stride with the last few releases over the past two or three years. MAT WEIR
INFO: 8pm, Felton Music Hall, 6275 Hwy 9, Felton. $17. 704-7113.
THURSDAY

PSYCH-ROCK
KING DREAM Oakland native's Jeremy Lyon is the man behind the psych-rock band King Dream. He celebrates the release of their latest album, Glory Daze, Vol. IV, this Thursday. King Dream delivers dive bar anthems with heart— think Bruce Springsteen-tinged lyrics with an experimental edge. Songs like "U + Me (Vs. the Human Race)" evoke the exuberance of youthful love, while also inviting the joyful chaos of an audience sing-along. JESSICA IRISH
INFO: 8pm, Moe's Alley, 1535 Commercial Way, Santa Cruz. $15/adv, $20/door. 831-479-1854.
FRIDAY
REGGAE
KABAKA PYRAMID With a name that combines the Ugandan word for "King" with reference to some of the most enduring man-made structures of all time, Kabaka Pyramid aspires to nothing short of longevity, revolution and love. The Jamaican artist blends the sunny tones of reggae with the socially conscious lyricism of hip-hop to create an innovative sound. In February of this year, he won his first Grammy for Best Reggae Album for his sophomore record, The Kalling. His well-deserved, Rastafarian victory lap comes to Santa Cruz this weekend, with shows on both Friday and Saturday night. ADDIE MAHMASSANI
INFO: 9pm, Moe's Alley, 1535 Commercial Way, Santa Cruz. $30/adv, $35/door. 479-1854.
SATURDAY
INDIE-FOLK
JULIE BYRNE Julie Byrne's phenomenal otherworldly folk record, The Greater Wings, comes six years after her previous LP. She began work on The Greater Wings, her third record, almost immediately after Not Even Happiness, but partway through the recording, her longtime producer/collaborator/close friend Eric Littmann unexpectedly passed away. Though much of the record was written prior to Littmann's passing, The Greater Wings feels like a meditation on his passing. And the musical arrangements are some of the best and most nuanced of Byrne's career. The gentlest of folk songs with just the right touches of strings, harps and piano flourishings. AARON CARNES
INFO: 8pm, Felton Music Hall, 6275 HWY 9 Felton. $20. 704-7113.
COMEDY
TONY CAMIN Since its launch in 2019, DNA's Comedy Lab has become a formidable hub for live entertainment in town, hosting hundreds of hilarious events and stoking at least a million laughs. Their Saturday series Laughternoon is going strong this fall as Tony Camin steps into the spotlight—make that sunlight—in London Nelson Park. With roots in the '90s Bay Area comedy scene, Camin brought some California to New York City in 2004 with his co-created off-Broadway performance The Marijuana-Logues and went on to co-host the live late-night show "Broin' Out" via the famous Upright Citizens Brigade Theatre. AM
INFO: 4:30pm, London Nelson Park, 301 Center St., Santa Cruz. $20. 420-6177.
FILM
OCEAN FILM FESTIVAL Now in its 10th year, the Rio Theatre welcomes back the Ocean Film Festival World Tour. For the past decade this festival has been one of the leaders in independent oceanography filmmaking. This year, the two and a half hour fest will feature hand-picked films that dive into topics from the bond humans and animals can form ("Casey the Octopus") and understanding the connection animals have with each other ("Sounds of a Generation") to the importance of conserving the planet's ice shelves ("In Search of a Frozen Ocean"). Sponsored by local nonprofits and companies such as Event Santa Cruz, O'Neill Wetsuits and the Good Times, a portion of this year's ticket and beer sales will be donated to Save Our Shores. MW
INFO: 7pm, Rio Theatre, 1205 Soquel Ave., Santa Cruz. $21. 423-8209.
SUNDAY
STONER ROCK
BRANT BJORK There aren't many more deserving of the title, "California Desert Rock Ambassador," than Brant Bjork. As the drummer and founding member of the seminal stoner rock group, Kyuss, Brant helped put the Palm Desert scene on the map. Even after he left the band, Bjork continued to push the California, fuzzed-out stoner jam sound with Josh Homme on the latter's Desert Sessions recordings, Mondo Generator and Stӧner with Nick Oliveri, Fu Manchu, Fatso Jetson and even had a stint in Santa Cruz playing in LAB with former B'LAST! members. Earlier this year he announced a tour with his new band, the Brant Bjork Trio featuring Fatso Jetson bassist, Mario Lalli, and Stӧner drummer, Ryan Güt. Dust off the jean vest, cause this one's for the heshers. MW
INFO: 8pm, Catalyst Club, 1011 Pacific Ave., Santa Cruz. $17adv/$20door. 713-5492.
MONDAY
JAZZ
BIRÉLI LAGRÈNE & MARTIN TAYLOR At the age of seven, most people were learning their times tables. The precocious Biréli Lagrène, however, was already on his way to becoming a jazz icon, spending his days learning the improvisational guitar stylings of the mythic Romani-Belgian composer Django Reinhardt. That was approximately five decades, 26 albums and seven live concert films ago. Put shortly, the French child prodigy quickly became the globe-trotting, reigning king of Gypsy jazz guitar. This Monday, he brings his beloved fusions of swing and post-bop into musical conversation with Grammy-nominated Martin Taylor—a virtuoso jazz guitarist in his own right—for a concert for the ages. AM
INFO: 7pm, Kuumbwa Jazz, 320 Cedar St., Santa Cruz. $52.50/adv, $57.75/door. 427-2227.
TUESDAY
POETRY
THE HIVE LIVE Poetry will always have a place in Santa Cruz, which is due to all the hard work of the many people in town that care deeply about the artform. One group that should be regularly celebrated is The Hive Poetry Collective. They have a weekly show on KSQD 90.7 FM, but they also throw live events. This Tuesday, they are bringing some excellent poets to Bookshop Santa Cruz: Danusha Laméris and Laure-Anne Bosselaar. They've both published notable books and received much deserved acclaim for their work. AC
INFO: 7pm, Bookshop Santa Cruz, 1520 Pacific Ave, Santa Cruz. Free. 423-0900.