They're back….(remember that line from Poltergeist?). And by that I mean the little nightmare germs of Covid. They never really went away, but as people relaxed their precautions and went back to unmasked large gatherings, the disease is spreading again like wildfire.
And with it, comes a host of weird and fake news and prescriptions. You know, bleach, lasers, horse dewormers. So what should we do?
First off, read Aiyana Moya's Q&A with new county health officer Dr. Lisa Hernandez with all you need to know about the new wave of the disease and a new directive.
Next up, you want to read Josué Monroy's article about what the county's schools are doing about the deadly fentanyl epidemic. Everything starts with education and our schools are taking a proactive approach. Is it enough?
On the fun side, we have big news about local jazz. A salute to Tim Jackson, the Santa Cruzan who has headed the Monterey Jazz Festival for 33 years, and breaking news about a great female jazz artist who teaches at UCSC and will give a presentation at the Festival about abolition with activist and philosopher Angela Davis and feminist studies professor Gina Dent.

Finally, one of my favorite ways to light up the night: The Museum of Art & History's Glow Festival has been rebranded as Frequency: A Festival of Light, Sound and Digital Culture. It's educational and fun for all ages and for this weekend it's Santa Cruz's answer to Burning Man, without the sand, mud and traffic.
Brad Kava | Editor
Photo Contest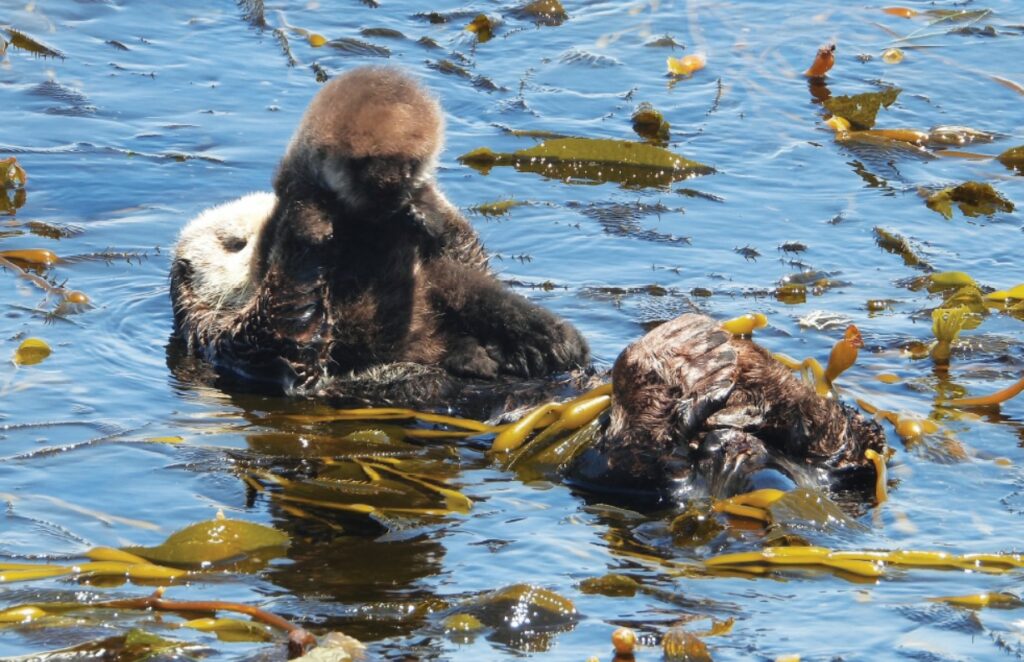 PUPS GALORE 3-hour old otter pup with mamma in kelp bed, Monterey Bay, July 6. Photograph by Jo Koumoutitzes.
Good Idea
Mateo Donato and Dustin Lopez have been selected as Cabrillo College Local Government Fellows. They are the first in their families to attend college. The Fellows program was created in 2021 by current and former local government leaders throughout Santa Cruz County and the Cabrillo College Foundation.The goal of the program is to encourage and support Cabrillo College students, with preference to those who are the first in their family to attend college, to pursue careers in local government. As Local Government Fellows the students receive a $2,000 scholarship, an internship in a local jurisdiction, and a mentor. For information: https://foundation.cabrillo.edu/donate
Good Work
Last week the Santa Cruz County fair held its 46th Annual Apple Pie Baking contest and named Rowena Bacher of Scotts Valley "Best of Show." There were almost 40 apple pie entries, and winners were selected for each of the three divisions, Youth, Adult and Masters. The Apple Pie Contest judges, who are different each year, included the general manager from Shadowbrook, a musician from the Wildcat Mountain Ramblers and more.
Quote of the Week
"Boxing is like jazz. The better it is, the less people appreciate it." —George Foreman