Beginning a little more than a week ago, a series of weather calamities hit the Central Coast, bringing torrential rain that flooded several neighborhoods and destroyed multiple homes. The powerful storms and coastal swell decimated the wharf at Seacliff State Beach and rendered much of Capitola's beachside village uninhabitable.
In response to these disastrous storms, the Santa Cruz County Board of Supervisors on Tuesday unanimously ratified an emergency declaration allowing the county to receive state and federal disaster assistance. The move comes ahead of another week of storms and amidst residents and business owners still reeling from evacuations and destruction.
On Tuesday, Nov. 10, Gov. Gavin Newsom visited Capitola following the recent weather events. He said the next round of rain would include a coastal swell even more potent than the one that tore the seaside city's iconic pier in two last Thursday.
The Supervisors' declaration followed similar ones made last week by Capitola and Santa Cruz.
Dave Reid, who runs Santa Cruz County's Office of Response, Recovery & Resilience, called the storm damage "unprecedented."

Roughly 150 people were staying in a temporary evacuation center at the Santa Cruz County Fairgrounds on Monday night, one of eight local shelters for evacuees.
Rains flooded the San Lorenzo River and Soquel Creek for the first time in more than 40 years. County officials have so far responded to mudslides in the Santa Cruz Mountains that pulverized homes and vehicles and caused an estimated $21 million in damage to 27 roadways. 16 parks and three coastal sites sustained $6.8 million in damages, while the San Lorenzo Valley Water District saw $1.2 million.
Reid says the total financial toll of the storms is still undetermined, but it will be a high number.
Meanwhile, 45 roads were closed during the storms, including Redwood Road, which collapsed and trapped residents, Public Works Director Matt Machado says.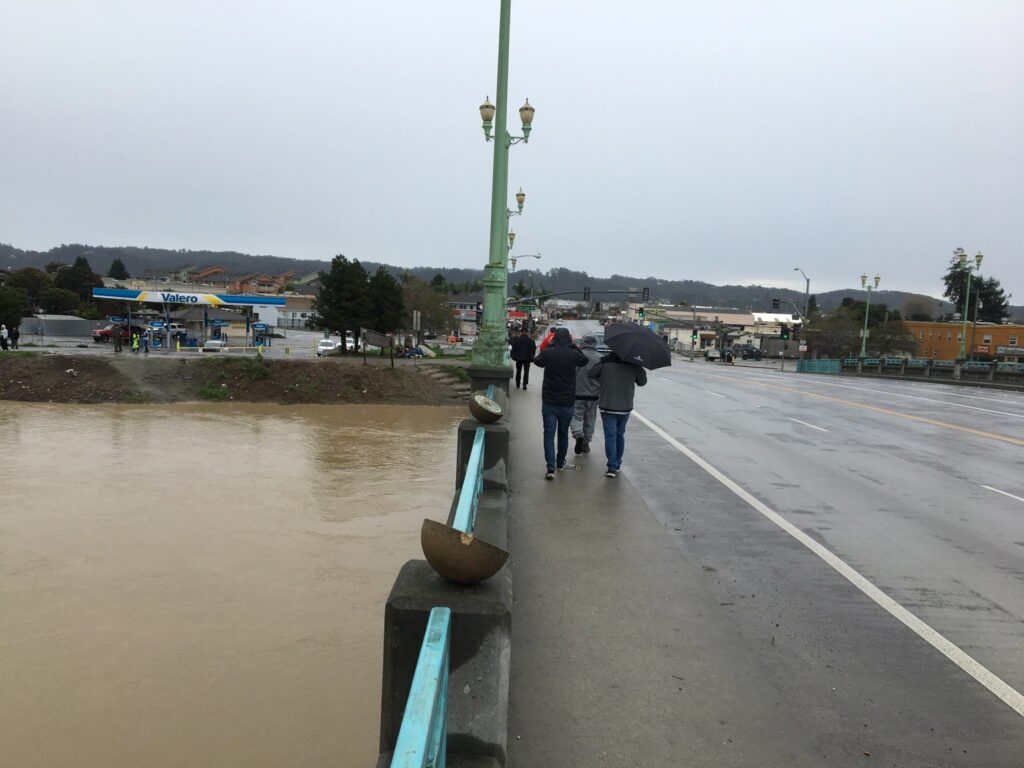 Crews of 11 emergency contractors have been working nonstop since New Year's Eve to clear fallen trees, maintain drainage and sanitation systems and conduct levee inspections; they're pretty much ensuring the county's infrastructure doesn't crumble to pieces.
Building inspectors have issued 132 yellow tags at damaged homes so far, meaning they have limited use, but residents can still stay. They have also given eight red tags (the structures are uninhabitable). Both numbers are expected to increase.
Machado says that the County will have to decide which projects it takes on first.
"The magnitude of them is such that we won't be able to fix them all at once, and so similar to 2017 storms, we have to prioritize and do the worst first for various reasons," he says.
A rain gauge recorded 23 inches in 10 days, a number that doesn't match 2017—yet. The same gauge showed more than 50 inches in six weeks back then. But smaller storms can have a more significant impact since the streams and rivers are already full, and the ground is so saturated.
"This [storm] is unprecedented but not unfamiliar territory; we're not out of the woods," Reid says. "And we're certainly not [expecting] 2023 to be better than 2017; it could be worse."