EDITORIAL NOTE
I met our cover story subject, Chris Zephro, appropriately enough, at a downtown zombie walk more than a decade ago.
He had gathered hundreds of bloody Halloween lovers to march and celebrate the scariest holiday. I was a reporter and I was looking for the person in charge. Someone told me to find the guy in the cool mask.
And there he was, all 5-foot 4-inches of him, short in stature but giant in personality. He is to Halloween what Elf is to Christmas. This is his element.
He was just starting his business making high-quality, graphic masks, elevating the products from mass produced rubber throwaways to masterpieces of design and gruesomely wonderful detail. They aren't cheap, but if you want the best, they are worth the price.

Chris is an example of how you can succeed by following your bliss. A UCSC grad, he was a successful numbers and business geek with a Silicon Valley career, but he loved horror movies and followed his passion, risking his savings and growing a business from thousands to millions of dollars.
He's known internationally, making costumes for the likes of Ozzy Osbourne and Rob Zombie and outfitting some of the most famous horror movies. But, like some of our other huge success stories here, he's almost unknown in our town.
People drive by his warehouse complex on 17th Avenue and wonder why there are always Halloween decorations year round. Read this story and you'll know more about one of our great characters.
It's funny how many great international businesses are based here, many under the radar. The camera phone was invented in Santa Cruz and so was Auto-Tune, Crossfit, Plantronics headsets, pitching machines and Loganberries, to name a few.
One of my goals as editor is to show you the things you might be missing in our county and to celebrate the great people who make them. We have one of the most dynamic small communities in the U.S. and I want to share it all with you. Please send your ideas for local heroes and businesses to [email protected] and we'll do our best to get them in print and online.
---
PHOTO CONTEST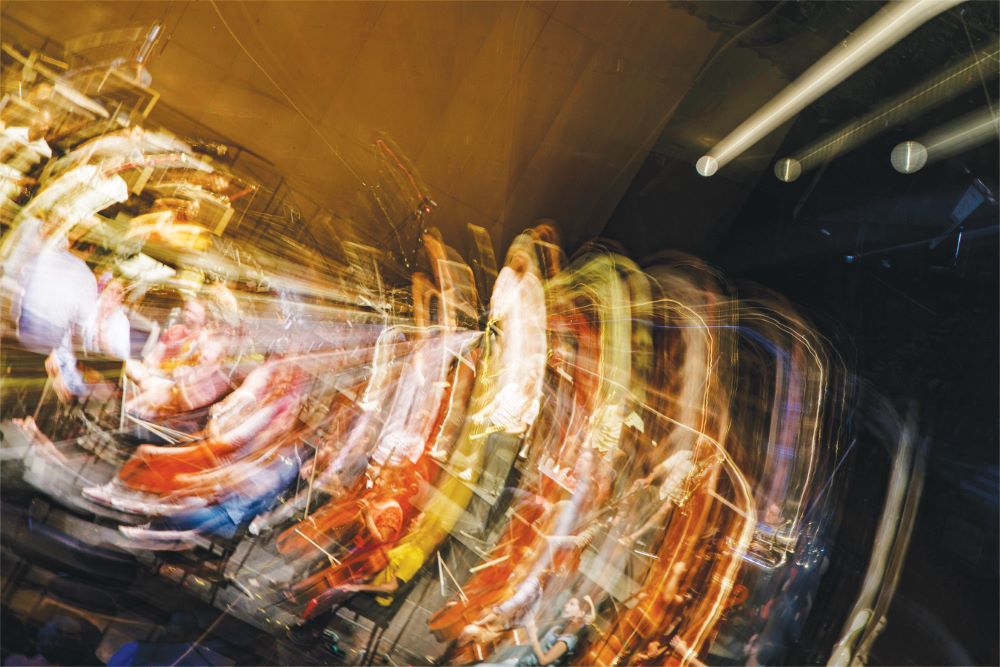 MUSIC IS LIFE Here's a transcendent take on a Cabrillo Music Festival rehearsal. Like the festival, it's nothing like you'd expect and totally visionary. PHOTO: Don Eggers
---
QUOTE OF THE WEEK
"We understand how dangerous a mask can be.
We all become what we pretend to be."
― Patrick Rothfuss ― The Name of the Wind
---
GOOD WORKS
Where better to celebrate the Day of the Dead than a cemetery?
Día de los Muertos has its origins in the rituals of indigenous peoples of the Americas. It honors those who are no longer with us and remember that death is an integral part of the human experience.
The nonprofit Senderos joins Santa Cruz Museum of Art & History for an unforgettable Day of the Dead 12-4pm Saturday at Evergreen Cemetery with dance, food and music. Free!
GOOD NEWS
Poaching and logging, as well as ecological changes, pose a major threat to the world's rainforests. Tasked with safeguarding rainforests that equal the equivalent of nearly 760,000 football fields, Rainforest Connection faced challenges based on the scale of their mission.
With the help of artificial intelligence and machine learning, RFCx uses audio technologies to monitor sounds in the rainforest, respond quickly to illegal activity, and eliminate the need for constant human patrolling on the ground. For more info: https://rfcx.org/